Industry Overview
The global drone analytics market was valued at USD 2.82 billion in 2023 and is anticipated to advance to USD 25.6 billion by 2030, at a CAGR of 32.4% during the forecast period 2023-2030. Drone analytics is a technique used to view and analyze the 2D and 3D data captured aerially by the drone and is essential to make crucial decisions.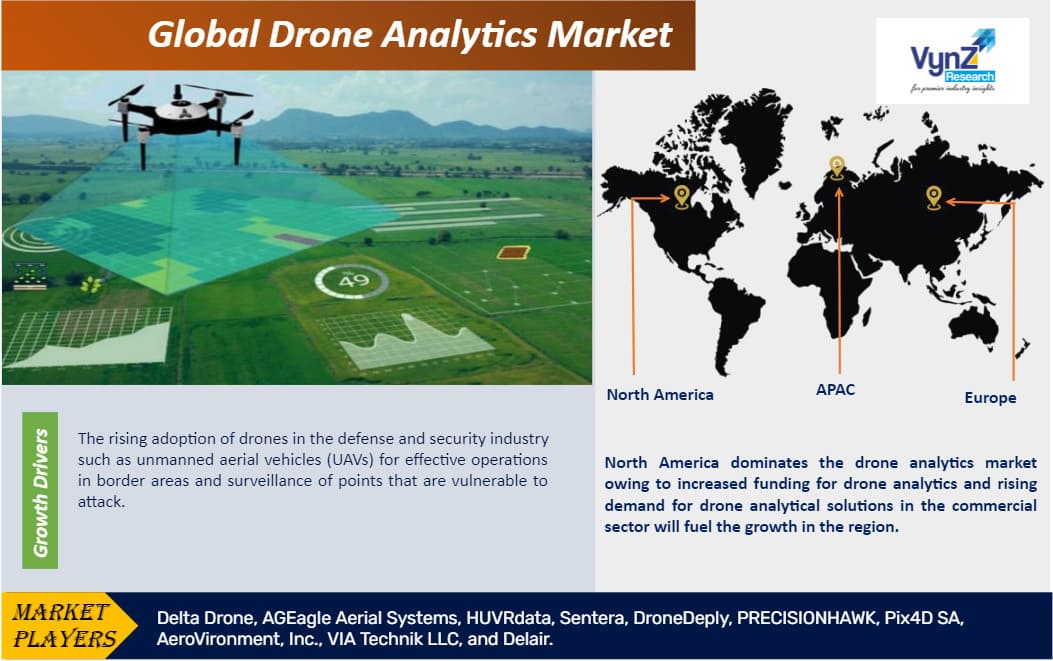 Factors attributing to the growth of drones are the rising demand, the surge in IT spending, growing preference for flight intelligence, increased developments for better drone growth, mounting demand for sophisticated industry-specific analytical solutions, and increased need for collecting real-time information of a particular building or area. There is increased demand for complete drone packages as the amount of data generated from drones has increased significantly owing to the use of advanced resolution cameras for image mapping, video capturing, and equipment tracking. This data is unstructured in nature. Drone Analytics plays an essential role to convert it into structured data for analysis without human intervention. For instance: APLHA methodology is adopted in military drones to process the data in less than milli-seconds and collect the specific data.
The COVID-19 outbreak has had a negative impact on the drone analytics market. Moreover, the economic slowdown will lead to a decrease in demand for drones in end-use sectors such as mining, construction. However, the demand for drones will increase as law enforcement bodies are highly adopting drones to enforce and maintain lockdown measures and perform situation monitoring missions will less risk exposure.
Market Segmentation
Insight by Type
Based on type, the global drone analytics market is bifurcated into on-premises and on-demand. On-premises are sub-divided into software and services. Software is further divided into desktop-based and mobile. Services are further divided into deployment & integration and support & maintenance. On-demand is sub-divided into software as a service (SaaS). On-demand is projected to have a high CAGR during the forecast period due to the mounting demand for cloud-based drone analytics solutions across industries like agriculture, construction, mining, etc. Software is also expected to grow at a faster pace owing to the increased emphasis on the application of drone-based mapping and inspection services, mounting demand for on-site data collection, surging importance of leveraging developed technologies in software tools and platforms, thereby fueling the growth in the drone analytics market.
Insight by Application
Based on application, the global drone analytics market is divided into thermal detection, geolocation tagging, aerial monitoring, ground exploration, volumetric calculations, 3D Modelling, and others. Thermal detection holds the largest share in the global drone analytics market in 2020 due to the mounting demand for analytical solutions requiring thermal detection in industries like oil & gas, construction, agriculture, mining, and quarrying. 3D Modeling is anticipated to have faster growth as it aids in effective visualization and reconstruction of assets. Images taken by the drone are processed by analytical software, converted to a 3D point cloud, and then converted to a solid 3D model. These models are useful when performing virtual plant tours or preparing for maintenance visits. The information collected is faster and the asset modeling is more accurate, ultimately increasing employee productivity.
Insight by Solution
Based on solution, the global drone analytics market is bifurcated into end-to-end solutions and point solutions. The end-to-end solution dominates the global drone analytics market in 2020 owing to the increased requirement of complete packaged solutions, commencing from data collection to data analysis. Moreover, it provides advantages like increased operational efficiency, decrease in cost, inter-departmental communication, and no third-party involvement.
Insight by Industry
Based on industry, the global drone analytics market is segregated into agriculture & forestry, construction, insurance, mining & quarrying, utility, telecommunication, oil & gas, transportation, scientific research, and others. Among this segregation, the constructions segment is anticipated to have a high CAGR over the projected period owing to the implementation of analytic solutions for monitoring and tracking progress at construction sites. Moreover, the convenience to have custom-tailored solutions will drive the growth of drone analytic solutions in the construction sector. Agriculture and forestry is anticipated to have fast growth owing to the increased adoption of drones for precision agriculture, crop monitoring, seed planting, soil analysis, irrigation management, and livestock inspection. For example, Granite Construction, a manufacturer of building materials, uses drone analysis solutions to monitor and calculate inventories such as asphalt and gravel to make efficient production decisions.
Industry Dynamics
Industry Trends
The trend prevalent in the drone analytics market is BVLOS (Beyond-Visual-Line-of-Sight) drones as these help users in carrying complicated operations without human intervention. Drone analytics is an emerging field having potential applications, industrial conglomerates, chip companies, and IT consulting firms to invest massively to develop next-generation drones both via hardware and software upgrades.  
Growth Drivers
The rising adoption of drones in the defense and security industry such as unmanned aerial vehicles (UAVs) for effective operations in border areas and surveillance of points that are vulnerable to attack. Moreover, the growing defense budget of countries will accelerate the adoption of developed drone solutions. For example, the U.S. Department of Defense (DOD) has allocated $7.5 billion for the procurement of drones and their associated technologies in 2021. The development of sensors, the advent of cloud-based decision support systems have provided revenue avenues for service providers, thus also paving way for customization leading to growth in the global drone analytics market.  Furthermore, the integration with developed technologies like AI has enhanced the ability of drones to collect detailed data. For instance, drones along with advanced AI are used in construction companies to identify complex physical structures and predict maintenance recommendations. Thus, the increasing demand for sophisticated analytical solutions and adoption in varied industries will propel the growth of the drone analytics market.
Challenges
The increased cost involved in collecting data and information will increase the price of the system, lack of skilled professionals and rising concern about cybersecurity and data security may hamper the growth of the drone analytics market. Furthermore, the strict government regulations about drone use and limited flight range hamper the growth of the drone analytics market.
Opportunities
The increased adoption of developed and complex drone software, integration of IoT in drones, increased adoption of autonomous drones by law enforcement agencies will accelerate the opportunities of growth in the drone analytics market. Moreover, the companies are investing massively in drone analytics solutions, thus creating opportunities for growth in the drone analytics market.
Geographic Overview
North America dominates the drone analytics market owing to increased funding for drone analytics and rising demand for drone analytical solutions in the commercial sector will fuel the growth in the region. Moreover, the increased demand for improved surveillance and inspection via drones, integration of developed technologies like IoT, Machine Learning, and computer vision in the drone software, and adoption in various industries like oil & gas, energy & utilities, and agriculture will propel the growth in the region.
Competitive Insight
The industry players are adopting strategies like M&A, partnerships, collaborations, and agreements, product launch, and product expansion, and increasing their geographical presence to sustain the global drone analytics market. The market is dominated by several key players and there is an increased number of new entrants in the drone analytics market. Moreover, the giant players are focused to improve their solution offerings based on cost differentiation, improved technical features and are investing heavily to develop advanced technologies to enhance their product portfolio.
Key players in the automotive wire harness market include automotive OEMs as well as cybersecurity service providers in general. Further, mergers and acquisitions are the major strategies adopted by the OEMs in the automotive wire harness market. In September 2020, Motherson Sumi Systems Limited has entered into an agreement to acquire US-based Stoneridge Inc's wiring harness business for USD 65.7 million. The acquired business has a turnover of approx. USD 300 Million.
Delta Drone is an international player making civilian drones for professional use. They design and commercialize a range of professional solutions like ISS SPOTTER, COUNTBO, ATMOS, ROCKETMINE, SAFESPRAYBO, and PARAZERO and provide support service i.e., regulatory management, training drone pilots and solution operators, missions, system design and production, and data processing and archiving, thus providing a complete value chain.
Delta Drone has a partnership with Airobotics, provider of an end-to-end, fully automatic solution to collect aerial data and provide valuable insights. Thus, the partnership focused on geographically distributing their solutions and strengthening their leadership position, by dividing each other's efforts across the globe.
Drone deployment provides a platform to deliver successful enterprise-scale drone programs. It provides an ecosystem and customized the needs.it provides a user-friendly platform to enhance the workflows via scalable image processing, data storage, and real-time sharable drone maps, and 3D models
Some of the key players operating in the drone analytics market: Delta Drone, AGEagle Aerial Systems, HUVRdata, Sentera, DroneDeply, PRECISIONHAWK, Pix4D SA, AeroVironment, Inc., VIA Technik LLC, and Delair.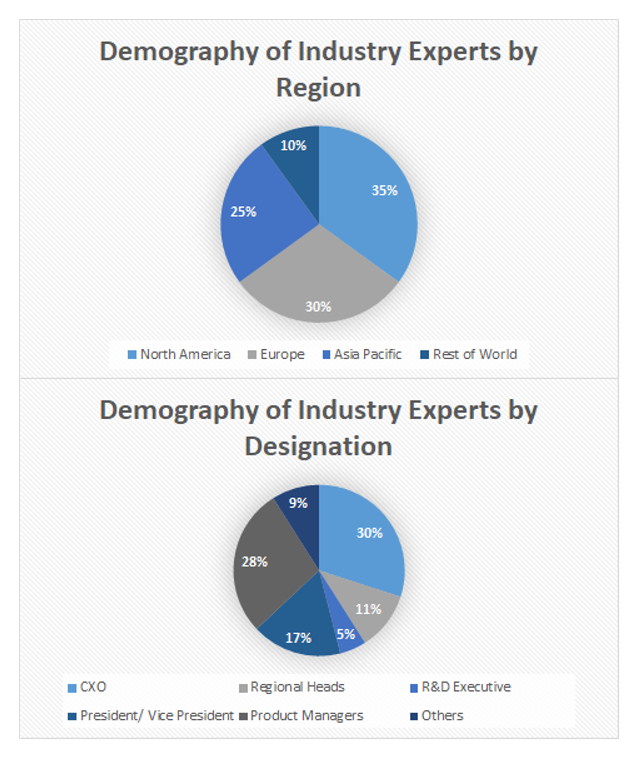 Source: VynZ Research