Industry Overview
The global satellite position, navigation, and timing (PNT) technology market is anticipated to grow from USD 965.6 million in 2021 to USD 8,416.2 million by 2027, registering a CAGR of 22.35% during the forecast period 2021-2027. Satellite PNT consists of three distinct constituents i.e., positioning which determines one's location and orientation two-dimensionally precisely and accurately, navigation which determines current and desired position, and applies corrections so as to attain the desired position around the world from sub-surface to surface and from surface to space, and timing which has the ability to acquire and maintain precise time from a standard time. The communication satellite's position, navigation, and timing are determined by the global navigation satellite system (GNSS). GNSS systems are made up of a constellation of satellites that beam down positioning and timing information to GNSS receivers, which then analyze this data to determine location.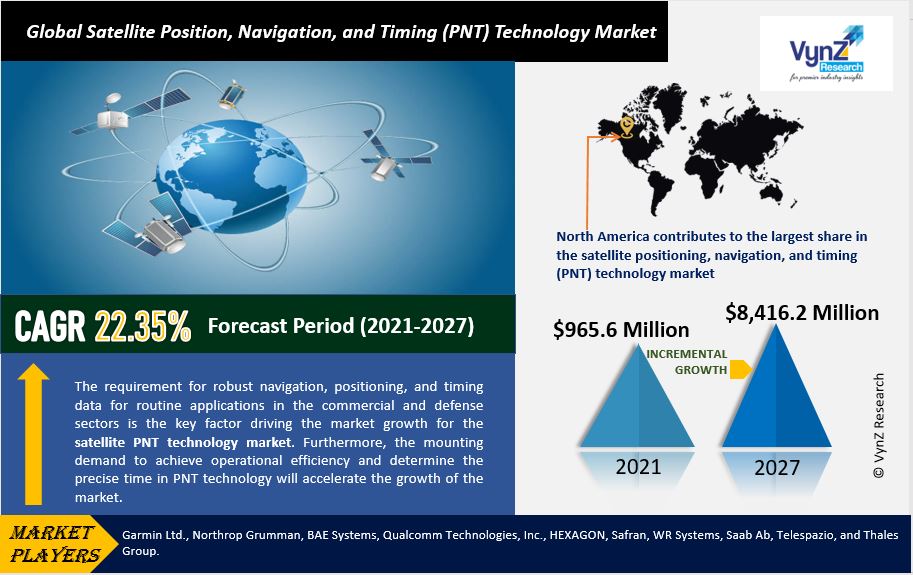 Military, political, commercial, and other organizations, including private people, rely on GNSS data for a wide range of applications. The important function of PNT is to enhance GNSS performance by giving information on the accuracy, integrity, continuity, and availability of its signals for geolocation and navigation applications.
Market Segmentation
Insight by Component Type
Based on component, the global satellite positioning, navigation, and timing (PNT) technology market is bifurcated into hardware and software. Hardware is further divided into atomic clocks, transponders, antennas, sensors, power amplifiers, receivers, and others. The software segment is further divided into data management software, GNSS navigation/positioning, geographical information system (GIS), and others.  The hardware segment is anticipated to contribute to the largest share in the market. This segment's expansion can be attributable to crucial hardware components such as atomic clocks and oscillators. There is a need to have precision timing for several civilian and military applications such as communication systems, electrical power grids, air traffic control, and financial networks. Furthermore, crucial components such as precision navigation and sensor fusion in military operations rely on precision timing. Thus, the key source of precise time is GPS satellites which have an atomic clock that circulates specific times all over the world. 
Insight by Application
Based on application, the global satellite positioning, navigation, and timing (PNT) technology market are divided into navigation, positioning, precision timing, geo-location, and GNSS correction. The navigation application contributes to the largest share in the global satellite PNT technology market as acquiring reliable navigation data has become the cornerstone of the automotive, transport & logistics industries on air, land and sea, and e-commerce. The navigation app has also become essential for military, government, and civilian end-users for national security, special operations, research, rescue missions, etc.
Insight by End-User
Based on end-user, the global satellite positioning, navigation, and timing (PNT) technology market is segmented into defense, commercial, government, and civil. The defense is divided into land, airborne, and naval. The commercial segment is divided into transport and logistics, aviation, agriculture, marine, surveying and mobile mapping, and others. The government and civil end-use segments are divided into critical government infrastructure, traffic management, rail control and management, disaster management, and others. The global satellite position, navigation, and timing (PNT) technology market are expected to be dominated by commercial end-users. PNT technology is vital for everyday operations in the automotive, commercial aviation, financial industries, and e-commerce firms.
Satellite Position, Navigation, and Timing (PNT) Technology Market Report Coverage
| | |
| --- | --- |
| Report Metric | Details |
| Historical Period | 2015–2020 |
| Base Year Considered | 2021 |
| Forecast Period | 2021-2027 |
| Market Size in 2021 | $965.6 Billion |
| Revenue Forecast in 2027 | $8,416.2 Billion |
| Growth Rate | CAGR 22.35% |
| Segments Covered in the Report | By Component Type, By Application, and By End-User |
| Report Scope | Market Trends, Drivers, and Restraints; Revenue Estimation and Forecast; Segmentation Analysis; Impact of COVID-19; Companies' Strategic Developments; Market Share Analysis of Key Players; Company Profiling |
| Regions Covered in the Report | North America, Europe, Asia-Pacific, Middle East, and Rest of the World |
Industry Dynamics
Growth Drivers
The requirement for robust navigation, positioning, and timing data for routine applications in the commercial and defense sectors is the key factor driving the market growth for the satellite PNT technology market. Furthermore, the mounting demand to achieve operational efficiency and determine the precise time in PNT technology will accelerate the growth of the market. Also, research and commercial activities will offer alternative clocks to achieve preciseness at less cost, thereby accelerating the growth of the satellite positioning, navigation, and timing (PNT) technology market. The auto manufacturers, Tier 1 suppliers, and drivers are mainly focusing on precise, high-performance positioning technologies to provide support for connected navigation, emergency mandates., ADAS, V2X communications, and autonomous driving.
Challenges
The massive cost to maintain and upgrade the existing PNT technology and country regulations may hamper the growth of the satellite PNT technology market.
Opportunities
The entry of the private sector to offer PNT technology and optical navigation owing to the development of sensor and computer vision (AI) technologies will create opportunities for development in the satellite PNT technology market. Moreover, in the automotive sector, 4G and 5G telematics modems support multi-frequency and multi-constellations GNSS that determines positioning to improve advanced vehicle localization needs, thereby creating opportunities for growth in the market.
Geographic Overview
North America contributes to the largest share in the satellite positioning, navigation, and timing (PNT) technology market owing to the presence of prominent players that are involved in developing and offering satellite position, navigation, and timing technology solutions will accelerate the growth of the market.
Competitive Insight
The industry players are making innovations and offering precise navigation and positioning solutions. The industry players are entering into M&A, Partnerships, Collaborations, Agreements, and Contracts to have a  competitive edge in the market.
Northrop Grumman addresses the most difficult issues in space, aeronautics, military, and cyberspace to fulfil clients' ever-changing needs throughout the world. Northrop Grumman's strategy shifts the weight of a trustworthy A-PNT Hub away from pure reliance on GPS and moving  toward the complementary usage of inertial devices supplemented with other alternative navigation technologies. Northrop Grumman's software-defined Positioning, Navigation, and Timing technology will provide military users with an agile new LEO signal that is not reliant on existing satellite navigation systems.
The Defense Advanced Research Projects Agency (DARPA) Blackjack programme has granted Northrop Grumman Corporation a $13.3 million contract for Phase 2 development of an advanced, software-defined positioning, navigation, and timing (PNT) payload, with options to build units destined for space flight, in September 2021.
BAE Systems is working on Software Defined Radios (SDRs) that might deliver both GNSS and Command and Control (C&C) services from Low Earth Orbit (LEO) satellites or even high-altitude aircrafts. This technology has many advantages such as relatively inexpensive, allows multiple functions, and most importantly, enables for remote system upgrades or re-programming, potentially making satellite application very cost-effective. They have a long history with SDRs, having previously delivered these for European Space Agency (ESA) base stations used for satellites and deep space projects. They have allowed ESA to use a single ground station for a variety of space missions, proving their efficiency while also lowering costs.
The Defense Logistics Agency (DLA) executed a $316 million contract option for BAE Systems' advanced M-Code Global Positioning System (GPS) modules in December 2021, bringing the total contract spending to $641 million. Ground personnel, vehicles, aeroplanes, and precision weapons can rely on the modules for accurate positioning, navigation, and timing. The contract will secure the supply of Common GPS Modules (CGM) for advanced military GPS receivers with anti-jamming and anti-spoofing capabilities, allowing them to operate in contested areas.
BAE Systems currently offers two advanced M-Code GPS receivers: the Miniature Precision Lightweight GPS Receiver Engine - M-Code (MPETM-M) and the NavStrikeTM-M. The ultra-small MicroGRAMTM-M is expected to be delivered in 2022, and the Strategic Anti-jam Beamforming Receiver - M-Code (SABR-M) is expected to be delivered in 2024.
Some of the industry players in the satellite positioning, navigation, and timing (PNT) technology market include Garmin Ltd., Northrop Grumman, BAE Systems, Qualcomm Technologies, Inc., HEXAGON, Safran, WR Systems, Saab Ab, Telespazio, and Thales Group.

Region Covered in the Report
•    North America
- U.S.
- Canada
- Mexico
•    Europe
- Germany
- U.K.
- France
- Italy
- Spain
- Russia
- Rest of Europe
•    Asia-Pacific (APAC)
- China
- Japan
- India
- South Korea
- Rest of Asia-Pacific
•    Rest of the World (RoW)
- Brazil
- Saudi Arabia
- South Africa
- U.A.E.
- Other Countries