Industry Overview
The global armored vehicles market size is expected to reach USD 40.2 billion by 2030 from USD 25.5 billion in 2021. It is expected to grow at a 3.6% CAGR during the forecast period. Armored vehicles are military, commercial, or passenger vehicles that are fitted with partial or complete armor plating to protect from bullets, IEDs, missiles, weapons, shrapnel, shell fragments, or projectiles. Defense forces' armored vehicles can either move on continuous tracks or wheels and play a pivotal role when it comes to frontline combat, reconnaissance, and the modern battlefield. Some of the armored vehicles used by defense forces include infantry fighting vehicles, armored personnel vehicles, main battle tanks, etc. Also, some of the armored vehicles that are being adopted in commercial applications include armored SUVs, limousines, sedans, cash-in-transit vehicles, etc. Thus, the market is anticipated to expand due to the development of armored vehicles that are small, lightweight, durable, highly efficient, and ideal for defense activities.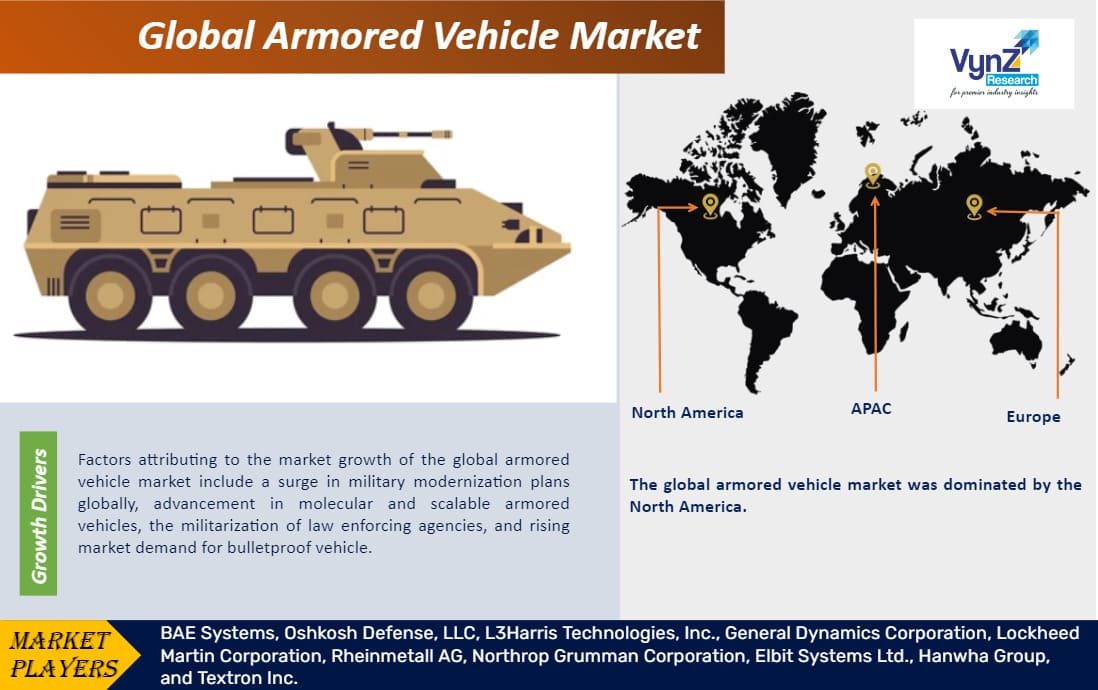 Market Segmentation
Insight by Platform
Based on Platform, the global Armored Vehicle Market is segmented into Combat Vehicles, Combat Support Vehicles, and Unmanned Armored Ground Vehicles. The combat vehicles are further divided into Main Battle Tanks (MBTs), Infantry Fighting Vehicles (IFVs), Armored Personnel Carriers (APCs), Armored Amphibious Vehicles (AAVs), Light-Protected Vehicles (LPVs). Mine-Resistant Ambush Protected (MRAP), Air Defense Vehicles, and Self-Protected Howitzers (SPHs). The combat support vehicles are further divided into Armored Supply Tanks, Repair and Recovery Machines, Bridge-Laying Tanks, Mine Clearance Vehicles, and Armored Command & Control Vehicles.
Combat Vehicles dominate the market and are anticipated to grow significantly during the forecast period as these vehicles are frequently deployed in military operations and ensure safety in situations of attack and ambush. Furthermore, the rising terrorist activities and cross-border disputes will significantly surge market demand for the global armored vehicles industry.
Insight by System
Based on System, the Global Armored Vehicle Market is Engines, Drive Systems, Turret Drives, Ammunition Handling System, Fire Control System (FCS), Armaments, Ballistic Armor, Command & Control (C2) Systems, Countermeasure Systems, Navigation Systems, Power Systems, Hulls/Frames, and Observation & Display Systems. Armaments is expected to have a high CAGR during the forecast period owing to the increased use of remote weapon station. 
Insight by Mode of Operation
Based on Mode of Operation, the Global Armored Vehicle Market is bifurcated into Manned and Unmanned. Unmanned armored vehicles is expected to have significant growth and play an important role in military operations. Unmanned Ground Vehicles offer ground forces greater mobility, firepower, and protection. The UGVs are employed in a variety of applications, including the military, border patrol, law enforcement, security services, riot control, and hostage situations.  Extreme environmental conditions including heat, cold, or contamination from nuclear, chemical, and biological sources make them more effective.
Insight by Mobility
Based on Mobility, the global Armored Vehicle Market is bifurcated into Wheeled and Tracked. The wheeled is further divided into 4*4, 6*6, 8*8, 10*10, and 12*12. Wheeled armored vehicles are anticipated to have the highest share during the forecast period owing to their increased prominence. They have less weight, better mobility, and enhanced combat capabilities. Additionally, there is a significant demand for armored automobiles and other wheeled vehicles because of the increase in terrorist and hostile activities in urban areas.
Global Armored Vehicle Market Report Coverage
| | |
| --- | --- |
| Report Metric | Details |
| Historical Period | 2018–2021 |
| Base Year Considered | 2022 |
| Forecast Period | 2022 - 2030 |
| Market Size in 2021 | $25.5 Billion |
| Revenue Forecast in 2030 | $40.2 Billion |
| Growth Rate | CAGR 3.6% |
| Segments Covered in the Report | By Platform, By System, By Mode of Operation, and By Mobility |
| Report Scope | Market Trends, Drivers, and Restraints; Revenue Estimation and Forecast; Segmentation Analysis; Impact of COVID-19; Companies' Strategic Developments; Market Share Analysis of Key Players; Company Profiling |
| Regions Covered in the Report | North America, Europe, Asia-Pacific, Middle East, and Rest of the World |
Industry Dynamics
Growth Drivers
Factors attributing to the market growth of the global armored vehicle market include a surge in military modernization plans globally, advancement in molecular and scalable armored vehicles, the militarization of law enforcing agencies, and rising market demand for bulletproof vehicle. They are widely deployed in defense and commercial applications. The increased expenditure on the defense budget and procurement programs in Asian countries, rising cross-border disputes, rising incidences of asymmetric warfare will have a favorable impact on the global armored vehicle industry.
The government's partnerships with commercial groups to create highly innovative and precise solutions for defense and the big industry players' significant R&D spending both boost market expansion.
Another technological advance in the sector is the creation of an ultra-lightweight armored vehicle using green technology. As demand for light weight armored vehicles rises, the key players may now rely on green technology to meet those expectations.
The increased adoption of Active Protection Systems (APS) to automatically detect and counteract incoming threat projectiles before reaching the target will propel market development of the global armored vehicle industry. These APS uses tracking radar, launchers, sensors, and countermeasure munitions, thereby protecting armored vehicles from grenades and anti-tank guided missiles.
Challenges
The armored vehicle market is anticipated to have slow growth due to rising costs for raw materials, components, vehicle assembly, and machining equipment. The market's expansion may be hampered by the high cost involved, the absence of important OEMs for armored vehicles, high taxes imposed by different countries, and import expenses. Also, the significant obstacles that are anticipated to have a negative effect on the expansion of the global armored vehicle market include the numerous government rules and regulations as well as the lack of uniformity in how different businesses operate.
Opportunities
The key players are anticipating a rise in market share of armored vehicles, thereby creating market opportunities in the global market owing to:
The rising implementation of unmanned combat ground vehicles by armed forces
The unveiling of next-generation vehicles with reactive armor technology, active protection systems, programmable ammunition, developed autoloaders
Advancement in communication medium, navigation, surveillance, flexibility, protection, and rising situational awareness.
Geographic Overview
North America
Europe
Asia Pacific (APAC)
Rest of the World (RoW)
North America contributes the largest share in the global armored vehicle market owing to increased expenditure on the defense budget so as to modernize the defense fleet, procure advanced defense vehicles, and strengthen armed forces. A significant number of military machinery and equipment producers, a high rate of adoption of sophisticated technology, and continuous initiatives in which the US government collaborates with industry players to develop modern vehicles for defense purposes will have a favorable impact on the armored vehicle industry.
Due to the rising occurrence of border wars involving neighboring nations, such as the Russia-Ukraine War, Europe also retained a significant revenue share. Furthermore, with terrorism on the rise, numerous EU governments are increasingly focusing on acquiring vehicles for war and troop transportation in order to bolster their defensive capabilities.
Competitive Insight
The top companies in the armored vehicle industry are working harder than ever to maintain the market's rapid expansion on a global scale.
To obtain a competitive edge, the major market players are investing in the development of new products. Leading players are concentrating on working with businesses that produce cutting-edge systems and components so that their products can be outfitted with state-of-the-art technology for improved combat capabilities.
Oshkosh Defense is a world leader in the design, manufacture, and support of world-class military vehicles and mobility systems. Oshkosh develops and utilizes developing technologies that increase crew safety and mission effectiveness as a pioneer of combat-ready vehicle solutions. Oshkosh sets the industry standard for fleet readiness by ensuring that every solution is supported globally throughout its entire life cycle. Oshkosh Defense Vehicle Platforms include Light Tactical Vehicles, Medium Tactical Vehicles, Heavy Tactical Vehicles, Mine Resistant Ambush Protected (MRAP), Aircraft Rescue Fire-Fighting (ARFF), Government Vehicles, and Tracked Vehicles.
General Dynamics is a multinational aerospace and defense corporation. People all across the world rely on their products and services which include Gulfstream business jets and combat vehicles to nuclear-powered submarines and communications systems for their safety and security. The Combat Systems category is a leading global manufacturer and integrator of land solutions such as wheeled and tracked combat vehicles, weapons systems, and ammunition. General dynamics retain its industry-leading position by focusing on innovation, cost, and speed in order to deliver greater combat survivability, performance, and lethality.
Recent Development by Key Players
In an effort to replace the outdated M113 armored personnel carriers as quickly as possible, In October 2022, the US Army approached BAE Systems to increase manufacturing of its new Armored Multi-Purpose Vehicle (AMPV).  The army intends to purchase at least 197 AMPVs in the fiscal year 2023 to make up for the 200 M113s supplied to Ukraine.
General Dynamics Corp.'s armored combat vehicle designers will construct improved Stryker wheeled vehicles for the United States Army under a $146.7 million deal announced in November 2022.
In September 2022, Elbit Systems stated that it has been awarded an $80 million contract to supply unmanned turrets Armored Fighting Vehicles ("AFVs") of an Asian-Pacific country. The contract will be completed over the course of three years. Elbit Systems will provide the 30mm-gun unmanned light turrets with sensors and display systems for enhanced situational awareness, target acquisition capabilities, fire control systems, and weapon systems of various types under the contract, enabling significant mission performance upgrades for the AFVs.
Key Players Covered in the Report
Some of the major players operating in the global armored vehicle market include BAE Systems, Oshkosh Defense, LLC, L3Harris Technologies, Inc., General Dynamics Corporation, Lockheed Martin Corporation, Rheinmetall AG, Northrop Grumman Corporation, Elbit Systems Ltd., Hanwha Group, and Textron Inc.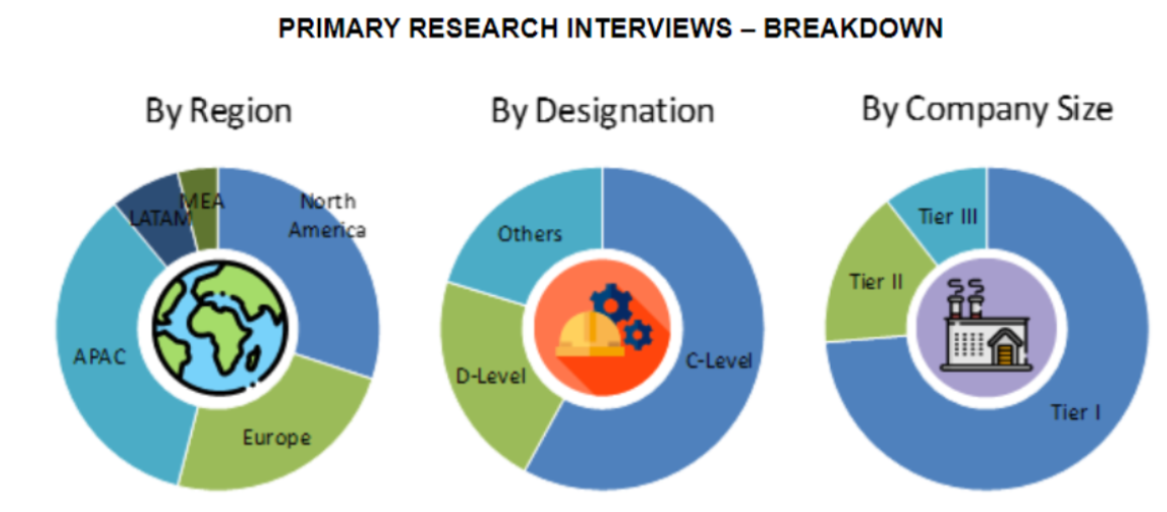 To explore more about this report - Request a free sample copy