Industry Overview
The global satellite flat panel antenna market was valued at USD 3.4 billion in 2021 and is anticipated to grow to USD 18.4 billion by 2027, registering a CAGR of 16.3% during the forecast period 2021-2027. A flat panel antenna is a type of directional antenna that only emits and receives radio signals from one direction. It has a wider beam, allowing the signal to cover more ground. Flat-panel antennas are now being developed for maritime satellite communications applications, as well as military, naval, and commercial aviation radar. It utilizes phased array technology and keeps track of multiple satellites. Flat-panel phased array technology could become increasingly relevant as numerous new Low Earth Orbit (LEO) constellations are being developed, each with hundreds of cross-linked satellites orbiting the earth. Also, a flat-panel antenna can utilize meta-materials or optical-beam forming.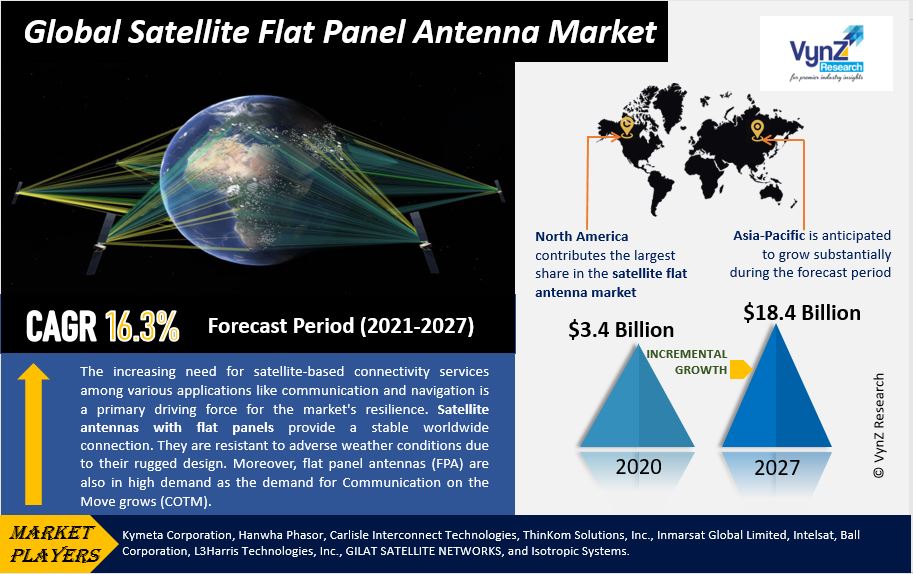 Flat-panel antennas based on electromagnetic metamaterials technologies are being developed by industry. To electronically acquire, guide, and lock a beam to any satellite, these ultra-thin antennas use a holographic technique. Flat-panel directional antennas provide a high gain while being extremely small and low profile. They're tough and weatherproof, so they'll last a long time even in the roughest conditions. Airborne and distant ground surveillance, video transmission, border patrol, and tactical assistance are all provided by unmanned systems, and continuous communication with the control centre is essential. As the demand for unmanned systems grows, so does the demand for antennas with longer ranges for payloads and C4I2SR missions.
The COVID-19 pandemic has substantially led to disruption in the supply of raw materials, restrictions on international trade, and impacted manufacturing operations globally. The manufacturing of satellite flat panel antennas decreased as a result of the COVID-19 pandemic, as market players were forced to shut down production facilities or operate them at lower-than-optimal capacity to prevent the spread of the coronavirus.
Market Segmentation
Insight by Type
Based on type, the global satellite flat panel antenna market is segregated into the electronically steered antenna, mechanically steered antenna and hybrid. The electronically steered antenna contributes to a significant share of the market. An electronically steered antenna assists in steering the beam in the desired direction with no moving parts, thus extending the operational range. These compact, lightweight, and low-profile antennas can provide good coverage while being less power efficient and costlier than standard technology due to design complexity. Electronic antenna steering is more flexible and requires less maintenance than mechanical antenna steering.
Insight by Frequency
Based on frequency, the global satellite flat panel antenna market is segregated into L and S-Band (1 GHz – 4 GHz), C and X Band (4 GHz to 12 GHz), and Ku, K, and Ka-Band (13 GHz – 40 GHz). The frequencies covered by the Kurz-under (Ku), Kurz, and Kurz-above (Ka) designations are 13 to 18 GHz, 18 to 27 GHz, and 27 to 40 GHz, respectively. The Ku, K, and Ka frequency categories hold the highest share during the projected period owing to the benefits offered by the category which include high bandwidth and support applications that need high transmission power.
Insight by End-User
Based on end-user, the global satellite flat panel antenna market is classified into automotive, aviation, defence and government, enterprise, maritime, oil and gas, and space. The defence & government sector contributes to the largest share in the global satellite flat panel antenna market during the projected period owing to the rising prominence of satellite internet across several applications. Some governments throughout the world are negotiating contracts and forming strategic collaborations with flat panel antenna companies to deliver internet access to rural and difficult-to-reach areas.
Satellite Flat Panel Antenna Market Report Coverage
| | |
| --- | --- |
| Report Metric | Details |
| Historical Period | 2015–2020 |
| Base Year Considered | 2022 |
| Forecast Period | By 2027 |
| Market Size in 2021 | $3.4 Billion |
| Revenue Forecast in 2027 | $18.4 Billion |
| Growth Rate | CAGR 16.3% |
| Segments Covered in the Report | By Type, By Frequency, and By End-User |
| Report Scope | Market Trends, Drivers, and Restraints; Revenue Estimation and Forecast; Segmentation Analysis; Impact of COVID-19; Companies' Strategic Developments; Market Share Analysis of Key Players; Company Profiling |
| Regions Covered in the Report | North America, Europe, Asia-Pacific, Middle East, and Rest of the World |
Industry Dynamics
Industry Trends
The rising trends toward the development of high-speed 5G/6G devices and the need to reduce the cost of launching a satellite will proliferate the growth of the satellite flat panel antenna market.
Growth Drivers
The increasing need for satellite-based connectivity services among various applications like communication and navigation is a primary driving force for the market's resilience. Satellite antennas with flat panels provide a stable worldwide connection. They are resistant to adverse weather conditions due to their rugged design. Moreover, flat panel antennas (FPA) are also in high demand as the demand for Communication on the Move grows (COTM). Due to technological advancements in the satellite sector, flat-panel satellite antennas (FPGAs) are getting prominence for use in aeronautical, terrestrial, and maritime applications. The increased adoption of small satellites, rising use of satellite-based warfare systems, and massive investment in space exploration projects will drive the growth of the satellite flat panel antenna market. Furthermore, they are extensively used in maritime applications to customize satellite products that provide signal transmission and receiving for military, commercial, and recreational uses.
Challenges
The massive initial investment, strict government regulations, and variable performance may pose challenges in the growth of flat-panel antennas.
Opportunities
The advent of Neo-Geostationary Orbit Satellite constellations from industry players such as Telesat, Space X, SES, etc. will create opportunities for growth in the satellite flat panel antenna market. Also, the rising demand for internet connectivity globally will accelerate opportunities in the market.
Geographic Overview
North America contributes the largest share in the satellite flat antenna market owing to the rising number of investments and continuous research and development activities in the region. Furthermore, the existence of sophisticated infrastructure, several space programs, and increased adoption of commercial satellite imaging will proliferate the growth of the satellite flat panel antennas market in the region.
Asia-Pacific is anticipated to grow substantially during the forecast period owing to the rising adoption of satellite antennas in automobiles. Furthermore, Space exploration activities by Asian space agencies such as India's Space Research Organization (ISRO) and China's National Space Administration (CNSA) are expected to drive the Asia Pacific's flat-panel satellite antenna market.
Competitive Insight
There is a revolution in the global communication space industry and the advent of space technology has led to a pivot role in the development of antennas, resulting in R&D initiatives by businesses and massive investment to develop novel innovative technologies, resulting in the growth of the global satellite flat panel antenna market. The players are collaborating with other businesses to strengthen their foothold in the market.
Kymeta's flat-panel satellite antennas and connection services provide consumers all over the world with unprecedented mobile connectivity on satellite and satellite-cellular hybrid networks. Kymeta's satellite connectivity solutions are hosted by Lepton Global Solutions, a Kymeta company, which provides unique, complete, and turnkey bundled solutions to the market based on best-in-class technologies and tailored customer-centric services that meet the customized requirements. These technologies, together with the company's first-of-its-kind flat-panel satellite antenna and Kymeta Connect services, provide consumers throughout the world with innovative mobile connections on satellite and hybrid satellite-cellular networks.
Enterprise-grade antennas for satellite communication on the go — in flight, on land, and at sea – are designed by Hanwha Phasor. Their groundbreaking solid-state technology, which is a revolutionary departure from standard parabolic reflectors, is flat but will link to any orbit in space from practically any environment on Earth – with no compromise on performance.
In November 2021, the successful demonstration of satellite-enabled 5G services on Kymeta's electronically steered flat-panel u8 antenna using Intelsat's global integrated satellite and terrestrial network, the first of its kind in a mobile environment, was announced by Kymeta and Intelsat, operators of the world's largest and most advanced integrated satellite and terrestrial network. The demonstration, which was staged at Kymeta headquarters in collaboration with Intelsat to assist develop 5G satellite communication technology for mobility, was carried out by Fraunhofer Institute for Integrated Circuits IIS, a major applied research institution.
In September 2021, The United States Patent and Trademark Office granted Kymeta Corporation a U.S. Patent for its multi-beam antenna arrangement, which enables redundant, simultaneous, multi-orbit satellite connectivity. Kymeta's proprietary technology can concurrently create two beams with a single antenna panel, allowing the tracking of two satellites across several constellations and flawless traffic handoff from the first satellite to the second. For redundant connectivity and intelligent data management, Kymeta's metamaterials technique forms receive and transmit numerous unique beams, each with its own receive/transmits (RX/TX) link.
In August 2021, Plexus Corp., one of the leading global players in complex product design, manufacturing, supply chain, and aftermarket services, partnered with Hanwha Phasor. In the run-up to the product launch, Plexus will provide Hanwha Phasor with product development support, design for production, test development, and supply chain optimization services.
Some of the major players in the global satellite flat panel antenna market include Kymeta Corporation, Hanwha Phasor, Carlisle Interconnect Technologies, ThinKom Solutions, Inc., Inmarsat Global Limited, Intelsat, Ball Corporation, L3Harris Technologies, Inc., GILAT SATELLITE NETWORKS, and Isotropic Systems.

Region Covered in the Report
•    North America
- U.S.
- Canada
- Mexico
•    Europe
- Germany
- U.K.
- France
- Italy
- Spain
- Russia
- Rest of Europe
•    Asia-Pacific (APAC)
- China
- Japan
- India
- South Korea
- Rest of Asia-Pacific
•    Rest of the World (RoW)
- Brazil
- Saudi Arabia
- South Africa
- U.A.E.
- Other Countries