Industry Overview
The global continuous wave radar market size is expected to reach USD 2.1 billion by 2030, registering a CAGR of 6.17% during the forecast period. Continuous wave radar is an advanced electromagnetic technology that measures the phase difference between radio waves with a known stable frequency that is transmitted and then received from objects that are reflecting them. This method may be used at both ends of the range to categorize and identify individuals based on various traits and the Doppler signals produced by body parts like the arms, chest, and legs when in motion. Continuous wave radar offers a variety of security and protection perimeter applications due to its lower cost and ability to detect target velocity by allowing a doppler shift.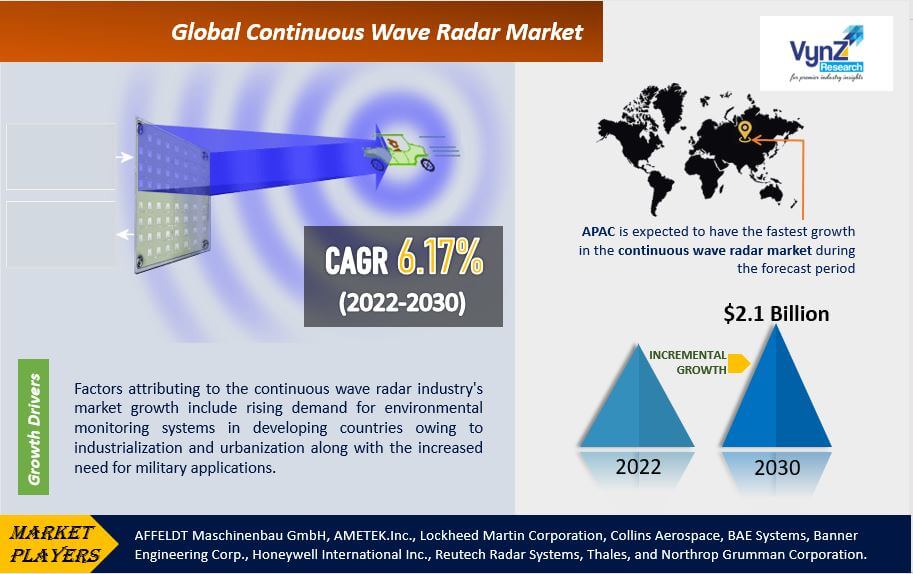 With an accuracy of roughly 0.001% of distance traveled for longer ranges, it has the ability to identify objects ranging from 200 meters to 100 kilometers. This type of radar has the advantage of being able to accurately detect objects over both land and water. It has better resolution (the distance between two similar points) than pulsed Doppler radars and does not require a return pulse-like pulsed radar system.
Market Segmentation
Insight by Type
Based on Type, the Continuous Wave Radar Market is bifurcated into Unmodulated Continuous Wave and Modulated Continuous Wave. Modulated Continuous Wave dominates the industry. The transmitted power of modulated continuous wave radar varies over time. The system has two main benefits. First, it can produce very high-resolution imaging with an incredibly low transmit power, thus, CW radar can covert and can be unidentified by other radars and on-site personnel. Second, many objects are difficult to detect with standard systems because they share physical properties with ground clutter such as trees, grasses, etc. Because of its lower noise floor than pulsed systems, modulated continuous wave radar solves this problem well.
Insight by Component
Based on Component, the Global Continuous Wave Radar Market is segmented into Antenna, Receiver, Transmitter, and Others. The transmitter is expected to have significant growth during the forecast period. The main benefit of continuous wave radar is that energy is not pulsed, making it easier to produce and use. Although the broadcast power level imposes a practical range limit, they have no minimum or maximum range. Considering that the transmitter broadcasts continuously with continuous-wave radar, the total power on a target is maximized. The overall bandwidth and transmitter power in a continuous-wave radar determine the maximum range. Distance performance is increased by about 20% when transmit power is doubled.
Insight by Application
Based on Application, the Continuous Wave Radar Market is segmented into Environmental Monitoring, Military, Resource Detection, and Others. Environmental Monitoring is expected to have significant growth during the forecast period. Environmental monitoring includes many tasks related to the use of continuous-wave radar equipment for weather forecasting, such as measuring precipitation leading up to a possible storm front using centimeter-wavelength electromagnetic radiation beams (i.e., microwaves). When equipped with vertically pointing antennas, continuous-wave radars can also generate three-dimensional images. Furthermore, this type of instrument is used for weather surveillance in order to detect extreme weather conditions such as tornadoes, hail, or hurricanes.
Global Continuous Wave Radar Market Report Coverage
| | |
| --- | --- |
| Report Metric | Details |
| Historical Period | 2018–2021 |
| Base Year Considered | 2022 |
| Forecast Period | 2022 - 2030 |
| Market Size in 2021 | $XX.XX Billion |
| Revenue Forecast in 2030 | $2.10 Billion |
| Growth Rate | CAGR 6.17% |
| Segments Covered in the Report | By Type, By Component, and By Application |
| Report Scope | Market Trends, Drivers, and Restraints; Revenue Estimation and Forecast; Segmentation Analysis; Impact of COVID-19; Companies' Strategic Developments; Market Share Analysis of Key Players; Company Profiling |
| Regions Covered in the Report | North America, Europe, Asia-Pacific, Middle East, and Rest of the World |
Industry Dynamics
Growth Drivers
Factors attributing to the continuous wave radar industry's market growth include rising demand for environmental monitoring systems in developing countries owing to industrialization and urbanization along with the increased need for military applications. Furthermore, the rising need for resource detection systems due to global warming issues, tolerance to adverse weather conditions, flexible mounting, and long-range detection will further propel the market growth of the global continuous wave radar industry. These radar-based sensors are increasingly adopted in aircraft, cars, and trains. Nevertheless, modern radar systems are more precise, reliable, and effective and are crucial to various countries' border security and surveillance techniques.
The increased adoption of continuous wave radar systems for monitoring and object identification in unmanned vehicles and anti-missile systems is leading to a market growth in the global continuous wave radar industry. In order to avoid collision with a moving or stationary object due to increased security concerns will drive the market development of the continuous wave radar industry significantly over the course of the projection period.
Challenges
High costs and limitations to detect targets crossing beams at right angles are some of the challenges that may hamper the market growth of the global continuous wave radar industry.
Opportunities
Owing to the expansion of international sea trade and the transfer of massive amounts of goods, nations are being urged to increase the size of their fleets of merchant ships in order to balance supply and demand. Radar may be used to track these vessels, which is anticipated to favorably affect on creating opportunities in the continuous wave radar market. Increased adoption in passenger cars, and transport vehicles to assist in lane changing, in-cruise control, delivering collision warning, and mounting deployment in metrological monitoring and forecasting weather will accelerate the market demand for continuous wave radar systems.
Airports that handle a lot of both passengers and cargo must, however, consider the use of surveillance radar systems in order to maintain both passenger and cargo security. Both developed and developing countries' current geopolitical environments favour business investments aimed at product line diversification. It is anticipated that this will soon create new market opportunities for continuous wave radar.
Geographic Overview
North America
Europe
Asia Pacific (APAC)
Rest of the World (RoW)
APAC is expected to have the fastest growth in the continuous wave radar market during the forecast period owing to the presence of several SMEs, increased manufacturing facilities, expansion of marine trade, the surge in defense budgets, and increased implementation of radar technology.
Competitive Insight
The attempts undertaken by vendors to capitalize on the increasing demand for airborne and space-based radar systems are also creating a positive market outlook for the growth of the continuous wave radar industry. To gain a sustainable competitive advantage, vendors are emphasizing and forming alliances and collaborations with national military organizations These agreements for the delivery of radar systems frequently also cover tasks for maintenance and R&D activities.
Collins Aerospace, a Raytheon Technologies Corp. subsidiary, is a recognized leader in technologically advanced and intelligent solutions for the global aerospace and defense industries. Collins Aerospace, formed in 2018 by the merger of UTC Aerospace Systems and Rockwell Collins, has the capabilities, comprehensive portfolio, and expertise to solve customers' toughest challenges and meet the demands of a rapidly evolving global market. Their PSR-500 Perimeter Surveillance Radar System has features like Frequency Modulated Continuous Wave (FMCW) advanced radars and integrates all the functionalities that are necessary for perimeter surveillance. PSR-500 radars can detect mobile targets in all weather conditions, including rain and fog. Because of their range and target behavior analysis algorithms, radars are well-suited to the surveillance requirements of a wide range of sites. As a result, the PSR-500 has a very low false alarm rate.
Banner is a leading source for manufacturing needs, offering over 10,000 products. They provide award-winning sensors, wireless solutions, machine safety, indication, and LED lighting among other products and solutions. Radar sensors detect moving or stationary targets using Frequency Modulated Continuous Wave (FMCW) radar. Even in extreme weather, lower-frequency radars can see high-dielectric objects such as cars, trains, trucks, and cargo. In most applications, including outdoors, higher-frequency radar can see a wider range of objects and is more robust than ultrasonic sensors. Radar-based sensors are also ideal for collision avoidance on mobile equipment like reach stackers, forklifts, and mining vehicles, as well as port machinery like carriers, handlers, and shippers.
Recent Development by Key Players
In September 2022, Lockheed Martin delivered a new benchmark to the Office of the Under Secretary of Defense for Research and Engineering OUSD (R&E): a tactically pertinent electric 300 kW-class laser, the most powerful laser produced by Lockheed Martin to date. This 300 kW-class laser is ready to integrate with DOD demonstration efforts, such as the United States Army's Indirect Fires Protection Capability-High Energy Laser (IFPC-HEL) Demonstrator laser weapon system. Lockheed Martin has enhanced the power and efficiency of continuous-wave high-energy lasers while decreasing the weight and volume, lowering the risk for future fielding efforts of high-power laser weapon systems.
Banner Engineering had introduced two new products: The Banner T30R radar sensor for use in difficult sensor environments and lighted cordsets to help with troubleshooting and sensor commissioning. For detecting stationary and moving targets, the T30R uses FMCW (frequency-modulated continuous wave). It detects a wider range of materials with greater precision than more traditional 24 GHz radar sensors currently available.
Key Players Covered in the Report
Some of the key players in the global continuous wave radar market include AFFELDT Maschinenbau GmbH, AMETEK.Inc., Lockheed Martin Corporation, Collins Aerospace, BAE Systems, Banner Engineering Corp., Honeywell International Inc., Reutech Radar Systems, Thales, and Northrop Grumman Corporation.
The Continuous Wave Radar Market report offers a comprehensive market segmentation analysis along with an estimation for the forecast period 2022–2030.
Segments Covered in the Report
By Type 

Unmodulated Continuous Wave
Modulated Continuous Wave  

By Component

Antenna
Receiver
Transmitter
Others

By Application

Environmental Monitoring
Military
Resource Detection
Others
Region Covered in the Report
North America
Europe

Germany
U.K.
France
Italy
Spain
Russia
Rest of Europe

Asia-Pacific (APAC)

China
Japan
India
South Korea
Rest of Asia-Pacific

Rest of the World (RoW)

Brazil
Saudi Arabia
South Africa
U.A.E.
Other Countries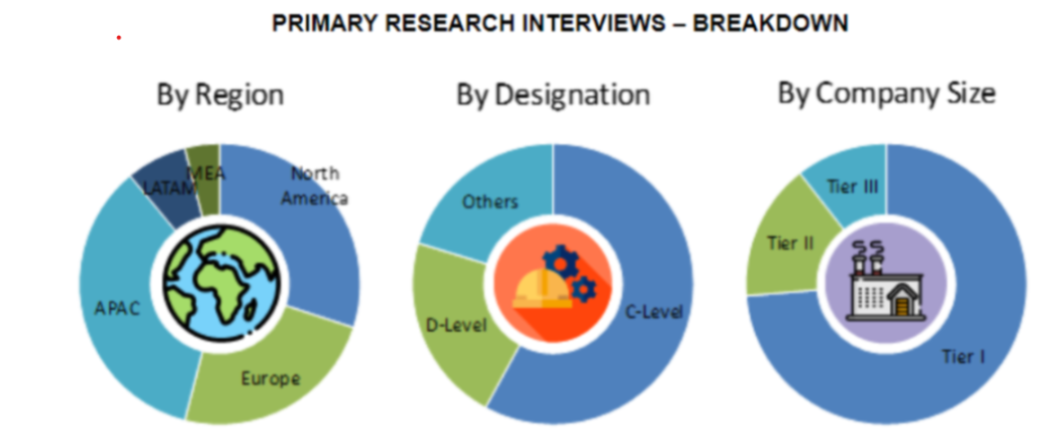 To explore more about this report - Request a free sample copy