Industry Overview
The global biocomposites market is anticipated to reach USD 52.3 billion by 2030 from USD 24.7 billion in 2022, registering a CAGR of 16.2% during the forecast period 2023-2030.  Biocomposites are biocompatible materials made from reinforced natural fibers and a biopolymer matrix that are environmentally beneficial. Plants and cellulose are used to make natural fiber. Due to the existence of natural fibers, bio-based materials are light in weight, provide damping and impact absorption, and have some health benefits. Natural fibers such as jute, hemp, and flax are commonly used in biocomposites. The increased demand from consumer goods, building & construction, transportation, and other end-use verticals owing to degradable, renewable, non-toxic, and non-abrasive nature will accelerate the growth of the global biocomposites market.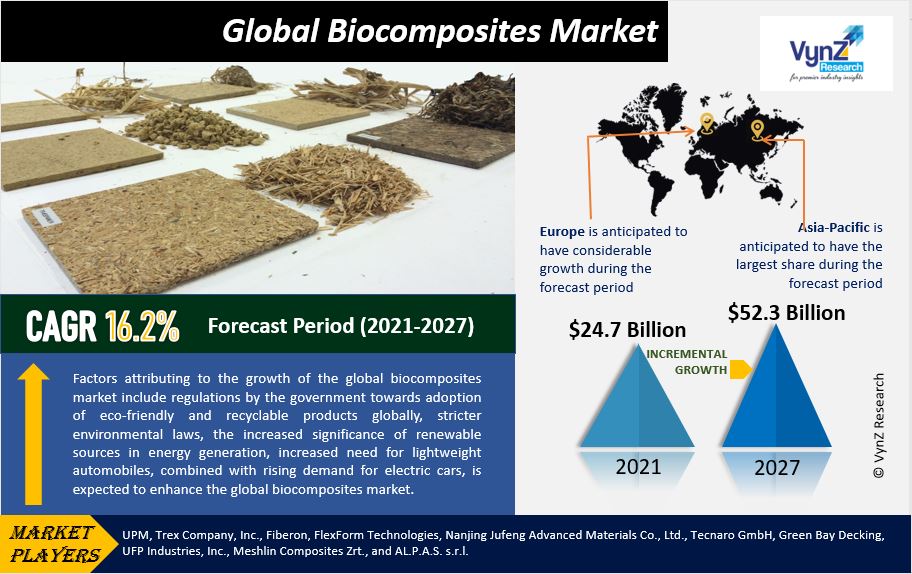 The novel coronavirus outbreak has had disastrous consequences in a variety of industries, including construction. There was a decline in economic activities and rising health risks have aggravated work deficits in the sector, resulting in creating an adverse impact on the biocomposites market.
However, as part of the global COVID-19 relief efforts, biocomposites have played a role in attempting to address the increased need for intensive care facilities that are being witnessed worldwide. For example, CETMA, an Italian research group, announced the SOS Smart Operating Shelter project in 2020, which aims to build mobile intensive care units for COVID-19 patients quickly utilizing eco-friendly materials like natural fiber/biopolymer sandwich panels. This, together with the biomedical sector's excellent growth during the crisis, should help the biocomposites industry rebound in the near future.
Market Segmentation
Insight by Fibre Type
Based on fibre type, the global biocomposites market is bifurcated into wood fibre composites and non-wood fibre composites. Wood fiber composites dominate the market owing to an increased usage of composites as a substitute to plastics, glass, or metal components and have superior thermal and mechanical properties along with resistance to moisture and mildew. Also, they are increasingly adopted in several industry verticals like building and construction, automotive, decking, etc. owing to their low costs and sustainable attributes.
Insight by Polymer Type
Based on polymer type, the global biocomposites market is bifurcated into natural polymer composites and synthetic polymer composites. The adoption of natural polymers is having significant growth owing to a surge in demand for biodegradable products by consumers in various industry verticals. Wool, silk, rubber, cellulose, and proteins are natural polymers that are employed in a variety of applications, including automotive and consumer products.
Nylon, polyester, and polyethylene are examples of synthetic polymers. Despite the fact that natural and organic alternatives are increasingly replacing artificial and synthetic materials, this segment will continue to be a popular choice among customers.
Insight by Product
Based on product, the global biocomposites market is bifurcated into hybrid biocomposites and green biocomposites. The hybrid biocomposites are anticipated to have the largest share during 2023-2030 owing to the rising demand for biocomposites globally. Moreover, they have good fiber-polymer adhesion which results in offering low moisture absorption, high strength, and dimensional stability.
Insight by Process Type
Based on process type, the global biocomposites market is divided into extrusion molding process, resin transfer molding process type, injection molding process type, compression molding process type, and others. The extrusion molding process dominates the market as they are easy to operate and can be uninterruptedly operated so as to provide high production volume.
Insight by End-Use Vertical
Based on end-use vertical, the global biocomposites market is segmented into building & construction, transportation, consumer goods, and others. The building & construction segment will contribute to the largest share in the market owing to increased adoption of these composites in non-load bearing applications of the housing industry like trimmings, vanities, kitchenware, and cladding. In the building business, biocomposites are increasingly being used for flooring, roofing, and wall sheathing. At a comparable price, these composites outlast traditional wood or steel items in terms of durability. Biocomposites can be created with varying degrees of fire resistance in addition to their physical features, allowing them to be used as exterior cladding on buildings or even roofs without sacrificing safety.
Industry Dynamics
Industry Trends
A prominent trend driving the worldwide biocomposites market share is the increasing use of natural fibers as a biodegradable reinforcing material and a substitute for carbon fibers, glass fibers, and inorganic fillers and changing consumer preference from plastic composites to eco-friendly composites. Also, the surge in adoption of biocomposite material in the automotive, consumer electronics, and construction sectors post-COVID-19 crisis are the trends prevalent in the global biocomposites market.
Growth Drivers
Factors attributing to the growth of the global biocomposites market include regulations by the government towards the adoption of eco-friendly and recyclable products globally, stricter environmental laws, the increased significance of renewable sources in energy generation, increased need for lightweight automobiles, combined with rising demand for electric cars, is expected to enhance the global biocomposites market. Furthermore, biocomposites offer superior properties that include less environmental impact in comparison to glass fiber, less energy consumption while production, reduced CO2 emission, and are recyclable, thus propelling the growth of the global biocomposites market. Because of their improved renewability, affordability, recyclability, and, most significantly, biodegradability, biocomposites are also used in basic research. Nevertheless, the inclination towards the adoption of biodegradable materials instead of plastics will proliferate the growth of the market.
Challenges
Natural fiber has low strength which might restrain the growth of the global biocomposites market. Also, fluctuations in raw material cost, restricted processing temperature, poor fire resistance, low thermal resistance, and high hydrophilicity may pose a challenge to the growth of the market.
Opportunities
Increased use of bio-based composites across diverse applications is required to meet efficiency criteria to minimize fossil fuel use by automobiles and buildings. This trend presents manufacturers with an opportunity to capitalize on the large demand for environmentally friendly solutions, generating billions of dollars in annual sales.
Geographic Overview
Asia-Pacific is anticipated to have the largest share during the forecast period owing to the surge in adoption of biocomposite material in the construction sector along with rising construction projects in countries like China, India, and South Korea. Moreover, the rapid growth of the automobile industry has led to an increased need for lightweight automobile parts that reduce pollutant emissions and are fuel-efficient.
Europe is anticipated to have considerable growth during the forecast period owing to initiatives by the government to ban non-recyclable plastic in several countries of the region.
Competitive Insight
Due to the existence of both global and local competitors, the market is very competitive. Major firms have invested in research and development to bring new and improved products to market. Small businesses and start-ups have a lot of potential in the biocomposites market to come up with cost-effective solutions for manufacturing biocomposite goods. Automobile manufacturers' demand is steadily increasing, which may motivate various start-ups to enter the market with novel goods.
UPM Biocomposites provides biobased materials that are innovative, sustainable, and high-performing. The UPM Biocomposites business develops, manufactures, distributes, and sells high-quality composite products for a wide range of industrial and consumer applications. UPM Biocomposites factories are in  Finland and Germany. UPM Biocomposites product portfolio includes UPM ProFi® outdoor products for construction and UPM Formi® granulates for injection molding and extrusion.
TECNARO GmbH is a forward-thinking firm that develops and manufactures its own bioplastics and biocomposites from renewable raw materials and sells them globally via ALBIS PLASTICS GmbH's sales network. With its thermoplastic biomaterials ARBOFORM®, ARBOBLEND®, and ARBOFILL®, TECNARO is one of the leading technology firms.
In March 2021, Wildwood composite cladding, introduced by Fiberon, combines the unrivaled beauty and warmth of wood with the durability of high-performance, low-maintenance materials.
In October 2021, Trex Co., a Virginia-based manufacturer of wood-alternative decking and outdoor living products, announced plans to build a new multifunctional manufacturing facility in Little Rock, Arkansas. The corporation claims that constructing a third manufacturing plant in the United States will allow it to expand consumer access. Trex aims to invest $400 million in the new Arkansas location over the next five years, according to the company. Trex's site will span 300 acres and contain structures for decking and railing production, plastic film recycling and processing, warehousing, and administrative offices.
Some of the major players in the global biocomposites market include UPM, Trex Company, Inc., Fiberon, FlexForm Technologies, Nanjing Jufeng Advanced Materials Co., Ltd., Tecnaro GmbH, Green Bay Decking, UFP Industries, Inc., Meshlin Composites Zrt., and AL.P.A.S. s.r.l.

Region Covered in the Report
•    North America
- U.S.
- Canada
- Mexico
•    Europe
- Germany
- U.K.
- France
- Italy
- Spain
- Russia
- Rest of Europe
•    Asia-Pacific (APAC)
- China
- Japan
- India
- South Korea
- Rest of Asia-Pacific
•    Rest of the World (RoW)
- Brazil
- Saudi Arabia
- South Africa
- U.A.E.
- Other Countries