Industry Overview
Chlorinated Polyvinyl Chloride (CPVC) is a type of thermoplastic resin derived from polyvinyl chloride (PVC) through a chlorination process, enhancing its heat resistance and chemical durability. CPVC exhibits exceptional corrosion resistance, making it ideal for hot water systems, chemical handling, and industrial applications where PVC may not suffice. It maintains its structural integrity at high temperatures, up to 200°F (93°C), without warping or deteriorating. This makes CPVC a popular choice for plumbing, where it outperforms traditional PVC. Its versatility, cost-effectiveness, and robustness have established CPVC as a valuable material in various industries, ensuring reliable and durable solutions.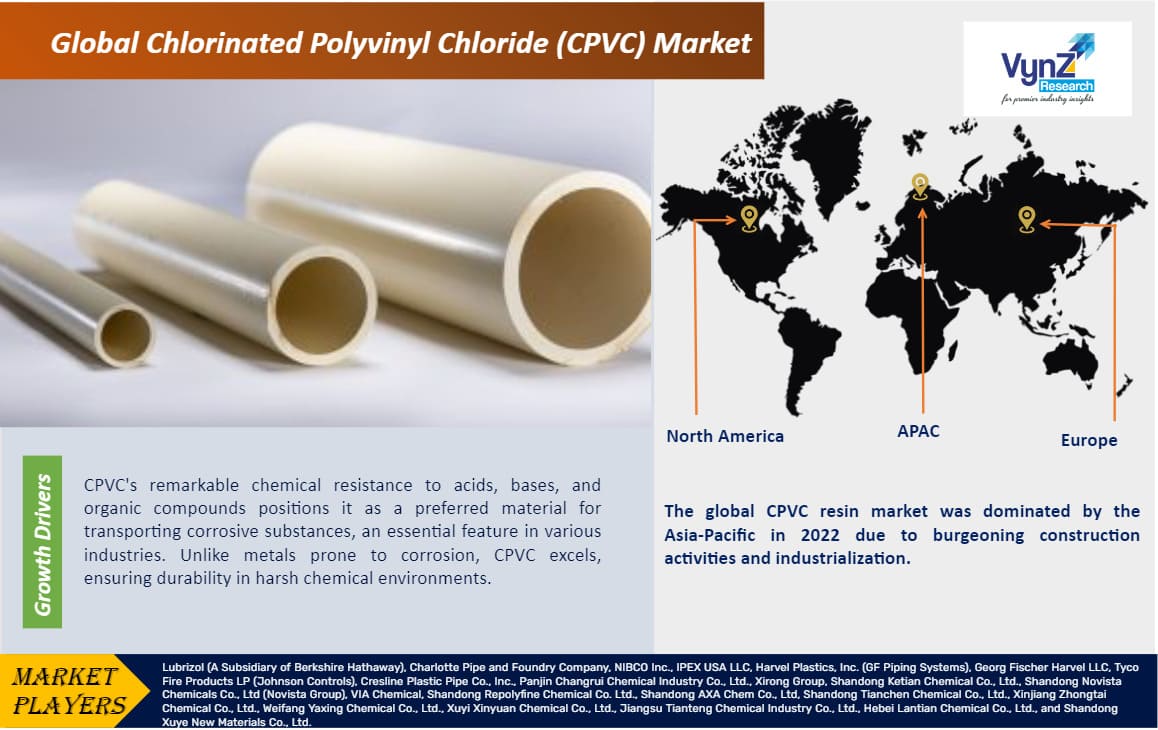 The global CPVC resin market was worth USD 1.44 billion in 2022 and is expected to reach USD 2.49 billion by 2030 with a CAGR of 7.1% during the forecast period, i.e., 2023-2030. The growing demand for CPVC resin is driven by the increasing demand for corrosion-resistant materials in industries, growth in construction and infrastructure projects, rising adoption in hot water systems, and superior performance to traditional PVC. Additionally, its cost-effectiveness contributes to market expansion. Geographically, the global CPVC resin market is expanding rapidly in North America, Europe, and the Asia-Pacific, as a result of the robust construction activities, stringent regulations favoring corrosion-resistant materials, industrial expansion, and increasing adoption for hot water systems in residential and commercial sectors; however, the market confronts constraints such as potential environmental concerns due to chlorine content, competition from alternative materials, fluctuating raw material costs, and evolving regulatory landscapes affecting production and distribution. Overall, the CPVC resin market offers potential prospects for market participants to develop and fulfill the growing needs of wide range of industries including packaging, food and beverages, healthcare/pharmaceutical, and other industries.
Market Segmentation
Insight by Grade
Based on the CPVC resin type, the global CPVC resin market is segmented into adhesive grade, extrusion grade, and sheathing. The extrusion grade segment led the global CPVC resin market in terms of revenue and volume in 2022 due to its versatile applications in industries like plumbing, where pipes, fittings, and conduits require a material with excellent heat resistance and chemical durability. For instance, FlowGuard Gold CPVC pipes by Lubrizol are widely used for hot and cold-water distribution, surpassing conventional materials like copper and galvanized steel. Additionally, extrusion grade CPVC finds extensive use in manufacturing industrial pipes and ducts, exemplified by IPEX's Corzan CPVC systems, favored for their reliability in corrosive environments. This grade's adaptability, cost-effectiveness, and superior performance make it a preferred choice, driving its dominance in the global CPVC resin market.
Insight by End-Use
Based on end-use, the global CPVC resin market is segmented into industrial pipes & fittings, hot water pipes & fittings, underground pipes for housing power cables, fire sprinkler pipes & fittings, and others. Among the end-use segment, housing pipes & fittings segment accounts for the largest share in 2022 owing to its crucial role in modern plumbing systems. CPVC's exceptional corrosion resistance, high-temperature tolerance, and cost-effectiveness make it indispensable. Products like Harvel's BlazeMaster CPVC fire sprinkler systems are preferred for their safety and durability in residential buildings. Additionally, in commercial constructions, CPVC pipes and fittings ensure reliable water distribution. Manufacturers like Spears offer a wide range of CPVC products catering to this segment. With the increasing demand for efficient plumbing solutions, the housing pipes and fittings segment continues to be the driving force behind the growth of the global CPVC resin market.
Chlorinated Polyvinyl Chloride (CPVC) Market  Report Coverage
| | |
| --- | --- |
| Report Metric | Details |
| Historical Period | 2018–2022 |
| Base Year Considered | 2023 |
| Forecast Period | 2023 - 2030 |
| Market Size in 2022 | $1.44 Billion |
| Revenue Forecast in 2030 | $2.49 Billion |
| Growth Rate | CAGR 7.1% |
| Segments Covered in the Report | By Grade and By End-use |
| Report Scope | Market Trends, Drivers, and Restraints; Revenue Estimation and Forecast; Segmentation Analysis; Impact of COVID-19; Companies' Strategic Developments; Market Share Analysis of Key Players; Company Profiling |
| Regions Covered in the Report | North America, Europe, Asia-Pacific, Middle East, and Rest of the World |
Industry Dynamics
Growth Drivers
Broad Chemical Compatibility and High Temperature Durability
CPVC's remarkable chemical resistance to acids, bases, and organic compounds positions it as a preferred material for transporting corrosive substances, an essential feature in various industries. Unlike metals prone to corrosion, CPVC excels, ensuring durability in harsh chemical environments. Its approval for potable water systems underscores its safety. Additionally, CPVC's capacity to handle high temperatures up to 200°F (93°C) and beyond, coupled with its robustness, makes it a prime choice for hot water distribution in residential and commercial plumbing. Its fire-resistant properties, advantageous in sprinkler systems, and energy-saving attributes further bolster CPVC's market demand and growth.
Growth in the Real Estate Sector
The flourishing real estate sector significantly drives the CPVC plastic market, especially in plumbing applications. CPVC is integral to plumbing systems in residential, commercial, and industrial buildings due to its corrosion resistance and suitability for hot water distribution. As the real estate industry expands, the demand for CPVC pipes and fittings surges to handle water supply and wastewater. CPVC's durability leads to fewer replacements, making it a cost-effective choice. Its compliance with safety and water quality standards further elevates its appeal. The thriving real estate market thus propels the demand for CPVC resin, benefiting suppliers, manufacturers, and installers globally.
Challenge
Competition with Other Materials
CPVC resin faces stiff competition in the plumbing and piping industry from alternative materials. Factors like cost, performance, and ease of installation influence the choice between CPVC and its rivals. Standard PVC serves non-pressurized purposes economically, while alternative plastics like PP-R and PP-RCT offer benefits in temperature resistance and installation ease. CPVC manufacturers strive to improve cost efficiency and material performance, emphasizing its unique qualities like high-temperature resilience and chemical durability. Ultimately, project-specific requirements, including budget and local codes, dictate the selection between CPVC and alternative materials in the market.
Geographic Overview
North America
Europe
Asia Pacific (APAC)
Rest of the World
The global CPVC resin market is segmented into North America, Europe, the Asia-Pacific, Latin America, and the Middle East and Africa region. The global CPVC resin market was dominated by the Asia-Pacific in 2022 due to burgeoning construction activities and industrialization. Rapid urbanization in countries like China and India drives demand for durable plumbing systems. For instance, Ashirvad Pipes, a prominent player in India, specializes in CPVC piping solutions for residential and commercial applications. Additionally, Southeast Asian nations like Thailand and Indonesia witness increased infrastructure development, further boosting CPVC demand. The region's robust economic growth and rising awareness of CPVC's benefits, including chemical resistance and cost-effectiveness, solidify Asia-Pacific's dominance in the global CPVC resin market.
Competitive Insight
Lubrizol, a subsidiary of Berkshire Hathaway, stands as a dominant force in the global CPVC resin market. Renowned for supplying specialty chemicals, including CPVC resins, they hold a prominent position, especially in the United States. Notably, their product line, FlowGuard Gold, exemplifies their expertise in CPVC plumbing systems, widely trusted in residential and commercial constructions worldwide. Lubrizol's commitment to innovation and quality further cements its leadership. Their continued growth and market presence underscore their pivotal role in shaping the CPVC industry, with a strong influence on standards and technological advancements.
Kaneka Corporation stands as a significant player in the global CPVC resin market, contributing to its growth and innovation. As a leading manufacturer of PVC and CPVC resins, Kaneka holds a substantial presence, particularly in the Asian market. Their production facilities in Japan and other regions enable them to serve a diverse customer base. With a commitment to quality and technological advancement, Kaneka's CPVC products find applications in critical industries, including plumbing and construction. Their expertise and extensive reach reinforce their position as a key influencer in the CPVC market, solidifying their role in shaping industry standards and solutions.
Recent Development by Key Players
In October 2023, In October, Lubrizol, a leader in specialty chemicals, and Grasim Industries Limited, a flagship company of the Aditya Birla Group, today broke ground on the first phase of a 100,000 metric-ton CPVC resin plant in Vilayat, Gujarat, India. The facility located at the Grasim Industries' site will be the largest single-site capacity for CPVC resin production globally, designed to meet rising CPVC demand for piping applications in India, as well as neighboring countries like Nepal, Bangladesh and Indonesia.
In January 2023, In January, the company eyeing further growth in manufacturing of chlorinated polyvinyl chloride (CPVC) resins, specialty chemicals major Meghmani Finechem Ltd (MFL) is expanding its manufacturing capacity 1.5folds to 75,000 tonnes per annum (TPA). The company will be adding another 45,000 TPA by the fourth quarter of 2023-24.
Key Players Covered in the Report
Lubrizol (A Subsidiary of Berkshire Hathaway), Charlotte Pipe and Foundry Company, NIBCO Inc., IPEX USA LLC, Harvel Plastics, Inc. (GF Piping Systems), Georg Fischer Harvel LLC, Tyco Fire Products LP (Johnson Controls), Cresline Plastic Pipe Co., Inc., Panjin Changrui Chemical Industry Co., Ltd., Xirong Group, Shandong Ketian Chemical Co., Ltd., Shandong Novista Chemicals Co., Ltd (Novista Group), VIA Chemical, Shandong Repolyfine Chemical Co. Ltd., Shandong AXA Chem Co., Ltd, Shandong Tianchen Chemical Co., Ltd., Xinjiang Zhongtai Chemical Co., Ltd., Weifang Yaxing Chemical Co., Ltd., Xuyi Xinyuan Chemical Co., Ltd., Jiangsu Tianteng Chemical Industry Co., Ltd., Hebei Lantian Chemical Co., Ltd., and Shandong Xuye New Materials Co., Ltd. 
The CPVC resin market report offers a comprehensive market segmentation analysis along with an estimation (by value and by volume) for the forecast period 2023–2030.
Segments Covered in the Report (By Value and Volume)
By Grade

    Adhesive grade
    Extrusion grade
    Sheathing grade

End-Use

    Industrial pipes & fittings
    Hot water pipes & fittings
    Underground pipes for housing power cables
    Fire sprinkler pipes & fittings
    Other end-use
Region Covered in the Report
North America
 Europe

Germany
U.K.
France
Italy
Spain
Rest of Europe

Asia-Pacific (APAC)

China
Japan
 India
 Thailand
 Rest of Asia-Pacific

Rest of the World

Argentina
Brazil
Rest of ROW
Primary Research Interviews Breakdown