Industry Overview
Sealants are used to block fluids passage through the surface openings in materials. Elastomeric sealants are used for sealing, finishing, and provide surface protection, as they are elastic and flexible bonding materials. The global elastomeric sealants market is witnessing a good growth in the recent years, due to the various benefits it offers over traditional sealants. They provide good flexibility, durability, heat resistance, and adhesions that are essential in different applications such as cladding, roof building, marble works, and others. They can be used in various surfaces such as stone, steel, concrete, and other polymers.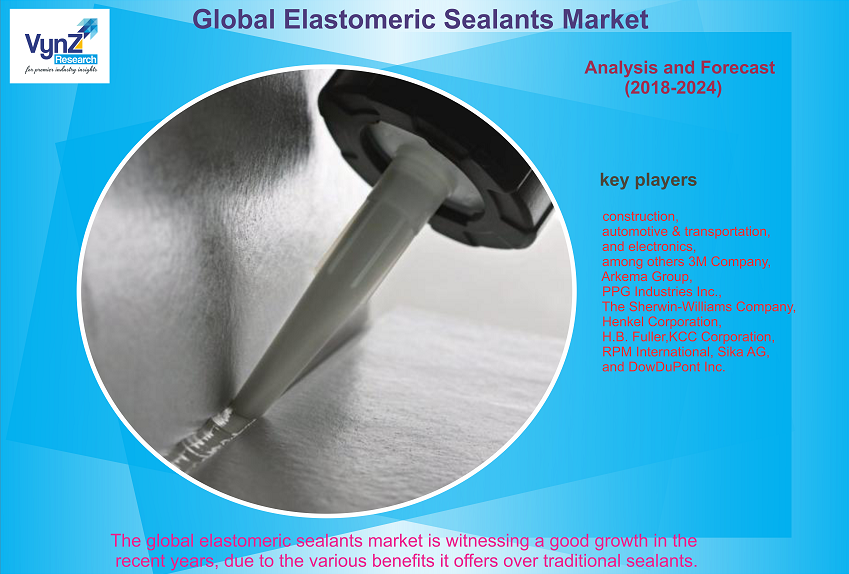 Market Segmentation
Insight by Type
Based on type, the elastomeric sealants market is segmented into silicone, polysulfide, polyurethanes, silyl modified polymers, polybutadiene, and others. Of all these, silicon type category is expected to register the fastest growth in the coming years. This can be attributed to the fact that they have an advantage for weather resistance due to their inorganic chemistry. Also, the easy availability, low cost, and easy applicability is contributing towards its increasing demand. All these factors are driving its demand in the various industries including electronics, aerospace, construction, transportation, and others.
Insight by End-User
On the basis of end-user, the elastomeric sealants market is classified into construction, automotive, electronics, furniture & woodwork, aerospace & defense, marine, and others. These industries are further classified into various applications according to the use of these sealants in these end-user industries. Among all these, the construction category is expected to hold the largest share in the overall market, due to the increasing use of these sealants in different applications including parking areas, cladding, marble works, roads and highways, and others. Additionally, the increasing construction projects in emerging countries such as China and India are further fueling the elastomeric sealants market growth.
Industry Dynamics
Growth Drivers
Growing demand in construction industry, increasing construction activities in emerging countries, increasing use of these sealants in solar and wind power equipment are the major factors driving the elastomeric sealants market growth. The rising number of construction activities in the emerging countries including India, China, South Korea, and others, coupled with continuous innovations in the area of building construction in mature markets is driving the market growth in the recent years. For instance, in 2016, the construction industry of China achieved 17% growth in industry value as compared to 12% growth achieved in 2015.
Challenges
A regulation related to volatile organic compounds (VOC) content in elastomeric sealants is identified as the major challenge hindering the elastomeric sealants market growth. Department of Environmental Protection has laid down a regulation related to control of VOC compounds from adhesives and sealants. This regulation limits emissions of VOC from sealants, adhesives, and primers. The restriction regarding the use is primarily applied to commercial and industrial applications.
Industry Ecosystem
The sealants market is quite fragmented, however there is no consistent industry definition defining what exactly sealant is. Hence, there is a need to achieve a consistent standard for classifying sealants from adhesives and coatings so that it can be effective in achieving growth in the market.
Geographic Overview
Globally, Asia-Pacific is predicted to achieve the highest growth rate in the elastomeric sealants market in the coming years. This is attributed to the growing application of these sealants in various end use industries. Also, due to increasing population along with shift in manufacturing units from developed countries to the region is boosting the market growth.
Competitive Insight
The key players operating in the elastomeric sealants industry are adopting various strategies to expand their footprint in the market such as mergers and acquisitions, expansion, new product development and launches. For example, in 2016, the Dow Chemical Company launched three silicone elastomeric sealants which can be used in numerous industries that includes construction, automotive & transportation, and electronics, among others 3M Company, Arkema Group, PPG Industries Inc., The Sherwin-Williams Company, Henkel Corporation, H.B. Fuller, KCC Corporation, RPM International, Sika AG, and DowDuPont Inc. are some of the key players operating in the elastomeric sealants market.