Industry Overview
The European sodium nitrate market is predicted to grow at 4.2% CAGR during the forecast period (2021–2027) to reach USD 59,996.4 thousand by 2027, owing to the increasing use of sodium nitrate in agriculture, chemical, and food & beverage industries. Use of sodium nitrate as a heat storage medium in concentrated solar power plants is also anticipated to increase the demand of the chemical compound in the region.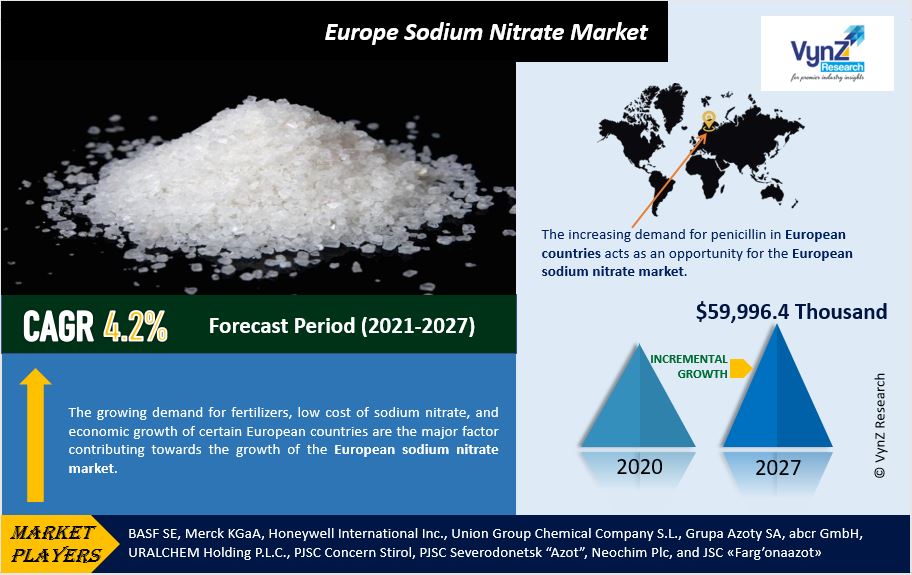 Sodium and potassium salts of nitrate and nitrite are authorized as food additive in the European Union (EU) countries. They are being utilized in cheese, fish, and meat products to hinder microbial growth. Sodium nitrate utilized in fish and meat products enhance the flavor of products and provide protection against botulism.
Among different countries in Europe, the demand for sodium nitrate was largest in Russia, and the country is also anticipated to witness the fastest growth in demand in terms of volume at a CAGR of 2.9% during the forecast period.
Sodium nitrate is an odorless, white powdery chemical compound mainly utilized in the manufacturing of fertilizers. It is highly soluble in ethanol, water, liquid ammonia, and partially soluble in alcohol, methanol, and solvent ether. It exhibits strong hydroscopic property and is considered as strong oxidizer but is usually stable under normal conditions of storage and use.
Market Segmentation
Insight by Grade
Based on grade, the sodium nitrate market is categorized into industrial, food grade, and pharmaceutical grade of which industrial grade held the largest share in the European sodium nitrate market. The low cost and easy manufacturing process of sodium nitrate have turned sodium nitrate as the material of choice for most industrial vendors.
Insight by End-Use
On the basis of end use, the sodium nitrate market is categorized into agriculture, chemical, food and beverages, pharmaceutical, and others. The agriculture industry is estimated to be the largest end-use category in the market in 2017. This is primarily due to the growing demand for fertilizers.
Industry Dynamics
Growth Drivers
The growing demand for fertilizers, low cost of sodium nitrate, and economic growth of certain European countries are the major factor contributing towards the growth of the European sodium nitrate market.
In the coming years, more food will be required to feed the growing human population; thus, highlighting the importance of agriculture as it is the only means of mass food production for humans. The world population is calculated to be 7.0 billion as of 2015 and is expected to rise to 8.5 billion by 2030. Land is a limiting factor and the scope for bringing new lands under agriculture is dim, especially in Europe. Rather on the opposite, available land for agriculture is decreasing due to urbanization, soil erosion, and pollution.
The only possible means to produce enough food for the entire population is by increasing the yield per area of land. This can be possible only by the judicious use of fertilizers coupled with other progressive farming techniques as the use of fertilizers improve soil quality and enhance crop yield. Sodium nitrate is being utilized in fertilizers, thus increasing in use of fertilizers will drive sodium nitrate market growth in Europe region.
Opportunity
The increasing demand for penicillin in European countries acts as an opportunity for the European sodium nitrate market. Sodium nitrate is utilized in penicillin medium preparation along with other salts such as MgSO4, K3PO4, and others. According to the World Health Organization (WHO), many countries such as France and Portugal are facing the shortage of penicillin due to the increasing number of rheumatic heart diseases which develop from a simple untreated throat infection. Thus, an increase in penicillin production is anticipated in the coming years. Thus, the increase in penicillin production assists in sodium nitrate market expansion in Europe.
Competitive Insight
BASF SE, Merck KGaA, Honeywell International Inc., Union Group Chemical Company S.L., Grupa Azoty SA, abcr GmbH, URALCHEM Holding P.L.C., PJSC Concern Stirol, PJSC Severodonetsk "Azot", Neochim Plc, and JSC «Farg'onaazot» are some of the key players operating in the Europe sodium nitrate market.
PRIMARY RESEARCH INTERVIEWS - BREAKDOWN