Industry Overview
The global heat exchangers market is expected to be worth USD 20.5 billion by 2030, expanding at a 5.25% CAGR during 2023-2030. The heat exchanger is equipment or device which transmits heat and saves energy. It's an energy transfer device that works with two or more process fluids. Heat exchangers are used in a variety of domestic and industrial applications, such as steam power plants, chemical processing facilities, building heat and air conditioning systems, and transportation power systems, etc. The rising prominence for heat exchangers in oil & gas industries to extract crude oil will fuel the demand for heat exchangers in the oil & gas industry. Shell & tube, plate & frame, and other types of heat exchangers are widely used in a variety of industries, including chemical, petrochemical, oil & gas, food & beverage, HVACR, power generation, and others.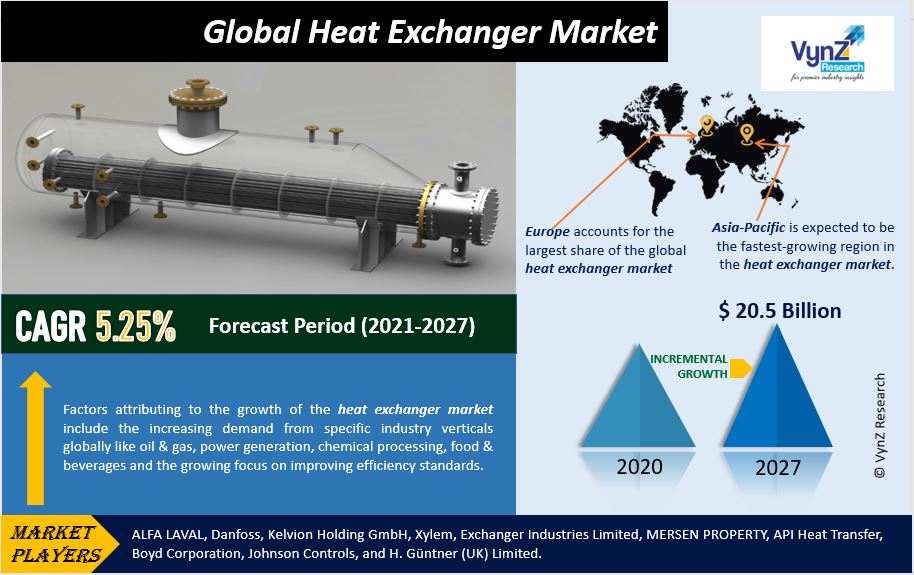 The COVID-19 outbreak has led to stringent lockdowns, leading to a shut down of operations in various sectors and a halt in manufacturing activities. It has affected the heat exchangers market as there are a lot of challenges faced by the industry like lack of labor force, disruption in the supply chain, fluctuating prices of raw material, a temporary ban on imports and exports, etc. However, the market will take a U-turn as there are stimulus packages offered by the government to support the declining economy and end-user industries which will lead to economic recovery post-COVID-19 pandemic.
Market Segmentation
Insight by Material
Based on material, the global heat exchanger market is bifurcated into steel and non-steel. Stainless steel is widely used because of its advantageous qualities, which include corrosion resistance across a wide pH range, lightweight, high thermal conductivity, and does not require special fluids because it is compatible with plain clean water. It is a little expensive, but because of the aforementioned features, it is recommended for long-term use.
Insight by Type
Based on type, the global heat exchanger market is categorized into plate & frame heat exchanger, shell & tube heat exchanger, air-cooled heat exchanger, and others. The plate & frame heat exchanger is sub-divided into the brazed plate & frame heat exchanger, gasketed plate & frame heat exchanger, welded plate & frame heat exchanger, and others. The shell & tube heat exchanger segment is anticipated to contribute to the largest share of the heat exchanger market owing to the convenience offered to operate at high temperatures and pressures and easy servicing. Thus, the rising demand for shell & tube heat exchangers for several applications in industry verticals such as power generation, chemicals, and oil & gas will propel the growth of the market.
Air-cooled heat exchangers are anticipated to have a high CAGR as they are mainly used across refineries, gas processing plants, power plants, and petrochemical plants to transfer heat effectively and utilize waste heat.
Insight by Industry vertical
The global heat exchanger market is classified on the basis of industry verticals into chemical, energy, HVACR, food & beverages, power generation, pulp & paper, and others. The chemical industry dominates the heat exchanger market. Heat exchangers are becoming more prominent in the chemical industry due to their use in a variety of complex processes such as heating, cooling, condensing, evaporation, separation, and others. Furthermore, heat exchangers can resist continuous chemical interactions, enabling the safe and efficient completion of crucial processes.  HVACR is anticipated to be the fastest-growing segment owing to the rising demand for AC and refrigeration units, especially in the Asia-Pacific region. The energy segment is expected to have a high CAGR during the forecast period owing to the rising demand in the downstream and upstream processing industry globally.
Industry Dynamics
Industry Trends
The inception of Industry 4.0 has led to capacity expansion activities globally, rising adoption of heat exchangers in the heat recovery process, and its use in fluid applications, improved technical needs in process industries, and mounting urbanization and industrialization in emerging economies are the key trends in the global heat exchanger market.
Growth Drivers
Factors attributing to the growth of the heat exchanger market include the increasing demand from specific industry verticals globally like oil & gas, power generation, chemical processing, food & beverages, and the growing focus on improving efficiency standards.  Some of the other growth drivers for the growth of the heat exchangers market include a surge in HVACR deployment and other industrial activities, mounting energy prices, and robust industrial development in emerging markets like Asia-Pacific. Furthermore, the market is anticipated to grow considerably owing to the increasing installation of power plants globally, rising demand for sustainable energy development to effectively utilize waste heat generated from several industries, rapidly growing construction activities in residential and commercial sectors, favorable government initiatives, technological innovations will bolster the growth of the market. Nevertheless, Continuous technological innovations in heat exchanger development, such as rapid 3D prototyping, phase-change cooling technology, and research and development efforts, are stimulating market demand for heat exchangers during the forecast period.
Challenges
Less awareness about buildings' energy efficiency, fluctuation in raw material prices,  and a slowdown in demand for heat exchangers from Europe and North America may hamper the growth of the heat exchangers market. Because of the complicated designs of heat exchangers, such as tubular heat exchangers, cleaning and maintenance become more challenging when scaling and corrosion problems emerge. This aspect is expected to stifle the market for heat exchangers.
Opportunities
The rapid urbanization and industrialization in developing economies like China and India that need more power generation will create opportunities for industry players in the heat exchanger market. The rising usage of heat exchangers in nuclear reactors, as well as the upgrade of existing nuclear plants and proposed new nuclear power plant projects, are major possibilities for the heat exchangers market players.
Geographic Overview
Europe accounts for the largest share of the global heat exchanger market due to the presence of well-established manufacturing, automotive, and industrial sectors. Moreover, setting up zero-emission regulation standards for commercial and residential infrastructure, emphasis on less carbon-intensive processes, and mounting demand for sustainable energy consumption will accelerate the growth of the heat exchanger market in the region.
Due to expanding industrial growth in countries like China, India, Japan, and South Korea, Asia-Pacific is expected to be the fastest-growing region in the heat exchanger market. The demand for heat exchangers is growing due to the surge in demand from the chemical, HVACR, petrochemical, and oil & gas industries, as well as government initiatives in countries like Japan and India to produce thermal and solar energy. Furthermore, the market for heat exchangers is likely to benefit from the growing demand for petrochemical products.
Competitive Insight
The industry players are emphasizing technological innovations, product development, strategic partnerships, M&A, and overseas business expansion to sustain themselves in the market. Furthermore, businesses are investing in R&D activities to increase heat transfer efficiency, launch cost-effective and efficient product variants, and have a competitive edge over other players. Also, e-commerce is acting as a driving force to enhance the sales of heat exchangers and manufacturers are focusing on efficient and effective distribution channels.
Alfa Laval is a leading provider for the production of high-quality products for heat transfer, separation, and fluid handling. Alfa Laval aims to help its customers improve their productivity and competitiveness in a diverse array of industries worldwide. Their industrial gasketed plate heat exchangers are suited for diverse industry verticals and in various applications like heating, cooling, and heat recovery, as well as condensation and evaporation. They are constantly looking for ways to expand and improve the range, including new performance criteria and increased flexibility. What is currently referred to as 'next-generation' will soon become standard across the entire Alfa Laval Industrial line.
Danfoss develops energy-efficient solutions to facilitate smart communities and industries building healthy and comfortable climates in buildings and homes, and the production of more food with less waste. With brazed, gasketed, and welded heat exchangers or freshwater distillers, Danfoss optimizes heat transfer in HVAC, District energy, and freshwater systems. Their product portfolio includes welded heat exchangers (SONDEX Spiral Heat Exchangers, SONDEX plate and shell heat exchangers, SONDEX All-welded plate heat exchangers, SondBlock heat exchangers), gasketed heat exchangers (SONDEX Traditional plate heat exchangers, SONDEX Condensers, SONDEX Evaporators, SONDEX Sanitary plate heat exchangers, SONDEX Free flow plate heat exchangers, and others( SONDEX freshwater distillers, Brazed heat exchangers). With the development of the novel D-plate series, Danfoss experts have improved the way heat exchanger plates are designed.
Alfa Laval has set up a new greenfield manufacturing site for brazed heat exchangers in San Bonifacio, Italy, in October 2021. The new cutting-edge facility, which includes research and customer training facilities, will primarily supply heat exchangers to European customers. It has a digitalized warehouse management system to track the flow of materials and commodities, as well as an advanced automated production setup, an on-site training center, and a lab for the introduction of novel innovative heat pumps, air conditioning, and refrigeration products.
KELVION has invested 3.2 million euros in a second production facility in Knoxville, Tennessee, in September 2021, to meet the growing demand for heat exchangers in the data center and refrigeration industries in North America, as well as to enhance customer experience, harmonize product technology, expand production capabilities, and lowers the cost.
Some of the players in the global heat exchanger market include ALFA LAVAL, Danfoss, Kelvion Holding GmbH, Xylem, Exchanger Industries Limited, MERSEN PROPERTY, API Heat Transfer, Boyd Corporation, Johnson Controls, and H. Güntner (UK) Limited.

Region Covered in the Report
•    North America
- U.S.
- Canada
- Mexico
•    Europe
- Germany
- U.K.
- France
- Italy
- Spain
- Russia
- Rest of Europe
•    Asia-Pacific (APAC)
- China
- Japan
- India
- South Korea
- Rest of Asia-Pacific
•    Rest of the World (RoW)
- Brazil
- Saudi Arabia
- South Africa
- U.A.E.
- Other Countries