Industry Overview
High-performance adhesives are used in various markets and applications such as label and tape, medical packaging, building and construction, transportation, and others. The global high-performance adhesives market is expected to register a significant growth during the forecast period, due to its superior properties and ability such as, it can bond to unique and difficult substrates, withstand harsh environment conditions, enhance overall product durability, and others. Also, this market is expected to provide various growth opportunities to the whole ecosystem and hence projected to register a healthy growth in the coming years.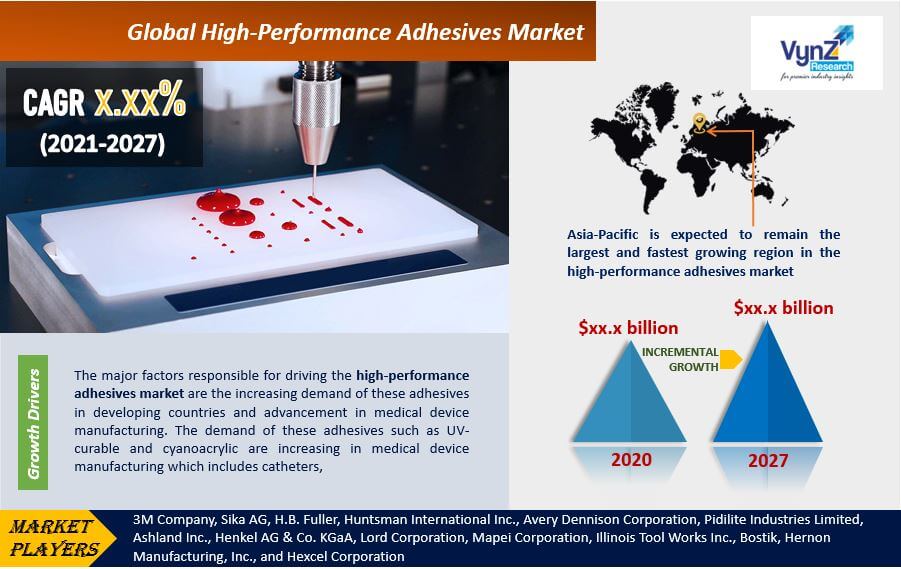 Market Segmentation
Insight by Type
Based on type, the high-performance adhesives market is segmented into epoxy, polyurethane, acrylic, silicone, and others. Of all types, epoxy type category dominated the market, due to its superior properties such as high strength, high toughness, non-rigid, good adhesives properties to substrate such as metals, ceramics, plastics, and others. Along with that, it also provides high durability and excellent temperature resistance, which are contributing towards the increasing demand of this type of adhesives in the market.
Insight by End-User
On the basis of end-user, the high-performance adhesives market is classified into transportation, aerospace and defense, packaging, electronics, construction, metal, and others. Transportation is the dominant end-user category in the market, driven by an increasing usage of these adhesives to bond multi-material substrates. The medical category is the fastest growing segment in the high-performance adhesives market, due to the increasing aging population, and advancement in medical devices.
Insight by Technology
Based on technology, the high-performance adhesives market is segmented into solvent-based, water-based, hot melts, and others. Solvent-based adhesives are most popular in the market and hence dominated the high-performance adhesives market. These adhesives are mainly used for tough bonds under stress. They are used for bonding rigid carrier material such as wood. Also, they are suitable for interior bonding applications such as textiles, PVC film, PVC foam film/carpets with carrier materials.
Industry Dynamics
Growth Drivers
The major factors responsible for driving the high-performance adhesives market are the increasing demand of these adhesives in developing countries and advancement in medical device manufacturing. The demand of these adhesives such as UV-curable and cyanoacrylic are increasing in medical device manufacturing which includes catheters, syringes, IV delivery systems, hearing aids, silicone rubber components, and others, resulting in market growth.
Challenges
Fluctuation in raw material prices and stringent regulatory policies are among the major challenges restricting the high-performance adhesives market growth. High crude oil prices are expected to affect the prices of raw materials of adhesives and sealants. Also, the crude oil prices are highly volatile in nature, which could also create fluctuations and uncertainties in the market, restraining the market growth.
Industry Ecosystem
The value chain of this market includes various steps including sourcing of raw material, high-performance adhesive manufacturers, distributors, and end-users. 
Geographic Overview
Asia-Pacific is expected to remain the largest and fastest growing region in the high-performance adhesives market, which is attributed to the increasing automobile production along with the rising adoption and increased acceptance of these advanced adhesives. Along with that, the high economic growth, cheap labor availability, growth in manufacturing industry, shift in production sites/facilities from developed to developing countries are among the major factors contributing towards the region's growth.
Also, the government of countries such as China, India, and Japan are investing significantly in vehicle production, developing transport infrastructure, infrastructure development, and other areas, which are aiding the demand of high-performance adhesives, leading to the market growth. For instance, Indian government planning to invest $376.5 billion in infrastructure development, from which $75.3 billion is allocated for railways roads, and port connectivity projects.
Competitive Insight
3M Company, Sika AG, H.B. Fuller, Huntsman International Inc., Avery Dennison Corporation, Pidilite Industries Limited, Ashland Inc., Henkel AG & Co. KGaA, Lord Corporation, Mapei Corporation, Illinois Tool Works Inc., Bostik, Hernon Manufacturing, Inc., and Hexcel Corporation are some of the key players operating in high-performance adhesives industry.