Industry Overview
Industrial gases are a collection of gaseous compounds produced and used for certain purposes in a variety of industries. These gases are essential for manufacturing processes like heat treatment, welding, cutting, and hydrogen. They include carbon dioxide, nitrogen, oxygen, hydrogen, and argon. They are widely used in industries like chemicals, electronics, food processing, and healthcare. Industrial gases are frequently transported and stored in specialized containers under carefully monitored circumstances and are designed to satisfy certain industrial needs in terms of both purity levels and characteristics. These gases are crucial elements of contemporary manufacturing because they improve efficiency, safety, and productivity in a variety of industrial processes.
Global industrial gases market was worth USD 109.00 billion in 2022 and is expected reach USD 195.00 billion by 2030 with a CAGR of 7.04% during the forecast period, i.e., 2023-2030. Industrial gases demand is rising due to the growing application in the healthcare sector, expanding food & beverages industry, application in electronic and semiconductors along with flat panel display and printed electronics, and application in fertilizer production.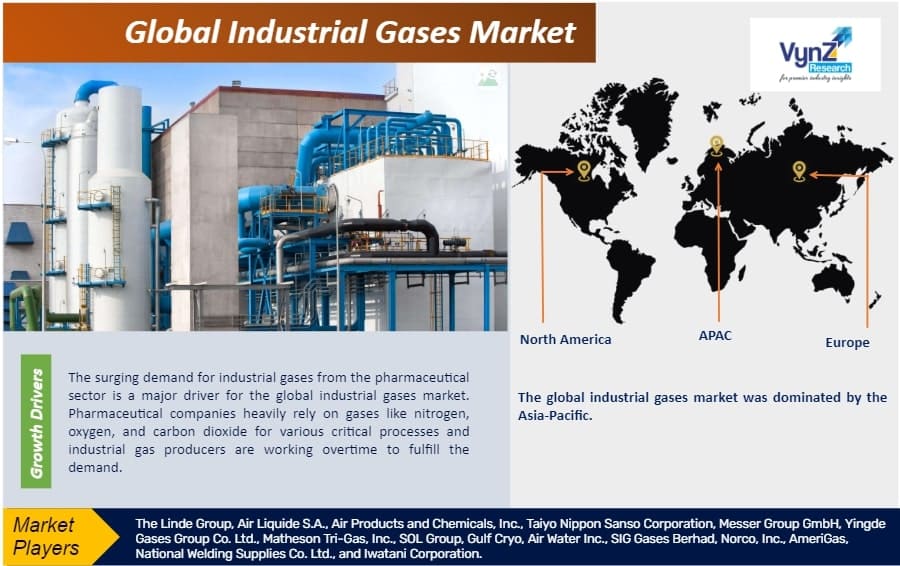 Geographically, the market is expanding rapidly in North America, Europe, and the Asia Pacific, as a result of the robust manufacturing sectors, substantial industrial applications, and a booming semiconductor industry; however, the market confronts constraints such as Regulatory constraints, high production costs, and transportation challenges. Overall, the industrial gases market offers potential prospects for market participants to develop and fulfill the growing needs of wide range of industries including healthcare, manufacturing, consumer electronics, and other industries.
Market Segmentation
Insight by Gas Type
Based on the gas type, the global industrial gases market is segmented into oxygen, nitrogen, hydrogen, carbon dioxide, acetylene, argon, and other gases. In 2022, Oxygen dominated in the global industrial gases market due to its pervasive utility across diverse industries and its indispensable position in processes such as combustion, oxidation, and metal refining, forming the backbone of manufacturing and healthcare sectors. With numerous production plants worldwide, oxygen availability is widespread and with growing demand from end-use industries, companies are investing heavily to ramp up the production capacity. For instance, in September 2023 Linde announced that it will build a new industrial gas plant in Bangladesh with an investment of USD 17 million to produce oxygen and other industrial gases. Additionally, the crucial role of oxygen in life support systems further solidifies its unparalleled position, solidifying its leading position in the industrial gases market.
Insight by End-use Industry
Based on the end-use industry, the global industrial gases market is segmented into the healthcare and pharmaceutical, manufacturing, food & beverages, metallurgy & glasses, chemicals & energy, and other end-use industry. In 2022, healthcare and pharmaceutical segment dominated the global industrial gases market due to indispensable reliance of these industries on specialized gases. Oxygen, nitrogen, and carbon dioxide are vital for medical applications, including respiratory therapies, surgeries, and pharmaceutical manufacturing processes. Partnerships such as Air Liquide's collaboration with hospitals for medical gas supply exemplify this reliance. Moreover, extensive production plants, such as Linde's healthcare-specific facilities, cater to the industry's stringent purity and safety standards. The surge in healthcare infrastructure development, coupled with escalating demand for pharmaceuticals, further solidifies this dominance, making the healthcare sector a pivotal driver in the global industrial gases market.
Insight by Distribution and Transportation
Based on the distribution and transportation, the global industrial gases market is segmented into on-site, liquid gas transport (bulk transport), and cylinder (merchant). In 2022, onsite segment dominated the global industrial gases market as it offers tailored gas production at the location of use, ensuring a stable supply. Companies like Air Liquide provide onsite gas generation systems to industries like healthcare and electronics, exemplifying the segment's dominance in meeting specialized gas needs efficiently. 
Industrial Gases Market Report Coverage
| | |
| --- | --- |
| Report Metric | Details |
| Historical Period | 2018–2022 |
| Base Year Considered | 2023 |
| Forecast Period | 2023 - 2030 |
| Market Size in 2022 | $109.00 Billion |
| Revenue Forecast in 2030 | $195.00 Billion |
| Growth Rate | CAGR 7.04% |
| Segments Covered in the Report | By Gas Type, By End-use Industry and By Distribution and Transportation |
| Report Scope | Market Trends, Drivers, and Restraints; Revenue Estimation and Forecast; Segmentation Analysis; Impact of COVID-19; Companies' Strategic Developments; Market Share Analysis of Key Players; Company Profiling |
| Regions Covered in the Report | North America, Europe, Asia-Pacific, Middle East, and Rest of the World |
Industry Dynamics
Growth Drivers
Applications in pharmaceutical industry
The surging demand for industrial gases from the pharmaceutical sector is a major driver for the global industrial gases market. Pharmaceutical companies heavily rely on gases like nitrogen, oxygen, and carbon dioxide for various critical processes and industrial gas producers are working overtime to fulfill the demand. For instance, Linde started production of industrial gases at its Hyderabad (India) plant in October 2023. The plant will produce 250 tonnes per day of gases catering to the requirements of pharma and other industrial sectors in the region. Additionally, the pharma industry's need for precise gas formulations in research, manufacturing, and packaging processes solidifies its position as a significant consumer of industrial gases, sustaining growth in the industrial gases market and fostering mutually beneficial partnerships between pharmaceutical giants and gas producers.
Demand from fertilizer industry
The escalating demand for industrial gases in the fertilizer industry significantly bolsters the global industrial gases market. Gases like nitrogen and hydrogen are vital in fertilizer production processes, essential for enhancing agricultural productivity. For instance, Linde signed an agreement with OCI to invest USD 1.8 billion to supply clean hydrogen to OCI's blue ammonia facility in Texas. As part of the agreement, Linde will supply OCI with clean hydrogen by capturing more than 1.7 million metric tons of carbon dioxide emissions per year once the facility goes online in 2025. The fertilizer sector's reliance on specialized gas applications propels its status as a substantial market consumer, reinforcing growth in the industrial gases sector and encouraging mutually beneficial collaborations between fertilizer producers and gas suppliers.
Challenge
Growing regulatory scrutiny and stringent environmental standards
Rising regulatory scrutiny and stringent environmental standards pose a significant impediment to the global industrial gases market growth. For instance, emissions reduction targets set by the Paris Agreement compel industries to adopt greener technologies, impacting industrial heavily reliant on industrial gases. In the European Union, the Industrial Emissions Directive imposes strict limits on pollutant emissions, urging companies to invest in cleaner production methods. Complying with such regulations requires substantial capital investment and research, potentially straining smaller enterprises. Moreover, navigating a complex web of environmental compliance further increases operational costs, presenting a formidable challenge for the global industrial gases market expansion in the face of increasingly stringent regulatory measures.
Geographic Overview
The global industrial gases market is segmented into North America, Europe, the Asia-Pacific, South America, and the Middle East and Africa region. The global industrial gases market was dominated by the Asia-Pacific in 2022 because of its booming semiconductor industry, especially in nations like China, South Korea, and Japan and the strong fertilizer demand from countries such as China, India, and South-East Asia.
Additionally, the region's strong presence in manufacturing, chemicals, and healthcare further amplifies demand, resulting in the investment from the global players to set up productions plants in the region. For instance, Linde operates an industrial gas plant in Malaysia with capacity of Over 400,000 Nm³/h of gaseous oxygen and 900 metric tons per day of liquefied gases, while Air Liquide has a plant in Ulsan, South Korea Plant producing over 1,500 metric tons per day of oxygen. This dynamic interplay of production capabilities, strategic partnerships, and thriving end-use industries solidifies Asia-Pacific's leadership in the global industrial gases market.
Competitive Insight
Linde, a powerhouse in the global industrial gases market, holds a preeminent position in the market, largely driven by strategic acquisitions and innovative ventures. The merger of Linde with Praxair in 2018 solidified its leading position in the market, creating Linde plc, now the largest industrial gas company worldwide. Linde's extensive network encompasses over 1,000 production plants across 100 countries, ensuring a robust supply chain and global network. Collaborations with leading companies such as ExxonMobil and BASF showcase Linde's commitment to innovation and its diverse product line spans gases for healthcare, electronics, and manufacturing industries, augmented by a strong focus on sustainable solutions, exemplified by investments in hydrogen and clean energy technologies. These factors collectively cement Linde's unrivaled standing in the global industrial gases market.
Air Liquide is another prominent player in the global industrial gases market, maintaining a leading position through strategic initiatives. The company has completed key acquisitions in the industrial gases space including the acquisition of Airgas in 2016, which significantly expanded its presence in North America. With over 1,300 production plants worldwide, Air Liquide boasts a formidable production capacity and supply chain network. Air Liquide's collaborations with companies like TotalEnergies and Siemens underscore its commitment to innovation and sustainable solutions. Moreover, the company revealed investment backlog of EUR 2.5 billion in Q3 2023 with largest investments in the industrial gases. The company's extensive product line caters to diverse sectors including healthcare, energy, and manufacturing. Its investments in cutting-edge technologies, such as hydrogen and carbon capture, further solidify Air Liquide's pivotal role in the industrial gases market.
Recent Development by Key Players
In October 2023, Air Liquide announced that it will establish a platform supplying low-carbon industrial gases including hydrogen, oxygen, nitrogen and argon in Bécancour, Québec (Canada) with an investment of more than EUR 140 million. The platform will include Air Liquide's 0 MW PEM electrolyzer, currently the world's largest in operation, and a new air separation unit producing renewable oxygen and nitrogen, as well as liquid storage capacity, connected by a local pipeline network to best serve its customers.
In August 2023, The European Bank for Reconstruction and Development (EBRD) announced that it is provided a EUR 31.5 million loan to OXY Technical Gases (OXY), a Croatian joint production project between two leading Italian producers of industrial gases – SIAD Group and the SOL Group. The project, upon completion, will provide high-purity liquid oxygen, nitrogen and argon will supply Croatia and the region.
Key Players Covered in the Report
The Linde Group, Air Liquide S.A., Air Products and Chemicals, Inc., Taiyo Nippon Sanso Corporation, Messer Group GmbH, Yingde Gases Group Co. Ltd., Matheson Tri-Gas, Inc., SOL Group, Gulf Cryo, Air Water Inc., SIG Gases Berhad, Norco, Inc., AmeriGas, National Welding Supplies Co. Ltd., and Iwatani Corporation.
The industrial gases market report offers a comprehensive market segmentation analysis along with an estimation for the forecast period 2023–2030.
Segments Covered in the Report
Oxygen

Hydrogen

Nitrogen

Carbon dioxide

Acetylene

Argon

Other gases
Region Covered in the Report
Germany

U.K.

France

Italy

Spain

Russia

Rest of Europe
China

Japan

India

South Korea

Rest of Asia-Pacific
Saudi Arabia

U.A.E

South Africa

Rest of MEA
Argentina

Brazil

Chile

Rest of South America
Primary Research Interviews Breakdown