Industry Overview
From USD 7.2 billion in 2020, the global industrial gloves market will reach USD 15.1 billion by 2027, registering a CAGR of 10.5% during 2021-2027. Industrial gloves protect from electricity, wounds, heat, skin punctures, friction, and dangerous chemical or biological substances.  Rubber, metal, leather, vinyl, and other materials are used to make industrial gloves. They're employed in a variety of industries, including heavy machinery manufacturing, healthcare, construction, food processing, and automobiles. End-users demand various types of industrial gloves, such as latex gloves in hospitals, vinyl gloves in the food industry, and so forth.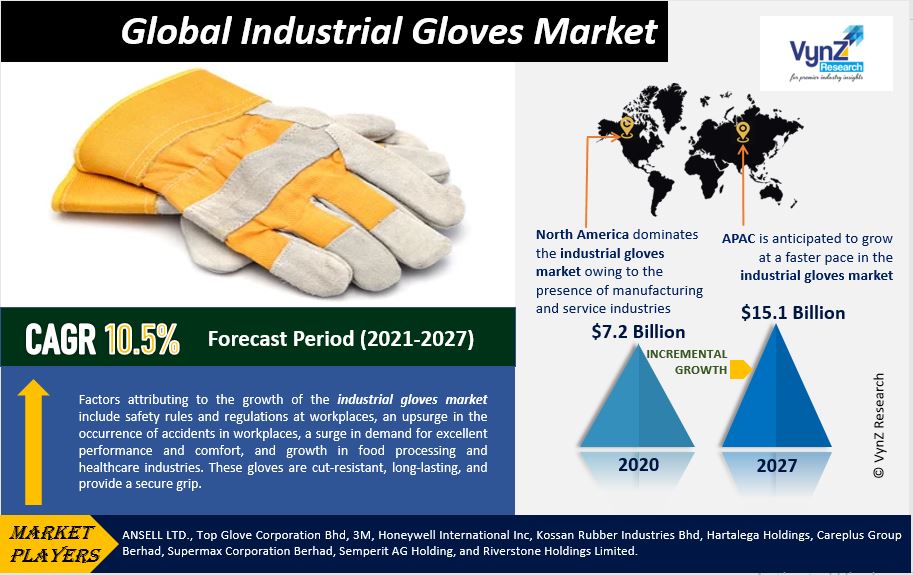 The COVID-19 pandemic has substantially affected several businesses owing to the entire or partial stoppage of production activity. In certain nations, the progressive lifting of lockdowns has aided in the resumption of production operations, but with precautionary steps such as keeping social distance, wearing gloves, and hand sanitization. Strict government laws addressing workplace safety in Europe and the United States have also contributed to industry expansion. In addition, shifting consumer behavior and spending patterns as a result of the epidemic is increasing market growth.
Market Segmentation
Insight by Product Type
Based on product type, the global industrial gloves market is bifurcated into disposable industrial gloves and reusable industrial gloves. The disposable gloves category accounted for the largest share as these gloves are solvent-resistant and odor-free, resulting in increased adoption in the food, hospital, medical device, and pharmaceutical industries.
Insight by Material Type
Based on material type, the global industrial gloves market is segmented into natural rubber, nitrile, vinyl, neoprene, polyethylene, and others. Because of the increased use of these gloves in the chemical industry as well as in the home, the natural rubber category accounted for the largest market share. The growth of the chemical sector, as well as the demand for and production of chemicals used in a variety of industries, are predicted to boost demand for natural rubber gloves. Thus, rubber gloves are in high demand because of their high level of touch sensitivity, elastic nature, comfortable fit, and biodegradability. Nitrile gloves are anticipated to have a high CAGR owing to their superior flexibility as they offer elastic material in the product. The market share is increasing as a result of increased awareness in various manufacturing industries as a result of strict regulatory rules aimed at reducing worker accidents and other resource losses.
Insight by End-User
Based on end-user, the global industrial gloves market is segregated into food, chemicals, manufacturing, healthcare, pharmaceuticals, and others. The healthcare vertical contributes the largest share in the market and is expected to continue to do so for the foreseeable future. The healthcare industry makes substantial use of disposable, nitrile, latex, and natural rubber. Medical gloves play an important role in protecting patients and healthcare providers, hence the demand for industrial gloves from the healthcare industry is likely to continue to rise over the forecast period. Furthermore, the hazards of germ and blood-borne pathogen transmission on the job are predicted to drive up demand for disposable gloves in medical and healthcare centers. During the projected period, the market is expected to develop due to the rising awareness about disease prevention and consumer well-being in the healthcare sector.
Industry Dynamics
Industry Trends
The rising trend to prevent accidents owing to stringent norms and standards from the international and domestic organizations like OSHA, ANSHP, and EU standards will lead to the adoption of industrial gloves at workplaces.
Growth Drivers
Factors attributing to the growth of the industrial gloves market include safety rules and regulations at workplaces, an upsurge in the occurrence of accidents in workplaces, a surge in demand for excellent performance and comfort, and growth in food processing and healthcare industries. These gloves are cut-resistant, long-lasting, and provide a secure grip. Furthermore, robust industrialization is prompting the adoption of safety equipment including gloves at workplaces, initiatives by the government, and ongoing R&D activities for product development will accelerate the growth in the industrial gloves market. The global industrial gloves market is expected to develop in the next years as the biotechnology, food and beverage, pharmaceutical, chemical, and automobile industries thrive. Also, industrial gloves aid in the prevention of contamination, exposure to hazardous substances, and the maintenance of a hygienic environment. The growing number of manufacturing enterprises in emerging nations, as well as the expanding usage of comfortable, safe industrial gloves, are likely to drive the global market forward in the near future. Thus, the rising demand for a variety of these gloves in nations like New Zealand, the United States, the United Kingdom, and Switzerland is expected to grow the worldwide industrial gloves market during 2021-2027.
Challenges
The market's expansion is expected to be hampered by the availability of low-cost local goods, deviation in raw material prices, presence of an unorganized sector, and a lack of understanding about the use of industrial gloves in emerging markets. Also, unpleasant skin reactions from latex gloves, such as allergies, irritation, and itching, may limit the worldwide industrial gloves market's growth. Moreover, the mounting automation in all end-use verticals will significantly reduce human effort and boost accuracy, but it will also have an impact on employment and the use of personal protective equipment like industrial gloves, posing a challenge to its growth.
Opportunities
During the forecast period, the implementation of emerging solutions such as Ansell's new cut-resistant gloves, which are developed with next-generation INTERCEPT Technology yarns which offer superior performance and dexterity, required at industrial workplaces is expected to generate new opportunities for the industrial gloves market to flourish. Thus, the launch of more technologically improved gloves, as well as the creation of easily degradable gloves, might generate significant revenue for participants in the target market.
Geographic Overview
North America dominates the industrial gloves market owing to the presence of manufacturing and service industries, rising government regulations on industrial safety, resulting in the growth of the industrial glove market. North American consumers are cautious about the application of safety standards and adhere to them rigidly in any working environment across all end-use sectors.
APAC is anticipated to grow at a faster pace in the industrial gloves market owing to the massive availability of natural rubber and nitrile rubber in the ASEAN region that is used to manufacture industrial gloves. Top industrial glove manufacturers are in Malaysia, Thailand, and Indonesia, with almost 30% of industrial gloves manufactured in each of these nations that are shipped to North America and Europe.
Competitive Insight
The industry players are growing their presence by adopting strategies like product launch, partnerships, joint ventures, etc to improve their market share and sustain themselves in the competitive market.
Top Glove Corporation Bhd is the world's largest glove manufacturer. Organic expansion, inorganic advancement, and strategic investments will all be part of the group's growth strategy. Their product includes vinyl gloves, nitrile gloves, latex gloves, and surgical gloves. Top Glove plans to have 59 plants, including 46 glove factories and 13 other factories, 1,486 glove production lines, and a glove production capacity of 201 billion gloves per year by December 31, 2025.
Honeywell industrial safety gloves are comprised of lightweight, innovative materials that provide superior comfort and reduce hand fatigue. Honeywell's protective gloves have cutting-edge innovations that provide a great fit, improved dexterity, and comprehensive workplace adaptability. Some of the products are Honeywell CoreShield, Honeywell Rig Dog, Neoprene Glovebox Gloves, Flextril Nitrile Chemical Gloves, SilverShield-SSG, etc.
In June 2021, Ansell, a global pioneer in personal protection equipment, announced the opening of its first facility in Russia in Uzlovaya, Tula area, on the grounds of Technopark JSC "Plastik." The plant will manufacture ActivArmr® Hycron® gloves, which are designed to protect professionals in extreme situations. The company intends to create two million pairs of gloves per year at start, then double production in the future. This will enable local production to meet ActivArmr® Hycron® demand in Russia, as well as export the product to Belarus and Kazakhstan.
In March 2021, Hartalega Holdings Bhd, Malaysia's second-largest rubber glove manufacturer, announced plans to invest 7 billion ringgit ($1.7 billion) over the next 20 years to establish 16 new manufacturing sites. Hartalega said a subsidiary, Hartalega NSM Sdn. Bhd., has agreed to buy 250 acres of property from a firm owned by the Ministry of Finance for 228.7 million ringgit as part of its growth ambitions. The agreement includes an option to buy another 130 acres of land in the same location in Kedah, Malaysia's northwest state. The location would be home to all 16 of the planned plants.
Some of the major industry players operating in the global industrial gloves market include ANSELL LTD., Top Glove Corporation Bhd, 3M, Honeywell International Inc, Kossan Rubber Industries Bhd, Hartalega Holdings, Careplus Group Berhad, Supermax Corporation Berhad, Semperit AG Holding, and Riverstone Holdings Limited.

Region Covered in the Report
•    North America
- U.S.
- Canada
- Mexico
•    Europe
- Germany
- U.K.
- France
- Italy
- Spain
- Russia
- Rest of Europe
•    Asia-Pacific (APAC)
- China
- Japan
- India
- South Korea
- Rest of Asia-Pacific
•    Rest of the World (RoW)
- Brazil
- Saudi Arabia
- South Africa
- U.A.E.
- Other Countries