Industry Overview
The global industrial pumps market size is anticipated to grow at a CAGR of 5.2% during the forecast period. It will grow from USD 57.56 billion in 2022 to USD 94.56 billion in 2030. Industrial pumps are mechanical devices used to transport fluids, such as wastewater, chemicals, oil, sludge, and slurry, between different locations. Currently, they come in various forms, dimensions, and arrangements depending on the liquid applications and materials employed in their production. They are manufactured via cast iron, carbon steel, stainless steel, and other metal alloys so as to obtain effective flow control in industries like oil & power, food & beverages, water & wastewater, chemicals, etc. During the projected period, factors such as the rising need for power, oil, and gas projects are expected to drive demand for industrial pumps. The increased demand for industrial pumps from the pharmaceutical industry to manufacture a large volume of medicines and increased demand for food from emerging nations like Brazil, India, etc. will drive the market revenue of industrial pumps.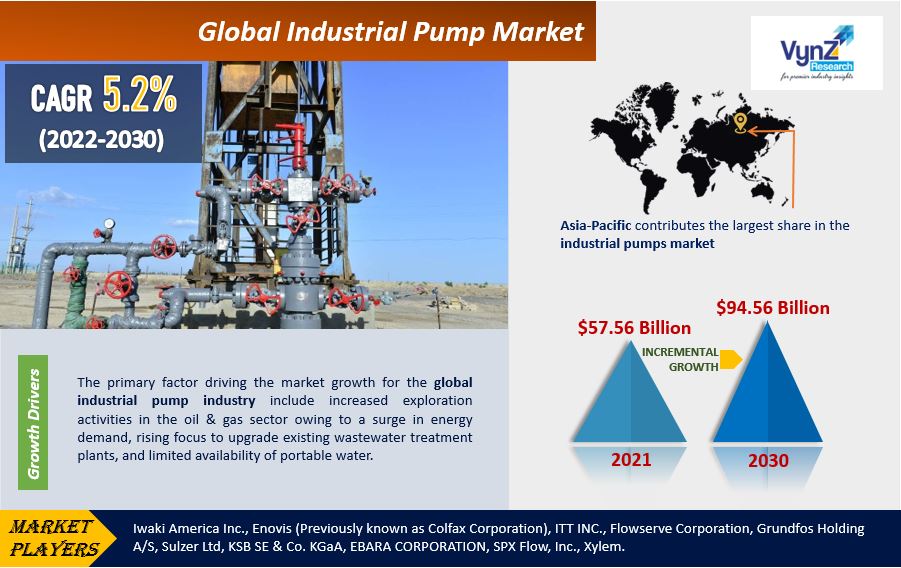 Market Segmentation
Insight by Type
Based on Type, the Global Industrial Pumps Market is segmented into the Centrifugal Pump, Positive Displacement Pump, and Others (Vane Pump, Lobe Pump, Jet Pump, and Electromagnetic Pumps). Centrifugal pump is subdivided into axial flow pump or propeller pump, radial flow pump, and mixed flow pump. The positive displacement pump is subdivided into a reciprocating pump and a rotary pump. The reciprocating pump is further divided into a piston pump, plunger pump, and diaphragm pump. The rotary pump is further divided into a screw pump and a gear pump.
Centrifugal pumps are anticipated to contribute the largest market share in the industrial pump industry during the forecast period. These pumps are extensively deployed in various applications like fire protection systems, water supply, food & beverage industries, sewage disposal, chemical industries, etc. Furthermore, centrifugal pumps are in high demand because they can be employed in businesses dealing with high volumes of fluid regardless of pressure. Centrifugal pumps are typically utilized with liquids with low viscosities and solid concentrations.
Nevertheless, increased construction in residential and commercial infrastructure, the surge in infrastructure investment, and the expansion of the manufacturing sector will drive the market demand for centrifugal pumps, thereby leading to market development of the global industrial pump industry.
Insight by End-Use
Based on End-Use, the Global Industrial Pumps Market is segmented into Textile, Metal and mining, Water & Wastewater Treatment, Chemical, Oil & Gas, Power Generation, Agriculture, and Others. The water and wastewater treatment segment contributes the largest market share in the industrial pump industry. The global demand for water pumping systems is being driven by the rising requirement for water treatment facilities to address the world's growing water scarcity needs across municipalities and industries.
In the power-generating business, industrial pumps are used in a number of applications, such as flue gas desulfurization services, boiler feed water, cooling water, circulation water, condensate water, and auxiliary services. Furthermore, steam generation, which is vital in power plants, necessitates the use of various products including boiler feed pumps, booster pumps, condensate pumps, and circulation pumps.
Global Industrial Pump Market Report Coverage
| | |
| --- | --- |
| Report Metric | Details |
| Historical Period | 2018–2022 |
| Base Year Considered | 2022 |
| Forecast Period | 2023 - 2030 |
| Market Size in 2021 | $57.56 Billion |
| Revenue Forecast in 2030 | $ 94.56 Billion |
| Growth Rate | CAGR 5.2% |
| Segments Covered in the Report | By Type, and By End-Use |
| Report Scope | Market Trends, Drivers, and Restraints; Revenue Estimation and Forecast; Segmentation Analysis; Impact of COVID-19; Companies' Strategic Developments; Market Share Analysis of Key Players; Company Profiling |
| Regions Covered in the Report | North America, Europe, Asia-Pacific, Middle East, and Rest of the World |
Industry Dynamics
Growth Drivers
The primary factor driving the market growth for the global industrial pump industry include increased exploration activities in the oil & gas sector owing to a surge in energy demand, rising focus to upgrade existing wastewater treatment plants, and limited availability of portable water. Moreover, rising concerns about the environment, urbanization, increased awareness regarding the harmful effects of drinking contaminated water, and mounting infrastructure development will bolster the market growth for the global industrial pumps industry. In the power industry, industrial pumps of various sizes and forms are used for circulation, boiler feed, and sludge handling. To diversify their product offerings and gain an advantage over rivals, the main players are focusing on mergers and acquisitions (M&A) with small and medium-sized enterprises (SMEs).
Challenges
The factors limiting market expansion are fluctuating component prices and stringent environmental laws imposed by regional governments. Also, due to constant exposure to water and other fluid substances, industrial pumps can corrode and hinder machine operation. This is a key impediment to the widespread use of industrial pumps.
Opportunities
Over the projection period, oil production is expected to increase due to technological advancements that have made deepwater and ultra-deepwater exploration viable and cost-effective. During the forecast period, it may give an opportunity for market expansion.
Geographic Overview
North America
Europe
Asia Pacific (APAC)
Rest of the World (RoW)
Asia-Pacific contributes the largest share in the industrial pumps market owing to rapid industrialization, rising population, and surge in refining capacity. The regulatory framework adopted in the Middle East and China to boost domestic refining sector production output is predicted to raise demand for industrial pumps used in refineries in these regions. This is expected to boost growth in the Middle East and China.
The abundant oil and gas reserves in countries like Brazil, Argentina, Venezuela, and Columbia are anticipated to boost the industry's expansion.
Competitive Insight
Because of the anticipated growth in demand for water treatment over the next few years, the market is characterized by the presence of both international and regional manufacturers. Businesses promote their products using a range of channels via websites, e-commerce sites, retailers, wholesalers, and end consumers. Manufacturers compete on several aspects like product cost, performance, design, technology, reputation, and availability.  Companies are using a variety of strategies such as new product launches, distribution network expansion, R&D expenditure, and M&A, to increase their market share and reach.
Iwaki America Inc. is one of the prominent leader in the manufacturing and production of pumps. They are global leader in the best chemical handling equipment that are utilised in OEM, Industrial, Chemical Process, and Semiconductor applications owing to more than 60 years of experience in pump design engineering. Iwaki America offers analytical controllers, air-operated double diaphragm pumps, high purity pumps, chemical metering pumps, aquatic systems, and magnetic drive centrifugal pumps and systems. Their offer range of pumps for every chemical applications such as chemical manufacturing, Chemical Toting + Packaging, Chemical Blending, Water Treatment, Plating, Metal Finishing, Metal Pickling, Mining, Bio-Fuels, Desalination, Paper Mill, Ethanol – Bulk Metering, Chlorination Plants, Refineries, Fume Scrubbers, Bio-Diesel Generators, Sodium Hypochlorite Generators, Kidney Dialysis Semiconductor, Precision Cleaning System, Circulation, Chillers, Battery Manufacturing.
Grundfos provide industrial pumps for increasing pressure and handling water and other fluids in light-industrial and process applications.  Automotive, industrial water treatment and wastewater, manufacturing, mining, machining, and marine are among the industries covered. Grundfos Digital Dosing pumps provide high precision and effective turndown ratios, allowing a small number of models to handle a wide range of applications.
Recent Development by Key Players
In September 2022, Sulzer introduces new dewatering pumps for minor applications. Dewatering pumps are used across mining and civil engineering schemes to keep projects on schedule. Sulzer has completed its range of dewatering pumps for day-to-day water removal with the introduction of five additional types for drainage and sludge applications.
The new J4, J7, JS4, JS7, and JS8 versions, designated as 'J' for drainage and 'JS' for sludge, offer flowrates as low as 5.5 l/s and heads as high as 16 m. Their thin shape and light weight construction make them easy to move and set up for work.
In September 2022, Hayward Gordon L.P. Canada (Hayward Gordon) has been acquired by EBARA CORPORATION (EBARA).
In June 2022, TMGcore, Inc., a leading Texas-based provider of high-performance computing solutions with a focus on liquid immersion cooling technology, announced that it had signed a contract with Flowserve Corporation, a leading provider of flow control products and services for the global infrastructure markets, to supply pumps.
Key Players Covered in the Report
Some of the major players operating in the global industrial pumps industry include Iwaki America Inc., Enovis (Previously known as Colfax Corporation), ITT INC., Flowserve Corporation, Grundfos Holding A/S, Sulzer Ltd, KSB SE & Co. KGaA, EBARA CORPORATION, SPX Flow, Inc., Xylem.
The Industrial Pump Market report offers a comprehensive market segmentation analysis along with an estimation for the forecast period 2023–2030.
Segments Covered in the Report
By Type

Centrifugal Pump

Axial Flow Pump or Propeller Pump
Radial Flow Pump
Mixed Flow Pump

Positive Displacement Pump

Reciprocating Pump

Piston Pump
Diaphragm Pump

Rotary Pump

Others

By End-Use

Textile
Metal & Mining
Water & Wastewater Treatment
Chemical
Oil & Gas
Power Generation
Agriculture
Others
Region Covered in the Report
North America
Europe

Germany
U.K.
France
Italy
Spain
Russia
Rest of Europe

Asia-Pacific (APAC)

China
Japan
India
South Korea
Rest of Asia-Pacific

Rest of the World (RoW)

Brazil
Saudi Arabia
South Africa
U.A.E.
Other Countries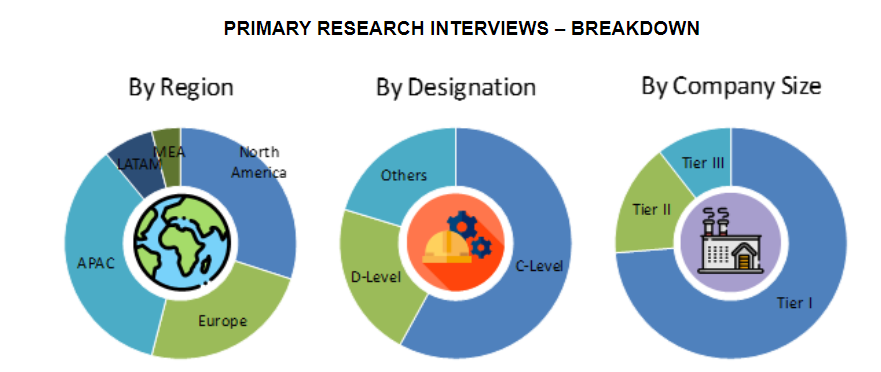 To explore more about this report - Request a free sample copy