Industry Overview
During the projected period 2023-2030, the global laminated glass market is expected to rise at a CAGR of 6.1%, from USD 20.2 billion in 2022 to USD 28.4 billion in 2030. Laminated glass is made by carefully placing a sheet of ethylene-vinyl acetate (EVA) or polyvinyl butyral (PVB) between the layers of regular glass, thus, reducing the possibility of the glass shattering completely, unlike other types of glass. The usage of laminated glass is required for hurricane-resistant walls owing to its abilities like anti-shock, anti-break, and sound insulation, intrusion cover in houses, damage tolerance in automobile windshields, and other structural or protective reasons. Laminated glass is also more damage-resistant than standard sheet glass and has exceptional clarity. The laminated glass is widely used in various applications like automobile windshields, gas stations, ATM booths, bank security, jewelry shops, residential buildings, etc.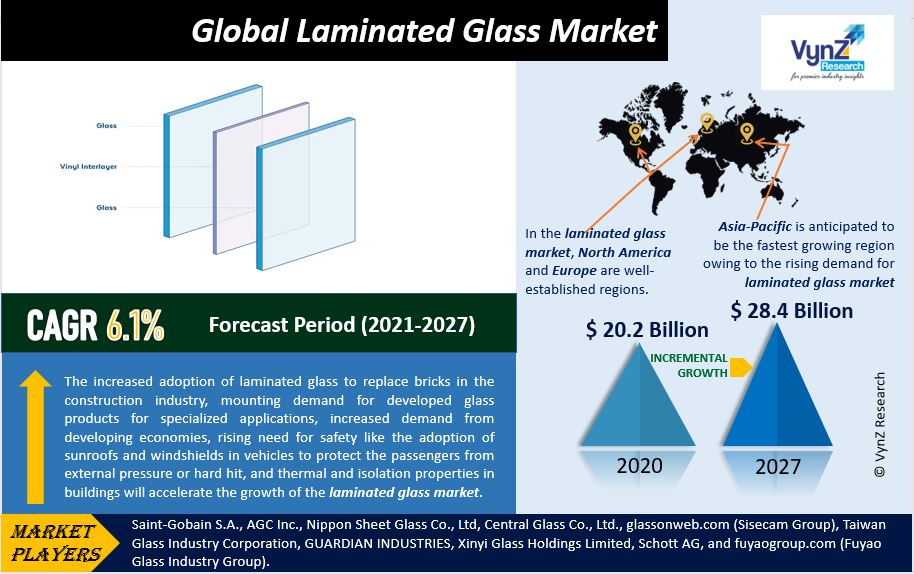 The COVID-19 outbreak has caused building and infrastructure projects to be temporarily halted, as well as a stoppage in vehicle production. This has resulted in reduced demand for laminated glass. According to OICA, global auto production in 2022 was severely hit by the coronavirus outbreak and has seen a 16% decline in the world's auto production. However, post-pandemic, the building & construction projects have started, and there will be a growth in the laminated glass market in the residential and commercial applications.
Market Segmentation
Insight by Type or Interlayer
Based on type or interlayer, the global laminated glass market is categorized into polyvinyl butyral (PVB), Sentryglas Plus (SGP), ethylene-vinyl acetate (EVA), and others. Polyvinyl Butyral dominates the laminated glass market as it is the most used interlayer to manufacture laminated glass owing to its properties like high adhesion, optical clarity, stability to sunlight, high tear-resistant, and impact absorbing features.
PVB aids in reducing sound acoustic insulation and decreases UV transmission. Burglary, gunfire, hurricanes, and explosions are all things that Polyvinyl Butyral can withstand. In order to have bullet and projectile resistance, the glasses can be made with multiple PVB and glass interlayers. Moreover, PVB is extensively used in windshields. 
Insight by Industry Vertical
The global laminated glass market is divided into various categories based on industry verticals: automotive, building & construction, electronics, and others. The building and construction contribute to the largest share in the global laminated glass market owing to the rising demand from residential and commercial buildings. Moreover, the adoption of glass as a structural element in mainstream building projects is becoming highly prominent.  Moreover, soundproofing, dustproofing, and UV protection are all advantages of laminated glass. It maintains its shape even after breaking, making it ideal for use as security glass in showrooms, offices, and other creative design structures.
The automotive segment is anticipated to have a significant share as laminated glass offers many advantages i.e., security, sound reduction, resistance to shattering, and protection from adverse climatic conditions. Thus, the growing prominence of sunroofs in vehicles and the mounting demand for larger-sized windshields will propel the growth of the laminated glass market in the automotive industry.
Industry Dynamics
Industry Trends
The rising trends for technological innovation, the surge in demand for laminated glass from end-use markets such as healthcare, telecom, electronics, and aerospace, and application-specific advancement are the drivers in the laminated glass market. Furthermore, the stringent regulations imposed for automobile safety along with the growing government initiatives in infrastructure projects, especially in the Middle East are the trends prevalent in the laminated glass market.
Growth Drivers
The increased adoption of laminated glass to replace bricks in the construction industry, mounting demand for developed glass products for specialized applications, increased demand from developing economies, rising need for safety like the adoption of sunroofs and windshields in vehicles to protect the passengers from external pressure or hard hit, and thermal and isolation properties in buildings will accelerate the growth of the laminated glass market. Moreover, the anti-shock, anti-break, and sound insulation properties of laminated glass make it suitable for high-end products such as bullet-resistant glass and hurricane-resistant glass. For example, for the outside windows, doors, balustrades, and facades of the Vine Hotel in Mexico, laminated safety glass was used to provide hurricane safety while retaining a modern, high-quality, transparent appearance for the guests. Thus laminated glass provides benefits like safety, security, energy savings, high durability, soundproofs. 
Challenges
The manufacturing of laminated glass in costly than regular windows as there are many steps involved in the manufacturing process and the declining automotive industry due to the pandemic may hamper the growth of the laminated glass market. Moreover, the availability of substitutes like tempered glass and the high amount of emission in the production of glass eh challenges faced by the laminated glass industry.
Opportunities
Product differentiation in terms of enhanced features and appearances, as well as the introduction of Low-E and smart glasses into the market, are expected to create opportunities for industry players in the global laminated glass market.
Geographic Overview
Asia-Pacific is anticipated to be the fastest-growing region owing to the rising demand for laminated glass from countries like China, India, and Japan. Moreover, the region supports the growth of the laminated glass industry owing to the recovery in the construction industry post-COVID-19 crisis along with restoration in the supply chain, increased awareness and concern about UV & noise protection and forced entry will propel the growth in the region. Moreover, the rapidly growing urban population, rising disposable income, and increased awareness about less weight of glass, protection against UV & noise, and better appeal along with the presence of key industry players will fuel the growth of the laminated glass market in the region.
In the laminated glass market, North America and Europe are well-established regions. The development of the building and construction industry, as well as the existence of several long-established automobile firms, are driving the laminated glass market in these regions.
Competitive Insight
The industry players are changing their business models to the new normal by focusing on digitalization and using emerging technologies such as robotic automation and artificial intelligence. During the forecast period, top businesses in the laminated Glass Market will continue to adopt organic and inorganic strategies like mergers and acquisitions to acquire new technologies, improve portfolios, and leverage capabilities.
The Sisecam Group is a multinational industrial group that specializes in flat glass, glassware, glass packaging, and chemicals. It has made numerous innovations and driven development in the flat glass industry.  It offers flat glass operations in 3 core business lines i.e., architectural glass (e.g. flat glass, patterned glass, laminated glass, and coated glass), energy glass, and home appliance glass. Sisecam currently operates in flat glass with 10 manufacturing facilities in six countries, delivering an ever-expanding range of products to the construction, furniture, energy, and home appliance industries.
AGC Inc. is one of the leading manufacturers of glass, chemicals, and high-tech materials. Its architectural glass has aesthetic, technical, and energy properties and is adopted in diverse applications like external glazing, interior decoration, industrial uses, etc. Furthermore, architects and interior designers worldwide will find a material that shapes their creative inspiration and tames light, ensuring comfort for building occupants and actively conserving the environment, owing to the diversity of the ranges offered by AGC Inc. Their product portfolio includes insulating glass, laminated glass, wired glass, toughened glass, sound insulation glass, decorative glass, and others. 
In December 2021, Saint-Gobain Ecophon and Lindab Group entered into a partnership for novel and sustainable indoor environment systems that integrate a sound acoustic environment with healthy indoor air.
In September 2021, AGC Inc. announced that its laminated photovoltaic glass has been installed at the Singapore Institute of Technology's new Punggol campus, which is set to open in 2024. One of the energy sources will be AGC's photovoltaic glass, which will be put in the skylight of the campus's food court, reducing the campus's dependency on electricity derived from the main grid. It will also allow for natural illumination, which is a property of glass, to create a bright and attractive indoor environment.
Some of the major players in the laminated glass market include Saint-Gobain S.A., AGC Inc., Nippon Sheet Glass Co., Ltd, Central Glass Co., Ltd., glassonweb.com (Sisecam Group), Taiwan Glass Industry Corporation, GUARDIAN INDUSTRIES, Xinyi Glass Holdings Limited, Schott AG, and fuyaogroup.com (Fuyao Glass Industry Group).

Region Covered in the Report
•    North America
- U.S.
- Canada
- Mexico
•    Europe
- Germany
- U.K.
- France
- Italy
- Spain
- Russia
- Rest of Europe
•    Asia-Pacific (APAC)
- China
- Japan
- India
- South Korea
- Rest of Asia-Pacific
•    Rest of the World (RoW)
- Brazil
- Saudi Arabia
- South Africa
- U.A.E.
- Other Countries