Industry Overview
The global medical plastics market is estimated to be USD 26.0 billion in 2020 and is predicted to reach USD 43.2 billion by 2027, growing at a CAGR of 8.6% during the forecast period. The major factor responsible for the growth of medical plastics is the increase in the healthcare expenditure towards manufacturing healthcare equipment for both treatment and research and development purposes. Due to the recent outbreak of COVID 19, there is a surge in medical plastics among other equipment manufacturers (OEMs) and medical device manufacturers to produce critical healthcare equipment such as rapid test kits, thermal scanners, ventilators, isolation beds, inhalation masks, pill casings, intravenous tubes, implants, stents and catheters, medical suits, and respirators. Moreover, the necessity among the individuals, doctors and nurses to contain the infection spread is driving the usage of medical plastics consumption.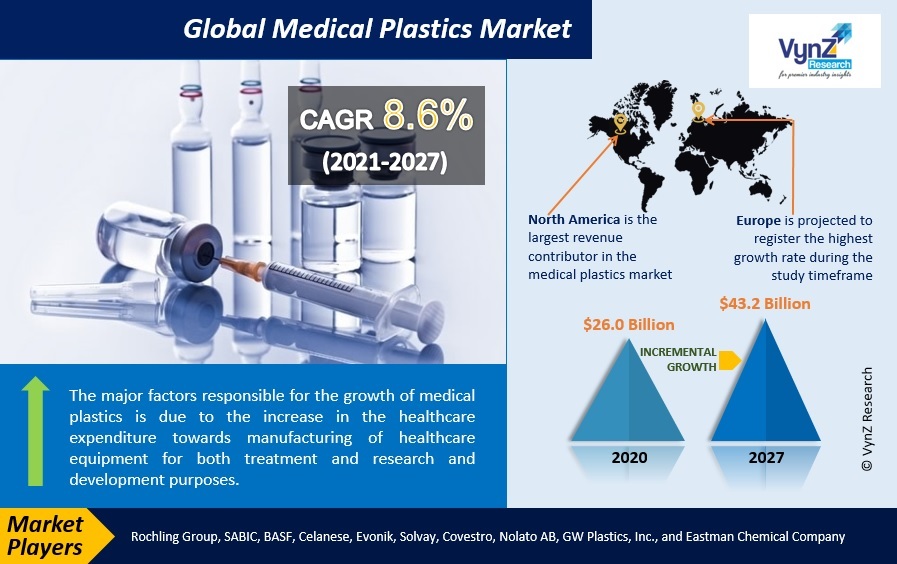 Medical grade plastics are different from normal plastics. Medical plastics should withstand high temperature, chemical reactivity, and are corrosion free. For instance, respirator bulbs are molded from vinyl polymers. Vinyl based medical plastic product has excellent display quality and chemical resistance and can be easily processed into a range of colors and durometers. Medical vinyl products are also used in producing wider range of products such as wound, chest drainage tubes, endotracheal tubing, and catheters. CT scanners and other X-ray generating equipment usually include components machined from lead or lead alloys that collimate, or guide, the X-ray photons. In addition, X-ray rooms are often lined with lead and the patient is draped in lead to minimize exposure to radiation.
They should also handle standard sterilization cycles and other body fluids; it comes in contact with. The most commonly used medical-grade plastics are polypropylene and polycarbonate polymers. There are also special plastics with antimicrobial coatings to prevent the spread of dangerous infections and diseases. Medical plastics are non-permeable and shatterproof so are used to safely transport biohazardous materials. They are also used in the pharmaceutical industry to manufacture tamper-proof caps. Lightweight durable prosthetics and implants are also made from these medical-grade plastics for amputees.
Market Segmentation
Insight by Type
Based upon type, the medical plastics market is categorized into engineered plastics, standard plastics, and others. Others include plastics such as PEEK, TPE & TPU, polystyrene, PS, PTFE, and silicone. During the study timeframe, the standard plastics segment is expected to register the highest growth rate over the forecast period. This high growth over other segments is due the adoption of standard plastics in several medical products such as masks, gloves, syringes, lab wares, and trays and increased requirement in personal protective equipment.
Insight by Application
On the basis of application, the medical plastics market is categorized into medical disposables, prosthetics, medical instruments & tools, drug delivery, and others (medical trays, sterilization trays, and lab wares). Medical disposables segment is expected to register highest growth over the study timeframe. High growth rate is attributed to its versatility. Medical disposables are the single use medical products used both in procedural and surgical applications. Moreover, due to outbreak of COVID-19 across the world, several healthcare regulatory agencies such as Food and Drug Administration (FDA) and Europe FDA are releasing strict guidelines to use medical disposables to contain the spread of infection among healthcare practitioners. During this pandemic, the demand of disposables such as gloves, masks, and other protective equipment have skyrocketed, which in turn boosting the medical plastics market growth.
Industry Dynamics
Growth Drivers
Changing demographics playing an important role in creating new opportunities for the medical plastic market. The aging population in the developed nations have significant impact on the healthcare device ergonomic design and comfort, as they require more medical attention in the home settings. Geriatrics also require consumer friendly medical equipment. Medical plastics made from soft touch TPEs and technological breakthroughs in the molding technology solve this purpose. Most of the durable medical equipment are made from medical grade plastics are user friendly. Medical plastics which can provide thin wall extensive molding capacity, high performance with great appearance in home based care for geriatrics will help medical plastics end users (finished products manufacturers) to have win-win situation in the medical plastics market.
Another driving force in the medical device market include development of antimicrobial polymers. Antimicrobial polymers resist the medical device contamination with harmful bacteria, algae, deadly viruses, as they limit the growth of their reproduction. According to Center for Disease and Control (CDC), in the U.S. alone, the death rate from hospital borne infections has risen around 100,000 annually and it is gaining momentum in other developed nations too. Hospitals need to control the spread of infection to reduce the economic burden arises due to this. In the future medical equipment with antimicrobial coating in products such as infusion sets, equipment buildings, bed rails, daily use medical necessities and any surface which patient, doctor or nurse comes in contact with would be mandatory, thereby increasing the efficiency of medical plastics.
Challenges
However, the medical device industry is facing tough time, owing to increased and volatile input industry. Due to the outbreak of COVID-19, the petrochemical industry is in downward trend. Moreover, decrease in crude oil prices and fluctuations in currency is affecting the medical plastic industry negatively. Moreover, marine litter is a global challenge and it is unacceptable that waste, including medical plastic waste, ends up in our environment, our rivers and our oceans.
Geographic Overview
Geographically, North America is the largest revenue contributor in the medical plastics market due to growth of pandemic massively in the region. The number of COVID-19 cases in North America is also enhancing rapidly with registered cases of almost 5,04,780 and 18,763 deaths as registered in the first week of April. Furthermore, massive explosion of coronavirus along with sufficient accessibility to the essential items to healthcare workers is increasing in the region that is further bolstering the growth of medical plastics market in this region.
As of 30 March 2020, the top ten countries hardest hit by the COVID 19 are the ten largest economies in the world, excluding India and Iran. The U.S., Italy, Spain, Germany, the U.K, and France are all in the top ten most affected countries by the pandemic. While U.S., being the hardest hit, in last few days the outbreak has saw exponential rise in the cases in all G7 economies.
Europe is projected to register the highest growth rate during the study timeframe, owing to the presence of most affected countries in the region. Among G7 economies, the U.S., China, Japan, Germany, the UK, France, and Italy accounted for more than 60% of the world's supply and demand (GDP), 65% of the world manufacturing, and 41% of the world's manufacturing exports. The European countries have most of the medical plastic finished goods manufacturing units.
The region has immense demand of ventilators, masks, thermal scanners, and other personal protective equipment. The region has most affected areas due COVID-19 outbreak and have huge demand for the patient care systems. In addition, the high rate of infection among healthcare practitioners making the use personal protective equipment an utmost necessity, thereby boosting the market growth of medical plastics market. However, the new directive in European Union (EU), 2018/852 on Packaging and Packaging Waste sets higher recycling targets per material i.e.; 50% for plastic packaging by 2025 and 55% by 2030. This new method is expected to be applicable by year 2020.
Competitive Insight
SABIC, BASF, Celanese, Evonik, Solvay, and Covestro are few leading players in the global medical plastics market. Increase in production, mergers and partnerships to enhance their regional presence in the COVID-19 affected areas to meet the demand of medical plastics in the affected areas. For instance, in April 2020, Lubrizol announced an increase in the production of Carbopol polymers and Estane TPU materials. This strategy was undertaken to support the rising demand for protective garments, face shields, barrier curtains, hoses, tubing and cables, medical device components utilized in ventilators, valves, and infusion pumps, and other devices produced through 3D printing. The company is also collaborating with its customers to help serve their needs and address critical shortages. Similarly, in April 2020, Celanese Corporation pledged to prioritize production of those materials which are used for the manufacturing of ventilators, respirators, and other critical medical equipment and supplies. The company is also planning to expand its supply chain base to cater to the increased demand for medical plastics from the healthcare industry. Various plastics that are used in the manufacturing of medical devices are POM, PBT, UHMW-PE, PET, EVA, and others.
Primary Research
VynZ Research conducts extensive primary research to understand the market dynamics, validate market data and have key opinions from the industry experts. The key profiles approached within the industry includes, CEO, CFO, CTO, President, Vice President, Product Managers, Regional Heads and Others. Also, end user surveys comprising of consumers are also conducted to understand consumer behaviour.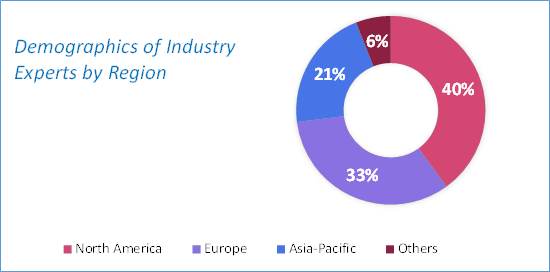 Source: VynZ Research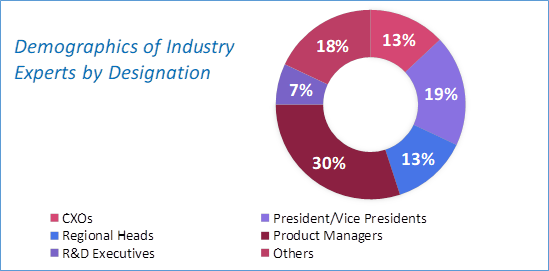 Source: VynZ Research