Industry Overview
The global naphthenic base oil market size is anticipated to grow from USD 2.5 billion in 2022 to USD 3.25 billion by 2030. It will witness a 3.85% CAGR during the forecast period 2022-2028. Base Oil manufactured by the hydrotreatment of crude oil resulting in the formation of hydrocarbons with low aromatic and paraffin content is commonly identified as Naphthenic Base Oil.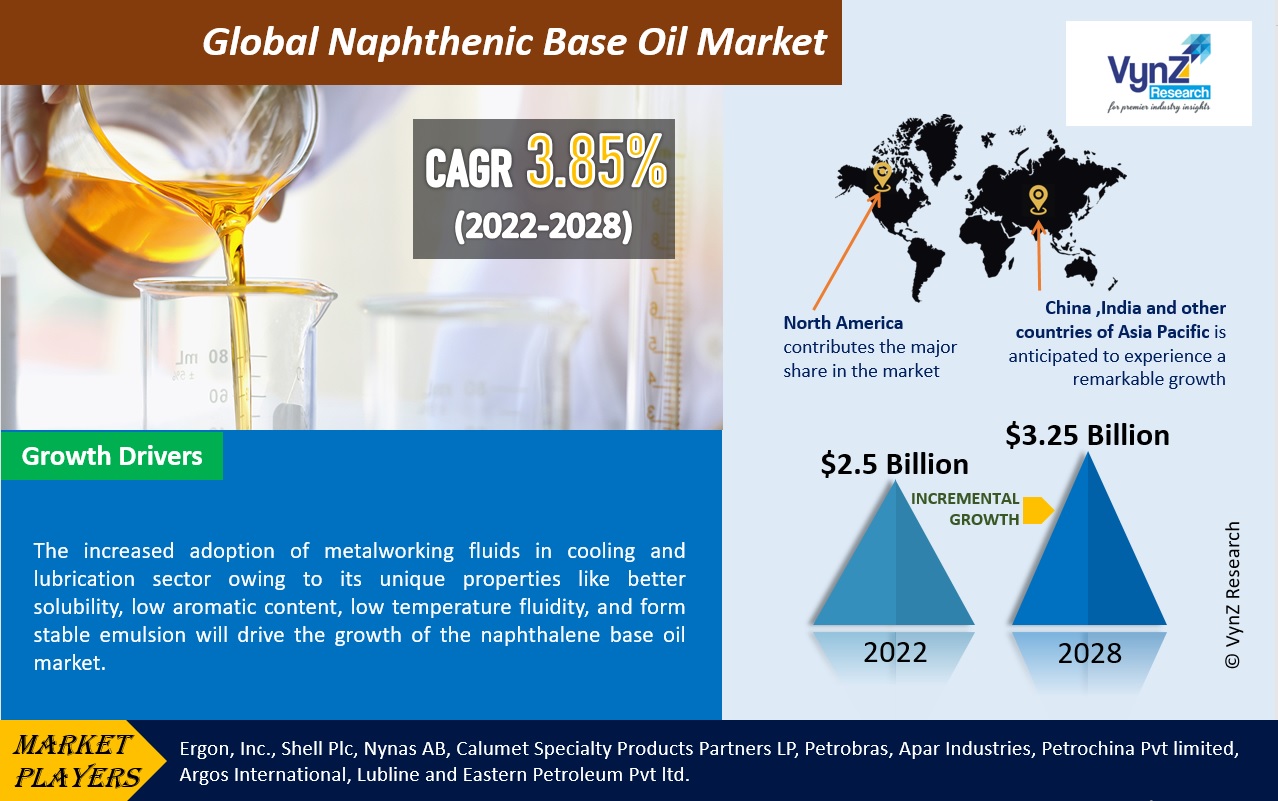 Some of the unique features of Naphthenic Base Oil are its superior solubility and lower viscosity. They are perfect to be used as gear oil, metalworking oil, electrical oil, industrial lube, and grease. They are also being used as hydraulic fluids and automatic transmission fluids. The increase in the awareness of naphthenic base oil in several industries has become a reason for its rising demand in the market. The electric and hybrid vehicle have also given a hike to the expansion of Naphthalene base oil.
Industry Trends
COVID-19 had a great impact on the market for base oil. COVID -19 had a pessimistic effect on business all over the world likewise Naphthalene Base Oil market also faced a failure. The economic crisis of 2019 declined the high rising market of crude oil. The crude oil business that was continuously rising for the last 5-10 years faced a downfall due to the economic crisis of 2019. This has caused a huge loss to the manufacturing companies. The lockdowns declared by the governments in the whole world to control the spread of COVID- 19 created a negative effect on the rising business of Naphthalene Base Oil. The ban on travel and transportation has put a pause on the rising business of Naphthalene Base Oil which was directly based on the transportation going on throughout the world.
With the passage of time, the planned methodology being used throughout the world has assisted businesses to recapture the market of Naphthalene Base Oil and regaining the losses caused due to COVID -19. Market contributors are emphasizing novel ideas to resume the business and regain the level achieved before the economic crisis. Since Naphthalene Base Oil is an automotive lubricant, there are better prospects for its expansion in the market. Soon it will regain its business as it is used in electric vehicles which are itself environment friendly. The use of Naphthalene Base Oil will bring a noticeable change to the whole world. Hence there are bright chances for its business to regain its position in the whole world.
Market Segmentation
Insight by Type
35-60 SUS
80-130 SUS
200-300 SUS
400-800 SUS
Above 1200 SUS
The Naphthenic Base Oil with 35-60 SUS has the features of low pour point and low temperature which has become a reason for its increased demand in process oil and transformer oil, thereby gaining the largest share in the market.
There is an increased demand for Naphthenic Base Oil with 80-130 SUS, 400-800 SUS, and above 1200 SUS owing to its property of high solvency power, thereby used in several industries such as metal-working and automotive.
Insight by Application
Process Oil
Electrical Oil
Metal Working
Industrial Lubes and Grease
Rubber Oil
Others
Process Oil has the features of low rolling resistance, low fuel consumption and low carbon dioxide emissions that has become a reason for its rising demand in the market. Naphthenic Base Oil also enhances the tire grip of vehicles that leads to the rise in the safety of vehicles on the road.
Naphthenic Base Oil Market Report Coverage
| | |
| --- | --- |
| Report Metric | Details |
| Historical Period | 2018–2022 |
| Base Year Considered | 2022 |
| Forecast Period | By 2030 |
| Market Size in 2021 | $2.5 Billion |
| Revenue Forecast in 2028 | $3.25 Billion |
| Growth Rate | CAGR 3.85% |
| Segments Covered in the Report | By Type and By Application |
| Report Scope | Market Trends, Drivers, and Restraints; Revenue Estimation and Forecast; Segmentation Analysis; Impact of COVID-19; Companies' Strategic Developments; Market Share Analysis of Key Players; Company Profiling |
| Regions Covered in the Report | North America, Europe, Asia-Pacific, Middle East, and Rest of the World |
Industry Dynamics
Growth Drivers
Increased demand for metalworking Fluids Will Propel the market growth for Naphthalene Base oil market
The increased adoption of metalworking fluids in cooling and lubrication sector owing to its unique properties like better solubility, low aromatic content, low temperature fluidity, and form stable emulsion will drive the growth of the naphthalene base oil market. This metalworking fluid has extensive application in aeronautics, general machining, medical, bearing, automotive industry, medical, etc.
Rise in the adoption of cooling and lubricating oils will expand the market growth of Naphthalene Base Oil market
Most businesses in manufacturing industries are adopting cooling and lubricating fluids based on Naphthalene Base Oil. There is a prominent shift from paraffin oil to Naphthalene Base Oil resulting in the rise of commercialization of new products of Naphthalene Base Oil.
Challenges
Huge Cost involved May stymie the growth of Naphthalene Base Oil Market
Naphthalene Base Oil is costlier compared to other low-cost substitutes that are available in the market. Higher Base Oil prices and more production costs may lower the growth of Naphthalene Base Oil. This negative factor of the high cost may act as an obstacle to the growth of Naphthenic Base Oil. Also, environmental concerns and unstable raw material prices may hinder the market growth.
Rise in Crude Oil price directly effects the cost of Naphthalene Base oil
Since Naphthalene Base oil is made from crude oil, any rise in the cost of Crude oil by the country rises the price of Naphthalene Base oil. Hence it may become a hindrance in the growth of Naphthalene Base oil.
Opportunities
Significant growth in industrialization accompanied by novel manufacturing amenities is increasing the demand for lubricants that provide enhanced performance under high temperatures. This has given a rise in the opportunities for the growth of the Naphthalene Base oil market.
The growing demand for Naphthalene Base oil for automotive lubricants has brought a rise in the market revenue opportunities for industry players and are extensively adopted in process oil, adhesive, insulating oils, insoluble sulfur, sealants, greases, printing inks, battery separators, and tire industries. They are evidenced to be the best suited for hydraulic fluids and gear oils due to the requirement of fluctuated formulations.
Geographic Overview
There is a prominent decline in the use of vehicles that are based on other lubricants leading to the rise in the demand for Naphthalene Base Oil.  Furthermore, there is an increased consumption of naphthenic base oil, increased demand for high solvency formulations in the automotive sector, increased investment in the energy & power sector, and the presence of well-established players will proliferate the growth in the North American region. As a result of it, North America is a beneficial market for Naphthalene Base Oil.
China and India and other countries of Asia Pacific have also enhanced their automotive sector and increased the production of industrial lubricants leading to the prediction of having the fastest CAGR in the naphthenic base oil market during the forecast period. The enhancement in the implementation of hybrid vehicles due to environmental reasons has uplifted the requirement of Naphthenic Base Oil in Asia Pacific.
Competitive Insight
Most of the engine oils used in the current market are base oils. This has increased the demand of Naphthalene Base Oil and has brought a downfall in the market of other lubricants. Thus enhancing the requirement of Naphthalene Oil Base companies. Naphthalene base oil is used in engines of light-duty trucks, passenger cars, diesel trucks, stationary engines, fluids and motor oils. The industry players are entering into strategies like product launch, product expansion, M&A, collaboration, and agreements to sustain themselves in the market.
Naphthenic base and process oils produced at ERI are used by customers globally in several applications, including transformer oils, compound blending operations, rubber products, printing inks, metalworking fluids, refrigeration oils, coatings, sealants, adhesives, lubricants and greases. Furthermore, their HyBrand products will offer ultra-low sulfur diesel fuel, naphtha, heavy fuel oil, asphalt blending stocks and waxes. ERI has production capacity of up to 26,500 barrels per day of severely hydrotreated naphthenic specialty products. ERI is ISO 14001:2015, ISO 17025:2017 and ISO 9001:2015 certified.
Shell is one of the most well-known process oil producers, with more than 30 years of experience in the industry. Shell Catalysts & Technologies has a track record of successfully delivering naphthenic and paraffinic base oil catalysts. To obtain high yields and improved base oil quality, these solutions for pretreating, dewaxing, and hydrofinishing are carefully designed. High performance catalysts are essential for each stage in this process. As a result, their catalyst products are used in several naphthenic and paraffinic base oil plants across the world, as well as the world's largest GTL plant, Shell Pearl in Qatar.
Recent Development by Key Players
In May 2022, Ergon International has announced an increase in the price of Naphthalene Base Oil in North America by $0.30 per gallon. The increase will apply to all viscosities. 
In March 2021, Ergon's aim is to ensure a reliable supply of specialty oils for customers all over the world. Ergon's Antwerp facility was recently expanded, demonstrating the company's commitment to serve the international market in the future. The facility's total capacity was raised by 9,000 cbm (8,300 MT) with the addition of three storage tanks, giving it a total storage capacity of 39,000 cbm (35,600 MT). HyVolt dielectric fluids, HyPrene process oils, and HyGold base oils are all supplied from Antwerp to international customers, and are noted for their consistency and reliability. The company's refinery at Vicksburg, Mississippi, which is the world's top naphthenic manufacturer, produces these specialty oils. They're then shipped all around the world from Ergon's Gretna, Louisiana, terminal.
Key Players Covered in the Report
Some of the major key players in the market of Naphthalene Base Oil market are Ergon, Inc., Shell Plc, Nynas AB, Calumet Specialty Products Partners LP, Petrobras, Apar Industries, Petrochina Pvt limited, Argos International, Lubline and Eastern Petroleum Pvt ltd.
The Naphthenic Base Oil Market report offers a comprehensive market segmentation analysis along with an estimation for the forecast period 2023–2030.
Segments Covered in the Report
By Type

35-60 SUS
80-130 SUS
200-300 SUS
400-800 SUS
Above 1200 SUS

By Application

Process Oil
Electrical Oil
Metal Working
Industrial Lubes and Grease
Rubber Oil
Others
Region Covered in the Report
North America
Europe

Germany
U.K.
France
Italy
Spain
Russia
Rest of Europe

Asia-Pacific (APAC)

China
Japan
India
South Korea
Rest of Asia-Pacific

Rest of the World (RoW)

Brazil
Saudi Arabia
South Africa
U.A.E.
Other Countries