Industry Overview
The global polymer concrete market is projected at $3.1 billion in 2020 and is expected to reach $6.4 billion by 2027, at a CAGR of 7.2% during 2021-2027. This market is witnessing significant growth owing to increasing responsiveness concerning the usage of polymers in concrete as it offers multi-tasking and enhanced performance. Extensive spending on maintenance and repair along with rapid growth in infrastructural and developmental actions in growing economies are the major factors driving the growth of polymer concrete market globally.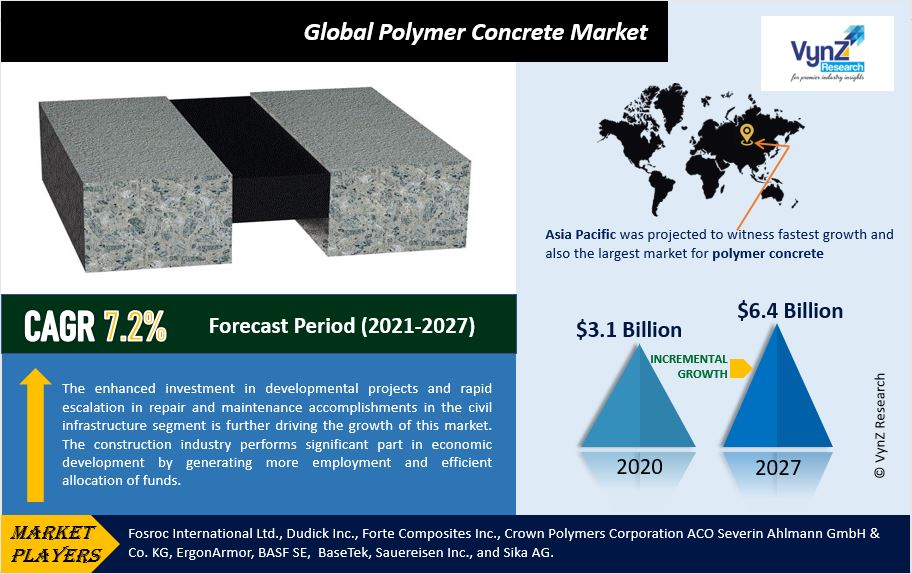 Market Segmentation
Insight by Class
The global polymer concrete market on the basis of class is segmented as polymer modified concrete, polymer resin concrete and polymer impregnated concrete. Amongst these classes, polymer modified concrete have been observing largest revenue throughout the estimation period. The rapid increase of this segment is attributed towards enhanced usage polymer modified concrete in several applications such as treatment of cracks and joints in surfaces of concrete, anti-corrosion, protection of old concrete, repair works and is also persuading largest share in the global polymer concrete market.

Insight by Type
On the basis of type, polymer concrete market is segmented into epoxy, polyester, vinyl and others (phenolic-formaldehyde, acetone-formaldehyde and carbamide). Among all the types of polymer concrete, epoxy was estimated to be the largest segment in 2018 owing to its several enhanced features such as greater heat resistance; enhanced flexibility and chalking propensity in outdoor acquaintance have accelerated the demand for polymer concrete across the globe. Moreover, these features of Epoxy are further expected to exaggerate the growth of this market in the near future.  
Insight by Application
On the basis of application, the polymer concrete market is classified into containments and waste containments, pump bases, trench drain, flooring blocks and others. Among these segments, in 2017 trench drain held largest revenue with more than 26.0% share of revenue. The increasing growth of polymer concrete is attributed towards development of effective and efficient drainage systems that helps in fulfilling the needs of huge growing population worldwide.
Insight by End-User
The global polymer concrete market has also been segmented by end-user into civil infrastructure, non-residential structure and residential structure. Among the three segments, civil infrastructure was projected to hold largest revenue by 2024. Moreover, several initiatives and regulations undertaken by the government to upgrade the economy have enhanced the investment in civil infrastructure in developed economies, which is promptly increasing the demand for polymer concrete in the global market. These factors are further expected to accentuate utilization of this concrete in infrastructure segment.
Industry Dynamics
Growth Drivers
The enhanced investment in developmental projects and rapid escalation in repair and maintenance accomplishments in the civil infrastructure segment is further driving the growth of this market. The construction industry performs significant part in economic development by generating more employment and efficient allocation of funds. Moreover, the increasing government investments across the world in civil infrastructure projects including railways, roads, water reservoirs, airports, buildings, sewer systems, tunnels, bridges and others are further accentuating the growth of this market.
According to a study, it has been observed that in 2017 in Germany with a cumulative investment amount of $140 billion approximately 180 developmental projects were in the growing phase. Additionally, in India in 2014 the investment of $700 billion was estimated towards urban infrastructure under the "Make in India" initiative. Moreover, these factors are further expected to bolster the growth of polymer concrete market across the globe.
Challenges
The relatively high cost of concrete polymer as compared to that of traditional concrete owing to its premium properties is expected to be the major factor hindering the growth of polymer concrete market across the globe. It has been projected that the cost associated with one ton of concrete that is extracted from polymer is considerably higher in comparison cost of developing one ton of cement concrete. The relatively high cost of this cement restricts its use to few engineering applications such as stress-resistant drainage systems and abrasion resilient pipes.
Industry Ecosystem
Globally industry players are leveraging market growth by replacing the cheap substitutes of products to providing superior quality options for varied ranges of applications across the globe. Additionally, improvements and developments that are significantly supporting the economy are expected to further enhance the growth of polymer concrete market globally.
Geographic Overview
Geographically, Asia Pacific was projected to witness fastest growth and also the largest market for polymer concrete due to its abundant accessibility of labor, prosperous manufacturing segment, economical cost structure and swelling demand from customers are expected to drive the growth of polymer concrete market in this region by 2024. Additionally, there are certain macroeconomic factors that are further influencing the growth of this market in Asia-Pacific such as increasing disposable income, huge population and essentially the extensive investments undertaken for building & construction accomplishments in this region is anticipated to make this region one of the most auspicious markets for polymer concrete.
Competitive Insight
Some of the major players operating in the global polymer concrete market are Fosroc International Ltd., Dudick Inc., Forte Composites Inc., Crown Polymers Corporation ACO Severin Ahlmann GmbH & Co. KG, ErgonArmor, BASF SE,  BaseTek, Sauereisen Inc., and Sika AG.