Industry Overview
The global polyurea coatings market is anticipated to grow from USD 880 million in 2022 to USD 1576.8 million by 2030, thus growing at a CAGR of 11.1% during the forecast period 2023-2030. Polyurea is a chemical compound formed by the combination of diisocyanate and diamine. The polymerization mixture is similar to the polymerization of polyurethane and the resulting reaction is called "urea", thus referred to as polyurea. Polyurea technology is used to make extremely strong, fast-settling coatings by adjusting the properties of two reactive components.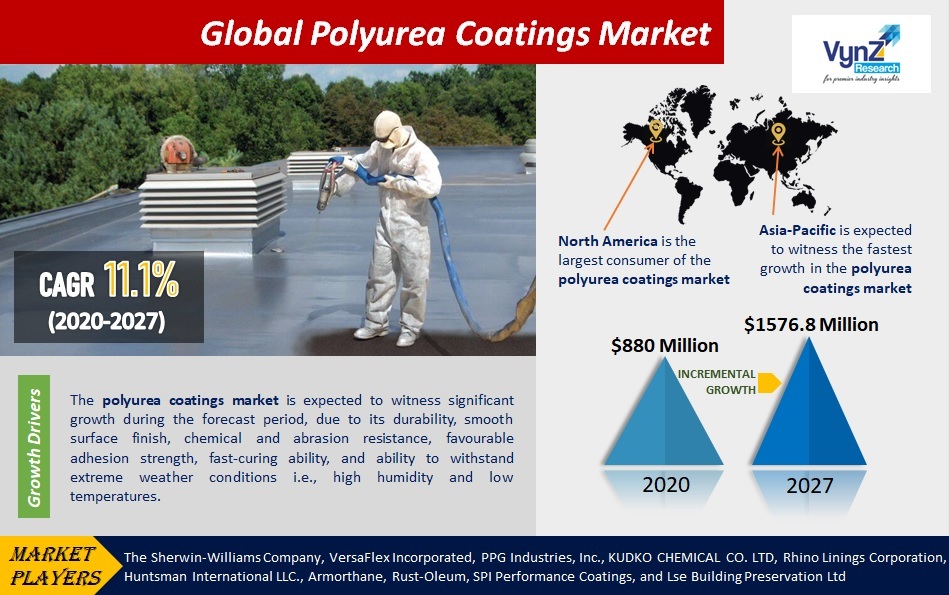 The polyurea coatings market is expected to witness significant growth during the forecast period, due to its durability, smooth surface finish, chemical and abrasion resistance, favourable adhesion strength, fast-curing ability, and ability to withstand extreme weather conditions i.e., high humidity and low temperatures. Due to its elasticity and toughness, it is one of the most corrosion-resistant coatings. These coatings are suitable for various industries and objects, such as pipes, mining, machinery, secondary containment, transportation vehicles, steel structures, roofs, swimming pools, concrete structures, etc.
The COVID-19 outbreak had a negative impact on the polyurea market due to nationwide lockdowns, social distancing, and disruption in the supply chain. Many industries and factories were temporarily closed as a result the work of the building and construction sector was slowed down, resulting in a negative impact on the demand for polyurea coatings.
Market Segmentation
Insight by Type
Based on type, the polyurea coatings market is segmented into pure and hybrid. The pure polyurea segment is anticipated to be the largest segment during the forecast period as it plays an important role in ascertaining the properties of the final coated surface. It has zero VC content and is used in various applications such as including roof coats, floor coats, bonded area, etc., owing to its excellent performance properties i.e., fast curing time, long service life, outstanding chemical resistance, and moisture resistance.
Insight by Technology
Based on technology, the polyurea coatings market is classified into spraying, pouring, and hand mixing. The spraying technology is anticipated to witness the largest share in the polyurea coatings market owing to its portability, lightweight equipment and ability to be applied quickly and accurately on the surface. Factors for the growth of this segment are the infrastructural growth in various countries along with increased use of applications in floor coatings, roof coatings, bed linings, secondary containment, and wastewater treatments.
Insight by Application
Based on application, the polyurea coatings market is categorized into building and construction, transportation, industrial, landscape, and others. Among all these segments, building & construction hold a substantial share in 2020 and are used for residential and commercial applications, thus having a positive impact on demand during the forecast period. Polyurea coatings can be used on various substrates such as concrete, metal, and wood in various temperature and humidity environments, and are optimal for use in waterproofing, corrosion control, immersion, and coating applications. Along with that, the transportation category is anticipated to project the fastest growth during the forecast period, owing to its use in boats, helicopters, freighters, ships, and trains due to its corrosion control, blast resistance, and non-skid and ballistic mitigation properties.
Insight by Raw Material
Based on raw material, the polyurea coatings market is segmented into aromatic isocyanate and aliphatic isocyanate. The aromatic isocyanate segment is anticipated to have the largest share during the forecast period owing to its good physical properties, easy process-ability, and abrasion and corrosion resistance in coating applications for marine, construction, and other industries. These are not colour-stable when exposed to UV light. The aliphatic isocyanate is also expected to have the fastest growth during the forecast period owing to rapid technological development and superior physical properties in comparison to the aromatic isocyanate segment. They have high demand in various applications such as wind energy, transportation, and mining industries, thus driving the growth of the aliphatic isocyanate segment.
Industry Dynamics
Growth Drivers
The rising consumer awareness about using superior quality waterproofing coating in residential buildings is anticipated to propel the growth of the global polyurea coating market. The demand for polyurea coatings has increased owing to its widespread use in various industries as it provides properties such as high chemical resistance, high-temperature resistance, high tensile strength, good adhesion to many substrates (metal, concrete, plastic), rapid application by spray technology, tack-free within minutes, and others. Furthermore, technological development and a wide range of applications such as wastewater basins, moulded parts, marine coatings, water reservoirs, truck bed liners, boat construction, and various others will drive the growth of the polyurea coating market globally. The increasing requirements for improving product performance, durability, and availability are key factors driving the growth of the polyurea coatings market.
Challenges
The availability of alternatives or substitutes in the polyurea coatings market is anticipated to hamper the growth during the forecast period. For instance, the lower prices of epoxies compared to these coatings may hamper the demand for polyurea coatings in the market. Also, polyurea coating applications involve high health risks and skilled labour are also the challenge faced by the polyurea coatings market.
Industry Ecosystem
Polyurea occupies a unique position in the coating industry and polyurethane coating industry. The new development of raw materials and application equipment has greatly expanded the application portfolio. The main advantages of these coatings are their reactivity, low-temperature curing, insensitivity to water, and their unique physical and chemical properties.
Geographic Overview
Globally, North America is the largest consumer of the polyurea coatings market and thus holds the largest share in the overall market. This is attributed to the increasing concern about environmental protection in manufacturing and construction industries and the robust presence of extraction & production (E&P) sites in countries such as Canada and Mexico which have abundant availability of minerals such as silver and gold, thus propelling the growth of the polyurea coatings market in the region.
However, during the forecast period, Asia-Pacific is expected to witness the fastest growth in the polyurea coatings market. This can be attributed to the increasing investment in industries such as automotive, marine, building & construction, and manufacturing, and rapid urbanization and industrialization. 
Competitive Insight
Some of the major players operating in the global polyurea coatings market are The Sherwin-Williams Company, VersaFlex Incorporated, PPG Industries, Inc., KUDKO CHEMICAL CO. LTD, Rhino Linings Corporation, Huntsman International LLC., Armorthane, Rust-Oleum, SPI Performance Coatings, and Lse Building Preservation Ltd.
PPG announced that it has reached a definitive agreement to acquire VersaFlex, a manufacturer specializing in polyurea, epoxy, and polyurethane coatings for water and wastewater infrastructure, flooring, transportation infrastructure, and industrial applications. VersaFlex is a portfolio company of DalFort Capital Partners.
The Sherwin-Williams Company acquired The Valspar Corporation in order to establish itself as a global leader in paints & coatings. The combination of these two companies formed an enhanced brand portfolio, expanded product range, premier technology and innovation platforms, and an extensive global footprint.