Industry Overview
The global printing ink market is valued at USD 21,341.7 million in 2021 and is expected to reach USD 28,237.6 million by 2027. The market for printing ink is observing a significant growth due to its increasing demand in domestic applications, metal cans and packaging application offerings such as labels and tags. This market is expected to witness CAGR of 4.6% during 2021–2027. owing to robust scope for advertisement expenditure and incremental growth in label printing and packaging.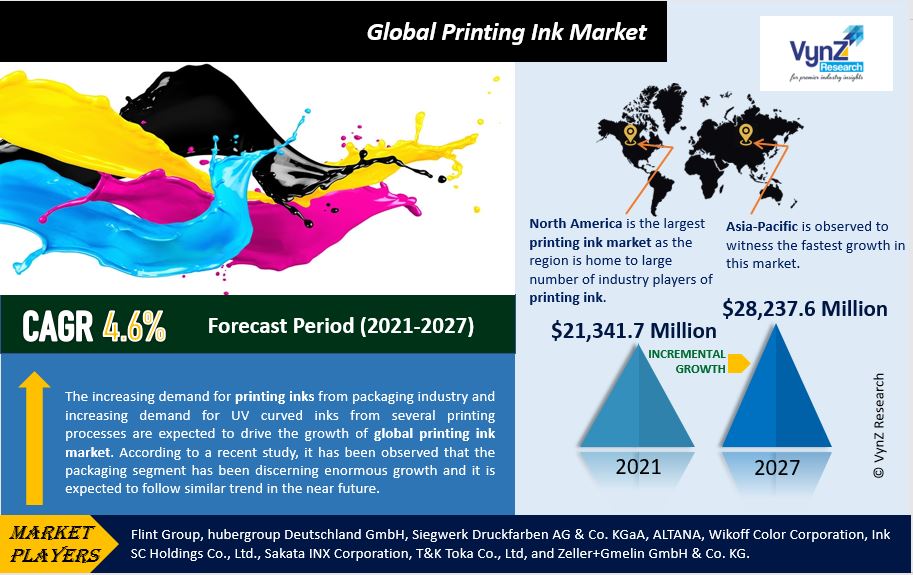 Market Segmentation
Insight by Product
On the basis of product, printing ink market is segmented into lithographic inks, flexographic inks, gravure inks, digital inks, letterpress inks, and other products. Of all these products lithographic ink becomes the largest market by 2024 owing to its advantages that are observed by the manufacturers such as printing flexibility, quick process and superior quality. Moreover, digital ink is expected to witness the highest growth worldwide due to extensive shifting trend of key industry players into digital fields. As a result, digital ink is expected to witness fastest growth during 2019–2024.
Lithographic inks are further segmented into three types: sheetfed offset inks, heatset web offset inks, and coldest web offset inks.
Also, digital inks are further segmented into two types: electrography, and inkjet.
Insight by Application
On the basis of application, printing ink market is segmented into labels and packaging, publication, commercial printing, and other applications. The publication is further segmented into newspaper, books and magazines and other publications. Amongst all the applications labels and packaging holds the largest market and is also expected to witness fastest growth during the forecast period. The packaging is considered to be the most crucial aspect in marketing of products as it helps in effectively positioning the products in the mind of the consumers and also helps in influencing their purchasing decision. The packaging industry in North America is observed to be a foremost customer of printing inks. Furthermore, accelerating demand for flexible packaging and expansion of the food and beverage industry is expected to strengthen the growth of the printing ink market globally.  
Insight by Formulations
The global printing ink market has also been segmented by formulations into oil-based, solvent-based, water-based and other formulations. Amongst all the segments oil-based formulations are the largest revenue holder and water-based formulations are expected to witness fastest growth during 2019–2024. Oil-based formulation is expected to hold leading spot across the globe as compared to others due to its widespread application for publication purposes and commercial areas.
Industry Dynamics
Growth Drivers
The increasing demand for printing inks from packaging industry and increasing demand for UV curved inks from several printing processes are expected to drive the growth of global printing ink market. According to a recent study, it has been observed that the packaging segment has been discerning enormous growth and it is expected to follow similar trend in the near future. Packaging sector is performing a crucial role in several numbers of industries such as food and beverages, manufacturing, consumer goods and electronics. The unparalleled demand from these industries is rampant due to proliferating demand for high-quality packaging. Moreover, with the gaining momentum of paperboard packaging, the demand for printing ink has immensely advanced.
As per the results of the study conducted by Hochschule der Medien (HdM), Stuttgart, Germany, states that the packaging sector has been witnessing considerable savings with higher print quality by using printing inks. Moreover, the continuous evolving lifestyle, demand for packaged food and increasing disposable income is further contributing towards the growth of global printing ink market.
Furthermore, the UV curving (Ultraviolet curing) is used for instantaneously curing dry inks, adhesives and coatings. It acts as a replacement to the traditional drying methods and helps in significantly speeding upon the production process, improves solvent resistance and scratches and helps in reducing rejection rates for the manufacturers. Additionally, with continuous improvement and innovation in printing ink technologies is further anticipated to drive the market for printing ink globally.
Challenges
Implementation of stringent government regulations is anticipated to be the major hindrance in the growth of global printing ink market. There has been growing concerns for release of toxic metals such as lead, cadmium, mercury and hexavalent chromium and volatile organic compounds that are existent in certain printing inks which has forced government organizations to implement regulations on manufacturers for using bio-friendly substitutes. Moreover, the increasing trend for adoption of e-books and digital books is expected to further restraint the growth of global printing ink market in the near future.
Industry Ecosystem
Globally industry players are leveraging market growth by employing inkjet competences along with a new trend that is gaining momentum shifting into digital arena. For instance, in 2017 Siegwerk had announced about opening of its own inkjet centers in France. The players in this industry are supplying its offerings to OEMs (Original equipment manufacturer). Moreover, the industry is observing number of cases of acquisitions that are particularly driven by geographic opportunities and product line.
Geographic Overview
Geographically, North America is the largest printing ink market as the region is home to large number of industry players of printing ink. Moreover, the increasing demand for UV cured ink, expansion in population base and growing trend of consumer spending on several products is further strengthening the growth of printing ink market in this region. Most crucial factor driving the growth of this market is the prices of crude oil and growth of renewable energy in this region. According to a recent report, it has been observed that in 2017 the digital ink market held strongest position in North America and Inkjet holds largest market share in transactional and screen printing.
Asia-Pacific is observed to witness the fastest growth in this market. As the region comprises of largest population, increase in disposable income and accelerating demand for packaged products is contributing significantly towards the growth of this market. Additionally, increasing application of printing ink in several industries such as printing, packaging and publication, food and beverages are expected to drive the demand of printing ink in Asia-Pacific.
Competitive Insight
Market players in the printing ink industry are seeking ample opportunities in publishing and packaging industry that comprises of commercial printing such as magazines and newspapers. Some of the key players operating in this market are Flint Group, hubergroup Deutschland GmbH, Siegwerk Druckfarben AG & Co. KGaA, ALTANA, Wikoff Color Corporation, Ink SC Holdings Co., Ltd., Sakata INX Corporation, T&K Toka Co., Ltd, and Zeller+Gmelin GmbH & Co. KG.
Primary Research Interviews – Breakdown