Industry Overview
The proppant market is projected to become $13,919.3 million by 2027, at a CAGR of 10.4% during 2021–2027. Proppant is extensively being utilized in cold bed methane and hydraulic fracturing of tight and shale gas. Moreover, increasing demand for proppant and progressions in fracturing technologies are the major factors that are driving the growth of global proppant market. Furthermore, with the development of multi-stage fracturing that is resulting into increasing number of stages in fracturing that is enhancing the utilization of proppant that is ultimately enhancing the demand for this market globally.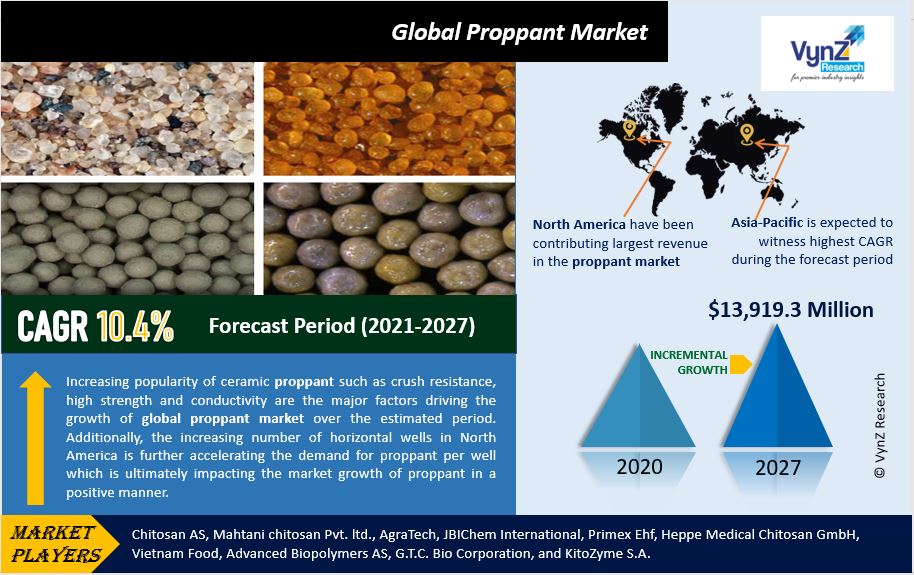 Market Segmentation
Insight by Type
On the basis of type, the global proppant market is segmented into ceramic, resin-coated, and sand materials. Among all these segments, ceramic proppant type is expected to witness fastest growth during the forecast period 2021–2027. The ceramic type has further been categorized into low-density, medium-density, and high-density materials. Ceramic proppant is developed from magnesium silicate sintered, alumina, kaolin and bauxite. These proppant can withstand high closure pressure due to complex molecular structure and high strength. Furthermore, it has a regular size that leads to improved sponginess and penetrability of proppant bed. Thereby it has been observed that the ceramic proppant is witnessing higher growth as compared to other types of proppants.
Insight by Application
Based on application, the global proppant market is segmented into shale gas, tight gas, coal-bed methane, and others. Of all, shale gas extraction category captured the largest market share in 2018 due to the large-scale utilization of the material in shale gas extraction.
Industry Dynamics
Growth Drivers
Increasing popularity of ceramic proppant such as crush resistance, high strength and conductivity are the major factors driving the growth of global proppant market over the estimated period. Additionally, the increasing number of horizontal wells in North America is further accelerating the demand for proppant per well which is ultimately impacting the market growth of proppant in a positive manner. Moreover, introduction of various environment friendly non-phenolic resin coated proppants and enhancement in the process of hydraulic is upgrading flow capacity of fracture and further create ample opportunities for the proppant market to flourish across the globe.
Challenges
High transportation cost of proppants and stringent regulations implemented by the government authorities are focusing upon decreasing hydraulic fracturing as it leads to harmful environmental influence and contamination of ground water that can ultimately diminish the growth of this market. However, these factors are expected impact market growth of proppant in a negative manner.
Industry Ecosystem
Globally industry players are leveraging market growth through technological upgradation in order to develop environment friendly proppants that enables increasing fracture flow capability and enhanced recovery of hydrocarbon.
Geographic Overview
Geographically, North America have been contributing largest revenue in the proppant market due to extensive drilling and completion events for shale plays observed in the countries such as the U.S. and Canada. Moreover, improved technology and efficiencies have further permitted completion activity to alter the breakeven costs in the favor of manufacturers in this region.
Moreover, Asia-Pacific is expected to witness highest CAGR during the forecast period 2019–2024 due to the existence of massive reserves of shale gas and hydraulic fracturing projects in countries such as China, India and Australia. The government of India and China has also announced several developmental plans for shale gas reserves as 12th five-year plans that are expected to impact positively on the market growth. Additionally, in Russia the demand for ceramic proppant is expected further evolve due to increasing hydraulic fracturing activities focused upon unconventional oil.
Competitive Insight
The key players operating in the global proppant market include Fores, Preferred Sands, Saint-Gobain Proppants Inc., CARBO Ceramics Inc., Superior Silica Sands LLC, Bagder Mining Corporation, JSC "Borovichi Refractories Plant", Unimin Corporation, U.S. Silica Holdings Inc., and Fairmount Santrol Holdings Inc.
PRIMARY RESEARCH INTERVIEWS – BREAKDOWN