Industry Overview
The global surgical glue market was valued USD 5,284.7 million in 2020 and is projected to reach USD 9,835.1 million by 2027.This market is further expected to witness a CAGR of 10.7% during the forecast period owing to the increasing expenditure on healthcare and increasing population of old age across the globe.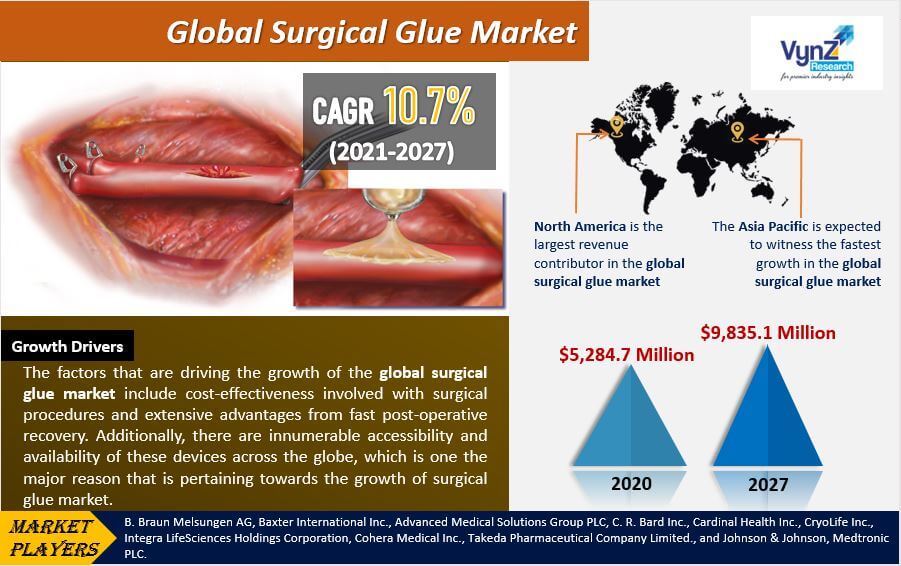 Surgical glue is used in case of traumatic injuries and surgeries that avoid leakage of liquids or air in the wounds. Moreover, another name for surgical glue is surgical adhesive and sealants that are commonly being termed by consumers and health professionals.
Market Segmentation
Insight by Type
On the basis of type, the surgical glue market is segmented into fibrin sealant, cyanoacrylate, collagen-based compound, glutaraldehyde glue, hydrogel. and others. Among all these segments fibrin sealant has been generating the largest revenue throughout the estimated period. This segment has contribute more than 40.0% share to the global surgical glue market in 2020. The extensive growth of global surgical glue market is attributed towards enhancing demand for fibrin sealant and related products for the huge variety of applications and due to its natural origin, which is extracted from animal or human blood cells and thereby it is expected to be the extremely compatible with the human body.
Insight by Application
The global surgical glue market, on the basis of application, is segmented into cardiac surgery, pulmonary surgery, vascular surgery, liver and spleen lacerations, orthopedic surgery, burn bleeding, plastic surgery, wound management, neurosurgery, general surgery, and others. Among all these segments, cardiac surgery was projected to be the largest application area of the surgical area during the historical period and is further estimated to contribute a share of more than 24.0% in the global surgical glue market in 2021. Additionally, the increasing pervasiveness of cardiac-related diseases across the globe is thus excessively contributing towards the growth of the surgical glue market. 
Insight by End User
On the basis of end-user, the global surgical glue market is categorized into clinics, hospitals, and others. The other segment is further sub-segmented into primary care providers (PCPs) and ambulatory surgery centers (ASCs). Moreover, hospitals category is expected to contribute approximately 80.0% of share in the global surgical glue market in 2020. The growing revenue of this end-user is attributed towards complex major surgeries such as pulmonary, cardiac and vascular surgeries that are undertaken in hospitals due to extensive need for admitting and keeping the patient under medical observation for many days.
Industry Dynamics
Growth Drivers
The factors that are driving the growth of the global surgical glue market include cost-effectiveness involved with surgical procedures and extensive advantages from fast post-operative recovery. Additionally, there are innumerable accessibility and availability of these devices across the globe, which is one the major reason that is pertaining towards the growth of surgical glue market. It has been observed that the citizens of both developed, as well as developing countries, are extensively spending on healthcare services due to the increasing disposable income of the residents of those countries and increasing issues regarding health. 
According to a recent study published by Centers for Disease Control and Prevention (CDC) it has been established that the total expenditure on healthcare services in the U.S. has projected towards a total of $3.9 trillion. Moreover, according to a report furnished by the U.K. Office for National Statistics (ONS), U.K.'s total healthcare expenditure accounted for approximately $300 billion in the recent past. 
These reports help in predicting insight regarding the expenditure on healthcare undertaken by several countries across the globe is quite high due to rapid awareness and upsurge in medical facilities, technological progression in the healthcare devices and increasing disposable income. Moreover, patients worldwide are excessively getting surgeries done to acquire the benefits of quick and improved treatment alternatives that are further driving the growth of the global surgical glue market. 
Challenges
The surgical glues available in the market are often washed out under vigorous circumstances, inhibit certain toxic tissues, considered to be quiet weak and certain surgical glues could be damaged by the existence of blood. Moreover, there is no single surgical glue that addresses all these problems. However, due to the presence of certain shortcomings the surgical glue market is observing restrained growth across the globe.
Industry Ecosystem
Globally industry players of surgical glue market are leveraging market growth through technological progression and providing accessibility of these glues to the consumers across the globe in order to fulfill their increasing demand. 
Geographic Overview
Geographically, North America is the largest revenue contributor in the global surgical glue market due to the increasing demand of these glues in the region specifically the glue that is tissue friendly. According to a recent report by TMC Innovation Institute, it states that in the U.S approximately 30 million accidents occur on an annual basis along with around 40 million surgeries in 2017 that requires some sort of closure for the injury. 
In the recent past, injuries were covered with stapling, suturing and cauterization that inhibits various problems such as leakage in wounds after the surgery from staple lines and suture. Moreover, due to the increasing benefits of surgical glue, this market is gaining huge popularity in the region that is further expected to bolster its growth in the near future. 
The Asia Pacific is expected to witness the fastest growth in the global surgical glue market due to increasing application of particular formulation of the product, increasing the advancement of clinical specialty and development of all-purpose products that offers hemostasis and faster sealing. The growth of this market is attributed towards the increasing population of geriatric, increasing demand for surgical interventions and rapid technological upgradation in healthcare domain.
Competitive Insight
Some of the major players operating in the global surgical glue market include B. Braun Melsungen AG, Baxter International Inc., Advanced Medical Solutions Group PLC, C. R. Bard Inc., Cardinal Health Inc., CryoLife Inc., Integra LifeSciences Holdings Corporation, Cohera Medical Inc., Takeda Pharmaceutical Company Limited., and Johnson & Johnson, Medtronic PLC.
Forecast Parameters
- Identifying variables and establishing market impact.
- Establishing market trends regionally.
- Analyzing opportunities and market penetration rates by understanding product commercialization, regional expansion.
- Analyzing demand and supply trends and changes in industry dynamics to establish future growth.
- Analyzing sustainability strategies adhered by market participants in an attempt to determine the future course of the market.
- Analyzing historical market trends and super-imposing them on the current and future variables to determine the year-on-year trend.
- Understanding adoption, production, export, import, and regulatory framework.
Data Validation
- Estimated and forecasted data was validated through industry experts.
- Apart from industry experts, data triangulation methods were used for validation.
- Bottom-up and top-down approach has been used for estimation and forecast of market data, whereas the top-down approach was used for validation.
- Demand, as well as supply-side surveys, were conducted in order to understand the industry dynamics and data validation.
Primary Research
VynZ Research conducts extensive primary research to understand the market dynamics, validate market data and have key opinions from the industry experts. The key profiles approached within the industry include CEO, CFO, CTO, President, Vice President, Product Managers, Regional Heads, and Others. Also, end-user surveys comprising of consumers are also conducted to understand consumer behavior.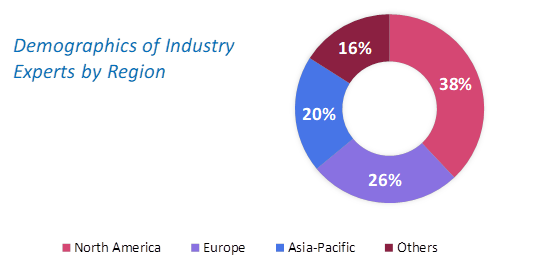 Source: VynZ Research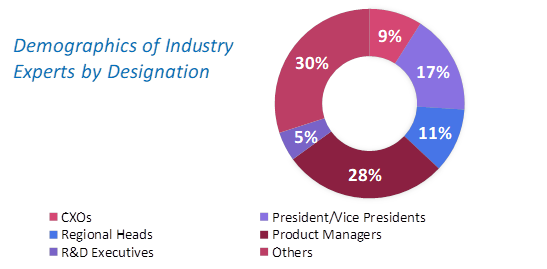 Source: VynZ Research