Industry Overview
Unidirectional tapes are used for selective reinforcement to improve tensile strength and stiffness in one direction. These tapes are composite materials which is based on unidirectional carbon fibers. These tapes can be manufactured using different thermoplastics. The global unidirectional tapes market is anticipated to witness significant growth during the forecast period. The growth is generally driven by the increasing use of these tapes in the various end-user industries such as aerospace and defense, automotive, and others, as these tapes provide exceptional chemical resistance.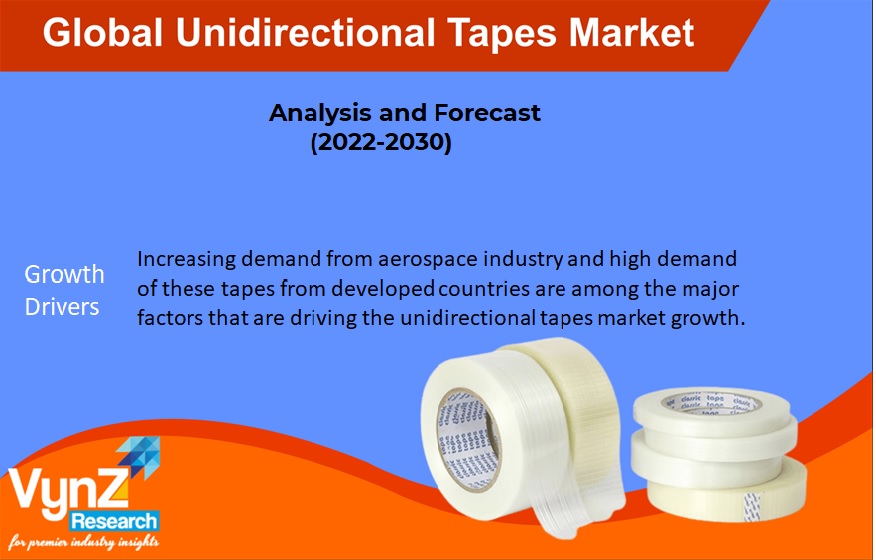 Market Segmentation
Insight by Type
On the basis of type, the unidirectional tapes market is segmented into glass and carbon. Both types of tape possess competitive physical properties including strength and stiffness, high toughness, and low density. However, the glass fiber category is anticipated to hold the larger share in the market during the forecast period, as these are easy to process and manufacture as compared to carbon fiber. It also provides a quick and affordable way to make repairs and build parts and molds.
Insight by Resin
Based on resin, the unidirectional tapes market is categorized into thermoplastic and thermoset. Thermoplastic tapes segment is the larger segment and projected to register the faster growth. This is attributed to its use in various industries due to their superior properties. For instance, due to their high toughness, moisture absorption resistance, high strength and other properties, these tapes are preferred in aerospace and defense industry.
Insight by End-User
On the basis of end-user, the unidirectional tapes market is classified into aerospace and defense, automotive, sports and leisure, and others. Among all these, aerospace and defense category is anticipated to witness the significant growth in the coming years, owing to the increasing demand of lightweight materials to achieve fuel efficiency in aircrafts. For instance, in ultralight aircrafts, these tapes are used in lightweight sandwich panels, thus, all these factors are contributing towards the market growth.
Sports and leisure category is also expected to register a good growth in the coming years, owing to the increasing demand of high strength equipment to maximize the performance of sportsman. The superior properties of these tapes such as high impact strength, good chemical resistance, and others are also making it a preferred choice in the market, driving the unidirectional tapes market growth.
Industry Dynamics
Growth Drivers
Increasing demand from aerospace industry and high demand of these tapes from developed countries are among the major factors that are driving the unidirectional tapes market growth. The demand of these tapes is significantly increasing in the developed countries such as U.S. and Canada, due to their increasing use in commercial passenger aircraft. For example, they are used in manufacturing of Boeing 787 and Airbus A380 aircraft. According to Boeing, almost 7,290 airplanes will be delivered between 2014 and 2033 in North America. Hence, the increase in demand of aircrafts will eventually drive the market of these tapes.
Challenges
High manufacturing and high processing cost is identified as major restraint in the growth of unidirectional tapes market. The manufacturing and processing cost of these tapes are high due to high cost of raw material and high labor cost.
Industry Ecosystem
The general process of manufacturing unidirectional tapes is to draw collimated raw strands into prepreg machine. In the prepreg machine, the strands coupled with molten resins are combined using heat and pressure. The mixture of these resins and fibers commonly travels between coated carrier papers or films through the machine for easy discharge.
Geographic Overview
During the forecast period, North America is anticipated to account for the largest share in the market. The unidirectional tape market of the region is derived by the high economic growth and significantly increasing investment in the aerospace and defense industry. Along with that, the increasing demand for lightweight, technologically advanced and fuel efficient aircrafts is projected to drive the market growth.
Competitive Insight
Performance Composites Inc., Composites Evolution Ltd., SGL Group, Evonik Industries, Hexcel Corporation, SGL Group, Celanese Corporation, SABIC, PRF Composite Materials, and BASF SE are some of the major players operating in unidirectional tapes industry.