Industry Overview
The global UV (Ultra Violet) curable resins and formulated products market is expected to grow at a CAGR of 9.8% from 2023 to 2030, rising from USD 4.75 billion in 2021 to USD 7.6 billion by 2030. UV Curable Resins and Formulated Products are materials that can be polymerized and cured in a short amount of time utilizing ultraviolet irradiation devices. These are commonly used in the manufacturing industry for sealing, bonding, and coating. The advantages offered by UV curable resins include fast curing speed, good workflow, and superior mechanical strength.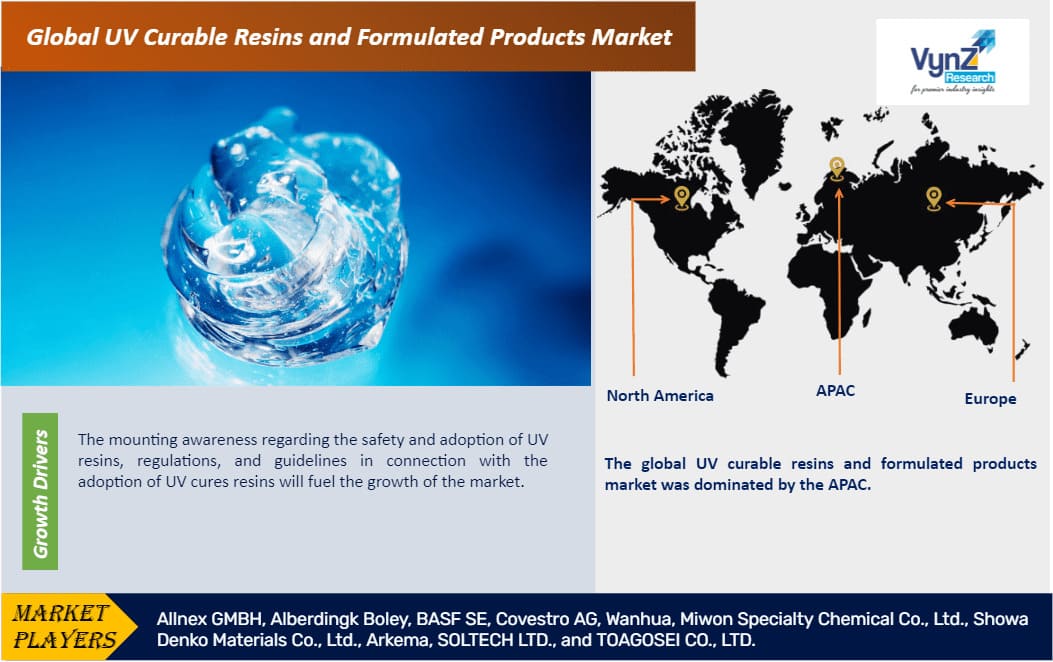 The capacity of resin to be coated on the UV and placed virtually on any substrate, such as plastic, metal, and composites, is the major factor driving market expansion. Because of its high chemical resistance and rapid curing efficiency, Zero VOV lacquers can be formulated for spraying applications when working with waterborne products. Thus, the increasing ecological consciousness, stringent government regulations, and technological development in resin technology will offer significant growth in the market.
The COVID-19 pandemic has had an adverse impact on the global UV curable resins and formulated products market owing to a decrease in demand from various end-user industry verticals. Initially, China is the leading manufacturing center and trade hub and the COVID-19 outburst started from China, resulting in disruption of the value chain of UV curable resins. However, as industry verticals return to regular processing, the market is likely to rebound, and demand for UV-curable resins and formulated goods will rise.
Market Segmentation
Insight by Composition
Based on composition, the market is segregated into oligomers, monomers, photoinitiators, and additives. Oligomers contribute to the largest share as it offer high molecular weight and excessive viscosity UV curing material. Polyester acrylates, epoxy acrylates, urethane acrylates, and acrylic acrylates are some of the backbone-building chemistries used to make oligomers. The basic features of the UV curing formulation are provided by oligomers. The type of oligomers utilized in the chemical formulation determines the overall qualities of printing inks, adhesives, coatings, and binders crosslinked by radiant energy. The photoinitiators are anticipated to be the fastest-growing segment owing to the extensive R&D activities, technological development and advancement, and modification in making novel resins.
Insight by Chemistry
Based on chemistry, the global UV curable resins and formulated products market is bifurcated into acrylate oligomers and non-acrylate oligomers. The acrylate oligomers contribute to the largest share in the segment as they are an apt choice for UV-curable resins and are used in making wood floors, kitchen cabinets, and furniture. They're also used in luxury and mid-priced hardwood and resilient flooring, ski and snowboard coatings, and point furniture coatings. Urethane acrylates provide high-end performance with few process difficulties and almost no VOC emissions.
Insight by Technology
Based on technology, the global UV curable resins and formulated products market is divided into solvent-borne UV resins, 100% solid UV resins, waterborne UV resins, and powder UV resins. 100% solid UV resin segment contributes to the largest share in the market as it offers enhanced corrosion resistance, edge retention, superior performance, increased coating thickness, and needs less drying time. 100% solid UV formulations are being adopted in aluminum extrusions, office furniture, appliances, business machines, containers, etc., resulting in the growth of the UV curable resins and formulated products market. Waterborne UV resins are anticipated to grow at a high CAGR as water is being used as a diluent or dispersing medium in the coatings, resulting in a decrease in air pollution and enhancing occupational health and safety. Moreover, government regulations on using solvent-borne products due to environmental concerns will accelerate the growth of waterborne UV resins.
Insight by Application
Based on application, the global UV curable resins and formulated products market is divided into coatings, overprint varnishes, printing inks, adhesives, and others. The coatings application dominates the UV curable resins and formulated products market owing to the "going green" concept and surging application in various industry verticals as the consumer electronics industry uses it in mobile phones, laptops, and game consoles.UV curable resins have excellent performance, outdoor endurance, good wear resistance, and are resistant to home pollutants, thus this segment is growing.
Industry Dynamics
Industry Trends
Increasing investments, robust industrialization, enactment of stringent regulations, and rising awareness are the trends prevalent in the UV curable resins and formulated products market.
Growth Drivers
The mounting awareness regarding the safety and adoption of UV resins, regulations, and guidelines in connection with the adoption of UV cures resins will fuel the growth of the market.  The benefits associated with UV curable resins and formulated products include consumption of less energy, less equipment space, reduced amount of VOC, heat, and emission released, cured at low temperatures, and high output and efficiency. Factors attributing to the growth of the UV cable resins and formulated products market is the rising adoption in various applications like coatings, overprint varnishes, printing inks, adhesives, etc. and it is a preferred choice for applications requiring fast curing and fast drying process.
Challenges
The increased cost for R&D activities, high infrastructure cost, deteriorating health conditions owing to the amount of UV released, the high initial cost of setting UV curable resins manufacturing plants, increasing raw material cost, and rise in wooden substrates will hamper the growth of the market. Furthermore, environmental changes owing to wastewater effluent and discharge treatment and flaws with regard to improper drying will further pose a challenge to UV curable resins & formulated products market.
Opportunities
The rapidly growing market for 3D printing, digital printing, and printed circuit applications will create opportunities for industry players to accelerate the growth of UV cable resins and formulated products market. Moreover, innovations of novel technologies like photoinitiators can assist in developing more effective curable resins, expansion of photosensitive wavelength band, and improved photoinitiator solubility in conventional photoinitiators to be cured across industry verticals will further accelerate the opportunities in the market.
Geographic Overview
APAC is anticipated to be the largest growing region in the UV curable resins and formulated products market owing to the advent of 4.0, rising demand from the electronics segment, strict guidelines about the non-release of VOC gas, presence of industry players, and increasing R&D in the region. The rising demand for flexible packaging and robust industrialization will accelerate the growth in the region. Furthermore, the increasing production of automobiles and surge in investment in building & construction activities will lead to the growth of the market in the region.
Competitive Insight
The industry players are investing substantially in R&D activities and collaborating to expand their businesses. Moreover, novel product development, capacity expansion, and product launches are other strategies followed by industry players in the UV curable resins and product formulation market.
BASF SE provides an extensive range of portfolios for formulation requirements having high-quality and high-functionality oligomers and monomers. One such curable resin is the LAROMER oligomer used in diverse applications and industries like printing packaging, adhesives, transportation, industrial coatings, furniture and flooring, electronics, and special applications. The advantages offered include faster curing rates, low thermal stressing on substrates, low energy consumption, high scratch and chemical resistance, etc.
Convestro AG is a German company that manufactures polymers and high-performance plastics. Their growing technology for UV and energy-curable resins is focused on revolutionizing the coating industry. They have excellent performance in various industry verticals like adhesion in labels and foils, and food packaging to enhance the efficacy and safety of paper and board printing. Their broad portfolio of radcure resins includes monomers, epoxy and polyester acrylates, acrylate and solid acrylics, and amine acrylates that are sustainable, containing zero VOCs, efficient, immediate drying times, performance, excellent adhesion and resistance, versatile, and waterborne hybrids available.
In July 2021, Arkema, a pioneer and market leader in high-performance 3D printing materials, continues to invest in additive manufacturing and develop unique new solutions for the most popular 3D printing methods. With its N3xtDimension® range, Arkema's Sartomer Business offers a comprehensive spectrum of UV-curable 3D printing solutions. Custom formulas are part of the product line, which has been bolstered by the recent acquisition of Colorado Photopolymer Solutions. It also has designed resins for specific performance and a vast portfolio of building blocks and additives to maximize formulation qualities, such as specialty monomers, oligomers, cationic resins, and photoinitiators.
Covestro successfully completed the acquisition of the Resins & Functional Materials business (RFM) from the Dutch company Royal DSM in April 2021. Covestro's range of sustainable coating resins has been significantly expanded as a result of the deal, making the company one of the world's top providers in this fast-growing industry.
Some of the industry players operating in the UV curable resins and formulated products include Allnex GMBH, Alberdingk Boley, BASF SE, Covestro AG, Wanhua, Miwon Specialty Chemical Co., Ltd., Showa Denko Materials Co., Ltd., Arkema, SOLTECH LTD., and TOAGOSEI CO., LTD.

Region Covered in the Report
•    North America
- U.S.
- Canada
- Mexico
•    Europe
- Germany
- U.K.
- France
- Italy
- Spain
- Russia
- Rest of Europe
•    Asia-Pacific (APAC)
- China
- Japan
- India
- South Korea
- Rest of Asia-Pacific
•    Rest of the World (RoW)
- Brazil
- Saudi Arabia
- South Africa
- U.A.E.
- Other Countries