Industry Overview
The global water-based adhesive specialty tapes market was valued at USD 8.2 billion in 2022 and is anticipated to reach USD 8.5 billion by 2030, growing at a CAGR of 6.67% during the forecast period 2023-2030. Water-based adhesive is chemical composites that are made by mixing water, polymers, and different additives.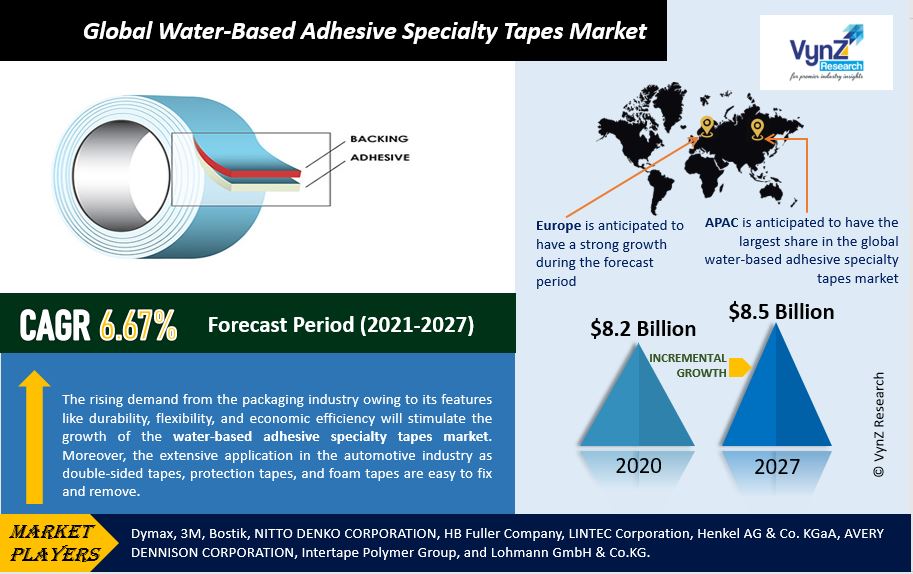 The water-based adhesives can be in liquid or powder solution form and are apt for porous or non-porous substrates. The water-based adhesive specialty tapes are generally prepared from natural or artificial soluble polymers. Water acts as a carrier fluid and controls the fluidity of useful adhesive composites for various substrates having loads of thickness. The global water-based adhesive specialty tapes are growing owing to the increased adoption in the automotive sector, increased public awareness about the benefits of such tapes, escalating demand for medical products, and technological developments in the healthcare industry that will propel the growth of the market.
The COVID-19 crisis has had a neutral effect on the water-based adhesive specialty tapes market owing to a little disruption in the supply of raw materials due to travel restrictions and stringent lockdown measures. In addition, the COVID-19 pandemic and reduced crude prices have led to a fluctuation in the level of demand from industry verticals like commercial construction and infrastructure. Nevertheless, the demand for adhesive formulations has grown in the residential construction sector and medical devices sector.
Market Segmentation
Insight by Resin Type
Based on resin type, the global water-based adhesive specialty tapes market is divided into Acrylic Polymer Emulsion (APE), Styrene Butadiene (SB) Latex, Polyvinyl Acetate (PVA) Emulsion, Polyurethane Dispersion (PUD), and Vinyl Acetate Ethylene (VAE) Emulsion and others. The PVA Emulsion dominates the market as PVA adhesive produces clear, hard films that are weather resistant and can withhold water, grease, oil, and petroleum fuels.  In addition, it offers properties such as high initial adhesiveness, almost invisible adhesive joints, softening at 30-45 °C, resistance to biodegradability, and low cost.
Insight by Application
Based on application, the water-based adhesive specialty tapes market is categorized into tapes and labels, paper and packaging, building and construction, automotive and transportation, consumer, leather & footwear, sports & leisure, assembly, and others. The tapes and labels are anticipated to have the fastest growth owing to extensive utilization across various industries and for many adhesive applications and include construction tape adhesives, masking tape adhesives, freezer label adhesives, removable or repositionable label adhesives as these adhesives are flexible and versatile. The construction industry is anticipated to have faster growth owing to the increased usage of acrylic polymer emulsion resin type in water-based adhesive specialty tapes as APE provides superior performance and non-flammable properties.
Global Water-Based Adhesive Specialty Tapes Market Report Coverage
| | |
| --- | --- |
| Report Metric | Details |
| Historical Period | 2018–2022 |
| Base Year Considered | 2022 |
| Forecast Period | By 2030 |
| Market Size in 2020 | $8.2 Billion |
| Revenue Forecast in 2027 | $8.5 Billion |
| Growth Rate | CAGR 6.67% |
| Segments Covered in the Report | By ResinType, By Application |
| Report Scope | Market Trends, Drivers, and Restraints; Revenue Estimation and Forecast; Segmentation Analysis; Impact of COVID-19; Companies' Strategic Developments; Market Share Analysis of Key Players; Company Profiling |
| Regions Covered in the Report | North America, Europe, Asia-Pacific, Middle East, and Rest of the World |
Industry Dynamics
Industry Trends
The increasing prominence of technologically developed and environmentally friendly products in different industry verticals and high performance compared to conventional solvent-based adhesives in terms of efficiency and flexibility are the trends prevalent in the water-based adhesive specialty tapes market. Moreover, government regulations to limit VOC emissions will further support the growth of water-based products.  
Growth Drivers
The rising demand from the packaging industry owing to its features like durability, flexibility, and economic efficiency will stimulate the growth of the water-based adhesive specialty tapes market. Moreover, the extensive application in the automotive industry as double-sided tapes, protection tapes, and foam tapes are easy to fix and remove. Moreover, the increased demand for light and low-emission vehicles such as smart cars and aluminum trucks will drive the growth of the market. It is used in the healthcare industry and is adopted in applications like surgical tapes and waterproof tapes to cover incisions and wounds. Moreover, water-based adhesive specialty tapes have antigenic properties and hold tightly on the skin, bandage, or dressing material, resulting in wide adoption in the healthcare sector.
Challenges
The inability to store the product for a long period of time, reduced shelf life, and vulnerable commodity costs are the challenges faced by the manufacturers of the water-based adhesive specialty tapes market. In addition, the formulation of water-based adhesives specialty tapes are complex, and slow drying and freezing at low temperatures owing to the volatility features of water may hinder the growth of the market.
Geographic Overview
APAC is anticipated to have the largest share in the global water-based adhesive specialty tapes market owing to the expansion of the automotive, healthcare, electronics, and electrical sectors. Moreover, the rising disposable income and economic growth may augment the growth in the region. Europe is anticipated to have strong growth during the forecast period in the water-based adhesive specialty tapes market owing to robust growth in building bridges and highways and growing business investments in buildings. Moreover, the rising urban population and an increasing number of immigrants may further propel the growth of the market.
Competitive Insight
The water-based adhesive specialty tapes industry players are involved in various strategic initiatives to remain competitive in the market such as product launches, mergers, and acquisitions, partnerships, etc. Thus, industry players are strengthening their position in a highly competitive market and providing a competitive edge.
3M has developed a novel water-based product so-called 3M™ Fast Tack Water Based Adhesive 1000NF which is unique and designed to deliver faster bonding time, heat resistant bonding, repositionable, and high ultimate strength. Thus, it is non-flammable, polychloroprene-free, and has zero VOCs
Henkel is one of the trusted water-based adhesive manufacturers and offers various products in SEQUENCE that are coater-ready and superior finishes allow customers to maintain product quality and enhance the total cost of ownership. Moreover, the company's products are used in various applications like books, home appliances, medical tape, and packaging.
In November 2021 HB Fuller Company launched a new generation of high-performance water-based adhesives with Swift® tak 5730 grade to create consumer-safe, liquid-resistant paper straws as it provides superior performance, is consistent, sustainable, easily machinable, and increases overall productivity.
Bostik has launched a new advanced water-based adhesive for in-car use using the Aquagrip 3720.
Bostik has launched a novel and advanced water-based adhesive for automotive interior assembly applications called Aquagrip 3720. The product is suitable for bonding low surface energy, rigid substrates to the closed-cell foam and foam-backed materials, thereby enhancing process efficiencies and product performance decreasing the environmental impact, and improving worker safety. This product is also plasticizer-resistant, responsive to heat, and suited to one-sided application processes to simply meet manufacturing requirements.
Key players in the water-based adhesive specialty tapes market include Dymax, 3M, Bostik, NITTO DENKO CORPORATION, HB Fuller Company, LINTEC Corporation, Henkel AG & Co. KGaA, AVERY DENNISON CORPORATION, Intertape Polymer Group, Lohmann GmbH & Co.KG.
The water-based adhesive specialty tapes market report offers a comprehensive market segmentation analysis along with an estimation for the forecast period 2021–2027.
Segments Covered in the Report
By Resin Type

Acrylic Polymer Emulsion (APE)
Styrene Butadiene (SB) Latex
Polyvinyl Acetate (PVA) Emulsion
Polyurethane Dispersion (PUD)
 Vinyl Acetate Ethylene (VAE) Emulsion
Others

By Application 

Tapes and Labels
Paper and Packaging
Building and Construction
Automotive and Transportation
Consumer
Leather & Footwear
Sports & Leisure
Assembly
Others
Region Covered in the Report
North America
Europe

Germany
U.K.
France
Italy
Spain
Russia
Rest of Europe

Asia-Pacific (APAC)

China
Japan
India
South Korea
Rest of Asia-Pacific

Rest of the World (RoW)

Brazil
Saudi Arabia
South Africa
U.A.E.
Other Countries

Source: VynZ Research