Industry Overview
Clarifiers are used to remove solid particulates from liquid for clarification and thickening. They are also known as settlers. These tanks are widely used in sewage treatment, oil and gas, power generation, mining, and many other industries to provide product separation and recovery. The global water clarifiers market is witnessing a significant growth in the market and is anticipated to grow at a good pace in the coming years, due to the increasing focus on water treatment and stringent environmental regulations imposed by government of various countries and regulatory authorities.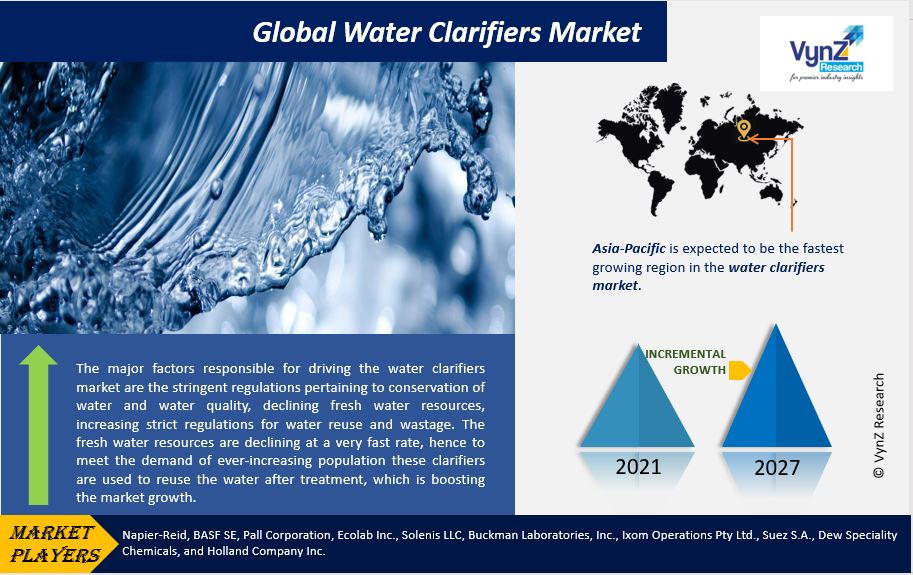 The market is witnessing an increase in demand of these clarifiers for water treatment purpose, as the freshwater resources are declining sharply, in turn driving the market growth.
Market Segmentation
Insight by Type
Based on type, the water clarifiers market is segmented into coagulant, flocculants, Ph Stabilizers. Coagulant water clarifiers are further segmented into organic coagulant and inorganic coagulant. Flocculants are further classified into anionic flocculants, cationic flocculants, non-ionic flocculants, and amphoteric flocculants. During the forecast period, coagulant water clarifiers are anticipated to register the highest growth in the market, wherein inorganic coagulant sub-segment is expected to hold the larger share, due to the low-cost advantage and wide application areas.
Insight by Application
On the basis of application, the water clarifiers market is classified into pre-treatment, portable water treatment, wastewater treatment, wastewater recovery, utility feed water, and others. Pre-treatment application category held the largest share in the market due to its extensive use in the industries, for instance, water clarification is used in the treatment of municipal wastewater, municipal drinking water, and industrial effluent as pre-treatment for further process of purification.
Insight by End-User
Based on end-user, the water clarifiers market is segmented into power generation, mining, municipal, food processing, pulp and paper, oil and gas, and others. Among all these, municipal end-user category is anticipated to hold the largest share in the market, due to the increasing need of robust water treatment solutions to provide safe drinking water, reduce water scarcity concerns, and minimize pollutants. Additionally, their ability to efficiently treat algae, heavy metals, phosphorus, crypto giardia, oil & grease, particle counts, and coliforms making them key component for municipal water treatment applications.
Industry Dynamics
Growth Drivers
The major factors responsible for driving the water clarifiers market are the stringent regulations pertaining to conservation of water and water quality, declining fresh water resources, increasing strict regulations for water reuse and wastage. The fresh water resources are declining at a very fast rate, hence to meet the demand of ever-increasing population these clarifiers are used to reuse the water after treatment, which is boosting the market growth.
Challenges
High cost of clarifiers and the availability of substitutes such as chemicals are restraining the water clarifiers market growth and posing as a major challenge. There are various cheap alternatives available in the market for water treatment including chemical treatment of water, which has the ability to treat water at a very low cost as compared to clarifiers.
Industry Ecosystem
Rapid urbanization is creating pressure on the existing water infrastructure and are demanding proper treatment of wastewater, which is creating high demand for clarifiers across the world. This is attracting various players toward the water clarifiers market, driving the investment inflow into the market.
Geographic Overview
Asia-Pacific is expected to be the fastest growing region in the water clarifiers market. Rapid industrialization, increasing population, and decrease in the water freshwater reserves in the region are the major factors which are anticipated to drive the market growth. Along with that, the growing demand of water clarifiers from both municipal and industrial sectors are also fueling the market growth. Also, the growth in the region is attributed to large and rising industrial infrastructure in developing countries such as China and India. 
Competitive Insight
Napier-Reid, BASF SE, Pall Corporation, Ecolab Inc., Solenis LLC, Buckman Laboratories, Inc., Ixom Operations Pty Ltd., Suez S.A., Dew Speciality Chemicals, and Holland Company Inc. are some of the key players operating in water clarifiers industry.