Industry Overview
Zinc Sulphate, with formula ZnSO4, is an inorganic crystalline compound with no taste, color, and no smell. It used to be called 'white vitriol' and has an aqueous solution that is slightly soluble in ethanol and glycerol, acidic, and readily soluble in water. It is a flammable, combustible, non-oxidizing compound and absorbs moisture, is hygroscopic and efflorescent by nature. There are two forms of zinc sulphate: heptahydrate (ZnSO4.7H2O) and hexahydrate (ZnSO4.6H2O). When Zinc sulphate breaks down, it releases Zinc oxide and sulfur oxide, and the World Health Organization has zinc sulphate on its list of essential medications.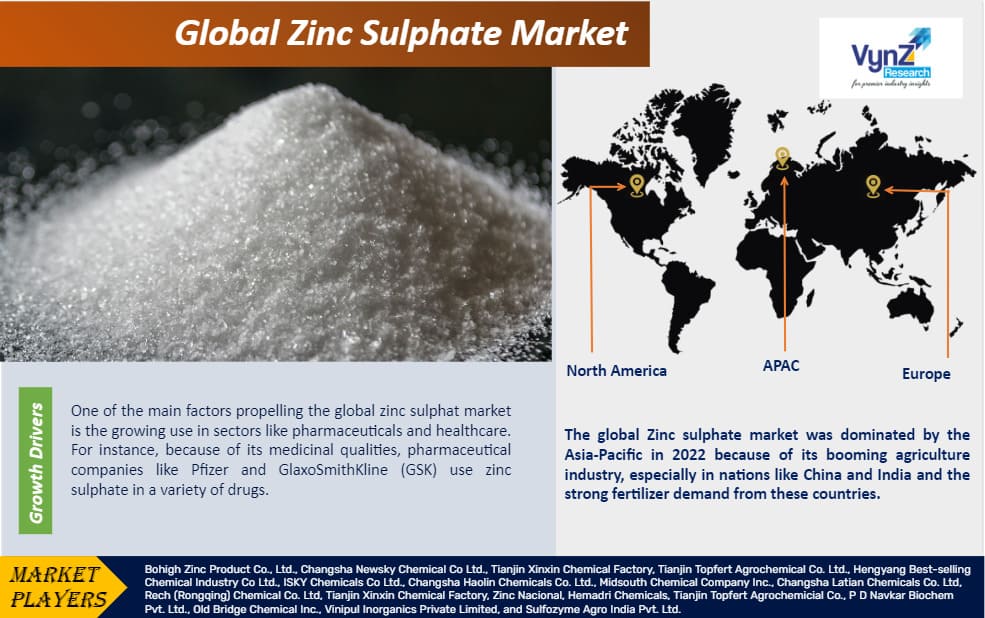 Global Zinc sulphate market was worth USD 1.70 billion in 2022 and is expected reach USD 3.10 billion by 2030 with a CAGR of 7.65% during the forecast period, i.e., 2023-2030. Zinc sulphate demand is rising due to its vital role in agriculture as a micronutrient for plants, promoting healthy growth. Additionally, it finds applications in diverse industries including healthcare, pharmaceuticals, and animal nutrition, further driving its popularity.
Geographically, the market is expanding rapidly in North America, Europe, and the Asia Pacific, as a result of the robust agricultural sectors, substantial industrial applications, and a growing awareness of zinc's importance in various industries; however, the market confronts constraints such as Limited zinc reserves, price volatility due to mining constraints, environmental concerns, and competition from zinc alternatives. Overall, the Zinc sulphate market offers potential prospects for market participants to develop and fulfill the growing needs of wide range of industries including transportation, energy storage, consumer electronics, and other industries.
Market Segmentation
Insight by Type
Based on the type, the global Zinc sulphate market is segmented into zinc sulphate anhydrous, zinc sulphate monohydrate, zinc sulphate hexahydrate, and zinc sulphate heptahydrate. In 2022, zinc sulphate monohydrate dominated the global zinc sulphate market due its stability and adaptability. Companies such as Zinc Nacional run state-of-the-art production facilities dedicated to this form, satisfying a variety of industry needs. Furthermore, efforts like those of Numinor Chemical to improve its purity and quality serve to further solidify its dominance. Zinc sulphate monohydrate is important for health, as demonstrated by partnerships with pharmaceutical companies like Merck for research and development of novel formulations based on zinc sulphate. All of these elements work together to make zinc sulphate monohydrate the go-to option for many different industries, ensuring its dominance in the global zinc sulphate market.
Insight by Application
Based on the application, the global zinc sulphate market is segmented into medicine, agrochemical, chemical, water treatment, and other applications. In 2022, agrochemical segment dominated the market because of its critical function in raising crop yields and quality. Modern zinc sulphate production facilities are run by companies like Tianjin Xibeier International, with the express purpose of catering to the agriculture industry. Their efforts to work with agricultural research organizations to create customized formulations for various crops and soil types are indicative of the segment's supremacy. Its importance is further demonstrated by its strategic alliances with major agribusiness companies like Monsanto (now a part of Bayer). Agrochemical industry's dominance in the global zinc sulphate market in the is further fueled by the rising demand for food and sustainable agriculture around the world.
Zinc Sulphate Market Report Coverage
| | |
| --- | --- |
| Report Metric | Details |
| Historical Period | 2018–2022 |
| Base Year Considered | 2023 |
| Forecast Period | 2023 - 2030 |
| Market Size in 2022 | $1.70 Billion |
| Revenue Forecast in 2030 | $3.10 Billion |
| Growth Rate | CAGR 7.65% |
| Segments Covered in the Report | By Type and By Application |
| Report Scope | Market Trends, Drivers, and Restraints; Revenue Estimation and Forecast; Segmentation Analysis; Impact of COVID-19; Companies' Strategic Developments; Market Share Analysis of Key Players; Company Profiling |
| Regions Covered in the Report | North America, Europe, Asia-Pacific, Middle East, and Rest of the World |
Industry Dynamics
Growth Drivers
Applications in pharmaceutical industry
One of the main factors propelling the global zinc sulphate market is the growing use in sectors like pharmaceuticals and healthcare. For instance, because of its medicinal qualities, pharmaceutical companies like Pfizer and GlaxoSmithKline (GSK) use zinc sulphate in a variety of drugs. Moreover, companies like Rech Chemical and Changsha Haolin Chemical have also established state-of-the-art production facilities, demonstrating the increased need for zinc sulphate in pharmaceutical formulations. Additionally, collaborations between producers of zinc sulphate and major pharmaceutical companies indicate a determined attempt to address the growing demands for healthcare around the globe, which is fueling the expansion of the global zinc sulphate market.
Demand from agriculture industry
The agrochemical industry's substantial demand for zinc sulphate is attributed to its use in fertilizers and animal feed supplements. Zinc sulphate is applied by farmers to a variety of crops, including citrus, cotton, pecans, deciduous fruits, and peanuts. For improved nutrition, zinc sulphate is also added to the diets for pigs, poultry, and cattle. Due to their increased water solubility, fertilizers based on zinc sulphate are becoming more and more popular in the agrochemical sector. India is one of the largest markes for zinc sulphate and is among the world's top producers of food grains with 315.7 million tonnes in 2021-22. Thus, the agrochemical industry's explosive expansion is one of the major drivers for the global zinc sulphate market.
Challenge
Limited zinc reserves
The limited quantity of zinc reserves presents a major obstacle for the global zinc sulphate market. The resources of zinc are under increasing pressure as demand rises in sectors such as pharmaceuticals, agriculture, and other industrial applications. This hinders the expansion of the zinc sulphate market by raising the possibility of supply shortages and price volatility. This difficulty is further compounded by environmental concerns about the mining and extraction methods for zinc. Innovative methods to resource management, recycling, and the development of substitute materials or technologies will be necessary for the zinc sulphate market to have sustained growth during the forecast period.
Geographic Overview
The global Zinc sulphate market is segmented into North America, Europe, the Asia-Pacific, South America, and the Middle East and Africa region. The global Zinc sulphate market was dominated by the Asia-Pacific in 2022 because of its booming agriculture industry, especially in nations like China and India and the strong fertilizer demand from these countries.
Furthermore, supply chains are strengthened by strategic alliances between local distributors and manufacturers. Asia-Pacific is further solidified by investments in cutting-edge production facilities and research for novel uses. Significant facilities such as Australia's Zinifex refinery and partnerships with major agribusiness companies support the region's dominant position in the global zinc sulphate market.
Competitive Insight
Rech Chemical holds a significant position in the global zinc sulphate market. It is a well-known Chinese company with a wide range of products, including several grades of zinc sulphate for use in industrial, pharmaceutical, and agricultural settings. Rech Chemical has state-of-the-art production facilities, including one of the biggest plants in the world, located in the province of Hunan, China. The company has made large investments in R&D to guarantee the quality and innovation of its products and Rech Chemical's market position in the global zinc sulphate market is reinforced by its strategic agreements with agricultural firms and distributors.
Another significant player in the global zinc sulphate market is Changsha Haolin Chemical. Headquartered in China, the company provides a wide range of high-quality zinc sulphate products for use in industrial, pharmaceutical, and agricultural applications. The company is committed to sophisticated manufacturing techniques, as seen by their cutting-edge production facility in Hunan Province, China. Their leading position in the global zinc sulphate market is supported by their reputation for dependable zinc sulphate production and strategic industry collaborations.
Recent Development by Key Players
In August 2023, Zydus Lifesciences received final approval from the United States Food and Drug Administration (USFDA) for Zinc Sulphate Injection USP. The drug will be manufactured at the group's formulation manufacturing facility at Jarod and is indicated in adult and pediatric patients as a source of zinc for parenteral nutrition when oral or enteral nutrition is not possible, insufficient, or contraindicated.
In August 2023, Nevada Zinc announced that it has entered into a partnership with BelZinc to produce Zinc oxide. Nevada Zinc will produce zinc oxide using BelZinc's proprietary production technology and feedstock from its Lone Mountain non-sulfide zinc deposit located in close proximity to Eureka, Nevada. Produce Zinc oxide will also be covered to Zinc sulphate depending upon the demand from the market and prices of zinc sulphate.
Key Players Covered in the Report
Bohigh Zinc Product Co., Ltd., Changsha Newsky Chemical Co Ltd., Tianjin Xinxin Chemical Factory, Tianjin Topfert Agrochemical Co. Ltd., Hengyang Best-selling Chemical Industry Co Ltd., ISKY Chemicals Co Ltd., Changsha Haolin Chemicals Co. Ltd., Midsouth Chemical Company Inc., Changsha Latian Chemicals Co. Ltd, Rech (Rongqing) Chemical Co. Ltd, Tianjin Xinxin Chemical Factory, Zinc Nacional, Hemadri Chemicals, Tianjin Topfert Agrochemicial Co., P D Navkar Biochem Pvt. Ltd., Old Bridge Chemical Inc., Vinipul Inorganics Private Limited, and Sulfozyme Agro India Pvt. Ltd.
The Zinc sulphate market report offers a comprehensive market segmentation analysis along with an estimation for the forecast period 2023–2030.
Segments Covered in the Report
Zinc sulphate Anhydrous

Zinc sulphate Monohydrate

Zinc sulphate Hexahydrate

Zinc sulphate Heptahydrate
Medicine 

Dietary Supplement

Astringent

Others

Agrochemical

Fertilizer

Animal Feed

Herbicide

Others

Chemical

Dyes & pigments

Catalyst

Preservative

Bleaching

Others

Water Treatment

Others process
Region Covered in the Report
Germany

U.K.

France

Italy

Spain

Russia

Rest of Europe
China

Japan

India

South Korea

Rest of Asia-Pacific
Saudi Arabia

U.A.E

South Africa

Rest of MEA
Argentina

Brazil

Chile

Rest of South America
Primary Research Interviews Breakdown