Industry Overview
Plant-based proteins are derived from plants and are nutrient-rich substances that provide vital amino acids for internal body processes. Legumes (like beans and lentils), grains (like quinoa and oats), nuts, seeds, and soy-based products (like tofu and tempeh) are common sources. Plant-based proteins have fewer saturated fats and no cholesterol, in contrast to animal proteins. Additionally, Plant-based proteins are rich in fiber, vitamins, and minerals, which improve digestion and heart health. Vegetarians and vegans as well as those looking for meat substitutes can obtain plenty of protein by include a range of these sources in their diet. Plant-based proteins provide a well-balanced, health-conscious diet and are sustainable and environmentally friendly.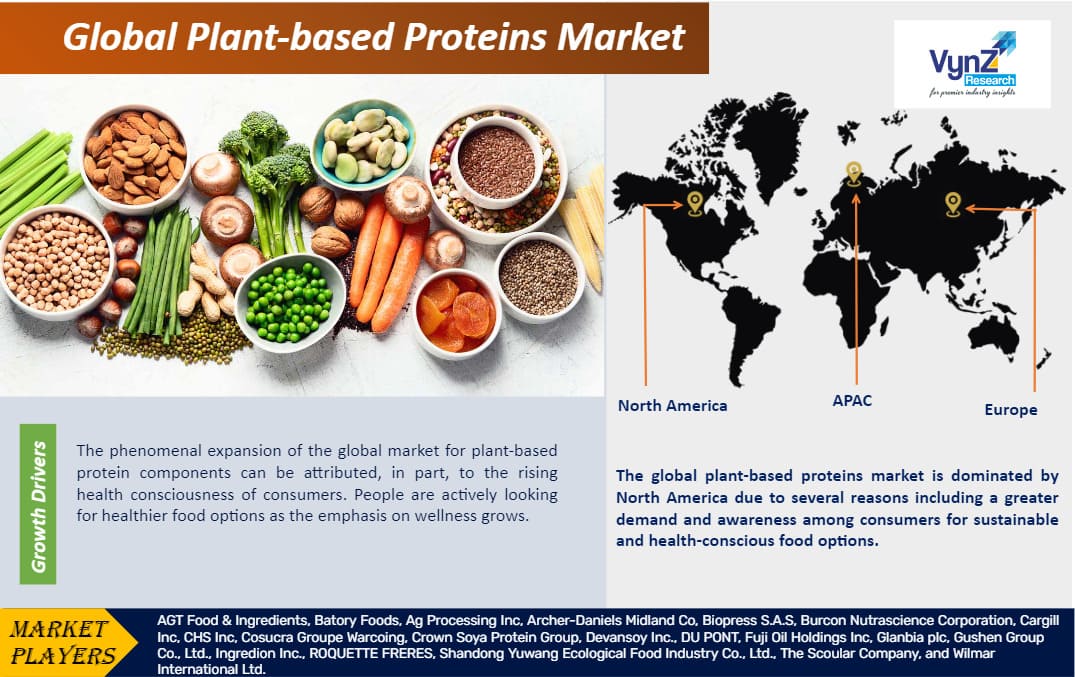 Global plant-based proteins market was worth USD 15.00 billion in 2022 and is expected reach USD 24.50 billion by 2030 with a CAGR of 6.09% during the forecast period, i.e., 2023-2030. The growing demand for plant-based proteins is driven by the increasing consumer awareness about health, environmental sustainability, and animal welfare. Additionally, innovations in food technology have led to the development of more palatable and versatile plant-based protein products.
Geographically, the market is expanding rapidly in North America, Europe, and the Asia Pacific, as a result of the presence of large companies, huge investment in the R&D, and high awareness among end-users; however, the market confronts constraints such as cost-competitiveness against animal proteins and taste and texture refinement requirement. Overall, the plant-based proteins market offers potential prospects for market participants to develop and fulfill the growing needs of wide range of industries including packaging, food and beverages, healthcare/pharmaceutical, and other industries.
Market Segmentation
Insight by Source
Based on the material type, the global plant-based proteins market is segmented into soy, wheat, pea, potato, hemp, rice, and other sources. Soy-based proteins dominated the market in 2022 as they offer a large and nutrient-dense source of protein due to their high protein content. They are also quite adaptable, which enables a variety of uses in different food products. Companies such DuPont Nutrition & Biosciences and Archer-Daniels Midland Co., have made large investments in the development of premium soy protein isolates and concentrates. Furthermore, soy has a long history of use in Asian cuisines, which has helped it become well-known and accepted by customers all over the world. Its taste profile is neutral, which makes it simple to add to a wide range of food products. This contributes to its market dominance in the plant-based protein market.
Insight by Form
Based on the form, the global plant-based proteins market is segmented into isolates, concentrates, protein flour. Isolates dominated the market in 2022 owing to a number of reasons including being an extremely concentrated protein source with average protein content of over 90%, making them a powerful source of nutrients for a range of food sector uses. Furthermore, isolates are smooth and have a neutral flavor profile, which makes them adaptable and simple to incorporate into a variety of products, such as protein bars and meat alternatives. Plant-based protein manufacturers like as Archer-Daniels Midland Co. and DuPont Nutrition & Biosciences have demonstrated proficiency in generating superior isolates, hence reinforcing their market dominance.
Insight by Application
Based on application, the global plant-based proteins market is segmented into animal feed, food and beverages, personal care and cosmetics, supplements, and other applications. Food and beverages segment dominated the global plant-based proteins market in 2022 owing to its extensive use in a variety of goods. Plant-based proteins, such as those derived from peas and soy, are widely used in foods like protein bars, dairy replacements, and meat substitutes. Two such examples are the plant-based burgers from Beyond Meat and the soy milk from Silk. Moreover, food firms are introducing plant-based proteins into their product lines in response to growing consumer demand for sustainable and better food options. The food and beverage industry's dominance in the burgeoning plant-based protein market is cemented by this spike in consumer demand and ongoing innovation in plant-based formulations.
Plant-based Proteins Market Report Coverage
| | |
| --- | --- |
| Report Metric | Details |
| Historical Period | 2018–2022 |
| Base Year Considered | 2023 |
| Forecast Period | 2023 - 2030 |
| Market Size in 2022 | $15.00 Billion |
| Revenue Forecast in 2030 | $24.50 Billion |
| Growth Rate | CAGR 6.09% |
| Segments Covered in the Report | By Source, By Form and By Application |
| Report Scope | Market Trends, Drivers, and Restraints; Revenue Estimation and Forecast; Segmentation Analysis; Impact of COVID-19; Companies' Strategic Developments; Market Share Analysis of Key Players; Company Profiling |
| Regions Covered in the Report | North America, Europe, Asia-Pacific, Middle East, and Rest of the World |
Industry Dynamics
Growth Drivers
Growing health awareness among consumers
The phenomenal expansion of the global market for plant-based protein components can be attributed, in part, to the rising health consciousness of consumers. People are actively looking for healthier food options as the emphasis on wellness grows. Proteins derived from plants have many advantages over animal products, such as reduced cholesterol and saturated fat content and the provision of vital minerals, fiber, and antioxidants. For example, Impossible Foods and Beyond Meat have become quite popular because they mimic the flavor and feel of meat without having the negative health effects. Additionally, controlling weight, lowering the risk of chronic illnesses like heart disease, and enhancing general wellbeing are all made possible by plant-based proteins.
Furthermore, consumer confidence has been strengthened by the scientific community's ongoing study and growing body of evidence demonstrating the health advantages of plant-based diets. The benefits of including plant-based proteins in one's diet have also been highlighted by prominent endorsements from celebrities and medical professionals. Plant-based protein components are expected to see an increase in demand as consumers grow more health-conscious, which will further cement their place in the mainstream food market.
Rising focus on environment sustainability
The plant-based protein market is growing quickly and one major driver of this growth is environmental sustainability. Customers are becoming more conscious of how their food choices affect the environment, and plant-based proteins provide a more sustainable option than animal agriculture. For example, compared to animal-based protein sources, soy-based proteins such as those from Archer-Daniels Midland Co. and DuPont Nutrition & Biosciences have a substantially reduced carbon footprint. Furthermore, businesses such as Gardein and Tofurky have created plant-based meat alternatives that utilize fewer natural resources and emit less greenhouse gases during production.
Moreover, the decrease in deforestation and habitat loss linked to plant-based agriculture compared to livestock farming is also propelling the growth of the plant-based protein market. Customers are realizing more and more how crucial it is to protect natural ecosystems and biodiversity and plant-based protein components are becoming more popular among customers who care about the environment because of advancements in farming techniques and supply chain efficiency. These factors make plant-based protein ingredients a more sustainable food system. The market for plant-based proteins is expected to continue expanding as a result of rising environmental consciousness and a dedication to sustainable practices.
Challenge
Cost competitiveness
A major obstacle to the global market for plant-based protein ingredients is cost competitiveness. Even with the advancements in production technology, some areas, including the cultivation and processing of plant-based proteins, can still be more costly than their traditional animal-based equivalents. Price-conscious shoppers may be turned off by this cost disparity, which may also restrict market accessibility. Furthermore, the meat industry's economies of scale frequently result in cheaper manufacturing costs for animal-based proteins. Narrowing this cost gap and raising the price of plant-based protein components to a competitive level without sacrificing sustainability or quality would require advances in production techniques and supply chain efficiency.
Geographic Overview
The global plant-based proteins market is segmented into North America, Europe, the Asia-Pacific, South America, and the Middle East and Africa region. The global plant-based proteins market is dominated by North America due to several reasons including a greater demand and awareness among consumers for sustainable and health-conscious food options. Major producers of plant-based proteins, such as Cargill Inc. and Archer-Daniels Midland Co., have set up sizable production facilities in the region. The unique plant-based product series that Beyond Meat and Impossible Foods, two American companies, are pioneering have revolutionized the market. Plant-based proteins have also become more and more popular as a result of business alliances with large fast-food chains. The region's strong infrastructure, research and development expenditures, and welcoming regulatory framework serve to further cement North America's leadership in the world market for plant-based protein components.
Competitive Insight
Cargill is well-known in the market for plant-based proteins and to meet the growing need for alternate protein sources, the company has been making significant investments in this industry and has created a wide range of plant-based protein products, such as those made from lentils, peas, and other crops. They have made a significant entry into the pea protein sector, which is essential to many plant-based meat alternatives. Cargill is positioned as a key participant in the global distribution and supply chain of plant-based proteins due to its extensive network, which spans in more than 70 countries. Cargill's vast resources and dedication to sustainability are key factors in determining how plant-based protein is consumed globally in the future.
DuPont is a prominent player in the global market for plant-based proteins and DuPont Nutrition & Biosciences, its subsidiary company, is a major force in the production of plant-based protein market. The SUPRO and TRUPROTM series of soy protein isolates, concentrates, and textured vegetable proteins is one of their well-known product lines. These goods are essential parts of many plant-based food applications, such as dairy substitutes, meat substitutes, and dietary supplements. The development of plant-based protein technology has been greatly aided by DuPont's creative approach and formidable research and development resources. Their dedication to ecologically safe and sustainable solutions strengthen their position in this quickly expanding market.
Recent Development by Key Players
In October 2023, The Ministry of Food, Agriculture and Fisheries of Denmark announced action plan for detailing its goal to transition towards a plant-based food system, in what is a first by a national government. The action plan is part of the 2021-announced climate agricultural plan to cut food emissions and will involve plans to promote plant-based foods in school meals, via chef training, and by increased exports.
In June 2023, More Foods, a prominent Israeli plant-based food-tech company, announced partnership with Tivol, a branch of the Osem-Nestlé Group. The partnership will focus on developing and marketing a line of 'meaty' products, high in fiber and protein, derived from pumpkin seeds. The companies will be aiming to achieve great taste while using the least possible number of ingredients.
Key Players Covered in the Report
AGT Food & Ingredients, Batory Foods, Ag Processing Inc, Archer-Daniels Midland Co, Biopress S.A.S, Burcon Nutrascience Corporation, Cargill Inc, CHS Inc, Cosucra Groupe Warcoing, Crown Soya Protein Group, Devansoy Inc., DU PONT, Fuji Oil Holdings Inc, Glanbia plc, Gushen Group Co., Ltd., Ingredion Inc., ROQUETTE FRERES, Shandong Yuwang Ecological Food Industry Co., Ltd., The Scoular Company, and Wilmar International Ltd.
The plant-based proteins market report offers a comprehensive market segmentation analysis along with an estimation for the forecast period 2023–2030.
Segments Covered in the Report
Soy

Wheat

Pea

Potato

Hemp

Rice

Other Sources
Isolates

Concentrates

Protein flour
Region Covered in the Report
Germany

U.K.

France

Italy

Spain

Russia

Rest of Europe
China

Japan

India

South Korea

Rest of Asia-Pacific
Saudi Arabia

U.A.E

South Africa

Rest of MEA
Argentina

Brazil

Chile

Rest of South America
Primary Research Interviews Breakdown