Industry Overview
The Asia-Pacific air quality monitoring (AQM) system market size is anticipated to reach USD 2.1 billion by 2030, growing at a CAGR of 7.5% during the forecast period. The Asia-Pacific market is driven by the high level of air pollution in the region and increasing initiatives taken by the local governments in the region. Different types of products contributed to the air quality monitoring system market size. The market has witnessed higher growth in demand for outdoor AQM monitors due to the increasing government initiatives and favorable regulations in the region.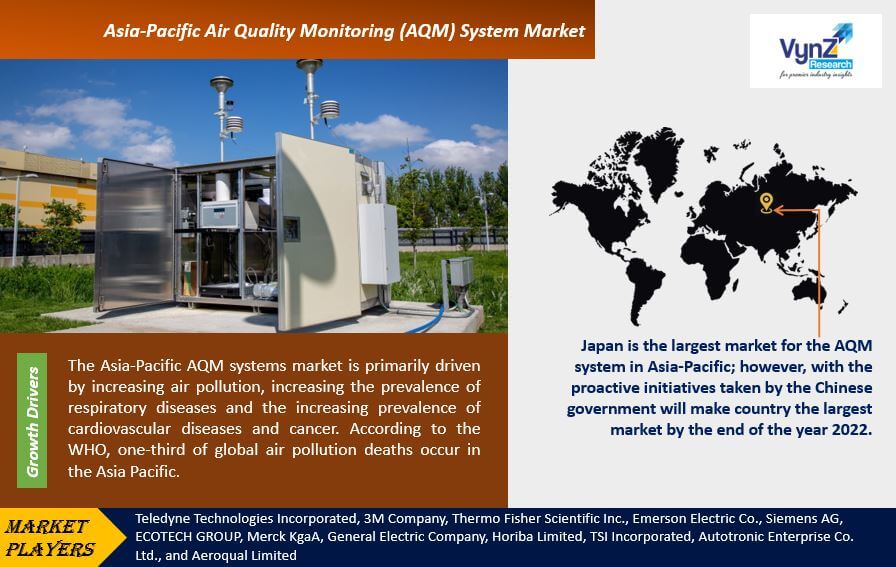 Market Segmentation
Insight by Product
Different types of products include outdoor monitors and indoor monitors. Indoor monitors hold a larger share of the market. Moreover, outdoor monitors are expected to grow at a higher CAGR during the forecast period. The indoor monitors are further subdivided into fixed indoor monitors and portable indoor monitors. In addition, the outdoor monitors are further subdivided into portable outdoor monitors, fixed outdoor monitors, AQM stations, and dust and particulate matter monitors.
Insight by Sampling Method
Different types of sampling methods used for monitoring air quality include active/continuous monitoring, manual monitoring, passive monitoring, and intermittent monitoring. Of all sampling methods, the active/continuous sampling method is anticipated accounting the foremost share in the Asia-Pacific air quality monitoring system market.
Insight by Pollutant
There are three types of pollutants, chemical pollutants, physical pollutants, and biological pollutants. Among all pollutants, chemical pollutants are the most common type of pollutant monitored through AQM systems in Asia-Pacific.
Insight by End-User
The end-users in the Asia-Pacific market include the petrochemical industry, government agencies and academic institutes, commercial and residential users, power generation plants, the pharmaceutical industry, and others. Among all end users, government agencies and academic institutes account for the largest expenditure for the procurement of AQM systems in Asia-Pacific. Governments in different countries are the major stakeholder and frames regulations and take initiatives in the region to curb and monitor air pollution.
Industry Dynamics
Growth Drivers
Asia-Pacific Air Quality Monitoring (AQM) System Market Report Coverage
| | |
| --- | --- |
| Report Metric | Details |
| Historical Period | 2018–2022 |
| Base Year Considered | 2022 |
| Forecast Period | 2023 - 2030 |
| Market Size in 2022 | $x.x Billion |
| Revenue Forecast in 2030 | $2.1 Billion |
| Growth Rate | CAGR 7.5% |
| Segments Covered in the Report | By Product, By Sampling Method, By Pollutant and By End User |
| Report Scope | Market Trends, Drivers, and Restraints; Revenue Estimation and Forecast; Segmentation Analysis; Impact of COVID-19; Companies' Strategic Developments; Market Share Analysis of Key Players; Company Profiling |
| Regions Covered in the Report | North America, Europe, Asia-Pacific, Middle East, and Rest of the World |
The Asia-Pacific AQM systems market is primarily driven by increasing air pollution, increasing the prevalence of respiratory diseases, and the increasing prevalence of cardiovascular diseases and cancer. According to the WHO, one-third of global air pollution deaths occur in the Asia Pacific. The organization reported that air pollution levels remain dangerously high in many parts of Asia according to new data from the World Health Organization (WHO). Around one-third, or 2.2 million of the world's 7 million premature deaths each year from household (indoor) and ambient (outdoor) air pollution are in the WHO Western Pacific Region—home to one-quarter of the world's population.
The advancements in sensor technologies, data analytics, and communication systems have made AQM systems more accurate, efficient, and cost-effective. The availability of portable and real-time monitoring devices, along with cloud-based data management and analysis platforms, has expanded the adoption of AQM systems in various sectors, including government agencies, research institutions, industries, and commercial establishments. The increasing awareness among the public about the health risks associated with air pollution has created a demand for reliable air quality information. People are becoming more conscious of the quality of the air they breathe and are demanding transparency and access to real-time air quality data. This has prompted the installation of AQM systems in public places, educational institutions, and residential areas, driving market growth.
Moreover, to counter this, different governments are framing regulations and taking initiatives to monitor and regulate air pollution in the region.
Challenges
The high product cost, slow implementation of air pollution control reforms, and technical limitations are the major factor hindering the growth of air quality monitoring system market.
Access to air quality data and its interpretation is vital for public awareness, stakeholder engagement, and informed decision-making. However, there may be limitations in data accessibility and transparency in some countries, which can hinder effective monitoring and response to air pollution. Ensuring open access to air quality data, promoting data sharing among relevant agencies, and enhancing public participation are critical challenges that need to be addressed.
Geographic Overview
Geographically, Japan is the largest market for the AQM system in Asia-Pacific; however, the proactive initiatives taken by the Chinese government will make the country the largest market by the end of the year 2022. Moreover, India is anticipated to account for the fastest growth in demand for the AQM system in the region.
Competitive Insight
Teledyne Technologies Incorporated, 3M Company, Thermo Fisher Scientific Inc., Emerson Electric Co., Siemens AG, ECOTECH GROUP, Merck KgaA, General Electric Company, Horiba Limited, TSI Incorporated, Autotronic Enterprise Co. Ltd., and Aeroqual Limited are the key players offering air quality monitoring system.
The Asia-Pacific AQM System Market report offers a comprehensive market segmentation analysis along with an estimation for the forecast period 2023–2030.
By Product

Indoor Monitors
Fixed
Portable
Outdoor Monitors
Fixed
Portable
Dust & Particulate Matter
AQM Station

By Sampling Method

Manual
Active/Continuous
Passive
Intermittent

By Pollutant

Physical
Chemical
Biological

By End-User

Petrochemical Industry
Government Agencies and Academic Institutes
Commercial and Residential Users
Pollutant Generation Plants
Pharmaceutical Industry
Others
Asia-Pacific AQM System Market by Country
Japan AQM System Market

By Product
By Sampling Method
By Pollutant
By End User

China AQM System Market

By Product
By Sampling Method
By Pollutant
By End User

India AQM System Market

By Product
By Sampling Method
By Pollutant
By End User

Australia AQM System Market

By Product
By Sampling Method
By Pollutant
By End User

South Korea AQM System Market

By Product
By Sampling Method
By Pollutant
By End User

Rest of Asia-Pacific AQM System Market

By Product
By Sampling Method
By Pollutant
By End User
PRIMARY RESEARCH INTERVIEWS - BREAKDOWN