Industry Overview
The Global Capnography Devices Market was valued at USD 0.36 billion in 2022 and is expected to grow at a CAGR of 6.3% during the forecast period (2023–2030). The market is growing due to technological upgrades being undertaken in emerging and emerging economies in capnography devices. Furthermore, an extensive number of incidences pertaining to respiratory diseases and increasing initiatives being undertaken by the government authorities for the utilization of capnography devices is other factors that is significantly contributing to the rapid growth of the global capnography devices market. Overall, the capnography devices market is expected to continue growing in the coming years as the demand for accurate and reliable respiratory monitoring techniques remains high. Technological advancements, expanding applications, and increasing awareness among healthcare professionals are likely to drive market growth.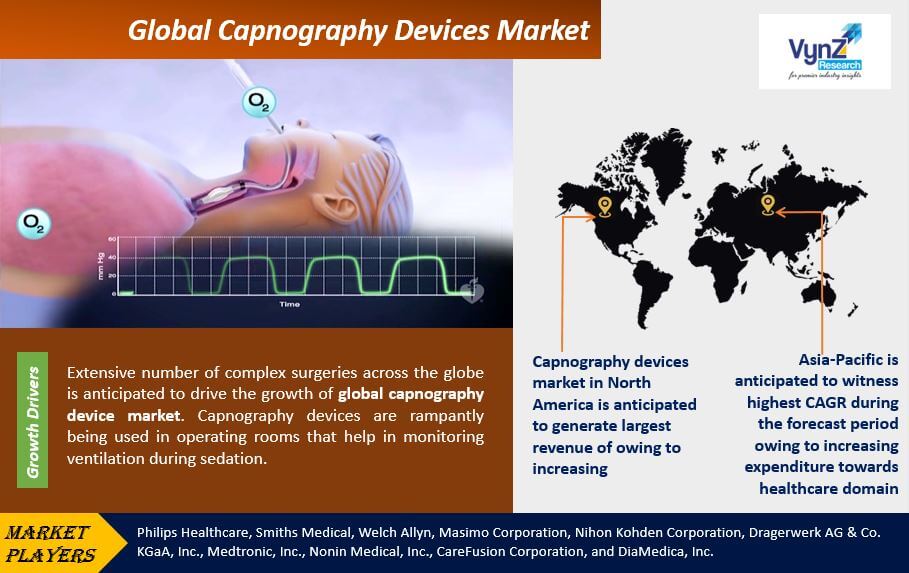 Capnography is used for assessing ventilation that is different form oxygenation. Capnograph is a waveform that observes the CO2 level at each phase of the respiratory cycle and is generally in a rectangular shape and is also used for measuring and displaying the respiratory rate. Waveform capnography is used for identifying patients with an altered mental status that require assisting ventilation. The inhaled and exhaled levels of carbon dioxide are presented in a graphical manner as a waveform on the monitor along with display of corresponding numerical value and these benefits are further uplifting growth of global capnography devices market.
Insight by Product
On the basis of product, the global capnography devices market is segmented into stand-alone, hand-held, and multi-parameter.  Amongst these segments, hand-held segment is anticipate to generate largest revenue by 2030 owing to various benefits pertaining to hand-held devices such as point of care features for the ease of use and comfort of patients that are provided by these devices.
Insight by Technology
Based on technology, the global capnography devices market is categorized into the mainstream, micro stream, and side stream. Amongst these segments, micro stream technology is expected to witness the fastest growth during the forecast period, owing to excessive utilization of this segment for improving safety profile of patients.
Insight by Application
On the basis of application, the global capnography devices market is segmented into critical care, emergency medicine, pain management, procedural sedation, and others. Amongst these segments, emergency medicine is estimated to contribute largest revenue owing to use of these devices for safer treatment of patients in emergency department.
Insight by End User
Based on end user, the global capnography devices market is categorized into ambulatory care centers (ACCs), hospitals, and others. Amongst these segments, hospitals are anticipated to generate largest revenue owing to rapid use of these devices for treating various diseases globally.
Global Capnography Devices Market Report Coverage
| | |
| --- | --- |
| Report Metric | Details |
| Historical Period | 2018–2022 |
| Base Year Considered | 2022 |
| Forecast Period | 2023 - 2030 |
| Market Size in 2022 | $0.36 Billion |
| Revenue Forecast in 2030 | $4.9 Billion |
| Growth Rate | CAGR 6.3% |
| Segments Covered in the Report | By Technology, By Application and By End User |
| Report Scope | Market Trends, Drivers, and Restraints; Revenue Estimation and Forecast; Segmentation Analysis; Impact of COVID-19; Companies' Strategic Developments; Market Share Analysis of Key Players; Company Profiling |
| Regions Covered in the Report | North America, Europe, Asia-Pacific, Middle East, and Rest of the World |
Industry Dynamics
Growth Drivers
Extensive number of complex surgeries across the globe is anticipated to drive the growth of global capnography device market. Capnography devices are rampantly being used in operating rooms that help in monitoring ventilation during sedation. Furthermore, increasing number of surgical process globally will further lead to increasing adoption and demand for the capnography devices that attribute towards increasing business growth. Moreover, extensive benefit of capnography devices such as portability, ease of use, light weighted and treatment efficiency are further expected to bolster the growth of global capnography devices market.
Increasing number of patients diagnosed with respiratory diseases, increasing government initiatives and technological upgradation in capnography devices are another factor that are pertaining towards the growth of global capnography devices market. Technological upgradation undertaken in this market comprises of molecular correlation spectroscopy, photo detectors and assimilation of diminished mainstream multi-gas monitors. Furthermore, owing to these advancements, capnography devices are considered to become safe, highly accurate and have adjustable rate of flow.
Additionally, technological enhancements will facilitate reclamation and moisture contamination of large sample volume and prevents moisture contamination as compared to that of traditional techniques.
Trends
The market for capnography devices has experienced significant growth in recent years due to several factors. These include the rising prevalence of respiratory diseases, increasing surgical procedures, growing adoption of capnography in procedural sedation, and the need for continuous patient monitoring in critical care settings. Additionally, technological advancements, such as the development of portable and handheld capnography devices, have expanded the market further.
Restraints
The increasing adoption of point-of-care capnography devices: Point-of-care capnography devices are small, portable devices that can be used to measure CO2 levels at the bedside. These devices are becoming increasingly popular, as they allow healthcare professionals to monitor patients' respiratory status more easily.
The development of new capnography technologies: There are a number of new capnography technologies that are being developed, such as laser-based capnography and near-infrared spectroscopy. These technologies offer the potential to improve the accuracy and reliability of capnography devices.
The increasing focus on patient monitoring: There is a growing focus on patient monitoring in healthcare, as it can help to improve patient outcomes. This is expected to drive the demand for capnography devices, as they can be used to monitor patients' respiratory status.
Geography Insight
In 2022, North America held the largest market share in terms of revenue. The rising prevalence of respiratory diseases as a consequence of unhealthy lifestyles and high stress levels are the high impact rendering drivers. Furthermore, the incorporation of new reimbursement models for respiratory and monitoring solution procedures and the stringent regulatory guidelines that are aimed towards medical efficacy, patients' safety, and clinical efficiency are expected to drive the regional demand in the forthcoming years.
Capnography devices market in North America is anticipated to generate largest revenue of owing to increasing number of respiratory diseases cases occurring in the region owing to unhealthy lifestyles of the population along with high level of stress prevailing amongst the citizens. Furthermore, strict regulatory procedures implemented in the region for securing patients along with new reimbursement plans are other factors that are pertaining towards the growth of capnography devices market in the region.
Moreover, Asia-Pacific is anticipated to witness highest CAGR during the forecast period owing to increasing expenditure towards healthcare domain, increasing benefits and awareness being developed amongst the citizens for pertaining to advantages of capnography devices along with rapid improvement in healthcare system in various developing countries are another factors that are driving the growth of capnography devices market in this region.
Competitive Insight
The eminent key players in the global capnography devices market are extending their product portfolios, undertaking product innovations and technological upgradations that are enabling the manufacturers to gain competitive advantage across the globe.
Some of the players having prominent presence in the global capnography devices market include Philips Healthcare, Smiths Medical, Welch Allyn, Masimo Corporation, Nihon Kohden Corporation, Dragerwerk AG & Co. KGaA, Inc., Medtronic, Inc., Nonin Medical, Inc., CareFusion Corporation, and DiaMedica, Inc.
Primary Research
VynZ Research conducts extensive primary research to understand the market dynamics, validate market data and have key opinions from the industry experts. The key profiles approached within the industry includes, CEO, CFO, CTO, President, Vice President, Product Managers, Regional Heads and Others. Also, end user surveys comprising of consumers are also conducted to understand consumer behaviour.
The Capnography Devices Market report offers a comprehensive market segmentation analysis along with an estimation for the forecast period 2023–2030.
Segments Covered in the Report
By Product 

Hand-Held
Stand-Alone
Multi-Parameter

By Technology

Side Stream
Main Stream
Micro Stream

By Application

Emergency Medicine
Critical Care
Procedural Sedation
Pain Management
Others

By Component 

Original Equipment Manufacturer (OEM) Modules
Infrared sensors
Others

By End User

Hospitals
Ambulatory Care Centers (ACCs)
Others
Region Covered in the Report
North America
Europe

Germany
U.K.
France
Italy
Spain
Russia
Rest of Europe

Asia-Pacific (APAC)

China
Japan
India
South Korea
Rest of Asia-Pacific

Rest of the World (RoW)

Brazil
Saudi Arabia
South Africa
U.A.E.
Other Countries
Source: VynZ Research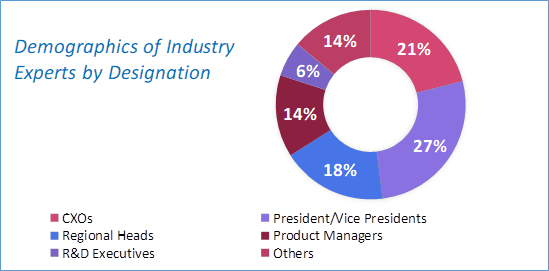 Source: VynZ Research