Industry Overview
The global CDSS (clinical decision support system) market size is anticipated to grow at a CAGR of 6.5% and in terms of value from USD 1.17 billion in 2022 to USD 2.78 Billion by 2030. The CDSS is an indispensable portion of the healthcare IT range. CDSS is software that helps in clinical decision-making by matching patient characteristics to the knowledge base. Growing focus on quality care, increase in the geriatric population suffering from chronic diseases minimizing medication errors, increase in adoption of mHealth solutions, and integration with reliable technical solutions like EHR are the key factors stimulating the growth of the market.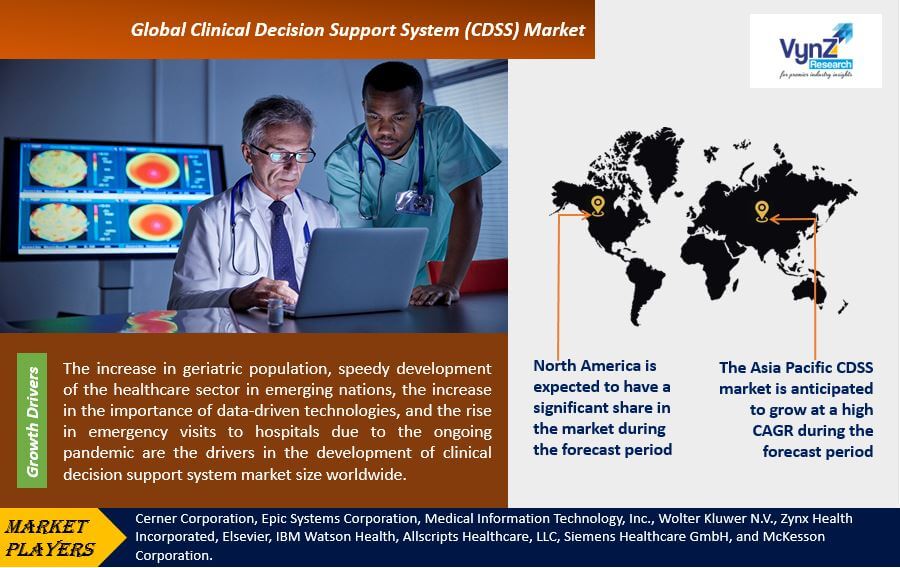 The MHealth-based clinical decision support system is one of the solutions during COVID-19 outbursts as it allows monitoring of patients, symptom fluctuations, or medication compliance to identify changes in medication routines.
The COVID-19 pandemic has intensified the use of CDSS by the hospitals and health systems are there is a huge inflow of critically ill patients, shortage of staff, and capacity restraints. This has reduced the time for decision-making due to unmatched stress. Thus, resulting in the advancement of the CDSS market globally.
Market Segmentation
Insight by Product
Based on product global CDSS market is segmented into integrated CDSS and standalone CDSS. Integrated CDSS has the largest market share in 2019 i.e., 70.4% share of the market. This is because of the extensive demand for clinical decision support system solutions with collaboration and information exchange functions.
Insight by Mode of Delivery
Based on the mode of delivery, the global CDSS market is divided into on premise delivery model, a web-based delivery model, and a cloud-based delivery model. The increasing adoption of cloud-based computing is the key factor for the growth of cloud-based modes of delivery. The cloud-based clinical decision support system provides many advantages over on-premise and web-based CDSS as the processing units of the cloud-based model are located on remote servers, which can be located in multiple data centers around the world, making them less vulnerable to cyber-attacks.
Insight by Model
Based on the model, the global CDSS market is bifurcated into knowledge-based CDSS and non-knowledge-based CDSS. The knowledge-based CDSS dominates the industry and a higher CAGR due to the improved clinical outcomes witnessed during the uncertainties. Also, these systems can be integrated into clinical workflow and are less error-prone than non-knowledge-based systems.
Insight by Component
Based on components, the global CDSS is segmented into hardware, software, and services. CDSS services are estimated to achieve promising growth due to the timely update of the software and the available knowledge base. High costs are associated with advanced access to the latest and most accurate data, which may have a positive impact on the revenue generation of this segment.
Insight by Application
Based on application, the market is subdivided into drug-drug interactions, drug allergy alerts, clinical reminders, clinical guidelines, drug dosing support, and others. Drug allergy dominated the market in 2019. Moreover, the increasing number of drug combinations will propel the growth of the drug dosing support segment and will witness the fastest growth over the forecast period.
Insight by Level of Interactivity
Based on the level of interactivity, the global CDSS is bifurcated into active CDSS and passive CDSS. Active CDSS uses a knowledge base and reasoning engine to compare existing patient data with programming guidelines and protocols to provide information to healthcare providers, thus helping physicians to make better decisions.
Insight by Settings
Based on settings, the global CDSS market is divided into inpatient settings and ambulatory care settings. Inpatient settings are anticipated to have a high CAGR during the forecast period because CDSS can be economical for the healthcare system through clinical interventions thus it reduces inpatient hospitalizations, suggests cheaper drug options, and reduce repeat testing.
Global Clinical Decision Support System (CDSS) Market Report Coverage
| | |
| --- | --- |
| Report Metric | Details |
| Historical Period | 2018–2022 |
| Base Year Considered | 2022 |
| Forecast Period | 2023 - 2030 |
| Market Size in 2022 | $1.17 Billion |
| Revenue Forecast in 2030 | $2.78 Billion |
| Growth Rate | CAGR 6.5% |
| Segments Covered in the Report | Product, Mode of Delivery, Model, Component, Application, Level of Interactivity and Settings |
| Report Scope | Market Trends, Drivers, and Restraints; Revenue Estimation and Forecast; Segmentation Analysis; Impact of COVID-19; Companies' Strategic Developments; Market Share Analysis of Key Players; Company Profiling |
| Regions Covered in the Report | North America, Europe, Asia-Pacific, Middle East, and Rest of the World |
Industry Dynamics
Industry Trends
One of the important trends for the growth of the CDSS industry is the implementation of government rules and regulations, initiatives to adopt HIT solutions, increasing use of CDSS-enablers EHRs, rising number of collaborations and partnerships with stakeholders, increasing prevalence of medication errors, and the rising prominence of mobile health (mHealth) technology and big data tools.
 Cloud computing is gaining traction in the CDSS market. Cloud-based CDSS solutions offer scalability, flexibility, and easier accessibility across multiple devices and locations. They enable seamless data sharing, collaboration among healthcare professionals, and the potential for real-time updates and enhancements to the CDSS software. Cloud-based solutions also alleviate the burden of local infrastructure maintenance and reduce implementation costs for healthcare organizations.
Growth Drivers
The increase in the geriatric population, the speedy development of the healthcare sector in emerging nations, the increase in the importance of data-driven technologies, and the rise in emergency visits to hospitals due to the ongoing pandemic are the drivers in the development of clinical decision support system market size worldwide. There is a growing incidence of medication error, so proper care is assured to the patients and healthcare providers are given complete and accurate EHRs about the patient's history.
Increasing adoption of electronic health records (EHRs): The widespread adoption of EHR systems has created a vast amount of digital patient data that can be leveraged by CDSSs to provide real-time clinical decision support.
Advancements in AI and machine learning: The rapid progress in AI and machine learning technologies has enabled CDSSs to become more sophisticated in analyzing complex medical data and generating precise recommendations.
Growing focus on personalized medicine: CDSSs play a crucial role in delivering personalized medicine by considering individual patient characteristics, medical history, and genetic information to tailor treatment plans and improve outcomes.
Challenges
High investment required for the implementation of CDSS, lack of trust in the system as CDSS are in the initial stages of its development, lack of skilled labor, reluctance to use mobile CDSS by the clinicians, lack of interoperability between CDSS and EHR, and data security concerns are the challenges faced by the CDSS market globally.
Many healthcare organizations already have established IT systems, including EHRs and other clinical software. Integrating CDSSs with these existing systems can be complex and challenging. Compatibility issues, data-sharing protocols, and interoperability standards must be addressed to enable smooth integration and avoid disruptions to clinical workflows.
Opportunities
There are many opportunities in emerging markets because of the implementation of healthcare information technology (HCIT) by the government, increase in government healthcare expenditure, technological development, and the presence of skilled IT experts in emerging Asian countries like China and India, thus supporting the growth of CDSS market in Asia. Integration of the clinical decision support system into the hospital's overall functioning mechanism and collaboration with precision medicine providers will create further opportunities for the growth of the global CDSS market.
Geographic Overview
North America is expected to have a significant share in the market during the forecast period owing to the increase in technological advancement in CDSS, increase in investment in healthcare IT solutions, and high awareness among the patients will likely push the region's clinical decision support systems market in the coming period.
The Asia Pacific CDSS market is anticipated to grow at a high CAGR during the forecast period owing to an increase in the geriatric population, an increase in incidences of chronic diseases, increasing investments in HIT (healthcare information technology), and increasing healthcare expenditure in the region.
Competitive Insight
There are diversified local, regional, and international players in the clinical decision support system market. However, some large international players dominate the market due to their brand image and market influence. Market participants continue to pay attention to acquisitions, mergers, provision of customized solutions, and expansion of the untapped business market. In addition, the company also invests a lot of money in the development of new products, and new platforms, with enhanced and improved features as part of its market entry strategy.
In 2022, Epic and OCHIN launched the COVID-19 Preparedness Screening app, to improve interoperability, care coordination, and overall clinical readiness in the state of Washington, US.
Some of the major players in the global CDSS market include Cerner Corporation, Epic Systems Corporation, Medical Information Technology, Inc., Wolter Kluwer N.V., Zynx Health Incorporated, Elsevier, IBM Watson Health, Allscripts Healthcare, LLC, Siemens Healthcare GmbH, and McKesson Corporation.
The Clinical Decision Support System (CDSS) Market report offers a comprehensive market segmentation analysis along with an estimation for the forecast period 2023–2030.
Segments Covered in the Report
By Product 

Integrated CDSS
Standalone CDSS

By Mode of Delivery

On-Premise Delivery Model
Web-Based Delivery Model
Cloud-Based Delivery Model

By Model 

Knowledge-Based CDSS
Non-Knowledge Based CDSS

By Component

Hardware
Software
Services

By Application 

Drug-Drug Interactions
Drug Allergy Alerts
Clinical Reminders
Clinical Guidelines
Drug Dosing Support
Others

By Level of Interactivity 
By Settings

Inpatient Settings
Ambulatory Care Settings
Region Covered in the Report
North America
Europe

Germany
U.K.
France
Italy
Spain
Russia
Rest of Europe

Asia-Pacific (APAC)

China
Japan
India
South Korea
Rest of Asia-Pacific

Rest of the World (RoW)

Brazil
Saudi Arabia
South Africa
U.A.E.
Other Countries

Source: VynZ Research