Industry Overview
Defibrillator is a device used to deliver therapeutic high energy electric shock to the heart which causes depolarization of the heart muscles. It is used to treat various conditions such as cardiac arrhythmia, pulseless ventricular tachycardia and ventricular fibrillation. The global defibrillators market is growing at a significant rate, due to technological improvement, and mounting occurrence of target diseases. The market has witnessed high demand for implantable cardioverter defibrillators over the last few years due to technologically innovative devices, escalating adoption of cardiac resynchronization therapy defibrillators (CRT-Ds) and escalating occurrence of cardiovascular diseases.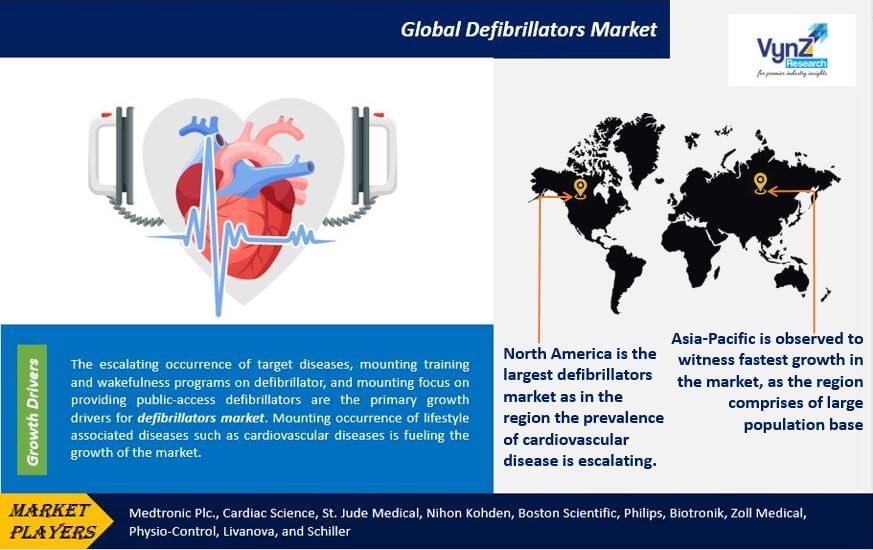 Market Segmentation
Insight by Product
On the basis of product, the defibrillators market is subdivided into implantable cardioverter defibrillators (ICDs) and external defibrillators. Implantable cardioverter defibrillators account the larger share in the market due rapid growth in the number of implant procedures, technologically advanced devices with extended longevity, integration of other technologies such as pacemaker with defibrillator, and escalating adoption of cardiac resynchronization therapy defibrillators (CRT-Ds) and subcutaneous implantable cardioverter defibrillator (S-ICD) systems across the globe. Moreover, external defibrillator is mainly used for resuscitation in case of sudden cardiac attack and stabilizes the patient until medical help arrives or patient reach the hospital.
Insight by End-User
On the basis of end-users the market is subdivided into hospitals, cardiac centers, and clinics, pre-hospital care settings, public access markets, home care settings and alternate care facilities. Mounting occurrences of sudden cardiac arrest, modification in guidelines by government of developed countries for making it mandatory for certain arena and escalating number of public access defibrillation programs are some of the factors responsible for the growth of the public access markets segment. Of all the end-users, the defibrillators market growth is anticipated to be the highest in public access markets.
Industry Dynamics
Industry Trends
Growing demand for automated external defibrillators in prehospital setting, boosting pricing pressure on market players and expanding number of mergers and acquisitions among market players are the major trends observed in the defibrillators market.
Growth Drivers
The escalating occurrence of target diseases, mounting training and wakefulness programs on defibrillator, and mounting focus on providing public-access defibrillators are the primary growth drivers for defibrillators market. Mounting occurrence of lifestyle associated diseases such as cardiovascular diseases is fueling the growth of the market. For instance, according to the World Health Organization (WHO), globally approximately 17.7 million people died from cardiovascular diseases in 2015.
Moreover, development of S-ICD and MRI-Compatible ICD & CRT-Ds, refining healthcare infrastructure in developing countries, developing healthcare infrastructure, supportive legislation guidelines and technological improvements are also fueling the demand or growth of the defibrillators market. Manufacturers are developing devices which can minimize the risk of allergy, infection and vein damage.
Challenges
Frequent product recall, absence of alertness about sudden cardiac arrest and problems related to the usage of implantable and mechanical external defibrillators are the major challenges for the growth of defibrillators market.
Industry Ecosystem
Novel product introductions and approvals were major stratagems implemented by key industry players to upsurge their market share and provide unmet requirements. In addition, globally, the manufacturing companies trying to enter the cardiac monitoring and cardiac rhythm management market are required to maintain stringent regulatory standards. Moreover, the high level of capital requirement also poses a major barrier for the entry of new players.
Geographic Overview
Geographically, North America is the largest defibrillators market as in the region the prevalence of cardiovascular disease is escalating. For instance, according to Centers of Disease Control and Prevention (CDC), in the U.S. approximately 610,000 people die every year due to heart disease. Moreover, according to CDC, approximately 370,000 people die annually due to coronary heart disease in the U.S. It is the most common type of heart disease in the U.S.
Expanding geriatric population, mounting training and wakefulness programs, reassuring government guidelines, mounting healthcare expenditure, developed beneficial reimbursement schemes, and technological improvement and product launches are also up surging growth of the North American defibrillators market.
Asia-Pacific is observed to witness fastest growth in the market, as the region comprises of large population base and mounting geriatric population. In addition, escalating occurrence of cardiovascular diseases, mounting healthcare expenditure, refining healthcare infrastructure and upsurge in medical tourism are also creating a positive impact on the defibrillators industry growth in the region.
Competitive Insight
Key players in the defibrillators market are catering the demand of these devices by investing on technologically advanced products in their product portfolio across the globe. In June 2018, Philips Royal launched Philips HeartStart Onsite in collaboration with Starting Hearts and medic assist. It is automated external defibrillators to create a cardiac arrest response system. In addition, in May 2018, Medtronic announced study results of exclusive AdaptivCRT algorithm associated with improved patient survival. Medtronic Plc., Cardiac Science, St. Jude Medical, Nihon Kohden, Boston Scientific, Philips, Biotronik, Zoll Medical, Physio-Control, Livanova, and Schiller are the key players offering defibrillators.