Industry Overview
The market for dental 3D printing is expected to reach $8.2 billion by 2030, expanding at a CAGR of 25.8% over the forecast period. Bridges, crowns, stone models, and a variety of orthodontic appliances can be quickly and accurately created using dental 3D printing, oral scanning, and CAD/CAM design. Due to the rising incidence of dental disorders, increasing demand for aesthetic dentistry, and growing geriatric population, the market is expanding at a rapid rate. Also, different products and services contributed to the dental 3D printing market size.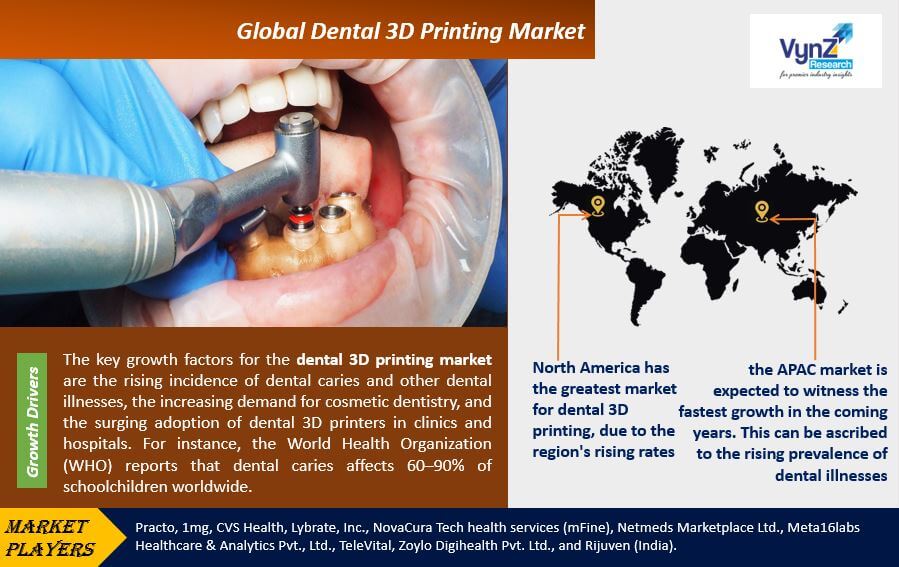 Market Segmentation
Insight by Product and Service
On the basis of product and service, the market is classified into equipment, services, and materials. Due to the growing outsourcing of dental hospitals, small dental clinics, and dental labs, to dental 3D printing service providers, the market has seen significant demand for services in the upcoming years. Thus, the services category dominated the market.
Insight by Technology
Based on technology, the market is classified into fused deposition modeling, polyjet technology, vat photopolymerization, and others. One reason for the expansion of vat photopolymerization is the high precision and accuracy of this technology. Thus, this category accounts for the largest share of the dental 3D printing market.
Insight by Application
The market is classified into implantology, prosthodontics, and orthodontics, based on application. Among these, the prosthodontics category accounted for the largest share in the dental 3D printing market. Prosthodontics is in increasing demand, due to factors like the rising edentulous population, the surging incidence of dental caries, the increasing demand for crowns and bridges, the growing incidence of tooth loss, the mounting acceptance of dental 3D printers and scanners, and the introduction of novel technologies like CAD/CAM.
Insight by End User
Dental academic and research institutions, dental clinics, dental laboratories, and dental hospitals are major end users in the market. Dental laboratories made up the greatest portion of the market share, among all end users. The demand for dental 3D printing in dental laboratories is rising at a significant rate, as a result of an increasing number of dental laboratories, the rising demand for bespoke dental outline solutions, and the rapid adoption of innovative technology by these laboratories.
Dental 3D Printing Market Report Coverage
| | |
| --- | --- |
| Report Metric | Details |
| Historical Period | 2018–2022 |
| Base Year Considered | 2022 |
| Forecast Period | 2023 - 2030 |
| Market Size in 2022 | $xx.x Billion |
| Revenue Forecast in 2030 | $8.2 Billion |
| Growth Rate | CAGR 25.8% |
| Segments Covered in the Report | By Type, By Industry |
| Report Scope | Market Trends, Drivers, and Restraints; Revenue Estimation and Forecast; Segmentation Analysis; Impact of COVID-19; Companies' Strategic Developments; Market Share Analysis of Key Players; Company Profiling |
| Regions Covered in the Report | North America, Europe, Asia-Pacific, Middle East, and the Rest of the World |
Industry Dynamics
Industry Trends
Trends in the dental 3D printing market include innovations in this field, partnerships between dental labs, and increased use of dental procedures.
Dental implants are increasingly being used as a preferred solution for tooth replacement. Dental 3D printing is playing a crucial role in implant dentistry, allowing for precise implant planning, guided implant surgeries, and the production of custom implant components. This trend is driven by an aging population, growing awareness of implant benefits, and technological advancements in the field.
Growth Drivers
The key growth factors for the dental 3D printing market are the rising incidence of dental caries and other dental illnesses, the increasing demand for cosmetic dentistry, and the surging adoption of dental 3D printers in clinics and hospitals. For instance, the World Health Organization (WHO) reports that dental caries affects 60–90% of schoolchildren worldwide.
Cost-effectiveness: Dental 3D printing can be a cost-effective solution compared to traditional manufacturing methods for dental restorations and prosthetics. It eliminates the need for outsourcing to dental laboratories, reduces material wastage, and enables in-house production, resulting in cost savings for dental practices and patients.
Time Efficiency: 3D printing technology enables faster production of dental prosthetics and restorations compared to conventional methods. This reduces the turnaround time for patients, allowing for same-day or quick delivery of dental solutions. Faster treatment processes contribute to improved patient experience and increased productivity for dental practices.
Research and Development: Ongoing research and development activities in the field of dental 3D printing are driving innovation and expanding the possibilities of its applications. This includes the development of new materials, software improvements, and advancements in bioprinting for regenerative dentistry. These innovations attract investments and contribute to market growth.
Moreover, the market for dental 3D printing is expanding, as a result of an aging population, rising healthcare spending, and growing CAD/CAM adoption. For instance, the WHO estimates that there were 524 million elderly people worldwide in 2010, and this number is predicted to rise to 1.5 billion by 2050.
Challenges
The main obstacles to the expansion of the dental 3D printing market are a lack of knowledge of dental practices and high capital expenditure and operating costs.
Adopting dental 3D printing technology requires a significant initial investment in equipment, software, and materials. The cost of purchasing 3D printers and related infrastructure can be a barrier for some dental practices, particularly smaller ones with limited financial resources.
Industry Ecosystem
Globally, manufacturing companies aiming to enter the dental 3D printing market are required to maintain high regulatory criteria. Moreover, a significant obstacle to the admission of new businesses is the high level of capital requirement. The established companies in the industrial rivalry now have an advantage.
Geographic Overview
Geographically, North America has the greatest market for dental 3D printing, due to the region's rising rates of dental cavities and tooth loss brought on by an aging population, increasing oral care activities, technological advancements, surging demand for cosmetic surgeries, and growing allure of digital dentistry.
On the other hand, the APAC market is expected to witness the fastest growth in the coming years. This can be ascribed to the rising prevalence of dental illnesses, the growing elderly population, surging medical tourism, and increasing healthcare investments in the region.
Recent Development by Key Players
In January 2022, Formlabs (US) announced Form 3+ and Form 3B+, which incorporate the next-generation Build Platform 2, which uses proprietary Quick Release Technology and a flexible print surface to quickly release pieces off the build platform.
Stratasys Ltd. (US) released the Origin One Dental 3D Printer in December 2021. The new 3D printer is the company's second product following the acquisition of Origin by Stratasys in December 2020.
In September 2021, Carbon, Inc. (US) merged with Keystone Industries. (US). This agreement expands Carbon's industry expertise in providing digital denture solutions that enable a new level of care for edentulous patients.
Competitive Insight
By making investments in technologically cutting-edge items for their product portfolios around the world, major market participants in the dental 3D printing industry are meeting consumer demand for these devices. For instance, for entry-level metal 3D printing and dental applications, 3D Systems announced the DMP Flex 100 and DMP Dental 100 3D printers in June 2018.
The major companies that offer dental 3D printing solutions in the market include Stratasys, Renishaw, Prodways Group, Formlabs, 3D Systems, Concept Laser, SLM Solutions Group, Envisiontec, DWS, and EOS GmbH.
The Dental 3D Printing Market report offers a comprehensive market segmentation analysis along with an estimation for the forecast period 2023–2030.
Segments Covered in the Report
By Product & Services

Materials
Equipment
Services

By Technology

Polyjet Technology
Vat Photopolymerization

Stereolithography
Digital Light Processing
Selective Laser Sintering
Fused Deposition Modeling
Others

By Application

Prosthodontics
Implantology
Orthodontics

By End User 

Dental Laboratories
Dental Academic and Research Institutes
Dental Hospitals and Clinics
Region Covered in the Report
North America
Europe

Germany
U.K.
France
Italy
Spain
Russia
Rest of Europe

Asia-Pacific (APAC)

China
Japan
India
South Korea
Rest of Asia-Pacific

Rest of the World (RoW)

Brazil
Saudi Arabia
South Africa
U.A.E.
Other Countries
Source: VynZ Research