Industry Overview
The global endoscope market was valued at USD 23.6 billion in 2022 and is expected to grow at a CAGR of 7.8% during the forecast period (2023–2030). The market is growing due to the increasing inclination for MIS (minimally invasive surgeries), the extensive geriatric population, and the extensive occurrence of diseases necessitating endoscopy for treatment and diagnosis. An increasing number of cases of various surgeries is bolstering the demand for various endoscopes in the healthcare domain such as it is rampantly being utilized for various processes such as cystoscopy, laparoscopy, and bronchoscopy. Additionally, endoscope enables enhanced recovery and causes fewer traumas to patients in comparison to open invasive surgeries. The global endoscope market has been witnessing significant growth in recent years. Several factors contribute to this growth, including technological advancements in endoscope devices, increasing prevalence of gastrointestinal diseases and cancers, rising geriatric population, and a growing demand for minimally invasive procedures.
The market is segmented based on the type of endoscope, application, end-user, and geography. Common types of endoscopes include flexible endoscopes, rigid endoscopes, capsule endoscopes, and robot-assisted endoscopes. The applications of endoscopes range from gastrointestinal endoscopy and bronchoscopy to urology, gynecology, orthopedics, and neurology.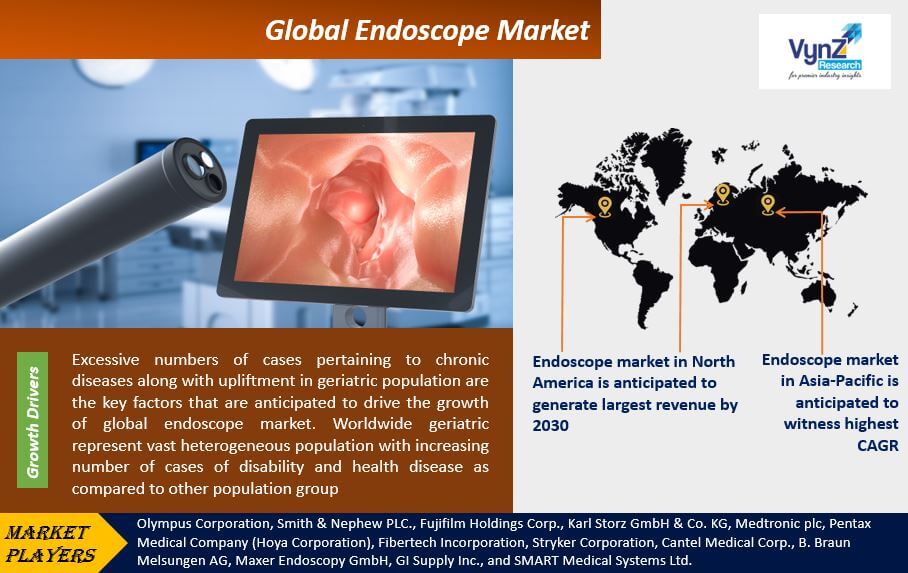 An endoscope is a medical device that comprises of a light attached with it and is rapidly being used for searching organ or body cavity inside a body. This device is being inserted with the bronchoscopy. Furthermore, a medical technique that adopts and uses any form of endoscope is known as endoscopy. Additionally, evolution of market with several product launches is the key trend that is anticipated to uplift the growth of global endoscope market at rapid pace.
Market Segmentation
Insight by Type
Based on type, the global endoscope market is categorised into esophagoscope, arthroscope, colonoscope, bronchoscope, cystoscope, laryngoscope, laparoscope, colposcope, and others. Of all, the esophagoscope category held the share in the global endoscope market in 2022. This is due to the fact that, increasing prevalence of chronic diseases and increasing concern on the early diagnosis and prevention of diseases, which require endoscopy procedures.
Insight by Application
On the basis of application, the global endoscope market is categorised into gastroenterology, orthopedic, pulmonology, urology, gynecology and others. Amongst these segments, gastroenterology is anticipated to be the fastest growing category in the market during the forecast period, owing to prominent cases of gastro intestinal diseases and enhanced geriatric population. The endoscope market has been experiencing significant growth over the years, driven by various factors such as technological advancements, increasing prevalence of diseases requiring endoscopic procedures, and growing awareness among patients and healthcare professionals about the benefits of minimally invasive surgeries.They are equipped with a light source and a camera that allow physicians to view real-time images of the patient's internal structures on a monitor.
Global Endoscope Market Report Coverage
| | |
| --- | --- |
| Report Metric | Details |
| Historical Period | 2018–2022 |
| Base Year Considered | 2022 |
| Forecast Period | 2023 - 2030 |
| Market Size in 2022 | $23.6 Billion |
| Revenue Forecast in 2030 | $xx.x Billion |
| Growth Rate | CAGR 7.8% |
| Segments Covered in the Report | By Type, By Application |
| Report Scope | Market Trends, Drivers, and Restraints; Revenue Estimation and Forecast; Segmentation Analysis; Impact of COVID-19; Companies' Strategic Developments; Market Share Analysis of Key Players; Company Profiling |
| Regions Covered in the Report | North America, Europe, Asia-Pacific, Middle East, and Rest of the World |
Industry Dynamics
Growth Drivers
Excessive numbers of cases pertaining to chronic diseases along with upliftment in geriatric population are the key factors that are anticipated to drive the growth of global endoscope market. Worldwide geriatric represent vast heterogeneous population with increasing number of cases of disability and health disease as compared to other population group as a result to which custom-made methodologies pertaining to clinical research and recommendations become essential. Additionally, endoscopy is non-surgical that helps in tracking individual's digestive tract that is considered to be safer option for elders.
Moreover, technological progressions being undertaken in medical domain is further anticipated to drive the growth of global endoscope market. More and more technological upliftment in this device can assure less risk and will aim at providing concerns of elder population routinely while dealing with common gastrointestinal concerns.
Technological Advancements: Advances in endoscopic technologies, such as high-definition imaging, 3D visualization, and miniaturization of devices, have improved the quality and accuracy of diagnostic and surgical procedures. These advancements have expanded the applications of endoscopy and contributed to market growth.
Growing Prevalence of Chronic Diseases: Endoscopy is widely used in the diagnosis and treatment of various chronic diseases, including gastrointestinal disorders, respiratory conditions, urological problems, and gynecological issues. The rising prevalence of these diseases has increased the demand for endoscopic procedures, driving market growth.
Increasing Aging Population: The global aging population is a significant factor driving the demand for endoscopy. Elderly individuals are more prone to age-related diseases and often require diagnostic and therapeutic interventions, which are facilitated by endoscopic procedures.
Preference for Minimally Invasive Surgeries: Endoscopy offers several advantages over traditional open surgeries, such as smaller incisions, reduced scarring, faster recovery times, and lower risk of complications. As patients and healthcare providers increasingly prefer minimally invasive procedures, the demand for endoscopes has been rising.
Rising Healthcare Expenditure: Growing healthcare expenditure in both developed and developing countries has contributed to the expansion of endoscope markets. Increased investments in healthcare infrastructure, coupled with government initiatives to improve access to advanced medical technologies, have boosted market growth.
Restraints
High maintenance cost involved with the operation of endoscope device and stringent regulations for its approval are key factors that are anticipated to hamper the growth of global endoscope market.
Geography Insight
Endoscope market in North America is anticipated to generate largest revenue by 2030 due to the increasing existence of target diseases along with increasing elderly population in the region and excessive demand for minimally invasive therapies. Additionally, increasing adoption of technologically advanced products such as endoscopes comprising of robot-assisted for surgical techniques and diagnostic is further bolstering the growth of global endoscope market.
Moreover, endoscope market in Asia-Pacific is anticipated to witness highest CAGR during the forecast period owing to the increasing demand for endoscopes in countries such as China and India that are witnessing high economic growth rate and increasing number of patients that are suffering from various types of diseases such as cancer. Improved healthcare infrastructure along with development of technologically progressive diagnostic therapies is other factors that are driving the growth of endoscope market in Asia-Pacific.
Competitive Insight
The eminent key players in the global endoscope market are undertaking product innovations and technological upgrades that are enabling manufacturers to gain a competitive advantage across the globe.
Some of the major players operating in the global endoscope market are Olympus Corporation, Smith & Nephew PLC., Fujifilm Holdings Corp., Karl Storz GmbH & Co. KG, Medtronic plc, Pentax Medical Company (Hoya Corporation), Fibertech Incorporation, Stryker Corporation, Cantel Medical Corp., B. Braun Melsungen AG, Maxer Endoscopy GmbH, GI Supply Inc., and SMART Medical Systems Ltd.
Forecast Parameters
- Identifying variables and establishing market impact.
- Establishing market trends regionally.
- Analyzing opportunities and market penetration rates by understanding product commercialization and regional expansion.
- Analyzing demand and supply trends and changes in industry dynamics to establish future growth.
- Analyzing sustainability strategies adhered to by market participants in an attempt to determine the future course of the market.
- Analyzing historical market trends and super-imposing them on the current and future variables to determine year-on-year trends.
- Understanding adoption, production, export, import, and regulatory framework.
Data Validation
- Estimated and forecasted data was validated through industry experts.
- Apart from industry experts, data triangulation methods were used for validation.
- Bottom-up and top-down approach has been used for the estimation and forecast of market data, whereas the top-down approach was used for validation.
- Demand, as well as supply-side surveys, were conducted in order to understand the industry dynamics and data validation.
Primary Research
VynZ Research conducts extensive primary research to understand the market dynamics, validate market data and have key opinions from the industry experts. The key profiles approached within the industry includes, CEO, CFO, CTO, President, Vice President, Product Managers, Regional Heads and Others. Also, end user surveys comprising of consumers are also conducted to understand consumer behaviour.
The Endoscope Marke report offers a comprehensive market segmentation analysis along with an estimation for the forecast period 2023–2030.
Segments Covered in the Report
By Type 

Esophagoscope
Arthroscope
Colonoscope
Bronchoscope
Cystoscope
Laryngoscope
Laparoscope
Colposcope
Others

By Application

Gastroenterology
Orthopedic
Pulmonology
Urology
Gynecology
Others

By End User

Hospitals
Specialty Clinics
Diagnostic Centers
Others
Region Covered in the Report
North America
Europe

Germany
U.K.
France
Italy
Spain
Russia
Rest of Europe

Asia-Pacific (APAC)

China
Japan
India
South Korea
Rest of Asia-Pacific

Rest of the World (RoW)

Brazil
Saudi Arabia
South Africa
U.A.E.
Other Countries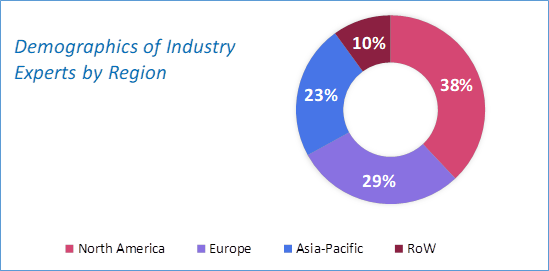 Source: VynZ Research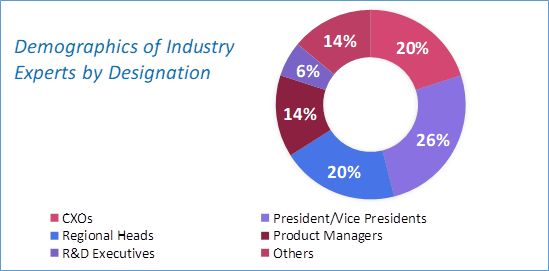 Source: VynZ Research