Industry Overview
The Europe Point of Care Ultrasound (PoCUS) Device Market size is anticipated to grow at a CAGR of 7.6% during the forecast period, thereby reaching USD 24.75 billion by 2030. Point-of-care Ultrasound refers to the deployment of ultrasound machines for diagnostic and therapeutic purpose, regardless of where the patient is located, such as at the bedside, in an ambulance, in a hospital emergency room, or in remote areas like villages or distant towns.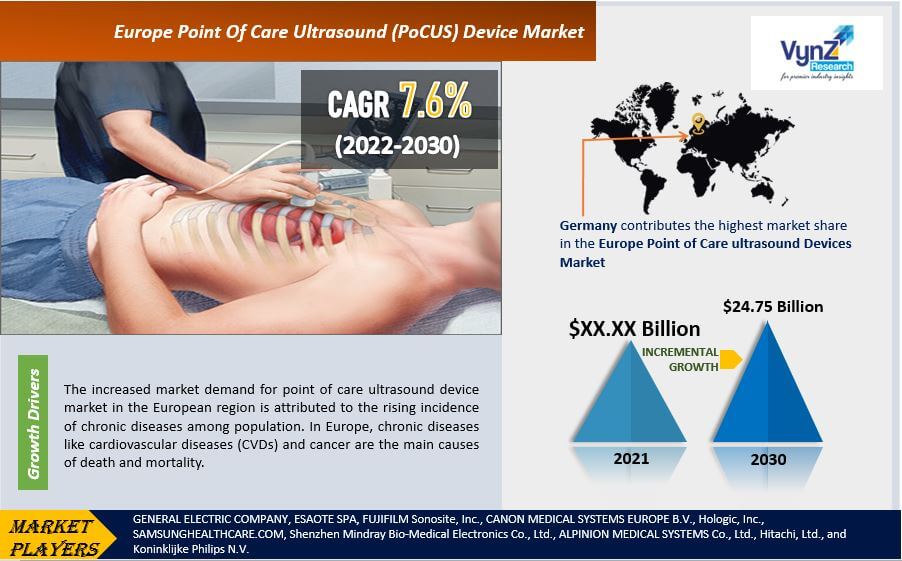 Point-of-care ultrasound (POCUS) has made significant progress in point-of-care delivery. Its growing popularity in emergency and critical care settings is due to the fact that it is a fast, safe, precise, and easily accessible diagnostic tool. In diagnostics and therapy, it has already had a significant impact, and in the years to come, it's anticipated to have a bigger impact on healthcare.
Healthcare is one of the main emphasized areas for all countries in the EU region, despite differences in healthcare spending between nations. The German government is doing a number of things in this area to ensure that everyone in the country, regardless of income level, has access to healthcare. So, in the near future, it is anticipated that the aforementioned factors will continue to fuel the expansion of the point-of-care ultrasound device market in Europe.
Market Segmentation
Insight by Type
Based on Type, The Europe Point of Care Ultrasound (PoCUS) Device Market is bifurcated into Diagnostic and Therapeutic. Among the two, the diagnostic PoCUS devices dominates the market in 2021 owing to increased adoption in point-of-care applications to diagnose pericardial effusion, severe mitral regurgitation, left ventricular systolic function, pneumothorax, pleural effusion, and pulmonary edema.  Moreover, the rising incidences of chronic diseases like Nephrolithiasis and CVD diseases along with a surge in a number of diagnostic centers will accelerate the market development of Europe's PoCUS devices industry.
Insight by Portability
Based on Portability, the Europe Point of Care Ultrasound (PoCUS) Device Market is bifurcated into Trolley or Cart-Based and Compact or Handheld-Based.  Trolley or cart-based is anticipated to dominate the industry as these tools, which can be quickly moved from one location to another, are usually employed in major healthcare settings for acute and emergency care.
Insight by Application
Based on Application, Europe Point of Care Ultrasound (PoCUS) Device Market is segregated into Anesthesia, Intensive Care Unit (ICU), Cardiology, Vascular and Urology, Medicine, Musculoskeletal, and Obstetrics and Gynecology. The anesthesia category is anticipated to have a high CAGR during the forecast period due to the increased number of surgeries in the region. Furthermore, because anesthesia is provided to a patient prior to any surgery, PoCUS devices are employed to administer anesthesia and watch the needle as it is inserted into the body.  The category of anesthesia is further broken down into abdominal, focused cardiac, airway, lung, chronic pain, and others.
During the projection period, the musculoskeletal category is expected to have a large market share.  One of the primary market drivers is the rising frequency of injuries and accidents. Furthermore, changing lifestyles and poor nutrition are contributing factors to the musculoskeletal segment's rise in the near future.
Insight by End-User
The European PoCUS devices market is divided into hospitals, clinics, ambulatory surgical centers, and others based on end-users. During the projection period, the hospital segment is expected to have a large market share. Hospitals supplement and enhance the performance of many other components of the healthcare system by providing continuous access to services for both acute and complex diseases. Furthermore, the growing number of procedures in hospitals contributes to the market's growth.
Europe Point of Care Ultrasound (PoCUS) Device Market Report Coverage
| | |
| --- | --- |
| Report Metric | Details |
| Historical Period | 2018–2021 |
| Base Year Considered | 2022 |
| Forecast Period | 2022 - 2030 |
| Market Size in 2021 | $XX.XX Billion |
| Revenue Forecast in 2030 | $24.75 Billion |
| Growth Rate | CAGR 7.6% |
| Segments Covered in the Report | By Type, By Portability, By Application, and By End-User |
| Report Scope | Market Trends, Drivers, and Restraints; Revenue Estimation and Forecast; Segmentation Analysis; Impact of COVID-19; Companies' Strategic Developments; Market Share Analysis of Key Players; Company Profiling |
| Regions Covered in the Report | Germany, U.K., France, Italy, Spain, Russia, Poland, and Rest of Europe |
Industry Dynamics
Growth Drivers
The increased market demand for point of care ultrasound device market in the European region is attributed to the rising incidence of chronic diseases among population. In Europe, chronic diseases like cardiovascular diseases (CVDs) and cancer are the main causes of death and mortality. According to European Society of Cardiology, each year CVD causes 3.9 million deaths in Europe and over 1.8 million deaths in the European Union. Thus, CVD causes 45% of all deaths in Europe and 37% in the EU.
According to World Health Organization, after cardiovascular illnesses, cancer is the major cause of death and morbidity in Europe. The second-leading cause of death and morbidity in Europe is cancer, with more than 3.7 million new cases and 1.9 million fatalities per year. Because PoCUS devices offer an efficient and effective technique to detect CVD and cancer diagnosis, the increased prevalence of chronic diseases in Europe is likely to drive market demand for these devices even further.
Point of care ultrasound offer rapid and precise diagnosis of medical disorders in emergency situations that will result in prompt treatment decisions and initiate therapy. There is increased adoption and revolutionization of point of care ultrasound devices owing to technological development in electronics, transducers, and computing applications.  Thus, these developments has lead to miniaturization of ultrasound devices. Thus, the increased number of patients in emergency care and several advantages associated with PoCUS devices will drive the market growth for the Europe PoCUS devices industry.
Additionally, the advantages of portable ultrasound devices in point-of-care settings has lead to incraesed adoption by medical professionals and patients. Portable point-of-care devices are easier to charge and smaller than traditional cart-based systems. As a result, these devices are being used more frequently in Europe and this is helping to fuel the market expansion of the point-of-care ultrasound device industry in the region.
Additionally, as chronic diseases are becoming more prevalent and there are more government and non-government attempts to improve treatment, healthcare spending is rising globally, as well as in European countries. A sizeable share of the gross domestic product (GDP) of the governments of several EU nations is allocated to healthcare.
Challenges
The major factors restraining the growth of the point of care ultrasound device market in Europe include the lack of skilled sonographers and stringent regulations for product approvals in the region. Sonographers are highly trained healthcare specialists that produce, scan, and analyse clinical data using ultrasonic instruments, thereby identifying medical disorders and determining the best course of therapy. To use these tools and interpret the necessary data, sonographers must possess particular knowledge and training. But there is a shortage of skilled sonographers in Europe owing to a lack of education and training programs too.
Opportunities
The European Point of Care Ultrasound Devices Market offers plenty of potential for profitable expansion among the industry players due to the:
Ongoing Development of Innovative Technologies
Rising PoCUS Device Manufacturer Penetration in Developing Economies.
The formation of an echocardiology society, as well as expanding government and non-government programs supporting training, education, and research on point-of-care ultrasound systems, are expected to drive market expansion during the forecast period.
Geographic Overview
Germany contributes the highest market share in the Europe Point of Care ultrasound Devices Industry owing to rising healthcare expenditure, rising number of hospitals and diagnostic centers, and rising prevalence of chronic diseases.
Competitive Insight
The prominent industry players in Europe point-of-care ultrasound device market progressively adopting wireless technologies like Bluetooth and near-field communication to enhance the performance of their products in critical and emergency care applications. A growing number of strategic initiatives, such as the development of innovative technologies with integrated features by prominent market participants to maintain market position, are driving market expansion.
Esaote Emergency and Critical Point of Care Ultrasound solution portfolio offers considerable advantages and clinical benefits from simple interventional procedures to difficult patient situations requiring integrated clinical ultrasonography. Esaote provides incredibly high-quality compact ultrasound devices for the innovative Point-of-care system, which is currently one of the fastest expanding applications and requiring proactive R&D development. Their Point of Care Ultrasound Devices Applications include MyLab™X9, MyLab™9 Platform, MyLab™X8 Platform, MyLab™X75, MyLab™Eight Platform, MyLab™Twice, MyLab™Class C, MyLab™X7, MyLab™X6, MyLab™Seven, MyLab™X5, MyLab™Six, MyLab™Omega, MyLab™Sigma, MyLab™Alpha, MyLab™Gamma, and MyLab™X1.
With the support of transducers and accessories, Fujifilm Sonosite develops point-of-care ultrasound systems and medical informatics solutions, thereby enhancing patient outcomes, procedural efficiency, and workflow. Their ultrasonic systems are built to be reliable, long-lasting, and simple to operate.
Recent Development by Key Players
In September 2022, FUJIFILM Sonosite, Inc., one of the prominent leader in point-of-care ultrasound (POCUS) solutions, has launched its new, premium Sonosite LX system in Europe. It also includes the company's largest clinical image and a monitor that stretches, rotates, and tilts to offer better, real-time provider engagement. The touchscreen controls on the clinical display enable an optimised heads-up approach, allowing physicians to retain their eyes on the image while making modifications.
At Euroanaesthesia in June,2022, Mindray unveiled their best-in-class Point of Care ultrasound system, the TEX20 Series, which redesigned the connected patient status assessment process in difficult conditions requiring critical care and emergency medicine. The TEX20 Series is clinically oriented and created with a thorough understanding of clinical demands in mind. The X-Link solution, in particular, provides integrated imaging and physiological information, providing a completely new perspective on a patient's course of disease and assist in fast and precise diagnosis and treatment. Furthermore, it gives all of the information needed in decision-making for follow-up and quality control.
Key Players Covered in the Report
Some of the major players in the Europe Point-of-Care Devices Market include GENERAL ELECTRIC COMPANY, ESAOTE SPA, FUJIFILM Sonosite, Inc., CANON MEDICAL SYSTEMS EUROPE B.V., Hologic, Inc., SAMSUNGHEALTHCARE.COM, Shenzhen Mindray Bio-Medical Electronics Co., Ltd., ALPINION MEDICAL SYSTEMS Co., Ltd., Hitachi, Ltd., and Koninklijke Philips N.V.
PRIMARY RESEARCH INTERVIEWS – BREAKDOWN