Industry Overview
The global healthcare simulation market is expected to grow at a CAGR of 16.2% during the forecast period with its market size predicted to reach USD 5.5 billion by 2030. The global healthcare simulation market is growing at a significant rate, due to the advantages of simulation over conventional learning, technological advancements, and the increasing need for minimally invasive treatments. Different products and services contributed to the healthcare/medical simulation market size. The market has witnessed a high demand for anatomical models over the last few years due to mounting primary care services, and scarcity of healthcare professionals.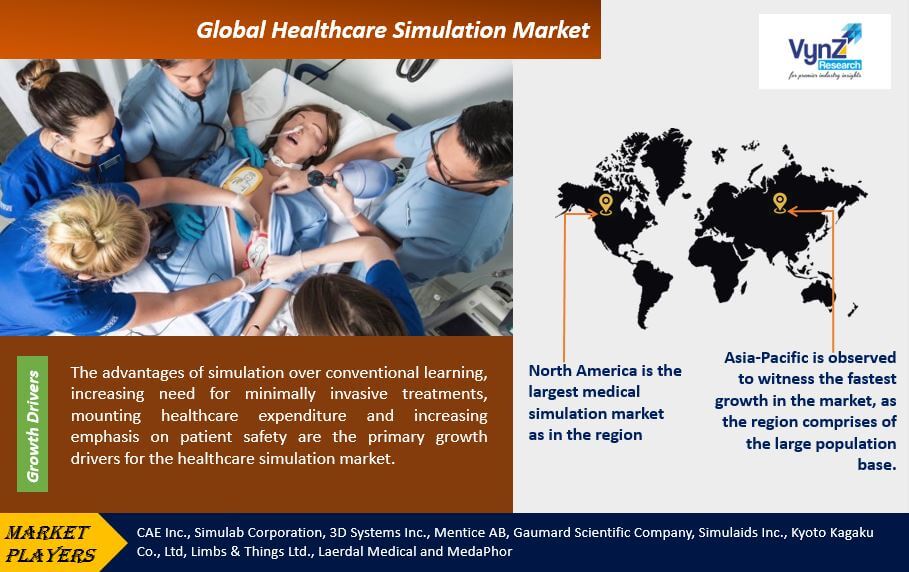 The healthcare simulation market has been experiencing steady growth and is expected to continue expanding in the coming years. Factors such as the increasing demand for minimally invasive surgeries, the need for continuous medical education, and the growing focus on patient safety and quality of care are driving the market's growth. Additionally, the COVID-19 pandemic has further emphasized the value of virtual and remote training solutions, leading to increased adoption of simulation technology in healthcare education and training.
Market Segmentation
Insight by Product and Services
On the basis of product and services the market is subdivided into, medical simulation software, anatomical models, web-based simulation, and simulation training services. Elevated acceptance of high loyalty products, mounting primary care services, and scarcity of healthcare professionals are some of the factors responsible for the growth of the anatomical models segment. Of all the products and services, the anatomical models accounted foremost share in the healthcare simulation market.
The anatomical model segment is further subdivided into task trainers, dental simulators, patient simulators, eye simulators, task trainers, ultrasound simulators, interventional or surgical simulators, and endovascular simulators. Medical simulation software is segmented into performance recording software and virtual tutors. Moreover, simulation training services are further subdivided into vendor-based training, educational societies, and consulting & training services.
Insight by End User
On the basis of the end user, the market is subdivided into academic institutes, hospitals, military organizations, and others. Intensifying alertness concerning patient safety, mounting emphasis on reducing medical errors, and the escalating number of medical school enrollees are the factors growing the demand of healthcare/medical simulation in academic institutes. Among all end users, the academic institutes accounted for the largest share in the healthcare/medical simulation market.
Global Healthcare Simulation Market Report Coverage
| | |
| --- | --- |
| Report Metric | Details |
| Historical Period | 2018–2022 |
| Base Year Considered | 2022 |
| Forecast Period | 2023 - 2030 |
| Market Size in 2022 | $x.x Billion |
| Revenue Forecast in 2030 | $5.5 Billion |
| Growth Rate | CAGR 16.2% |
| Segments Covered in the Report | By Product and Services, By End User |
| Report Scope | Market Trends, Drivers, and Restraints; Revenue Estimation and Forecast; Segmentation Analysis; Impact of COVID-19; Companies' Strategic Developments; Market Share Analysis of Key Players; Company Profiling |
| Regions Covered in the Report | North America, Europe, Asia-Pacific, Middle East, and Rest of the World |
Industry Dynamics
Growth Drivers
The advantages of simulation over conventional learning, increasing need for minimally invasive treatments, mounting healthcare expenditure and increasing emphasis on patient safety are the primary growth drivers for the healthcare simulation market. The demand for minimally invasive procedures is increasing in order to overcome the complications of conventional surgery such as fatigue, blood clots, infection, postoperative pain, and muscle atrophy.
Training and Education: Healthcare simulation offers a practical and hands-on approach to training healthcare professionals, allowing them to acquire and refine clinical skills in a safe environment before working with real patients. It is particularly valuable for complex procedures, rare scenarios, and emergency situations.
Patient Safety: Simulation-based training enhances patient safety by reducing medical errors and adverse events. Healthcare professionals can practice critical skills, such as diagnosing and managing emergencies, without compromising patient well-being.
Cost-effectiveness: Simulation can reduce the costs associated with training and education by minimizing the need for expensive equipment, consumables, and patient care. It also reduces the impact on patient flow in clinical settings.
Technological Advancements: Advancements in virtual reality, augmented reality, haptics, and artificial intelligence have expanded the capabilities of healthcare simulation, providing more realistic and immersive experiences.
Regulatory Requirements: Regulatory bodies and accreditation organizations often emphasize the importance of simulation-based training and competency assessment in healthcare education. This has driven the adoption of simulation technology across various healthcare disciplines.
Moreover, the swiftly progressing medical simulation market provides medical students, nurses, doctors, and other healthcare professionals with numerous simulation products and services with the imitation of reality allowing examination of promising changes, experiencing situations. The initiation of simulation in healthcare has drastically decreased the amount of deaths owing to insecure care. In addition, the performance of clinicians has enhanced with the usage of simulation techniques.
Lack of healthcare personnel, mounting pressure on educators, improving healthcare infrastructure in developing countries and budding alertness on simulation learning in developing countries are also facilitating the growth for the healthcare simulation market. Technological improvements are also driving the growth of the market. For instance, in January 2018, CAE introduced CAE LucinaAR with Microsoft HoloLens, the reality childbirth simulator with incorporated mother-baby physiology. It permits beginners to understand the anatomy within the patient simulator.
Challenges
The budgetary constraints, operational challenges and high cost of simulators are the major challenges for the growth of healthcare/medical simulation market. Moreover, disinclination to accept innovative training methods and inadequate obtainability of assets in emerging countries are also hindering the growth of the healthcare/medical simulation market.
Geographic Overview
Geographically, North America is the largest medical simulation market as in the region the number of healthcare professionals is increasing. Easiness of availability to technologies, elevated acceptance of simulation by medical universities and training centers, improved healthcare infrastructure, and entrenched distribution channels are also up surging the growth of the North American healthcare/medical simulation market.
Asia-Pacific is observed to witness the fastest growth in the market, as the region comprises of the large population base. In addition, mounting awareness on simulation learning, refining healthcare infrastructure, budding focus on the global medical simulation players, mounting healthcare expenditure and mounting emphasis on patient safety are also creating a positive impact on the healthcare/medical simulation market growth in the region.
Competitive Insight
Key players in the healthcare/medical simulation market are catering to the demand of these devices by investing in technologically advanced products in their product portfolio across the globe. In May 2018, 3D Systems launched Simbionix ANGIO Tab Pro endovascular simulator for step-by-step teaching of endovascular interventions. In addition, in June 2017, CAE Healthcare introduced CAE Juno, a recently invented clinical skills manikin for nursing programs, in International Nursing Association for Clinical Simulation and Learning (INACSL) annual conference in Washington.
CAE Inc. and Laerdal Medical accounted for the major share in the market. CAE Inc., Simulab Corporation, 3D Systems Inc., Mentice AB, Gaumard Scientific Company, Simulaids Inc., Kyoto Kagaku Co., Ltd, Limbs & Things Ltd., Laerdal Medical and MedaPhor are the key players offering healthcare/medical simulation.
The Healthcare Simulation Market report offers a comprehensive market segmentation analysis along with an estimation for the forecast period 2023–2030.
Segments Covered in the Report
By Product & Services

Medical Simulation Software

Performance Recording Software
Virtual Tutors

Anatomical Models

Patient Simulators
Task Trainers
Interventional/Surgical Simulators
Endovascular Simulators
Ultrasound Simulators
Dental Simulators
Eye Simulators

Web-Based Simulation
Simulation Training Services

Vendor-Based Training
Educational Societies
Consulting & Training Services

By End User

Academic Institutes
Hospitals
Military Organizations
Others
Region Covered in the Report
North America
Europe

Germany
U.K.
France
Italy
Spain
Russia
Rest of Europe

Asia-Pacific (APAC)

China
Japan
India
South Korea
Rest of Asia-Pacific

Rest of the World (RoW)

Brazil
Saudi Arabia
South Africa
U.A.E.
Other Countries
PRIMARY RESEARCH INTERVIEWS - BREAKDOWN