Industry Overview
The global neurostimulation devices market is predicted to grow at 12.6% CAGR during the forecast period with the market size reaching USD 16.2 billion by 2030. Neurostimulation is the technology to deliver low voltage electricity to a specific nerve or target in the spinal cord or brain to affect neuronal transmission. It is a therapeutic tool used to treat neuropathic pain or to modulate motor function and for a range of different diseases such as epilepsy, migraine, and Parkinson's disease. The global neurostimulation devices market is growing at significant rate due to increasing prevalence of neurological diseases and growing geriatric population. The market has witnessed high demand for internal neurostimulation over the last few years, due to the increasing prevalence of neurological disorders.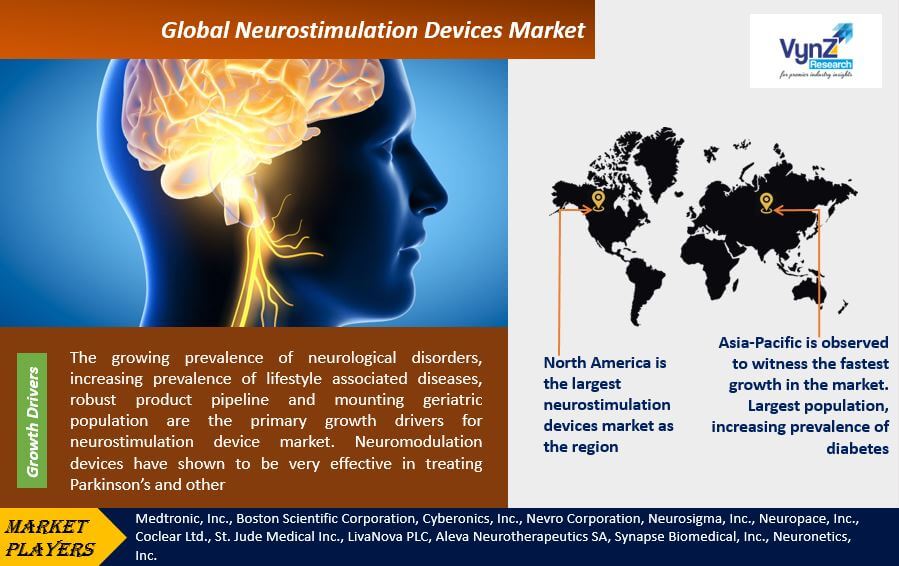 Market Segmentation
Insight by Product
There are two types of neurostimulation devices, internal and external. Of both, internal neurostimulation device market accounted for the major share in the global market, due to the increasing prevalence of the neurological disorder. The internal neurostimulation segment is further segmented into spinal cord stimulation, deep brain stimulation, vagus nerve stimulation, sacral nerve stimulation, cochear implant and gastric electrical stimulation. Spinal cord stimulation segment is estimated to account the largest share in the internal neurostimulation device market due to increasing awareness of spinal cord stimulator and increasing number of people suffering from chronic leg and back pain. The external neurostimulation segment is segmented into transcranial magnetic stimulation and transcranial electric nerve stimulation.
Insight by Application
The different applications of neurostimulation devices are pain management, essential tremor, Parkinson's disease, urinary and fecal incontinence, depression, epilepsy, gastroparesis, hearing loss, dystonia and others. The pain management segment is estimated to account the largest share in the neurostimulation device market due to the increasing number of product launches and approvals of devices to reduce chronic pain. In addition, the epilepsy segment is expected to grow at the fastest rate due to the availability of new therapeutic procedures. According to the World Health Organization (WHO), globally approximately 50 million people have epilepsy and approximately 2.4 million people are diagnosed with epilepsy each year.
Global Neurostimulation Devices Market Report Coverage
| | |
| --- | --- |
| Report Metric | Details |
| Historical Period | 2018–2022 |
| Base Year Considered | 2022 |
| Forecast Period | 2023 - 2030 |
| Market Size in 2022 | $xx.x Billion |
| Revenue Forecast in 2030 | $16.2 Billion |
| Growth Rate | CAGR 12.6% |
| Segments Covered in the Report | By Product and By Application |
| Report Scope | Market Trends, Drivers, and Restraints; Revenue Estimation and Forecast; Segmentation Analysis; Impact of COVID-19; Companies' Strategic Developments; Market Share Analysis of Key Players; Company Profiling |
| Regions Covered in the Report | North America, Europe, Asia-Pacific, Middle East, and Rest of the World |
Industry Dynamics
Growth Drivers
The growing prevalence of neurological disorders, increasing prevalence of lifestyle-associated diseases, robust product pipeline and mounting geriatric population are the primary growth drivers for the neurostimulation device market. Neuromodulation devices have shown to be very effective in treating Parkinson's and other chronic illnesses induced by old age. According to the WHO, globally depression is a common mental disorder and approximately 300 million people of all age groups suffer from depression. Expanded target applications and new indications, increasing healthcare expenditure, increasing demand for minimally invasive surgeries, and increasing adoption of technologically advanced products are also fueling the growth of the neurostimulation devices market.
Increasing Prevalence of Neurological Disorders: Neurological disorders such as chronic pain, Parkinson's disease, epilepsy, and depression are becoming more prevalent globally. As the incidence of these conditions rises, the demand for neurostimulation devices as a treatment option also increases.
Growing Aging Population: The world's population is aging, leading to a higher prevalence of age-related neurological disorders. Neurostimulation devices offer a viable treatment option for elderly patients who may have limited tolerance for medications or are unresponsive to traditional therapies.
Patient Preference for Non-Pharmacological Treatment: Many patients prefer non-pharmacological treatment options due to concerns about potential side effects or addiction to medications. Neurostimulation devices offer an alternative approach to managing chronic pain and neurological disorders, providing patients with the opportunity to reduce reliance on medications.
Increasing Awareness and Acceptance: There has been a significant increase in public awareness about neurostimulation devices and their potential benefits. As more patients and healthcare professionals become aware of the therapeutic options available, there is greater acceptance and adoption of neurostimulation devices.
Challenges
The lack of trained professionals and unfavorable reimbursement scenarios are the major challenges to the growth of the neurostimulation device market. In addition, the availability of alternative options of treatment for neurological disorders and side effects and risks associated with neurostimulation therapy are also some of the factors hindering the growth of the market.
Neurostimulation devices may not be equally effective for all patients. Response variability exists, and it can be challenging to predict which patients will respond positively to neurostimulation therapy. Improving patient selection criteria and developing personalized treatment approaches are areas that require further research and development.
Industry Ecosystem
The key challenge for the new entrants is survival in capital intensive and highly regulated neurostimulation device market. However, various large neurostimulation companies can enter the neurostimulation device market through mergers and acquisitions of smaller companies.
Geographic Overview
Geographically, North America is the largest neurostimulation devices market as the region has a high prevalence of chronic diseases and a growing geriatric population. For instance, according to the Centers for Disease Control and Prevention (CDC), in 2015 approximately 23.1 million people in the U.S. had diabetes. In addition according to the National Institutes of Health, in the U.S. approximately one million people have Parkinson's disease. As per the Alzheimer's Association in 2017, 5.5 million Americans had Alzheimer and about 5.3 million of this patient population's age was 65 years or more. In addition, according to Alzheimer's Association, approximately 14 million people are expected to suffer from Alzheimer's in 2050.
Asia-Pacific is observed to witness the fastest growth in the market. The largest population, increasing prevalence of diabetes, growing geriatric population, and rising adoption of neurostimulation devices is creating a positive impact on the neurostimulation device market growth in the region.   
Competitive Insight
Key players in the neurostimulation device industry are investing in the development of innovative and advanced neurostimulation device products, which is strengthening their position in the market.  In September 2017, Medtronic, Inc. received FDA approval and launched the Intellis platform for the management of certain types of chronic intractable pain. Medtronic, Inc., Boston Scientific Corporation, Cyberonics, Inc., Nevro Corporation, Neurosigma, Inc., Neuropace, Inc., Cochlear Ltd., St. Jude Medical Inc., LivaNova PLC, Aleva Neurotherapeutics SA, Synapse Biomedical, Inc., Neuronetics, Inc. are some of the key players offering neurostimulation devices.
The Neurostimulation Devices Market report offers a comprehensive market segmentation analysis along with an estimation for the forecast period 2023–2030.
By Product

Implantable/Internal Neurostimulation Device

 Spinal Cord Stimulators
 Deep Brain Stimulators
 Sacral Nerve Stimulators
 Gastric Electric Stimulators
 Vagus Nerve Stimulators
 Cochlear Implants

External Neurostimulation Device

 Transcutaneous Electrical Nerve Stimulators
 Transcranial Magnetic Stimulators

By Application

Dystonia
Pain Management
Depression
Epilepsy
Gastroparesis
Parkinson's Disease
Essential Tremor
Urinary & Fecal Incontinence
Others
Neurostimulation Devices Market by Region
North America
Europe

Germany
U.K.
France
Italy
Rest of Europe

Asia-Pacific

Japan
China
India
Australia
Indonesia
Rest of Asia-Pacific

Latin America

Brazil
Mexico
Rest of Latin America

Middle East & Africa (MEA)

South Africa
Saudi Arabia
Rest of MEA

Source: VynZ Research