Industry Overview
Orthodontic is the branch of dentistry which deals with enlargement and development of orofacial structures. It deals with oral problems such as malocclusion, irregularities of teeth and associated facial problems. Its products are made up of material such as metal, plastic and ceramic. The global orthodontic supplies market is growing at a significant rate due to increasing awareness about advanced orthodontic treatment and increasing prevalence of orthodontic problems such as malocclusion, jaw problems and tooth decay. The market has witnessed high demand for fixed braces over the last few years, due to its effective outcome, affordability and huge demand in developing countries.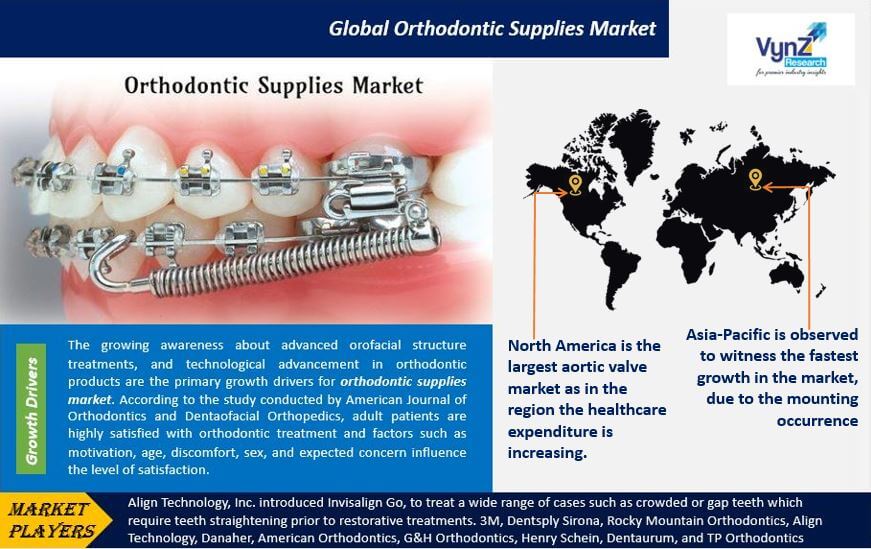 Market Segmentation
Insight by Product
On the basis of product, the orthodontic supplies market is categorized into removable braces, fixed braces, adhesives and accessories. Of all product type, fixed braces market account for the major share in the global market, due to effective outcomes, huge demand of these braces in developing countries and better affordability as contrast to removable braces. The fixed braces segment are further segmented into brackets, ligatures, archwires, and anchorage appliances. The brackets segment is expected to grow at the fastest rate due to technological advancement in orthodontic brackets and increasing prevalence of jaw diseases and malocclusions.
Insight by End User
The different end users of orthodontic supplies are adults and children and teenager. The adults segment is expected to grow at fastest rate in the orthodontic supplies industry, due to increasing demand for invisible braces among adults, cosmetic concerns and increasing awareness of orthodontic treatment. Moreover, the children and teenager are estimated to account largest share in the market, due to increasing adoption of fixed braces among children and teenagers, and treatment is effective and successful in childhood or teenage.
Industry Dynamics
Industry Trends
Integration of orthodontics with digital technology such as CAM/CAD and software and increasing adoption of cosmetic orthodontics are the major trends in the orthodontic supplies market. CAD technology is widely used by the dentists and dental laboratories to restore or creating tooth.
Growth Drivers
The growing awareness about advanced orofacial structure treatments, and technological advancement in orthodontic products are the primary growth drivers for orthodontic supplies market. According to the study conducted by American Journal of Orthodontics and Dentaofacial Orthopedics, adult patients are highly satisfied with orthodontic treatment and factors such as motivation, age, discomfort, sex, and expected concern influence the level of satisfaction. Moreover, there has been a prominent advancement in the technology used for orthodontic treatments.
Increasing number of patients with orthodontic problems such as jaw diseases, tooth decay, periodontal disease, jaw pain and malocclusions and mounting healthcare expenditure, are also fueling the growth of the orthodontic supplies market. For instance, according to World Health Organization (WHO), globally 60%-90% of school children suffer from dental cavities.
Challenges
The high cost of advanced orthodontic treatment, lethargy towards dental care, unfavorable reimbursement policies for orthodontic treatment, and risk and complication associated with orthodontic treatments are the major challenges for the growth of orthodontic supplies market. The cost of orthodontic treatment varies depending upon the type and severity of the disease, treatment plan and technique and duration of the treatment.
Geographic Overview
Geographically, North America is the largest orthodontic supplies market, as the region is home to large number of industry players. Some of the other factors leading to the growth of the North American orthodontic supplies market are increasing healthcare expenditure, increasing focus on aesthetics, increasing adoption of orthodontic treatment among children and adults, technological advancement in orthodontic treatment and increasing prevalence of oral disease.
Asia-Pacific is observed to witness fastest growth in the market. As the region comprises of largest population, improving healthcare infrastructure and the awareness for orthodontic supplies is increasing rapidly among them. In addition, growing medical tourism, increasing awareness of tooth decay and malocclusion, and increasing focus of orthodontic companies in the region are also creating a positive impact on the orthodontic supplies market growth in the region.   
Competitive Insight
Key players in the orthodontic supplies industry are investing in the development of innovative and advance products, which is strengthening their position in the market. In January 2018, 3M and 3Shape partnered to advance digital workflows for orthodontics. In addition, in April 2018, Align Technology, Inc. introduced Invisalign Go, to treat a wide range of cases such as crowded or gap teeth which require teeth straightening prior to restorative treatments. 3M, Dentsply Sirona, Rocky Mountain Orthodontics, Align Technology, Danaher, American Orthodontics, G&H Orthodontics, Henry Schein, Dentaurum, and TP Orthodontics are some of the key players offering orthodontic supplies products.