Industry Overview
Prefilled syringe is a single use syringe filled with parenteral drug. It helps to exclude various numbers of procedures mandatory for administering a formulation. The global prefilled syringes market is growing at significant rate, due to mounting demand for biologics and biosimilars and emergent injectable drugs pipeline. Different types of syringes contributed to the market size. The market has witnessed high demand for conventional syringes over the last few years due to increasing adoption of self-administered injectable drug.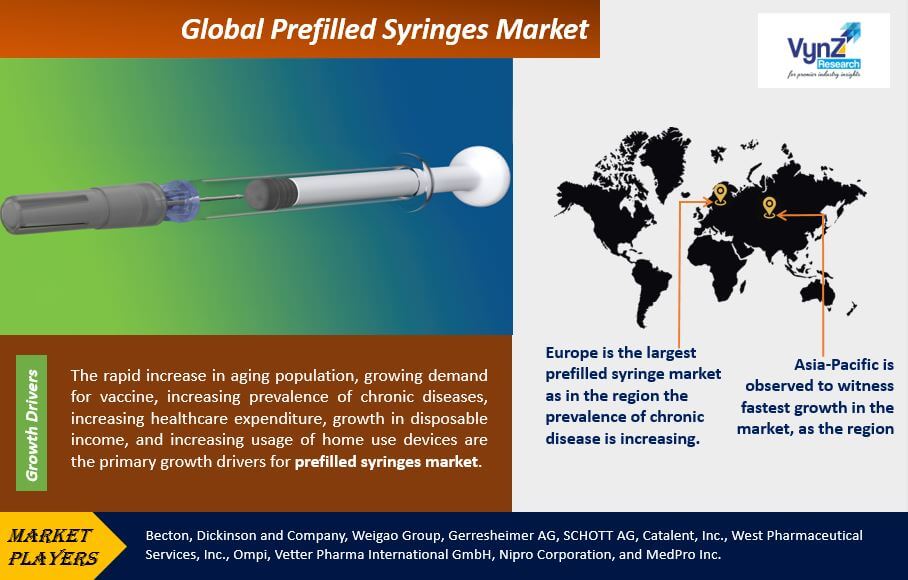 Market Segmentation
Insight by Material
There are two materials of syringes, glass and plastic. Glass material is preferred for manufacturing syringe as the material is non-reactive, and have high mechanical strength, and tolerability towards heat and transparency. However, the raised leachability from silicon layer in the presence of biologics is also transferring the usage of glass to plastic. Of both, plastic prefilled syringes market witnessed higher growth worldwide, which is due to break resistance and decreased surface reactivity.
Insight by Type
There are two types of syringes, safety and conventional. Increasing prevalence of chronic diseases, increasing adoption of self-administered injectable drug and benefits over the traditional vial syringe system are some of the factors responsible for the growth of the conventional prefilled syringe segment. Of both the types, the conventional syringes anticipated to account foremost share in the prefilled syringes market.
Insight by Design
There are three designs of syringes, dual chamber, single chamber and customized. Increasing acceptance of self-administration of parental drug and escalating prevalence of chronic diseases are the factors growing the demand of single chamber prefilled syringes. Among all designs, the single chamber is expected to command the prefilled syringes market.
Industry Dynamics
Industry Trends
Growing adoption of self-injection device and development of technologically advance syringes are the trends in the prefilled syringes market. Increasing combination therapy is also one of the major trends in the market. These syringes manufacturers have developed dual or multi chamber syringe for lyophilized drugs.
Growth Drivers
The rapid increase in aging population, growing demand for vaccine, increasing prevalence of chronic diseases, increasing healthcare expenditure, growth in disposable income, and increasing usage of home use devices are the primary growth drivers for prefilled syringes market. Moreover, increasing demand for vaccine, large pool of population base and benefits associated with syringes are also up surging its demand, as parentral administration is second most common mode of drug delivery. According to the World Health Organization (WHO), globally approximately 16 billion injections are administered every year in developing and transitional countries.
Increasing demand for self-injection device is also facilitating the growth for the prefilled syringes market. Moreover, the risk of needlestick injury is reduced in many syringes, due to retractable needles and lack of needles in many systems. In addition, self-injection device provides more accurate dosage volume, which further reduces the wastage of drugs.
Challenges
The strict regulatory requirements, availability of cheaper alternatives and alternative drug delivery method are the major challenges for the growth of prefilled syringes market. Drug is delivered with various methods, such as orally, infusion, and injections. Oral delivery method is the most commonly used drug delivery alternative globally, as it is cost effective and easy to use for patients. Interaction of syringe plastic with the drugs and recall of products are the key factor hindering the global market growth.
 Industry Ecosystem
Globally, the manufacturing companies trying to enter the prefilled syringes market are required to maintain stringent regulatory standards. Moreover, the high level of capital requirement also poses a major barrier for the entry of new players. This offers an edge to the established players in the industry competition.
Geographic Overview
Geographically, Europe is the largest prefilled syringe market as in the region the prevalence of chronic disease is increasing. The increasing prevalence of diabetes is a major concern in Europe. According to International Diabetes Federation (IDF) in 2015, approximately 59.8 million people were suffering from diabetes in Europe. In addition, the healthcare expenditure is increasing in Europe, which has increased the accessibility and affordability of treatment among individuals. Growing geriatric population, increasing demand for biosimilars and biologics and technological advancement of products are also up surging growth of the European prefilled syringes market.
Asia-Pacific is observed to witness fastest growth in the market, as the region comprises of growing demand for vaccine for the management of chronic diseases and mounting use of biologics and biosimilars. In addition, high penetration of self-administration devices, large population base and increasing demand for self-administered treatments are also creating a positive impact on the prefilled syringes market growth in the region.
Competitive Insight
Key players in the prefilled syringes industry are catering the demand of these devices by investing on technologically advanced products in their product portfolio across the globe. According to Unilife Corporation, a company involved in the development, design and production of injectable drug delivery system, approximately 2 billion prefilled syringes are used each year globally. Becton, Dickinson and Company, Weigao Group, Gerresheimer AG, SCHOTT AG, Catalent, Inc., West Pharmaceutical Services, Inc., Ompi, Vetter Pharma International GmbH, Nipro Corporation, and MedPro Inc. are the key players offering prefilled syringes.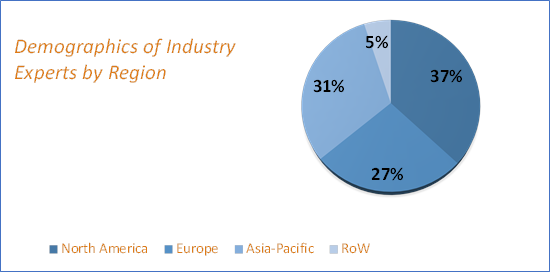 Source: VynZ Research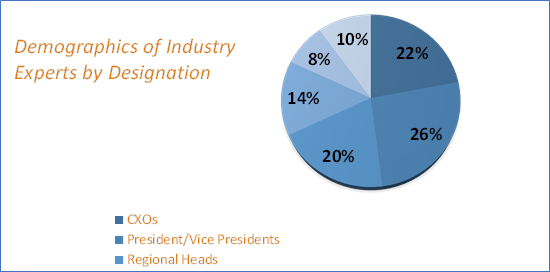 Source: VynZ Research