Industry Overview
The global stem cell therapy market is expected to grow at a CAGR of 12.6% during the forecast period with its market size predicted to reach USD 265.5 billion by 2030. The global stem cell therapy market is primarily driven by due to growing awareness regarding therapeutic potency of stem cells and the development of infrastructure related to stem cell banking and processing. The market has witnessed a high demand for allogenic therapies over the last few years, due to easy production scale-up process, and increasing commercialization of allogeneic therapy products. Stem cell therapy holds great potential for regenerative medicine, as it offers the possibility of replacing or repairing damaged tissues and organs. It has gained significant attention and investment due to its potential in treating a wide range of conditions, including cardiovascular diseases, neurodegenerative disorders, autoimmune diseases, and cancer.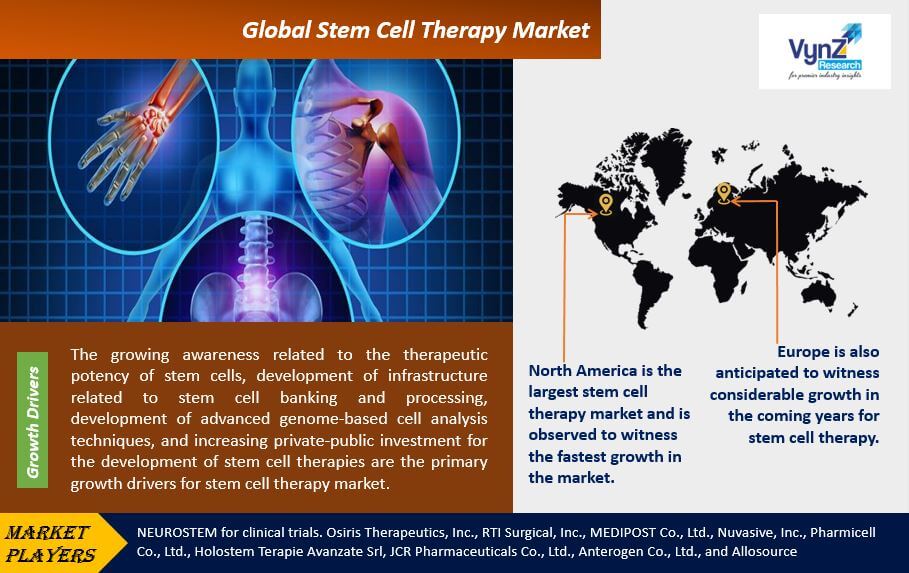 Market Segmentation
Insight by Type
There are two types of stem cell therapy, allogeneic and autologous. Of both, the allogenic segment accounts for the larger share and is also predicted to grow at a faster rate in the coming years in the market due to its extensive therapeutic applications, increasing commercialization of allogeneic products, easy production scale-up process, and the growing number of clinical trials related to allogeneic therapies.
Insight by Therapeutic Application
The stem cell therapy market has been segmented by therapeutic application into gastrointestinal diseases, musculoskeletal disorders, surgeries, cardiovascular diseases, and wound and injuries. Musculoskeletal disorders category contributed the largest revenue in the market due to the increasing prevalence of musculoskeletal disorders and bone & joint diseases, increasing the availability of stem cell-based products for the treatment of musculoskeletal disorders, and growing patient preference for effective & early treatment strategies.
Insight by Cell Source
The global stem cell therapy market has also been segmented by cell source into an adipose tissue-derived mesenchymal stem cell, cord blood cells, and bone marrow-derived mesenchymal stem cells. Of all the categories, the bone marrow-derived mesenchymal stem cells are increasingly being used for therapeutic applications.
Stem Cell Therapy Market
Global Stem Cell Therapy Market Report Coverage
| | |
| --- | --- |
| Report Metric | Details |
| Historical Period | 2018–2022 |
| Base Year Considered | 2022 |
| Forecast Period | 2023 - 2030 |
| Market Size in 2022 | $xxx.x billion |
| Revenue Forecast in 2030 | $265.5 billion |
| Growth Rate | CAGR 12.6% |
| Segments Covered in the Report | By Type, By Cell Source and By Therapeutic Application |
| Report Scope | Market Trends, Drivers, and Restraints; Revenue Estimation and Forecast; Segmentation Analysis; Impact of COVID-19; Companies' Strategic Developments; Market Share Analysis of Key Players; Company Profiling |
| Regions Covered in the Report | North America, Europe, Asia-Pacific, Middle East, and Rest of the World |
Industry Dynamics
Growth Drivers
The growing awareness related to the therapeutic potency of stem cells, development of infrastructure related to stem cell banking and processing, development of advanced genome-based cell analysis techniques, and increasing private-public investment for the development of stem cell therapies are the primary growth drivers for stem cell therapy market. According to the World Health Organization (WHO) globally, more than 50,000 transplants are carried out annually and it is increasing each year.
Increasing prevalence of chronic diseases, supporting regulations across developing countries, technological advancement in healthcare, cellular therapies are the major advancements in transforming healthcare and identification of new stem cell lines are also fueling the growth of the stem cell therapy market. Diseases such as osteoarthritis, multiple sclerosis, heart failure, hearing loss, and cerebral palsy are some of the diseases that could be treated using stem cell therapies. For instance, according to the WHO by 2050, it is estimated 900 million people will have disabling hearing loss. Moreover, 60 percent of childhood hearing loss is due to preventable causes.
Moreover, restrictions of traditional organ transplantation such as dependence on organ donor, the threat of infection, rejection, and immunosuppression threat and increasing pipeline and development of drugs for emerging applications are also boosting the growth of the stem cell therapy market.
Trends
Increasing prevalence of chronic diseases: Chronic conditions such as cardiovascular diseases, diabetes, and neurodegenerative disorders are on the rise globally. Stem cell therapy offers potential treatments or cures for these conditions, driving market growth.
Growing investment in research and development: Governments, academic institutions, and private companies are investing heavily in stem cell research and development, leading to the discovery of new therapeutic applications and the advancement of clinical trials.
Favorable regulatory environment: Many countries have established regulations and guidelines to support the development and commercialization of stem cell therapies. This has created a conducive environment for market growth, encouraging companies to invest in research and clinical trials.
Technological advancements: Advances in stem cell isolation, culture techniques, and genetic engineering have improved the efficiency and safety of stem cell therapies, further driving market growth.
Increasing public awareness and acceptance: As more success stories and positive outcomes are reported, public awareness and acceptance of stem cell therapy have grown. Patients are seeking alternative treatments and are willing to explore stem cell therapies, contributing to market expansion.
Challenges
The technical limitations related to production scale-up, socio-ethical issues related to the use of stem cell in disease treatment and research and unclear regulatory guidelines for product development & commercialization are the major challenges for the growth of stem cell therapy market. The socio-ethical issues involved in stem cell research such as religious briefs and destruction of the human embryo are considered as the hindering factor for the adaptation of stem cell therapy by the patient.
Moreover, high cost of research, less developed research infrastructure for stem cell therapies and storage of stem cell, difficulty related with the preservation of stem cell, and strict regulations to conduct trials on human are also hindering the growth of the stem cell therapy market.
Geographic Overview
Geographically, North America is the largest stem cell therapy market and is observed to witness the fastest growth in the market. Some of the factors leading to the growth of the North American stem cell therapy market are increasing number of clinical trials to evaluate therapeutic potential of products, increasing prevalence of chronic diseases, the growing patient base for target diseases, growing public awareness related to the therapeutic potency of therapy, and increasing public-private funding & research grants for developing safe and effective stem cell therapy products. Europe is also anticipated to witness considerable growth in the coming years for stem cell therapy.
Competitive Insight
Major players in the industry are capitalizing on the development of technologically inventive and advance products, which is strengthening their position in the stem cell therapy market. In March 2017, Osiris Therapeutics launched Prestige Lyotechnology, a method for storage of living cells and tissues. In addition, in February 2018, MEDIPOST announced that the FDA has approved its stem cell-based Alzheimer's disease drug, NEUROSTEM for clinical trials. Osiris Therapeutics, Inc., RTI Surgical, Inc., MEDIPOST Co., Ltd., Nuvasive, Inc., Pharmicell Co., Ltd., Holostem Terapie Avanzate Srl, JCR Pharmaceuticals Co., Ltd., Anterogen Co., Ltd., and Allosource are some of the key players offering stem cell therapy products.
Forecast Parameters
- Identifying variables and establishing market impact.
- Establishing market trends regionally.
- Analyzing opportunities and market penetration rates by understanding product commercialization, regional expansion.
- Analyzing demand and supply trends and changes in industry dynamics to establish future growth.
- Analyzing sustainability strategies adhered by market participants in an attempt to determine the future course of the market.
- Analyzing historical market trends and super-imposing them on the current and future variables to determine the year-on-year trend.
- Understanding adoption, production, export, import, and regulatory framework.
Data Validation
- Estimated and forecasted data was validated through industry experts.
- Apart from industry experts, data triangulation methods were used for validation.
- Bottom-up and top-down approach has been used for estimation and forecast of market data, whereas top-down approach was used for validation.
- Demands, as well as supply-side surveys, were conducted in order to understand the industry dynamics and data validation.
Primary Research
VynZ Research conducts extensive primary research to understand the market dynamics, validate market data and have key opinions from the industry experts. The key profiles approached within the industry include CEO, CFO, CTO, President, Vice President, Product Managers, Regional Heads, and Others. Also, end-user surveys comprising of consumers are also conducted to understand consumer behavior.
The Stem Cell Therapy Market report offers a comprehensive market segmentation analysis along with an estimation for the forecast period 2023–2030.
Segments Covered in the Report
By Type
By Cell Source

Adipose Tissue-Derived Mesenchymal Stem Cell
Cord Blood Cells
Bone Marrow-Derived Mesenchymal Stem Cells

By Therapeutic Application

Gastrointestinal Diseases
Musculoskeletal Disorders
Surgeries
Cardiovascular Diseases
Wound & Injuries
Region Covered in the Report
North America
Europe

Germany
U.K.
France
Italy
Spain
Russia
Rest of Europe

Asia-Pacific (APAC)

China
Japan
India
South Korea
Rest of Asia-Pacific

Rest of the World (RoW)

Brazil
Saudi Arabia
South Africa
U.A.E.
Other Countries
PRIMARY RESEARCH INTERVIEWS - BREAKDOWN