Industry Overview
The Global Tissue Imaging Market size was valued at USD 14.3 billion in 2020 and is expected to grow at a CAGR of 8.3% during the forecast period 2021-2027 anticipated to reach USD 28.3 billion by 2027. This growth of the tissue imaging market can be said, would be a result of factors such as raising application in infectious diseases, oncology, neurological diseases, immunological diseases and cardiovascular diseases; increasing chronic disease incidence, increasing incidence of infectious diseases, rising healthcare spending, and the demand for early detection of diseases. However, in the coming years, the high costs associated with some tissue imaging systems could hamper the growth of the market.
The COVID-19 pandemic has become the most critical threat in the world. The outbreak of the pandemic has greatly increased understanding of the global burden of infectious diseases and the ability of public health systems to battle the spread of infectious diseases. This challenge will be terrifying, especially in developing countries around the world, as it will lead to a decrease in imports due to global trade disruptions. It has influenced the world's pharmaceutical, medical, R&D, and other companies. In some surgical procedures, the tissue imaging devices are very important medical devices for treatment. Since the rise of the pandemic crisis was unclear, the availability of different imaging instruments and consumables is scarce. It has been difficult for the hospital to accommodate the medical devices used for in-house patients and patients with COVID19.
MARKET SEGMENTATION
Tissue imaging, which is a technique of taking small tissue samples from patients and then usually staining the samples and then visualizing them using either visible or fluorescent light, is the basis of pathology. A skilled pathologist, who will make a diagnosis, will then analyse these photos. This study of images obtained from cells and tissues using microscopy is the basis for much of the field of pathology. The health sector is now focused on developing and applying advanced imaging technologies to improve disease identification and patient outcome prediction objectives.
Based on Product: Largest market share to be held by consumables segment in the year 2027.
Based on product, the Tissue Imaging market is segmented into:
a.    Consumables
        i.   Antibodies
        ii.  Kits
        iii. Reagents
        iv. Probes
b.    Instruments
        i.  Slide Staining System
        ii.  Scanner
        iii. Tissue Processing system
        iv. Other instruments
During the forecast era, the consumables segment is anticipated to rise at the highest growth rate. This is mainly due to their need for large numbers, cost-effectiveness, and ease of use. One of the key factors driving the growth of the consumables market globally is the growing number of reagent rental contracts.
Based on Technology: Largest market share to be held by Immunohistochemistry segment in the year 2027.
Based on Technology, the Tissue Imaging market is segmented into:
      a.    Immunohistochemistry 
      b.    In Situ Hybridization
      c.    Digital Pathology and Workflow Management
      d.    Special Staining
In 2019, the Segment of Immunohistochemistry dominate the tissue diagnostic industry. It is predicted that the immunohistochemistry section will register the highest CAGR during the forecast period. This can mostly be due to the growing prevalence of chronic diseases around the world, where tissue diagnostics often use this technology.
Based on Disease: The largest market share in the year 2020 to be held by the laparoscopic application segment.
Based on the disease, the Tissue Imaging market is segmented into:
           a.    Breast Cancer
           b.    Gastric Cancer
           c.    Lymphoma
           d.    Prostate Cancer
           e.    Non-Small Cell Lung Cancer
           f.     Other Diseases
Based on End-Users: The largest market share in the year 2020 to be held by the hospitals end-user segment.
Based on end-users, the market is segmented into:
        a.    Hospitals
        b.    Research Laboratories
        c.    Pharmaceutical Companies
        d.    Contract Research Organizations
        e.    Other End Users
Based on Geography: The Tissue Imaging market is segmented into-
         a.    North America – U.S.A, Canada
         b.    Europe – Germany, UK, France, Italy, Spain, Rest of Europe
         c.    Asia Pacific (APAC) – India, Japan, China, Rest of APAC
         d.    Rest of the World
Significant growth is to be witnessed by the Asia Pacific segment from the year 2021 to 2027. The North American region's tissue imaging market dominance is attributed to increasing cancer incidences, increased funding for research and development activities, increasing demand for personalized medicine, technical advancements in proteomics research, and also the presence in the region of major tissue imaging companies. The key factors driving the growth of the tissue diagnostic market in North America are easy accessibility to advanced technology, government initiatives to screen cancer patients, a favourable reimbursement scenario for pathology diagnostic tests, increasing healthcare spending, and high-quality infrastructure for hospitals and clinical laboratories in this area.
DRIVERS
Increasing occurrence of disorders inciting tissue imaging usage along with Digital device integration with Imaging Technologies and a decent shifting attention to the value-oriented model of healthcare are some of the vital drivers of the global tissue imaging market.
The GelDoc Go Imaging System was introduced by Bio-Rad Laboratories, Inc. to record protein colorimetric bolts, gels & nucleic acids, and stain-free gels & bolts.
In 2019, Hologic received CE approval for ThinPrep Genesis Processor.
Roche (Switzerland) is one of the key players in the market for tissue diagnosis. The organization has a large product range across the world. The firm has retained its leading position in the sector over the years.
OPPORTUNITIES
• Analytics Adoption and Artificial Intelligence in Diagnostic Imaging.
• High potential for growth in innovative novel technologies: technology for spatial transcriptomics.
• In identifying patients with elevated cardiovascular complication risks, direct visualization/imaging of diseased tissues is helpful, allowing physicians to provide personalized risk-based care.
• Strategic alliances offer a way to strengthen creativity and market supremacy.
CHALLENGES
• Reducing Research & Development funds.
• Rigorous requirements for regulations
COMPETITIVE ANALYSIS
Synergistic practices such as alliances and collaborations are primarily favoured by the leading contributors to the global tissue imaging market to improve their operations across the globe and to boost their respective dominance. In addition to it, many industry leaders' partner with start-ups focused on innovations or with emerging players to acquire technology expertise.
Global Tissue Imaging Market Report Coverage
| | |
| --- | --- |
| Report Metric | Details |
| Historical Period | 2015–2020 |
| Base Year Considered | 2021 |
| Forecast Period | 2021 - 2027 |
| Market Size in 2020 | $14.3 billion |
| Revenue Forecast in 2027 | $28.3 billion |
| Growth Rate | CAGR 8.3% |
| Segments Covered in the Report | Product, Technology, Disease and End-Users |
| Report Scope | Market Trends, Drivers, and Restraints; Revenue Estimation and Forecast; Segmentation Analysis; Impact of COVID-19; Companies' Strategic Developments; Market Share Analysis of Key Players; Company Profiling |
| Regions Covered in the Report | North America, Europe, Asia-Pacific, Middle East, and Rest of the World |
Some of the Key Players are:
•    Abcam PLC
•    Bio-Rad Laboratories
•    Becton, Dickinson, and Company
•    Fluidigm Corporation
•    Abbott Laboratories
•    Agilent Technologies
•    Biocare Medical
•    Danaher Corporation
•    F. Hoffmann-La Roche Ltd. 
•    Nikon Corporation
•    Roche (Switzerland)
•    Danaher (US)
•    Thermo Fisher Scientific (US)
•    Abbott (US)
•    Agilent Technologies (US)
•    ABCAM (UK)
•    Merck KGAA (Germany)
Among others are:
•    BD (US)
•    Hologic (US)
•    Bio Rad (US)
•    Biomeriux (France)
•    Sakura Fientek Japan (Japan)
•    BioSB (US), Biogenex (US)
•    Cell Signaling Technology (US)
•    Histoline Laboratories (Italy)
•    Slee Medical GMBH (Germany)
•    Amos Scientific Pty Ltd (Australia)
•    Jinhua Yidi Medical Appliance Co.Ltd (China)
•    Medite GMBH (Germany)
•    Cellpath Ltd(UK)
•    Dipath S.P.A. (Italy)
Primary Research
VynZ Research conducts extensive primary research to understand the market dynamics, validate market data and have key opinions from the industry experts. The key profiles approached within the industry includes, CEO, CFO, CTO, President, Vice President, Product Managers, Regional Heads and Others. Also, end user surveys comprising of consumers are also conducted to understand consumer behavior.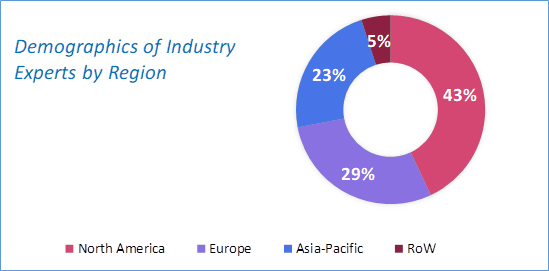 Source: VynZ Research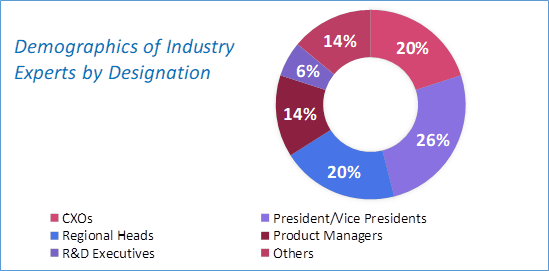 Source: VynZ Research