Industry Overview
Graft is a tube shaped synthetic material, used to patch injured or diseased area of arteries or veins. It is used to redirect flow of blood and restore normal blood flow within the body. The global vascular graft market is growing at significant rate due to rapid growth in geriatric population increasing prevalence of diabetes and cardiovascular disease and increasing prevalence of smoking. The market has witnessed high demand for endovascular aneurysm over the last few years, due to growing geriatric population and increasing demand for minimally invasive surgical procedures.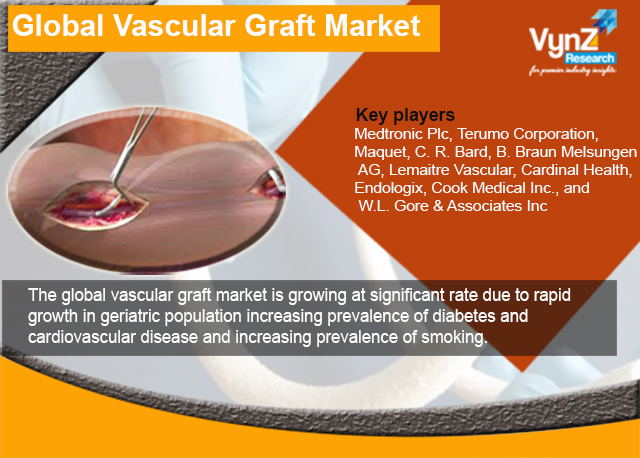 Market Segmentation
Insight by Raw Material
The global vascular graft market has also been subdivided by raw material into polyurethane grafts, polyester grafts, ePTFE grafts, and biosynthetic grafts. Polyester graft hold the largest share in the market due to high demand of polyester material due to its benefits such as greater lifespan, greater absorbency of polyester grafts and high patency.
Insight by Indication
The global vascular graft market has also been categorized by indication into hemodialysis access, endovascular aneurysm repair (EVAR), and peripheral vascular repair. The endovascular aneurysm repair is the most common indication contributing the largest revenue to the global market and the demand for vascular graft products is expected to grow at the fastest rate for the same indication during the projected period due to growing geriatric population, escalating acceptance of endovascular aneurysm repair surgical procedures for conditions such as abnormal aortic disorders or aneurysm, and mounting preference for minimally invasive surgical procedures.
Insight by End-User
The different end users are hospitals and ambulatory surgical centers. The hospitals are the largest end user category and is expected to exhibit grow the faster growth in demand for the vascular graft products due to promising reimbursement scenario for graft procedures in the developed countries, increasing prevalence of cardiovascular diseases, increasing prevalence of end stage renal disease and increasing adoption of minimally invasive procedure in hospitals.
Industry Dynamics
Industry Trends
Development of biosynthetic vascular graft is the major trend in the vascular graft market. The demand of biosynthetic graft is increasing due to biocompatibility, exceptional re-infection resistance and rising acceptance among patients.
Growth Drivers
The rapid increase in aging population, increasing prevalence of cardiovascular diseases, increasing prevalence of vascular disorders, growing prevalence of diabetes and escalating acceptance of minimally invasive surgeries are the primary growth drivers for the global market. For instance, according to the World Health Organization (WHO), in 2015 approximately 17.7 million people died due to cardiovascular disease worldwide. Increasing prevalence of smoking and increasing prevalence of end-stage renal disease (ESRD) are also fueling the growth of the vascular graft industry. For instance, according to the WHO, approximately 1.1 billion smokers live in low and middle-income countries.
Challenges
The product failure and recall, high cost of treatment, and risk of infection and complications are the major challenge for the growth of vascular graft market. Some of the complications associated with grafts are sepsis, disruption of infected anastomotic rigid line, and amputation.
Industry Ecosystem
The key challenge for the new entrants is the survival in capital intensive and highly regulated vascular graft market. In addition, there is less product differentiation offered by existing players, which further increases the competition among the existing players.
Geographic Overview
Geographically, North America is the largest vascular graft market due to increasing healthcare expenditure, increasing prevalence of diabetes, increasing government initiatives and increasing research and development.
Some of the other factors leading to the growth of the North American vascular graft market are increasing geriatric population, increasing prevalence of ESRD, increasing prevalence of cardiovascular disease and increasing adoption of minimally invasive surgeries. For instance, according to Centers of Disease Control and Prevention (CDC), in the U.S. approximately 610,000 people die every year due to heart disease. Moreover, according to CDC in 2017 approximately, 30 million people in the U.S. have chronic kidney disease, and in 2014 approximately 118,000 people in the U.S. started treatment for ESRD.
Asia-Pacific is observed to witness fastest growth in the market as the region comprises of largest population and healthcare infrastructure is improving. In addition, growing geriatric population, increasing number of smokers, increasing medical tourism, and growing adoption of minimally invasive procedures are creating a positive impact on the vascular graft market growth in the region.   
Competitive Insight
Key players in the vascular graft industry are investing in the development of innovative and advance graft products, which is strengthening their position in the market.  In January 2017, Terumo Corporation completed acquisition of vascular closure business and other assets of Abbott and St. Jude Medical. In addition, in May 2017, Medtronic announced the enrollment of first patient with end-stage renal disease in the IN.PACT AV Access Drug-Coated Balloon (DCB) study.
Medtronic Plc, Terumo Corporation, Maquet, C. R. Bard, B. Braun Melsungen AG, Lemaitre Vascular, Cardinal Health, Endologix, Cook Medical Inc., and W.L. Gore & Associates Inc., are some of the key players offering vascular graft products.