Industry Overview
The global wound care biologics market was valued at USD 1.8 billion in 2022, which will grow at a CAGR of 5.7% during the forecast period. Several products such as growth factors, skin substitutes, and collagen-based products majorly contribute to the wound care biologics market size. Increasing geriatric population, increasing the incidence of burn injuries, increasing awareness for wound care management, growing prevalence of ulcer and target conditions are propelling the growth of the market. Wound care biologics offer advanced and innovative solutions for the management of chronic and complex wounds, including diabetic foot ulcers, venous leg ulcers, pressure ulcers, and surgical wounds. These biologics can be derived from different sources, such as human placental tissues, amniotic membranes, growth factors, and extracellular matrices.The market for wound care biologics has been growing rapidly in recent years, driven by factors such as an increasing aging population, a rise in chronic wounds and diabetic foot ulcers, and a growing demand for advanced wound care products. These biologics provide several advantages over traditional wound care products, including enhanced wound healing, reduced healing time, decreased infection rates, and improved patient outcomes.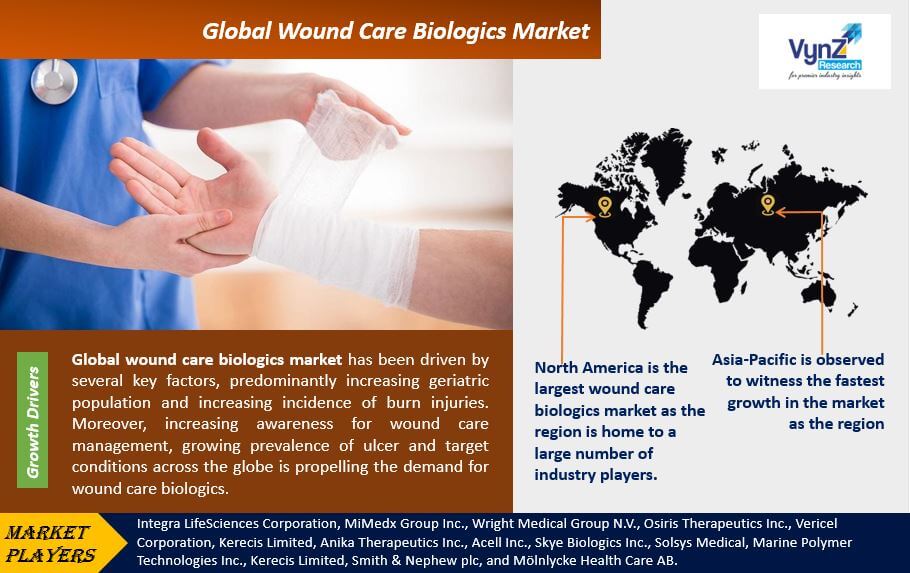 Market Segmentation
Insight by Product
On the basis of product, the global wound care biologics market is categorized into growth factors, skin substitutes, cell-based, collagen-based, enzyme-based, and others. Of all, skin substitutes account for the largest share in the market. The global skin substitutes market is also anticipated to witness significant growth during the forecast period. Growth factors are further categorized into platelet-derived growth factors (PDGF), epidermal growth factors (EGF), insulin-like growth factors (IGF), transforming growth factor-beta (TGF-β), fibroblast growth factors (FGF), and others; whereas skin substitutes are further segmented into acellular animal-derived, human tissue-derived, and biosynthetic. Another category of cell-based products includes viable and non-viable segments.
Insight by Durability
Based on durability, the wound care biologics market is segmented into permanent and temporary biologics. The demand for temporary biologics has witnessed considerable growth over the last few years due to the increasing burn incidences and their lower cost compared to permanent biologics.
Insight by Application
Based on application, the wound care biologics market is segmented into chronic and acute. Among the two categories, chronic would care biologics hold the larger market share due to the growing geriatric population and increasing incidence of pressure ulcers, diabetic foot ulcer and other ulcers.
Insight by End User
Based on end-user, the wound care biologics market is segmented into hospitals and specialty wound care clinics, home healthcare and other end users. The hospital and specialty wound clinics is estimated to account the largest share in the wound care market due to increasing in hospitals and clinics, due to improving healthcare infrastructure in developing countries, increasing number of chronic wound cases and increasing incidence of diabetes.
Global Wound Care Biologics Market Report Coverage
| | |
| --- | --- |
| Report Metric | Details |
| Historical Period | 2018–2022 |
| Base Year Considered | 2022 |
| Forecast Period | 2023 - 2030 |
| Market Size in 2022 | $1.8 Billion |
| Revenue Forecast in 2030 | $x.x Billion |
| Growth Rate | CAGR 5.7% |
| Segments Covered in the Report | By Durability, By Application, By End User |
| Report Scope | Market Trends, Drivers, and Restraints; Revenue Estimation and Forecast; Segmentation Analysis; Impact of COVID-19; Companies' Strategic Developments; Market Share Analysis of Key Players; Company Profiling |
| Regions Covered in the Report | North America, Europe, Asia-Pacific, Middle East, and Rest of the World |
Industry Dynamics
Growth Drivers
Global wound care biologics market has been driven by several key factors, predominantly increasing geriatric population and increasing incidence of burn injuries. Moreover, increasing awareness for wound care management, growing prevalence of ulcer and target conditions across the globe is propelling the demand for wound care biologics. Development of technologically advanced products is also one of the key growth drivers for the global market as conventional methods of wound management are being rapidly replaced by technologically advanced products for effective and faster healing.
Growth Factors: These are proteins that stimulate cell proliferation and tissue regeneration. Examples include platelet-derived growth factors (PDGF), epidermal growth factors (EGF), and transforming growth factors (TGF).
Skin Substitutes: These are biologic or synthetic materials used to replace or augment the skin's function. They can include allografts (human donor skin), xenografts (animal-derived skin), and synthetic grafts.
Extracellular Matrices (ECMs): These are natural or synthetic scaffolds that provide structural support and promote cell migration, proliferation, and tissue remodeling. Examples include collagen-based matrices and hyaluronic acid-based products.
Stem Cells: These are undifferentiated cells that have the potential to differentiate into various cell types. Stem cell therapy is used to promote tissue regeneration and wound healing.
Restraints
The high cost of wound care biologics and stringent regulatory requirements for the approval of products impede the growth of the global wound care biologics market. Moreover, dearth of skilled professionals is also hampering the growth of the wound care biologics market to some extent.
Geography Insight
Geographically, North America is the largest wound care biologics market as the region is home to a large number of industry players. Some of the other factors leading to the growth of the North American market are growing research activities, the highest healthcare expenditure globally, and increasing prevalence of diabetes. For instance, according to Centers for Disease Control and Prevention (CDC), in 2015 approximately 23.1 million people in the U.S. had diabetes. The increasing cases of burn cases and increasing investment for research and development are also supporting the growth of the North American market.
Asia-Pacific is observed to witness the fastest growth in the market as the region comprises of largest population and the awareness for wound management is increasing rapidly among them. In addition, government support for wound management is also creating a positive impact on the wound care biologics market growth in the region.
Competitive Insight
Some of the key players operating in the global wound care biologics market are Integra LifeSciences Corporation, MiMedx Group Inc., Wright Medical Group N.V., Osiris Therapeutics Inc., Vericel Corporation, Kerecis Limited, Anika Therapeutics Inc., Acell Inc., Skye Biologics Inc., Solsys Medical, Marine Polymer Technologies Inc., Kerecis Limited, Smith & Nephew plc, and Mölnlycke Health Care AB.
Forecast Parameters
- Identifying variables and establishing market impact.
- Establishing market trends regionally.
- Analyzing opportunities and market penetration rates by understanding product commercialization, regional expansion.
- Analyzing demand and supply trends and changes in industry dynamics to establish future growth.
- Analyzing sustainability strategies adhered by market participants in an attempt to determine future course of the market.
- Analyzing historical market trends and super-imposing them on the current and future variables to determine the year-on-year trend.
- Understanding adoption, production, export, import, and regulatory framework.
Data Validation
- Estimated and forecasted data was validated through industry experts.
- Apart from industry experts, data triangulation methods were used for validation.
- Bottom-up and top-down approach has been used for estimation and forecast of market data, whereas top-down approach was used for validation.
- Demand, as well as supply-side surveys, were conducted in order to understand the industry dynamics and data validation.
Primary Research
VynZ Research conducts extensive primary research to understand the market dynamics, validate market data and have key opinions from the industry experts. The key profiles approached within the industry include CEO, CFO, CTO, President, Vice President, Product Managers, Regional Heads, and Others. Also, end-user surveys comprising of consumers are also conducted to understand consumer behaviour.
The Wound Care Biologics Market report offers a comprehensive market segmentation analysis along with an estimation for the forecast period 2023–2030.
Segments Covered in the Report
By Product

Growth Factors

Platelet-Derived Growth Factors (PDGF)
Epidermal Growth Factors (EGF)
Insulin-Like Growth Factors (IGF)
Transforming Growth Factor-Beta (TGF-β)
Fibroblast Growth Factors (FGF)
Others

Skin Substitutes

Acellular Animal-Derived
Human Donor-Tissue Derived
Biosynthetic

Cell-Based

Viable
Non-viable

Collagen-Based
Enzyme-Based
Others

By Durability
By Application
By End-User

Hospitals and Specialty Wound Care Clinics
Home Healthcare
Others
Region Covered in the Report
North America
Europe

Germany
U.K.
France
Italy
Spain
Russia
Rest of Europe

Asia-Pacific (APAC)

China
Japan
India
South Korea
Rest of Asia-Pacific

Rest of the World (RoW)

Brazil
Saudi Arabia
South Africa
U.A.E.
Other Countries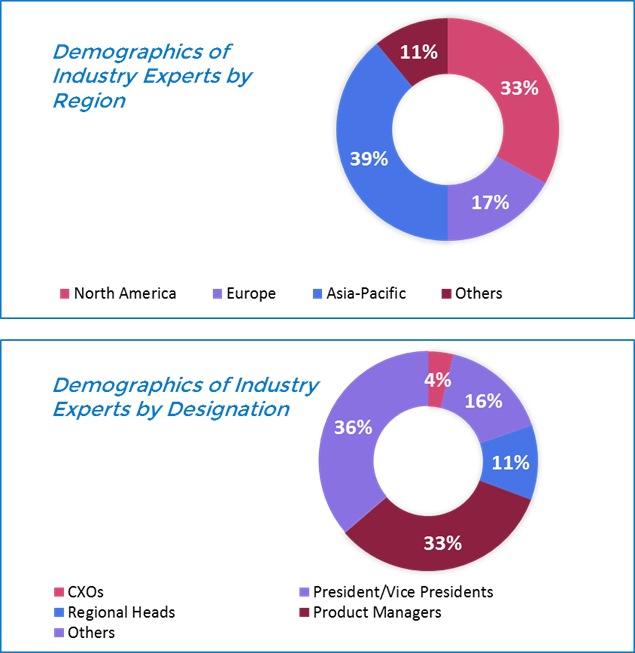 Source: VynZ Research