Industry Overview
The Global Artificial Intelligence (AI) in Retail Market is projected to reach USD 6.4 billion by 2027, registering a CAGR of 36.5% during the forecast period. Increasing e-retail industry, growing investments by retail companies in AI technology, and growing mobile internet penetration, propelling the growth of the market.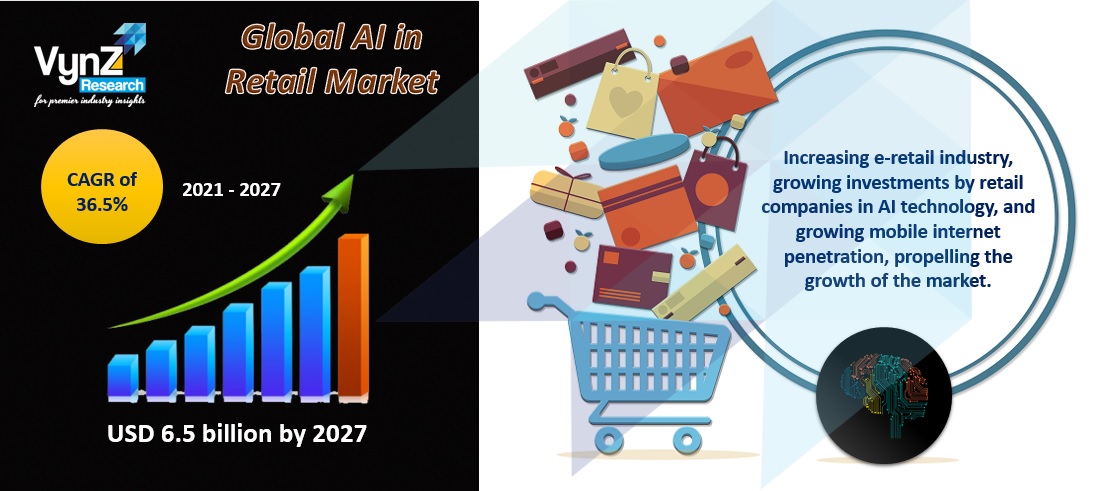 Market Segmentation
Insight by Offering
On the basis of offering, the global AI in retail market is categorized into solution and service, wherein solution category accounted for larger share in 2020. The category is expected to lead throughout the forecast period owing to the mounting adoption of AI technology by e-commerce companies.
Further, solution category is sub-segmented into chatbot, CRM, price optimization, recommendation engine, SCM, visual search, and others. Of all, the recommendation engine category accounted for largest share in 2020.
Further, service category is sub-segmented into professional and managed.
Insight by Technology
Based on technology, the global AI in retail market is segmented into machine learning, NLP, computer vision, and others. Among these categories, the machine learning category accounted for the largest share in 2020, and also it is expected to witness the fastest growth in the market during the forecast period, owing to the increasing adoption of machine learning solution by e-commerce companies to provide better customer experiences by offering personalized services.
Industry Dynamics
Growth Drivers
Global AI in retail market has been driven by several key factors, predominantly increasing adoption of AI solution by e-commerce companies, growing investments by retail companies in AI technology, and growing mobile internet penetration. 
The utilization of AI in retail, traverses each part of the business. Regardless of whether the objective is to upgrade the store network, utilize existing information to build change, or tweak shopping encounters with prescient displaying and smaller scale focusing on or estimating, AI can help address these difficulties in the retail space.
Expanding selection of AI innovation among retailers for multi-channel showcasing can be seen as one of the major factors for the growth of the AI in retail market. The enormous volume of information produced based on in-store shopper conduct, email advertising, and crusade the board, when analyzed, helps identify consumption patterns and develop personalized campaigns, in this manner encouraging better decision making.
The selection of technologies, which includes, chatbot, deep learning, and machine learning is helping in changing the whole advertising procedure in the retail business. For example, Myntra Designs Private Limited, collaborated with Netcore Solutions Pvt. Ltd., used Smartech, an AI-controlled multi-channel advertising stage, which helped the organization improve its email promoting effort by 60%. This in turn, helps in the growth of the AI in retail market.
Geography Insight
Geographically, North America is the largest AI in retail market owing to the presence of several developed economies, such as the United States and Canada, concentrating on improving the current arrangements in the retail space. North America has the essential AI solution suppliers and is an early adopter of AI solution. Numerous retailers in the region have implemented AI-based solutions to enhance their store network tasks and stocks. Artificial intelligence is helping the retailers in overseeing and keeping up their clients and understanding the purchasing behaviors of the buyers. To connect with clients and improve deals turnover, AI technologies are being deployed by both on the web and offline retail organizations.
Competitive Insight    
AI in retail market is fragmented in nature. The increasing adoption of IoT, Big Data analytics, and online business promoting give rewarding chances to AI in the retail market. In general, the focused competition among existing players is high. Market players in the global AI in retail industry are majorly focusing on mergers & acquisitions, product launches, and partnerships to expand their market share.
Some of the key players operating in the global AI in retail market are Infosys Limited, Intel Corporation, Amazon Web Services Inc., ViSenze Pte. Ltd., Evolv Technologies Inc., Numenta Inc., SAP SE, Accenture PLC, Microsoft Corporation, Google LLC, Salesforce.com Inc., Oracle Corporation, and IBM Corporation.
Forecast Parameters
- Identifying variables and establishing market impact.
- Establishing market trends regionally.
- Analyzing opportunities and market penetration rates by understanding product commercialization, regional expansion.
- Analyzing demand and supply trends and changes in industry dynamics to establish future growth.
- Analyzing sustainability strategies adhered by market participants in an attempt to determine the future course of the market.
- Analyzing historical market trends and super-imposing them on the current and future variables to determine the year-on-year trend.
- Understanding adoption, production, export, import, and regulatory framework.
Data Validation
- Estimated and forecasted data was validated through industry experts.
- Apart from industry experts, data triangulation methods were used for validation.
- Bottom-up and top-down approach has been used for estimation and forecast of market data, whereas top-down approach was used for validation.
- Demand, as well as supply-side surveys, were conducted in order to understand the industry dynamics and data validation.
Primary Research
VynZ Research conducts extensive primary research to understand the market dynamics, validate market data and have key opinions from the industry experts. The key profiles approached within the industry include CEO, CFO, CTO, President, Vice President, Product Managers, Regional Heads, and Others. Also, end-user surveys comprising of consumers are also conducted to understand consumer behaviour.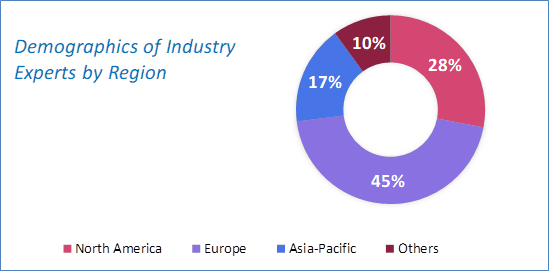 Source: VynZ Research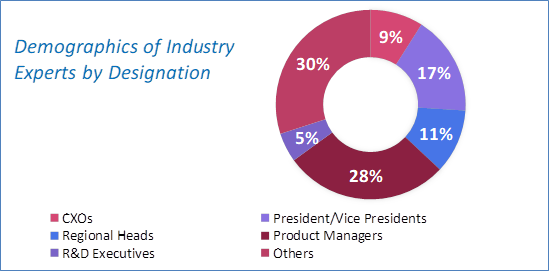 Source: VynZ Research