Industry Overview
The Global Artificial Intelligence (AI) in Retail Market is projected to reach USD 6.4 billion by 2030, registering a CAGR of 36.5% during the forecast period. Increasing e-retail industry, growing investments by retail companies in AI technology, and growing mobile internet penetration, propelling the growth of the market.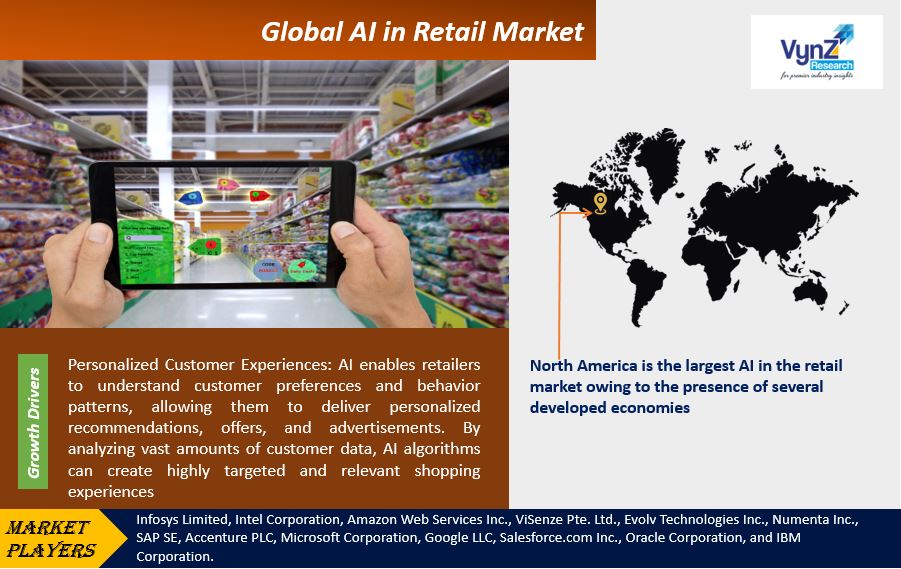 Market Segmentation
Insight by Offering
On the basis of offering, the global AI in the retail market is categorized into solution and service, wherein the solution category accounted for a larger share in 2022. The category is expected to lead throughout the forecast period owing to the mounting adoption of AI technology by e-commerce companies.
Further, the solution category is sub-segmented into the chatbot, CRM, price optimization, recommendation engine, SCM, visual search, and others. Of all, the recommendation engine category accounted for the largest share in 2022.
Further, the service category is sub-segmented into professional and managed.
Insight by Technology
Based on technology, the global AI in the retail market is segmented into machine learning, NLP, computer vision, and others. Among these categories, the machine learning category accounted for the largest share in 2020, and also it is expected to witness the fastest growth in the market during the forecast period, owing to the increasing adoption of machine learning solution by e-commerce companies to provide better customer experiences by offering personalized services.
AI in Retail Market Report Coverage
| | |
| --- | --- |
| Report Metric | Details |
| Historical Period | 2018–2022 |
| Base Year Considered | 2022 |
| Forecast Period | By 2030 |
| Market Size in 2022 | $X.XX Billion |
| Revenue Forecast in 2030 | $6.4 Billion |
| Growth Rate | CAGR 36.5% |
| Segments Covered in the Report | By Offering, By Technology |
| Report Scope | Market Trends, Drivers, and Restraints; Revenue Estimation and Forecast; Segmentation Analysis; Impact of COVID-19; Companies' Strategic Developments; Market Share Analysis of Key Players; Company Profiling |
| Regions Covered in the Report | North America, Europe, Asia-Pacific, Middle East, and Rest of the World |
Industry Dynamics
Growth Drivers
Global AI in the retail market has been driven by several key factors, predominantly increasing adoption of AI solutions by e-commerce companies, growing investments by retail companies in AI technology, and growing mobile internet penetration. 
Personalized Customer Experiences: AI enables retailers to understand customer preferences and behavior patterns, allowing them to deliver personalized recommendations, offers, and advertisements. By analyzing vast amounts of customer data, AI algorithms can create highly targeted and relevant shopping experiences, 
Chatbots and Virtual Assistants: AI-powered chatbots and virtual assistants are increasingly used in retail to handle customer queries, provide product information, and assist with online purchases. These conversational AI systems utilize natural language processing and machine learning techniques to understand and respond to customer inquiries, improving customer service and reducing the workload on human customer support agents.
Demand Forecasting and Inventory Management: AI algorithms can analyze historical sales data, market trends, and external factors to predict future demand for products accurately. This helps retailers optimize their inventory levels, reduce stockouts, minimize overstocking, and improve supply chain efficiency. AI-powered systems can automatically reorder products, optimize pricing strategies, and even suggest promotional campaigns based on demand forecasts.
Pricing Optimization: AI can analyze market dynamics, competitor pricing, customer demand, and other relevant factors to optimize pricing strategies. Dynamic pricing algorithms can automatically adjust prices in real time based on demand and supply conditions, maximizing revenue and profitability for retailers.
Supply Chain Optimization: AI can streamline and optimize various aspects of the supply chain, including procurement, logistics, and transportation. By analyzing data from multiple sources, such as weather conditions, traffic patterns, and delivery routes, AI algorithms can optimize inventory allocation, reduce transportation costs, and improve overall supply chain efficiency.
The selection of technologies, which includes, chatbot, deep learning, and machine learning is helping in changing the whole advertising procedure in the retail business. For example, Myntra Designs Private Limited which collaborated with Netcore Solutions Pvt. Ltd., used Smartech, an AI-controlled multi-channel advertising stage, which helped the organization improve its email promoting effort by 60%. This in turn, helps in the growth of the AI in the retail market.
Geography Insight
Geographically, North America is the largest AI in the retail market owing to the presence of several developed economies, such as the United States and Canada, concentrating on improving the current arrangements in the retail space. North America has the essential AI solution suppliers and is an early adopter of AI solutions. Numerous retailers in the region have implemented AI-based solutions to enhance their store network tasks and stocks. Artificial intelligence is helping retailers in overseeing and keep up with their clients and understand the purchasing behaviors of the buyers. To connect with clients and improve deal turnover, AI technologies are being deployed by both on-the-web and offline retail organizations.
Competitive Insight    
AI in the retail market is fragmented in nature. The increasing adoption of IoT, Big Data analytics, and online business promotion give rewarding chances to AI in the retail market. In general, the focused competition among existing players is high. Market players in the global AI in the retail industry are majorly focusing on mergers & acquisitions, product launches, and partnerships to expand their market share.
Some of the key players operating in the global AI in the retail market are Infosys Limited, Intel Corporation, Amazon Web Services Inc., ViSenze Pte. Ltd., Evolv Technologies Inc., Numenta Inc., SAP SE, Accenture PLC, Microsoft Corporation, Google LLC, Salesforce.com Inc., Oracle Corporation, and IBM Corporation.
Forecast Parameters
- Identifying variables and establishing market impact.
- Establishing market trends regionally.
- Analyzing opportunities and market penetration rates by understanding product commercialization, and regional expansion.
- Analyzing demand and supply trends and changes in industry dynamics to establish future growth.
- Analyzing sustainability strategies adhered by market participants in an attempt to determine the future course of the market.
- Analyzing historical market trends and super-imposing them on the current and future variables to determine the year-on-year trend.
- Understanding adoption, production, export, import, and regulatory framework.
Data Validation
- Estimated and forecasted data was validated through industry experts.
- Apart from industry experts, data triangulation methods were used for validation.
- Bottom-up and top-down approach has been used for the estimation and forecast of market data, whereas the top-down approach was used for validation.
- Demand, as well as supply-side surveys, were conducted in order to understand the industry dynamics and data validation.
Primary Research
VynZ Research conducts extensive primary research to understand the market dynamics, validate market data and have key opinions from industry experts. The key profiles approached within the industry include CEO, CFO, CTO, President, Vice President, Product Managers, Regional Heads, and Others. Also, end-user surveys comprising of consumers are also conducted to understand consumer behavior.
The AI in Retail Market report offers a comprehensive market segmentation analysis along with an estimation for the forecast period 2023–2030.
Segments Covered in the Report
By Offering

Solution

Chatbot
Customer Relationship Management (CRM)
Supply Chain Management (SCM)
Price Optimization
Recommendation Engine
Visual Search
Others

Service

By Technology

Machine Learning
Natural Language Processing (NLP)
Computer Vision
Others
Region Covered in the Report
North America
Europe

Germany
U.K.
France
Italy
Spain
Russia
Rest of Europe

Asia-Pacific (APAC)

China
Japan
India
South Korea
Rest of Asia-Pacific

Rest of the World (RoW)

Brazil
Saudi Arabia
South Africa
U.A.E.
Other Countries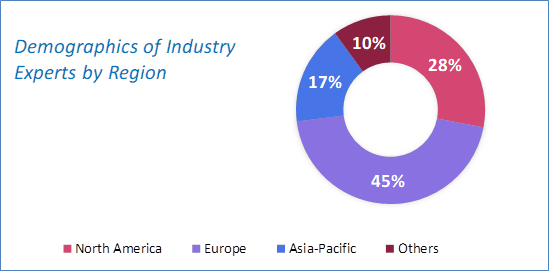 Source: VynZ Research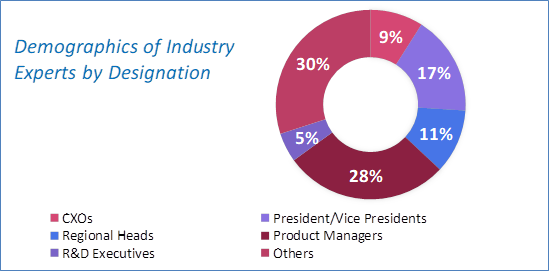 Source: VynZ Research