Industry Overview
A digital signature uses asymmetrical cryptography that is used for the purpose of documenting the digtal message. This technology is extremely beneficial for solving interference related problem in digital impersonation and communication. They are extensively being used for the purpose by the business organizations to certify and support contents such as word documents, emails, and PDFs. The global digital signature market is projected to contribute the largest revenue of USD 6.8 billion by 2030 and is further expected to grow at a CAGR of 28.7% during the forecast period. The growth of this market is attributed towards structured workflow, greater security measures and deduced cost that leads to efficient operational efficiencies for the organizations.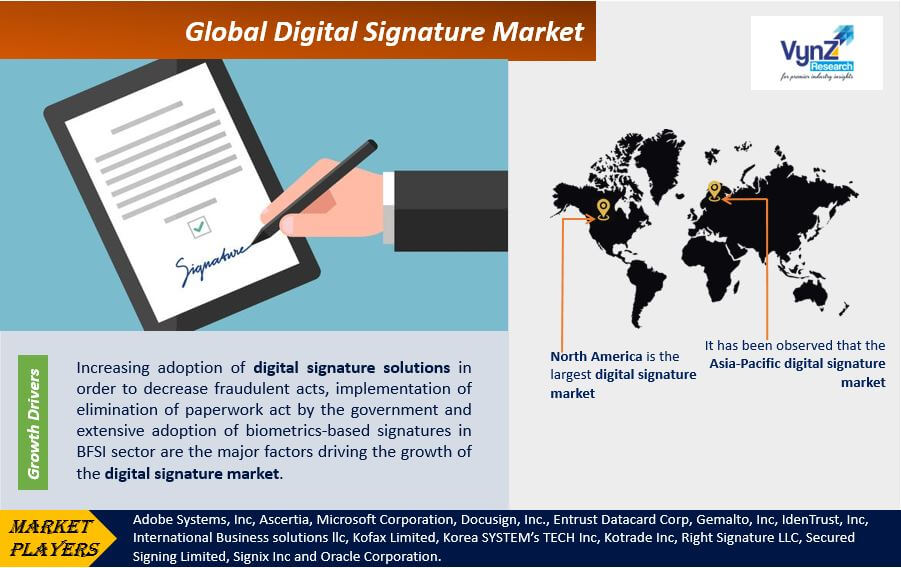 Moreover, the extensive number of government-aided initiatives along with associations of several industries helps in developing several awareness initiatives for several industries that are further expected to bolster the growth of the digital signature industry. It has been observed that the workflow of business organizations with the use of digital signature is evolving at a rapid pace, for instance, enterprises are able to send legal and business documents via an authenticated platform that causes reduced risk.
Market Segmentation
Insight by Solution
On the basis of solution, the market is segmented into hardware, software, and services. Among all these segments, software segment is expected to witness the fastest growth at a CAGR of 28.5% during the forecast period. The growth of this segment is attributed towards reduced transaction time and costs associated with this technology. Furthermore, increased application of this technology across different industries in order to improve efficiencies and enhance benefit of users is expected to further fuel the growth of the digital signature market.
Insight by Deployment Model
On the basis of deployment, digital signature market is segmented into on-premise and cloud-based deployment. Among these segments, the cloud-based deployment model is expected to witness faster growth owing to increasing utilization of these deployments by several business enterprises across various industry verticals.  Moreover, these deployments offer
Moreover, the cloud-based model is also expected to contribute the larger share in the market with revenue of around USD 3.7 billion by 2030. The users find this deployment quiet convenient and provide the options to the organizations to develop multi-dimensional signatures by deducing the operational costs and transaction time, which is ultimately driving the growth of digital signature market across the globe.
GLOBAL DIGITAL SIGNATURE MARKET SHARE, BY DEPLOYMENT MODEL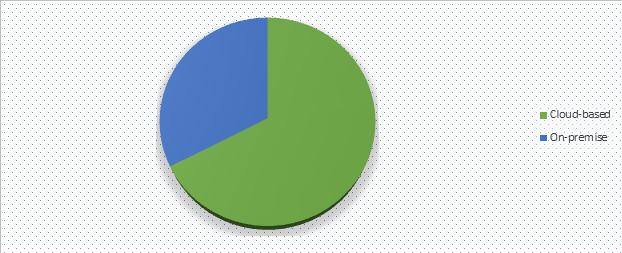 Insight by Application
On the basis of application, the digital signature market is segmented into government, healthcare and life science, telecom, banking, retail, and others. Among all these industries, the extensive demand for the digital signature market is observed in the banking industry. The demand for this technology in this sector is attributed to the increasing benefits of digital signatures such as the steady process of invoices, enriched compliances, and deducted turnaround time for a particular document.
Digital Signature Market Report Coverage
| | |
| --- | --- |
| Report Metric | Details |
| Historical Period | 2018–2022 |
| Base Year Considered | 2022 |
| Forecast Period | By 2030 |
| Market Size in 2022 | $X.XX Billion |
| Revenue Forecast in 2030 | $6.8 Billion |
| Growth Rate | CAGR 28.7% |
| Segments Covered in the Report | By Product Type, By Wound Type, By Application, and By End-User |
| Report Scope | Market Trends, Drivers, and Restraints; Revenue Estimation and Forecast; Segmentation Analysis; Impact of COVID-19; Companies' Strategic Developments; Market Share Analysis of Key Players; Company Profiling |
| Regions Covered in the Report | North America, Europe, Asia-Pacific, Middle East, and Rest of the World |
Industry Dynamics
Growth Drivers
Increasing demand for secure transactions: With the rise of e-commerce, online banking, and digital document exchange, there is a growing need for secure and trusted transactions. Digital signatures provide a way to authenticate and verify the identity of parties involved in a transaction, ensuring the integrity and non-repudiation of documents.
Legal and regulatory requirements: Many countries have implemented legislation and regulations that recognize digital signatures as legally binding. Organizations in sectors such as finance, healthcare, and government are required to use digital signatures to comply with these regulations.
Cost and time savings: Digital signatures eliminate the need for printing, scanning, and physically signing documents, resulting in significant cost and time savings for businesses. They enable faster contract signing, reduce paperwork, and streamline business processes.
Advancements in technology: The development of advanced encryption algorithms, cloud-based solutions, and mobile devices has made digital signature solutions more accessible and user-friendly. Integration with existing business applications and platforms has also become easier, driving adoption across various industries.
Increasing awareness and education: As organizations and individuals become more aware of the benefits and legal validity of digital signatures, the adoption rate continues to rise. Industry initiatives and educational programs have played a crucial role in promoting the understanding and use of digital signatures.
Challenges
Implementation of stringent norms by the government authorities leading to uncertainties regarding electronic and digital signatures is expected to hamper the growth of the digital signature market. Additionally, redundant technology adopted in the development of digital signatures along with the inconsistency among various technologies of these signatures is expected to further hinder the growth of the digital signature market.
Industry Ecosystem
Globally industry players in the digital signature market are leveraging market growth through technological advancements in upgrading the security measures of these signatures. The key players in this industry are further emphasizing new product development and launches along with entering into partnership agreements in order to expand their consumer base across the globe.
Geographic Overview
Geographically, North America is the largest digital signature market with more than 40% revenue contribution to the global market in 2022 and the market is projected to witness significant growth in the coming years, owing to extensive growth opportunities observed due to the flourishing demand of these signatures from legal and financial sector along with adhering of strict cyber regulatory reforms.
GLOBAL DIGITAL SIGNATURE MARKET, BY REGION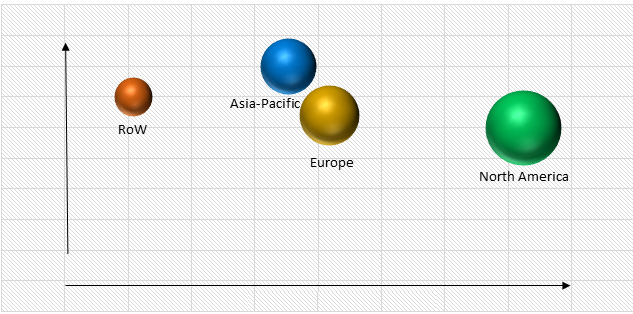 Furthermore, it has been observed that the Asia-Pacific digital signature market is expected to witness the highest growth owing to extensive adoption of this technology in various small and medium and large enterprises. Additionally, the government of India has implemented several measures in order to enhance the growth of the digital signature market in this region.
Competitive Insight
Some of the key players in the global digital signature industry are Adobe Systems, Inc, Ascertia, Microsoft Corporation, Docusign, Inc., Entrust Datacard Corp, Gemalto, Inc, IdenTrust, Inc, International Business Solutions LLC, Kofax Limited, Korea SYSTEM's TECH Inc, Kotrade Inc, Right Signature LLC, Secured Signing Limited, Signix Inc and Oracle Corporation.