Industry Overview
The global digital twin market was valued at $3.3 billion in 2020 and is estimated to reach $50.2 billion by 2027, witnessing a CAGR of 58.2% during the forecast period 2021-2027. The digital twin is an imitation of a product, process, or service that can be a living or non-living object. The digital twin technology pairs physical and virtual world to analyze data and monitor systems so as to envisage the problems before it happens. Thus, it provides companies with opportunities and plans for future events by adopting virtual model stimulations.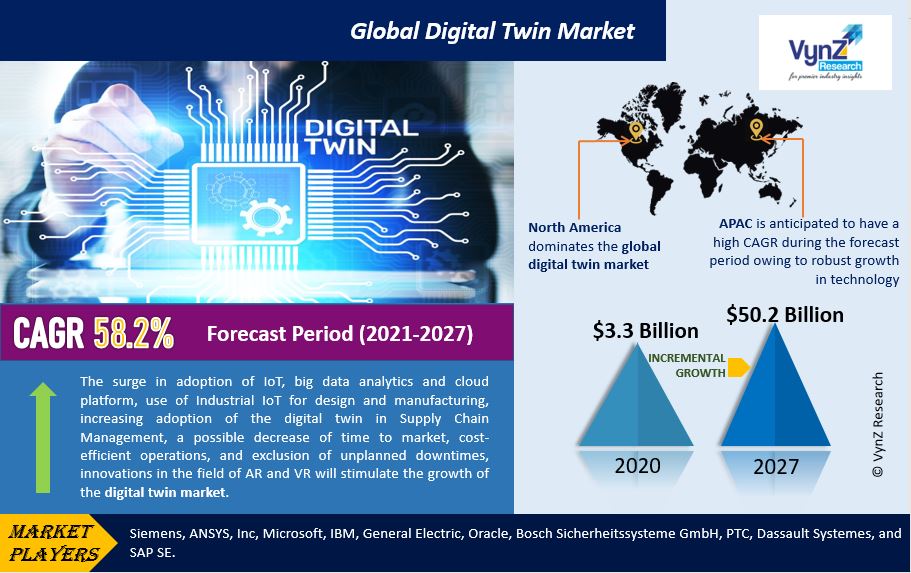 The snowflaking demand for digital twins in the healthcare and pharmaceutical sector due to the COVID-19 pandemic, the shifting face of maintenance, increasing adoption of digital twin solutions to handle the COVID-19 outbreak are the aspects that are propelling the growth of the global digital twin market. Moreover, benefits connected with process automation and cloud computing will propel businesses to choose digital twins to enhance process efficiency. The proliferation of IoT devices has led to the adoption in various industry verticals like manufacturing, healthcare, agriculture, energy and utilities, and automotive industries. The digital twins' aids in augmenting instore planning, energy management, and security implementation that further stimulates market growth.
Market Segmentation
Insight by Type
Based on type, the global digital twin market is categorized into product digital twin, process digital twin, and system digital twin. System digital twin is expected to hold the largest share in the market by 2027 owing to the increased adoption of the digital twins in various applications. For instance, in the aerospace & defense sector, the LOCOMACHS has employed digital twin in their entire assembly line to monitor the performance of aircraft wings. Moreover, the product category is anticipated to have a high CAGR during the forecast period as it helps companies to gather information about each component of the product, enhances visibility, and minimizes the mean time between failure (MTBF) and mean time to repair (MTTR). Thus., provides cost-efficient products and increases business productivity.
Insight by Technology
Based on the technology, the global digital twin market is segregated into the Internet of Things (IoT) & Industrial Internet of Things (IIoT), Blockchain, Artificial Intelligence (AI) & Machine Learning (ML), augmented Reality, Virtual Reality & Mixed Reality, Big Data Analytics, and 5G. The IoT segment holds the largest share in the digital twin market owing to the rising inclination towards sensor-driven product development. The IoT is transforming business as it enhances operations, improves system productivity, and increases sales. The developers are predominantly developing IoT-enabled digital twin solutions to strengthen their foothold in the market. Some of the players like Abb, GE, Siemens AG, AVEVA Group plc., have adopted IoT-enabled digital twin solutions in their portfolio.
Insight by Application
Based on application, the global digital twin market is segmented into performance monitoring, predictive maintenance, product design & development, business optimization, inventory management. Among these applications, predictive maintenance dominates the market in 2020 owing to increasing adoption by various industrial verticals post-COVID-19 pandemic. Predictive maintenance is the need of an hour as breakdown and downtime can result in huge losses to the organization. These unanticipated interruptions can be prevented by taking suitable measures and efficient planning for maintenance such as sensors are attached to the product during the product development phase that generates data and forecasts faulty conditions through stimulations. Thus, specialists can analyze maintenance workflow and do testing on all sorts of possible fault conditions. Hence, organizations are choosing digital twin solutions and focusing on digital-driven asset management.
Insight by Industry Vertical
Based on industry vertical, the global digital twin market is segregated into manufacturing, aerospace & defense, automotive & transportation, home & commercial, healthcare & life sciences, energy & utilities, oil & gas, agriculture, telecommunication, retail & consumer goods, and others. Automotive & transportation are anticipated to witness high growth post-COVID-19 crisis as key players adopt digital solutions for their end-to-end operations that will minimize the loss that occurred during the COVID-19 crisis.
The digital twin in healthcare & life science is anticipated to grow significantly owing to the spread of coronavirus as it establishes an interconnected system that will represent the digital image on the entire hospital, system, and other devices. Furthermore, the digital twin of human bodies and individual organisms will help in studying surgical procedures in a replicated environment before being carried out on a patient, thus enhancing patent outcomes and decreasing the mortality rate.
Industry Dynamics
Industry Trends
The digital twin market is anticipated to have substantial growth owing to the surge in adoption of Industry 4.0 evolution along with rising demand for connected devices r globally and is a trend prevalent in the manufacturing sector. Moreover, the use of a common platform for digital twin aggregates like a fleet of jet engines needs to deploy a common platform to collect data from the systems, thus providing an effective learning system for the physical world.
Growth Drivers
The surge in adoption of IoT, big data analytics and cloud platform, use of Industrial IoT for design and manufacturing, increasing adoption of the digital twin in Supply Chain Management, a possible decrease of time to market, cost-efficient operations, and exclusion of unplanned downtimes, innovations in the field of AR and VR will stimulate the growth of the digital twin market. The surge in adoption of digital twins in the healthcare sector during the COVID-19 pandemic plays a vital role in monitoring the health of patients, use and impact of tablets, detecting recovered patients, etc., will fuel the growth of the digital twin market.
Challenges
The implementation of digital technologies like IoT, cloud, big data, and AI has led to the occurrence of viruses and cyberattacks resulting in challenging the data security of an enterprise. Moreover, the lack of skilled force and technical knowledge, lack of awareness about cost benefits associated with digital twins may hamper the growth of the digital twin market.
Opportunities
The proliferation of digital twin technologies in the manufacturing industry to handle issues like curb the spread of coronavirus, rising adoption of Industry 4.0/ smart manufacturing, and IIoT will create promising opportunities for growth in the digital twin market.
Geographic Overview
North America dominates the global digital twin market owing to the advancement in software and deployment of automated solutions in manufacturing industries, high economic growth, presence of prominent players that will stimulate growth in the digital twin market. In addition, the mounting R&D investment in the field of IoT and IIoT, surge in demand for effective and cost-efficient technologies for product manufacturing will accelerate the growth in the region.
APAC is anticipated to have a high CAGR during the forecast period owing to robust growth in technology, urbanization, industrialization, and adoption of digital twins across industries. China has proliferated digital transformation in manufacturing industries for product, design, and development.
Competitive Insight
The COVID-19 outbreak has forced manufacturers to focus on product launch, product enhancement by investing in research and development activities to increase their share and are customizing products to meet customer needs. Furthermore, the industry players are entering into collaborations, partnerships, and workflows across different groups like product design, sales, and maintenance teams, and engineering disciplines.
General Electric has released new versions of Proficy Analytics Solutions, Proficy SCense 8.0, and Proficy Sensor Health. This software adopts digital twin technology to deliver innovative solutions for efficient operations, enhance product quality, improve safety and minimize downtime. Thus, will proliferate the demand for digital twins and is expected to propel the market growth in the emergency time.
Bosch Building Technologies, a division of Bosch Group, developed energy and cost-saving solution for its internal operations. The energy platform uses Microsoft Azure Digital Twin to monitor and analyze energy consumption in real-time to support business processes and provide operators with actionable insights.
Microsoft Azure has built a comprehensive digital model of the environments as it provides an IoT platform to create a digital representation of the real world that includes things, places, business processes, and people.
GE focuses on industrial infrastructure and by using digital twins they have focused on the life of an asset. Digital Twin is a vision and framework that differentiates GE from its competitors. GE Digital Twins' core expertise is physical domain and blends digital and physical assets and virtual sensors on assets.
Some of the key players operating in the digital twin market: Siemens, ANSYS, Inc, Microsoft, IBM, General Electric, Oracle, Bosch Sicherheitssysteme GmbH, PTC, Dassault Systemes, and SAP SE.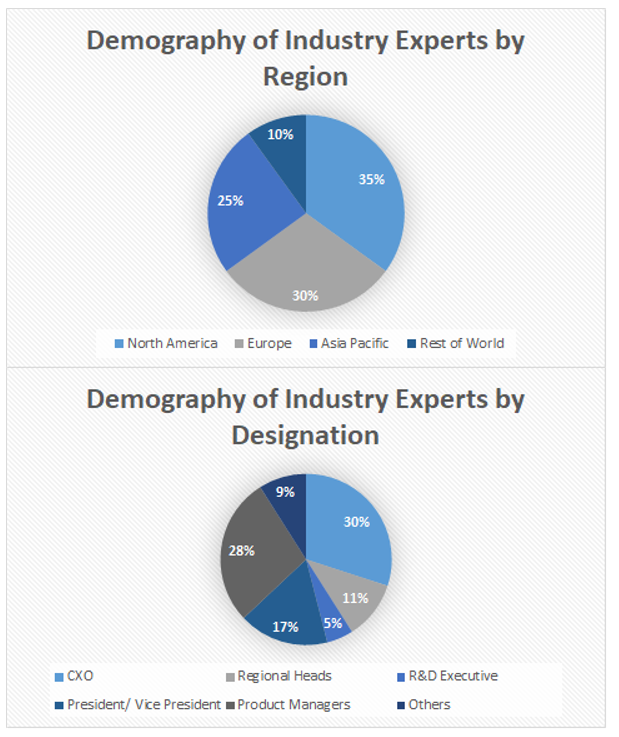 Source: VynZ Research