Industry Overview
The market for digital twins was valued at $48.3 billion in 2022, and it is expected to grow at a CAGR of 9.2% from 2023 to 2030, to reach $95.2 billion by 2030. A procedure, product, or service that can be a live or non-living thing is imitated by a digital twin. The physical and virtual worlds are combined using digital twin technology to evaluate data and monitor systems in order to anticipate issues before they arise. Using virtual model stimulations, it gives businesses possibilities and strategies for upcoming occurrences.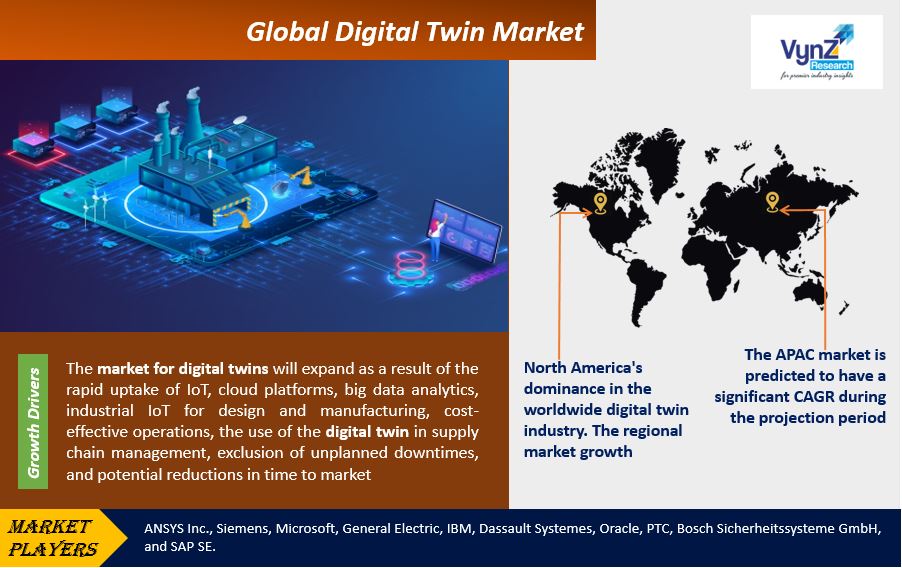 The driving factors for the worldwide digital twin market include soaring demand for digital twins in the healthcare and pharmaceutical industries to control the COVID-19 pandemic and the changing nature of maintenance. Additionally, advantages associated with cloud computing and process automation will encourage firms to select digital twins to improve process efficiency. Moreover, the demand for IoT devices has increased across a number of industrial sectors, including energy and utilities, manufacturing, agriculture, healthcare, and automobile. The use of digital twins improves in-store planning, security implementation, and energy management, which further fosters market expansion.
Market Segmentation
Insight by Type
The market is categorized into product digital twin, system digital twin, and process digital twin, based on type. Due to the growing use of digital twins in numerous applications, the system digital twin category is predicted to hold the biggest market share by 2030. For instance, the LOCOMACHS has implemented digital twins throughout its entire assembly process to track the performance of aircraft wings in the aerospace and defense industry. Additionally, due to its ability to improve visibility, and reduce the mean time between failures, the product category is predicted to grow at a rapid rate during the projection period. Consequently, it offers affordable goods and raises corporate productivity.
Insight by Technology
Artificial intelligence (AI), internet of things (IoT), industrial internet of things (IIoT), blockchain, big data analytics, machine learning (ML), 5G, augmented reality, virtual reality, and mixed reality are the key technologies that make up the worldwide digital twin market. Due to the growing trend toward sensor-driven product development, the IoT category holds the biggest market share for digital twins. As it optimizes operations and boosts system productivity and revenues, this technology is revolutionizing businesses. To increase their market share, developers are mostly working on IoT-enabled digital twin solutions. For instance, Abb, Siemens AG, GE, and AVEVA Group plc. are a few companies that have integrated IoT-enabled digital twin solutions into their product offerings.
Insight by Application
The global digital twin market is categorized into five application-specific segments: predictive maintenance, product design & development, inventory management, business optimization, and performance monitoring, based on application. Among these, predictive maintenance is the market leader, as a result of its increased adoption by numerous industry verticals following the COVID-19 pandemic. Also, predictive maintenance is urgently needed because downtime and breakdowns can cost the company a lot of money. By taking the appropriate precautions and planning effectively for maintenance, such as attaching sensors to the device throughout the product development phase that create data and forecast problematic circumstances through stimulations, these unexpected interruptions can be avoided. Specialists can examine maintenance processes and test for a variety of fault scenarios as a result. Thus, companies are selecting digital twin solutions and concentrating on digital-driven asset management.
Insight by Industry Vertical
The market is categorized into manufacturing, automotive & transportation, aerospace & military, home & commercial, energy & utilities, healthcare & life sciences, retail & consumer goods, oil & gas, communications, agricultural, and others, based on industry vertical. Following the COVID-19 disaster, it is projected that the automotive & transportation sector would experience rapid growth as major companies implement digital solutions for their end-to-end operations to reduce the loss experienced during the COVID-19 crisis.
The proliferation of the coronavirus is expected to have a digital twin big positive impact on the healthcare and life sciences industries because it will create an interconnected system that reflects digital pictures across the entire hospital, system, and other devices. Additionally, the digital twins of human bodies and individual organisms will make it possible to test surgical techniques in a simulated setting before putting them to use on real patients, improving patient outcomes and lowering death rates.
Digital Twin Market Report Coverage
| | |
| --- | --- |
| Report Metric | Details |
| Historical Period | 2018–2022 |
| Base Year Considered | 2021 |
| Forecast Period | 2023 - 2030 |
| Market Size in 2021 | $48.3 Billion |
| Revenue Forecast in 2030 | $95.2 Billion |
| Growth Rate | CAGR 9.2% |
| Segments Covered in the Report |      By Type, By Technology, By Application, By     Industry Vertical. |
| Report Scope | Market Trends, Drivers, and Restraints; Revenue Estimation and Forecast; Segmentation Analysis; Covid-19, Companies' Strategic Developments; Market Share Analysis of Key Players; Company Profiling |
| Regions Covered in the Report | North America, Europe, Asia-Pacific, Middle East, and the Rest of the World |
Industry Dynamics
Industry Trends
Due to the rapid acceptance of Industry 4.0 evolution and the increased need for connected devices globally, the increasing adoption of digital twins in the manufacturing industry is a key market trend. Additionally, the deployment of a common platform for digital twin aggregates, such as a fleet of jet engines, requires the collection of data from the systems, which creates a powerful learning system for the physical world.  
Digital twin technology enables organizations to monitor, analyze, and optimize the performance of physical assets and processes in real time. By creating a virtual representation, companies can gain valuable insights into the behavior, condition, and performance of their assets, helping them make informed decisions, improve operational efficiency, and reduce costs.
Growth Drivers
The market for digital twins will expand as a result of the rapid uptake of IoT, cloud platforms, big data analytics, industrial IoT for design and manufacturing, cost-effective operations, the use of the digital twin in supply chain management, exclusion of unplanned downtimes, and potential reductions in time to market, as well as advancements in AR and VR. Moreover, due to the COVID-19 pandemic, the rapid adoption of digital twins in the healthcare industry, which is crucial for monitoring patient health and identifying patients who have recovered, will drive the market for digital twins.
Improved Decision-Making: Real-time data from digital twins empowers organizations to make data-driven decisions. By visualizing and analyzing complex data sets, stakeholders can gain insights into performance trends, identify bottlenecks, and optimize operations.
Remote Monitoring and Control: Digital twins enable remote monitoring and control of physical assets, allowing companies to operate and manage assets from anywhere in the world. This is particularly valuable for global organizations with distributed assets.
Product Development and Innovation: Digital twins facilitate virtual prototyping and testing, enabling companies to iterate and optimize product designs before physical production. This reduces development costs, speeds up time to market, and fosters innovation.
Challenges
The usage of digital technologies like IoT, big data, cloud, and AI has prompted the emergence of viruses and cyberattacks, posing a threat to an organization's data security. Additionally, a lack of technical expertise, a shortage of skilled labor, and a lack of information about the financial advantages of digital twins could restrain the market's expansion.
Opportunities
Promising potential for growth in the digital twin market will be created by the widespread use of digital twin technologies in the manufacturing sector to address concerns, including containing the spread of the coronavirus, increased acceptance of Industry 4.0/smart manufacturing, and IIoT.
Geographic Overview
The development of software, the rapid economic growth, the use of automated solutions in the manufacturing sector, and the presence of well-known businesses all contribute to North America's dominance in the worldwide digital twin industry. The regional market growth will also be accelerated by the rising R&D expenditure in the IoT and IIoT fields as well as the spike in demand for efficient and affordable manufacturing technology.
On the other hand, due to the rapid development of technology, the surge in rates of industrialization and urbanization, and the adoption of digital twins across industries, the APAC market is predicted to have a significant CAGR during the projection period. Moreover, digital transformation is widely used in China's manufacturing sector for design, production, and development.
Recent Development by Key Players
Cisco and Telstra signed a new agreement in September 2021 to work together and maintain their bridge areas with the potent IoT network to support a variety of industries, including retail, banking, and government.
IBM and Boston Dynamics have collaborated in October 2021 to introduce mobile edge analytics to industrial operations. With the support of this association, IBM has started providing data analysis at the edge to industrial enterprises so they can enhance worker safety, streamline field operations, and increase maintenance productivity in settings including factories, power plants, and warehouses.
A long-term strategic partnership between PTC and Technion, an Israel Institute of Technology, was established in April 2021. With this partnership, PTC will construct a research and development center and invest USD 5 million in PTC's Haifa Campus. As part of the partnership, PTC and Technion will jointly conduct research and develop new advanced manufacturing technology methods.
Competitive Insight
The COVID-19 outbreak has compelled manufacturers to concentrate on product launches and enhancement by investing in R&D operations to grow their share, and customizing their products to fulfill consumer needs. Additionally, industry participants are establishing partnerships and collaborations with other teams, including engineering disciplines, maintenance, sales, and product design, to improve their position in the market.
Some of the key players operating in the digital twin market include ANSYS Inc., Siemens, Microsoft, General Electric, IBM, Dassault Systemes, Oracle, PTC, Bosch Sicherheitssysteme GmbH, and SAP SE.
The Global Digital Twin Market report offers a comprehensive market segmentation analysis along with an estimation for the forecast period 2022–2030.
Segments Covered in the Report
By Type

Product Digital Twin
Process Digital Twin
System Digital Twin

By Technology 

Internet of Things (IoT) & Industrial Internet of Things (IIoT)
Blockchain
Artificial Intelligence (AI) & Machine Learning (ML)
Augmented Reality, Virtual Reality & Mixed Reality
Big Data Analytics
5G

By Application 

Performance Monitoring
Predictive Maintenance
Product Design & Development
Business Optimization
Inventory Management)

By Industry Vertical

Manufacturing
Aerospace & Defense
Automotive & Transportation
Home & Commercial
Healthcare & Life Sciences
Energy & Utilities
Oil & Gas
Agriculture
Telecommunication
Retail & Consumer Goods
Others

North America
Europe

Germany
U.K.
 France
 Italy
 Spain
 Russia
 Rest of Europe

Asia-Pacific (APAC)
 Japan
 India
 South Korea
  Rest of Asia-Pacific
Rest of the World (RoW)

Brazil
Saudi Arabia
South Africa
U.A.E.
 Other Countries

Source: VynZ Research