Industry Overview
The global electronic design automation tools (EDA) market was valued at USD 10.5 billion in 2022 and is anticipated to reach USD 19.1 billion by 2030, registering a CAGR of 9.48% during the forecast period 2023-2030. The Electronic Design Automation (EDA) tools market refers to the industry that provides software tools and services to facilitate the design and development of electronic systems and integrated circuits (ICs). These tools are used by semiconductor companies, electronic product manufacturers, and design engineers to design, simulate, verify, and manufacture electronic components and systems.EDA tools play a critical role in the entire electronics product development process, starting from conceptualization and design to manufacturing and testing. These tools enable engineers to design and analyze complex electronic systems, optimize circuit performance, validate designs through simulations, and generate manufacturing files necessary for fabrication.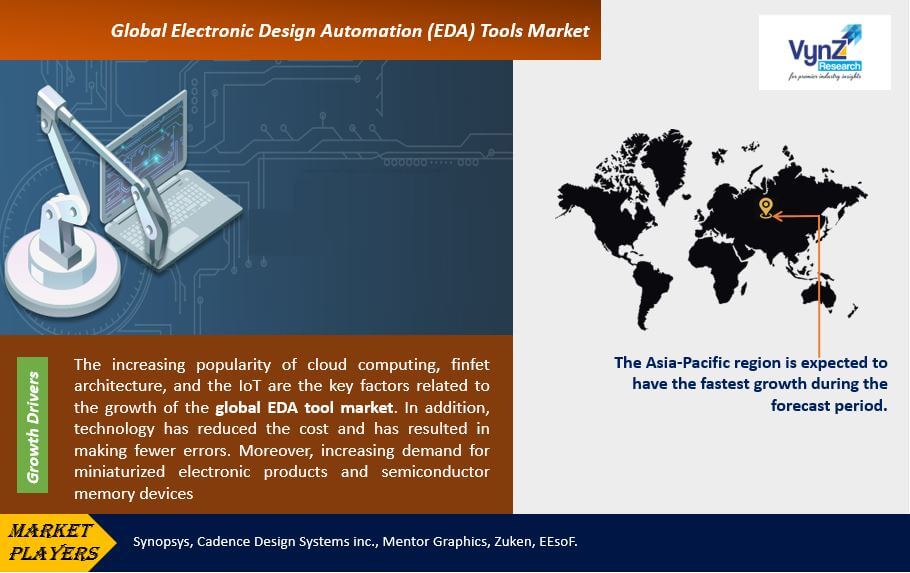 EDA, electronic design automation, also known as electronic-computer aided electronic design. It is a software tool for designing electronic systems such as integrated circuits and printed circuit boards and also delivers a superior level of scalability in circuit boards. Adopting this technology reduces costs, effective design time, and reduces errors. This allows the industry to witness the growing demand for these tools in the automotive, consumer electronics, and defense sectors and further strengthens the growth of the global market for EDA tools.
The COVID-19 pandemic has caused minor disruptions to the entire market due to the limited hardware supply and logistics challenges in the first quarter of the pandemic. The COVID19 pandemic has increased the demand for automation in various industries and there is a need to continue work with the help of minimum labor. Therefore, the increase in automation is expected to create demand for semiconductors and electronic products, which will bring new growth opportunities to the market in the next few years.
Market Segmentation
Insight by Type
On the basis of type, the EDA tools market is bifurcated into on-premise solutions and cloud-based solutions. Between these two market segments, on-premise solutions are expected to grow faster during the forecast period. On-premises solutions are considered to be a flexible, safe, and reliable choice that can help business enterprises effectively manage funds, time, and resources into their core business strategies. The emerging cloud-based solutions will spur the demand for the EDA tools market. The increase in complexity of SoC designs emphasized the need to add new features and compute power to designs which can be done by cloud-based solutions as it offers scalability functionality.
Insight by Product Type
On the basis of product type the global EDA tools market is segmented into printed circuit board (PCB) and multi-chip module (MCM), computer-aided engineering (CAE), semiconductor intellectual property (SIP), IC physical design & verification, and services. Semiconductor intellectual property is expected to generate the highest revenue as it is considered a reusable functional unit that develops various building blocks in chip manufacturing through multi-vendor licensing. Furthermore, the extensive growth of the semiconductor IP segment is contributing to the growth of the global EDA tools market.
The integrated circuit (IC) physical design & verification segment is anticipated to exhibit a significant growth rate during the forecast period, owing to the increase in complexity of IC designs and surge in demand for great accuracy and precision of semiconductor devices. Additionally, end-users are increasingly adopting EDA IC design and verification tools to automate the design and routing of circuits in integrated circuits or application-specific integrated circuits (ASIC). 
Insight by Application
The EDA tools market on the basis of application is categorized into consumer electronics, aerospace & defense, medical, industrial, automotive, telecommunications, and others. Among all these market segments, the telecommunications segment is expected to generate the highest revenue during the estimated period. EDA tools are being widely used by many companies in the industry to provide effective and efficient high-quality communication systems. In addition, it is observed that the rise in usage of mobile devices in emerging and advanced economies is promoting the use of EDA by various enterprises, thereby strengthening the growth of the global EDA tool market.
Electronic Design Automation (EDA) Tools Market Report Coverage
| | |
| --- | --- |
| Report Metric | Details |
| Historical Period | 2018–2022 |
| Base Year Considered | 2022 |
| Forecast Period | By 2030 |
| Market Size in 2022 | $10.5 Billion |
| Revenue Forecast in 2030 | $19.1 Billion |
| Growth Rate | CAGR 9.48% |
| Segments Covered in the Report | By Product Type, By Type, By Application. |
| Report Scope | Market Trends, Drivers, and Restraints; Revenue Estimation and Forecast; Segmentation Analysis; Impact of COVID-19; Companies' Strategic Developments; Market Share Analysis of Key Players; Company Profiling |
| Regions Covered in the Report | North America, Europe, Asia-Pacific, Middle East, and Rest of the World |
Industry Dynamics
Growth Drivers
The increasing popularity of cloud computing, finfet architecture, and the IoT are the key factors related to the growth of the global EDA tool market. In addition, technology has reduced the cost and has resulted in making fewer errors. Moreover, increasing demand for miniaturized electronic products and semiconductor memory devices, increasing adoption of FPGAs (Field Programmable Gate Arrays) in data centers, the rising development in SoC technology, is also boosting the growth of the electronic design automation (EDA) tools market globally. Nevertheless, due to the increasing usage of cloud technology, designs have become more accessible and readily available. Effective data implementation is another feature that makes it economical and enables the EDA tool market to grow globally.
Trends
The market is also influenced by emerging trends such as the adoption of artificial intelligence (AI) and machine learning (ML) in EDA tools, the rise of cloud-based EDA solutions, and the integration of EDA tools with other design and manufacturing platforms. These advancements aim to improve design productivity, optimize power and performance, and address the challenges posed by the shrinking process nodes and increasing design complexity in the semiconductor industry.
Challenges
The uncertain economic conditions in the global economy due to the COVID-19 pandemic is the only challenge faced by the EDA tools market during the forecast period. The weak economy has negatively affected the growth of the industry, causing major companies to cut R&D costs and thus reduce electronic design expenses, which is a major factor hampering the growth of the global market for EDA tools.
Industry Ecosystem
Global industry players are capitalizing on market growth by developing innovative solutions in the global EDA tool market. EDA technology providers provide users with various solutions, such as advanced technologies that provide better accessibility and viewing experience, enabling users to manage quality and cost-efficiency in their business operations and to further promote products globally.
Geographic Overview
Geographically, the adoption of EDA tools in industries such as aerospace, automotive, consumer electronics, and defense will set to increase the demand for the EDA tools market in North America as using this technology, will improve the flexibility, profitability, and smooth running of their organizations, Furthermore, due to the increasing adoption of cloud services and EDA technology in the manufacturing sector, the Asia-Pacific region is expected to have the fastest growth during the forecast period.
Competitive Insight
Major players in the EDA tools market are launching new products and conducting mergers and acquisitions to gain the first-mover advantage and become a differentiator in global product supply.
Aldec Inc. launched HES-DVM Proto Cloud Edition (CE). It is available through Amazon Web Service (AWS), HES-DVM Proto CE can be used for FPGA-based prototyping of SoC / ASIC designs and focuses on automated design partitioning to greatly reduce bring-up time when up to four FPGAs are needed to accommodate a design.
The Digital Automation Intelligence (DAI) technology was launched by Keysight Technologies which enables enterprises to automate the testing of high-speed applications, improving the delivery and quality of digital products. Through a new real-time Computer Vision service, Keysight's upgraded DAI platform enables organisations to automate and test high-speed iOS applications.
Some of the prominent players in the EDA tools market include Synopsys, Cadence Design Systems inc., Mentor Graphics, Zuken, EEsoF.

Source: VynZ Research