Industry Overview
The service robot market size will grow from USD 36.5 billion in 2022 to USD 125 billion by 2030, registering a CAGR of 24.7% during the projected period. Service robots is a semi or fully autonomous robots that assist human beings in performing important tasks and eliminate industrial and manufacturing automation applications. The surge in the adoption of robots for novel applications that offer increased return on investment, resulting in increased productivity, streamlining processes, and improves workplace safety along with mounting R&D activities on robots will be the key drivers that will propel the market growth of the service robots industry. The rising demand for automation in several industry verticals like automotive, healthcare, e-commerce, and food & beverages will accelerate the growth of the service robotics market. Also, the increased adoption of robots for companionship, disability, assistance for the elderly people as well as the focus on developing robots' endurance and range of operation capability and acceptance of swarm intelligence technology which allows robots to perform multiple complex tasks with ease will proliferate potential growth opportunities in the service robotics market outlook.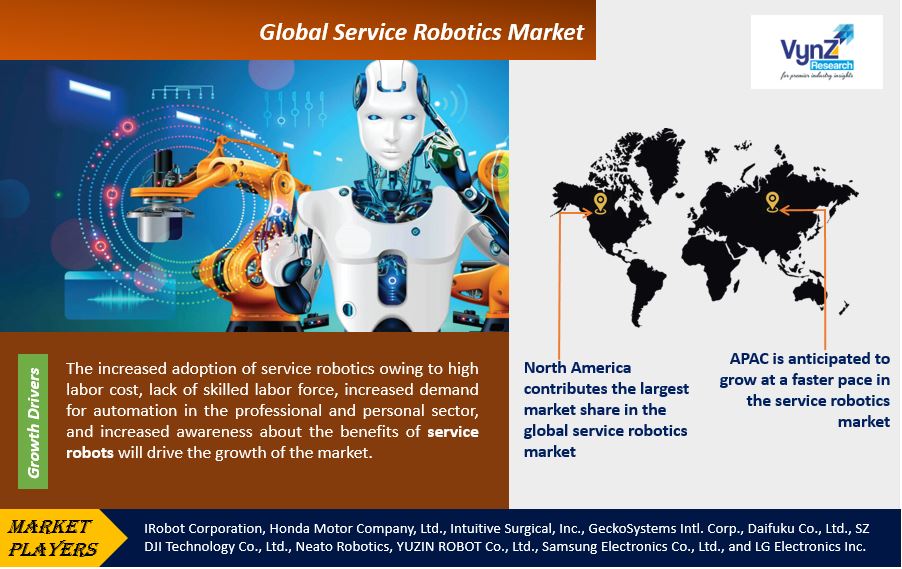 The COVID-19 outbreak will hasten the adoption of service robots for tasks including disinfection, sanitization, contactless delivery, and the delivery of food and medications. Additionally, robots are playing an important role especially in the healthcare sector to combat SARS-CoV-2.
Market Segmentation
Insight by Type
Based on type, the global service robotics market diverges into professional service robots and personal service robots. Professional service robots are anticipated to grow at a faster pace during the forecast period. Professional service robots dehumanize time-consuming, repetitive jobs; thus, humans are working on intellectual functions. There is an increased demand for professional service robots owing to the rising danger of modern warfare, increased adoption in the agriculture sector to automate milking, spraying pesticide and fungicide with drones, and increased efforts undertaken by the defense sector to decrease human casualties. Furthermore, the ability of these robots to conduct dangerous jobs in a loop without requiring human intervention has made them an important part of the armed forces around the world.
Cleaning robots, vacuuming robots, assistive robots for elder care , lawn-mowing robots, entertainment and leisure robots, and education and training robots are among the personal service robots. They're employed to automate mundane, hazardous, and repetitive operations so that humans may focus on intellectual work. Personal service robots are in high demand since they are often operated by one person and can be rented out to customers. During the projected period, these sorts of robots have a strong potential for growth in the United States, Europe, and ASEAN countries. However, because of its operating and battery capacity, demand is limited.
Insight by Component
On the basis of component, the global service robotics market is bifurcated into hardware and software. Hardware is further subdivided into airframes, sensors, camera, actuators, power supply, control systems, navigation systems, propulsion systems, and others. The hardware segment is anticipated to witness the largest share during the forecast period owing to the increased demand for novel designs. The extensive adoption of service robots in various industries has necessitated the integration of sensors and control units in hardware. The demand for low-cost sensors in various developing markets, as well as an increase in orders from commercial companies that are looking to boost productivity, are boosting the hardware segment in the service robotics industry.
Insight by Application
Based on application, the global service robotics market is segmented into domestic, medical, field, defense, rescue, & security, entertainment, education, & personal, inspection and maintenance, logistics, construction, marine, and others. Floor cleaning, lawn mowing, pool cleaning, assistive robots, home security & surveillance robots, and others are all subcategories of domestic. Surgical robots, rehabilitation robots, diagnostic robots, emergency response robotic systems, disability assistance, prosthetics/exoskeletons, and others are all subcategories of medical robots. Harvest management, field farming, dairy and livestock management, agriculture robots, forestry robots, space robots, and others are all subcategories of field. Unmanned aerial vehicles (UAVs), unmanned ground vehicles (UGVs), firefighting and disaster management robots, demining robots, border security and surveillance, and others are all sub-categories of defence, rescue, and security. Toy robots, education & research robots, and robotic companions are subcategories of the entertainment, educational, and personal section. Pipe or pipeline inspection, power plant inspection, inspection of energised transmission lines, and others are sub-segment for inspection and maintenance. Factory logistics robots, outdoor logistics robots, cargo handling robots, mail sorting robots, and others are all subcategories of logistics. Excavator robots, bulldozer robots, demolition robots, welding robots, material handling robots, and others are all types of construction robots. Oceanography, environmental protection and monitoring, archaeological exploration, and others are sub categories of marine.
The domestic robots are expected to have a high CAGR during the forecast period as they are inexpensive owing to increased adoption and economies of scale manufacturing. Furthermore, the rising elderly population and working population are not interested to handle household chores will drive the growth of domestic robots.
Logistics sector dominates the service robotics industry owing to increased automation in handling, transporting, sorting, packaging, moving, and storing goods. Medical service robots are predicted to witness substantial growth during the forecast period owing to their adoption in robot-assisted therapy or surgery, development of high-tech testing facilities, and rehabilitation systems. In addition, due to an increase in the number of commercial and residential projects in both developed and emerging countries, the construction industry will continue to grow at a steady rate.
Service Robotics Market Report Coverage
| | |
| --- | --- |
| Report Metric | Details |
| Historical Period | 2018–2022 |
| Base Year Considered | 2022 |
| Forecast Period | By 2030 |
| Market Size in 2022 | $36.5 Billion |
| Revenue Forecast in 2030 | $125 Billion |
| Growth Rate | CAGR 24.7% |
| Segments Covered in the Report | By Type, By Component, By Application |
| Report Scope | Market Trends, Drivers, and Restraints; Revenue Estimation and Forecast; Segmentation Analysis; Impact of COVID-19; Companies' Strategic Developments; Market Share Analysis of Key Players; Company Profiling |
| Regions Covered in the Report | North America, Europe, Asia-Pacific, Middle East, and Rest of the World |
Industry Dynamics
Industry Trends
Owing to increased innovation in artificial intelligence, machine learning, adaptive computing, and vision systems, the market for service robotics is proliferating at a significant pace as it enhances the efficiency and capability of robots.
Furthermore, rising adoption of mobile technology & other smart devices using robotics, funds & grants by the government, and venture capital investments in R&D activities are expected to positively impact the market demand. India, for example, is investing in military robotics and plans to deploy advanced robotic soldiers by 2023.  These are the trends prominent in the service robotics industry.
The COVID-19 epidemic has an impact on people's life. Because many industrial units were shut down during the lockdown, the service robotics sector saw a drop in sales. Nonetheless, the market for service robotics will rebound as a result of contact-free alternatives for healthcare staff and food deliveries. Front desk staff use robots to interact with visitors from a safe distance at hotels. Realtors are deploying teleoperating robots to show properties from the comfort of their own homes in the real estate industry. As a result, service robots are a game-changer in the event of a pandemic.
Growth Drivers
Technological Development in Automation will progress the growth of service robotics
The increased adoption of service robotics owing to high labor cost, lack of skilled labor force, increased demand for automation in the professional and personal sector, and increased awareness about the benefits of service robots will drive the growth of the market.  Service robots perform sophisticated surgical procedures and performs effortlessly unmanning defense vehicles will accelerate technological advancement in the service robotics market dynamics.
Also, the increased use of IoT in robots for cost-effective predictive maintenance and  mounting innovation are the key growth factors that will propel the market growth of service robotics. Service robots have become indispensable owing to the increased traction to handle regular mundane works efficiently. Furthermore, robots do not get exhausted, thus, manufacturing and assembly time is minimized, resulting in significant revenues for the business. Thus, these factors will have a positive effect in the growth of the service robotics market
Challenges
Massive capital investment required for service robotics
The increased capital investment required for procurement, integration, programming, accessories, and other operations restrains the service robots market's growth. Sensors are the most important component of robots and are also the most expensive, hindering the growth of the service robotics market.  Furthermore, service robotics have a significant maintenance cost, which makes it difficult for small and medium businesses to enter the market. Because of low-volume production and slow returns on investments, it is extremely difficult for small and medium businesses to stay afloat in the market. Although the adoption of service robotics will help in labor-saving costs but there will be concerns about job loss because many people will be unemployed.
Other factors include concerns related to data secrecy and guidelines and may provide incorrect results in crucial operations, thus posing a challenge in the growth of the services robotics market.
Opportunities
The increased concern for safety, the use of smartphones, and expansion in emerging economies, the service robotics market will provide several growth prospects over the forecast period. The implementation of service robotics for residential purposes will give further market growth potential. Commercial applications such as cleaning, delivery, and security will benefit from service robotics. Insurance companies are increasingly covering medical exoskeletons and robotics surgery, opening up a slew of new opportunities for the robotics industry.
Geographic Overview
North America contributes the largest market share in the global service robotics market as they are the early adopters of developed technologies along with a surge in investment and increased adoption of robotics in the defense sector. Furthermore, the increased per-capita income, continuous research programs, rising geriatric population, and shortage of workforce owing to strict immigration laws will propel the growth in the region.
APAC is anticipated to grow at a faster pace in the service robotics market because of the thriving automotive industry post COVID-19 crisis. The emergence of a manufacturing and industrial base in developing countries will boost demand for service robotics in emerging economies. In the foreseeable period, Japan will grow its market share and technological knowledge as one of the strongest robotics solution providers.
Competitive Insight
The industry players are focusing on business expansion and the advancement of precision-driven products to handle sophisticated tasks that will propel the market demand for the service robotics industry. Furthermore, the industry players are making a significant investment in R&D projects to develop application-specific robotic systems. The key players are entering into partnerships, M&A, collaborations to expand their portfolio and improve their customer base.
iRobot is at the forefront of technological advancement in the disciplines of mapping and navigation, human-robot interaction, and physical solutions. Through internal projects and strategic external alliances, iRobot hopes to create an ecosystem of robots and technology to enable smart home solutions.
Honda has been developing and advancing the ASIMO humanoid robot in the field of humanoid robot research in order to realise a desire of being beneficial to people and helping to better people's daily lives. The Walking Assist device with stride management system, the Bodyweight Support System, the U3-X and UNI-CUB, compact one-wheel-drive mobility devices that provide free movement in all directions, and the High-Access Survey Robot and the Task-Performing Robot Arm, which are designed to be used in places that are too dangerous or insecure for humans, are all available in addition to ASIMO.
In January 2022, LG Business Solutions USA has announced that the LG CLOi ServeBot will be available in the United States in early 2022. The Model LDLIM21, the world's first commercial service robot, has earned UL 3300 certification for safe operation in challenging commercial environments like restaurants, retail stores, and hotels. For the first time, American workers will be able to use robot assistants to safely navigate congested areas while carrying up to 66 pounds of food or supplies, thereby reducing employee burdens, enhancing customer service, and increasing operational efficiency.
Samsung Electronics unveiled its latest breakthroughs in artificial intelligence (AI), the Internet of Things (IoT), and robots in January 2021. Samsung showed its latest robots in development, including the Samsung Bot Handy, which uses advanced AI technology to analyse the sizes, shapes, and weights of objects before picking them up. Samsung claims that the new robot will be beneficial for household duties and setting tables at restaurants
Some of the industry players operating the service robotics idustry include  IRobot Corporation, Honda Motor Company, Ltd., Intuitive Surgical, Inc., GeckoSystems Intl. Corp., Daifuku Co., Ltd., SZ DJI Technology Co., Ltd., Neato Robotics, YUZIN ROBOT Co., Ltd., Samsung Electronics Co., Ltd., and LG Electronics Inc.
The Service Robotics Market report offers a comprehensive market segmentation analysis along with an estimation for the forecast period 2023–2030.
Segments Covered in the Report
By Type

    Professional Service Robots
    Personal service Robots

By Component
By Application

    Domestic
    Medical
    Field
    Defense, Rescue, & Security
    Entertainment, Education & Personal
    Inspection and Maintenance
    Logistics
    Construction
    Marine
    Others
Region Covered in the Report
North America
Europe

Germany
U.K.
France
Italy
Spain
Russia
Rest of Europe

Asia-Pacific (APAC)

China
Japan
India
South Korea
Rest of Asia-Pacific

Rest of the World (RoW)

Brazil
Saudi Arabia
South Africa
U.A.E.
Other Countries

Source VynZ Research