Industry Overview
During the forecasted period 2022-30, global intelligent process automation market is estimated to grow at CAGR of 12.8%. Further it is predicted that market size will be reach to USD 31.6 billion at the end of 2030.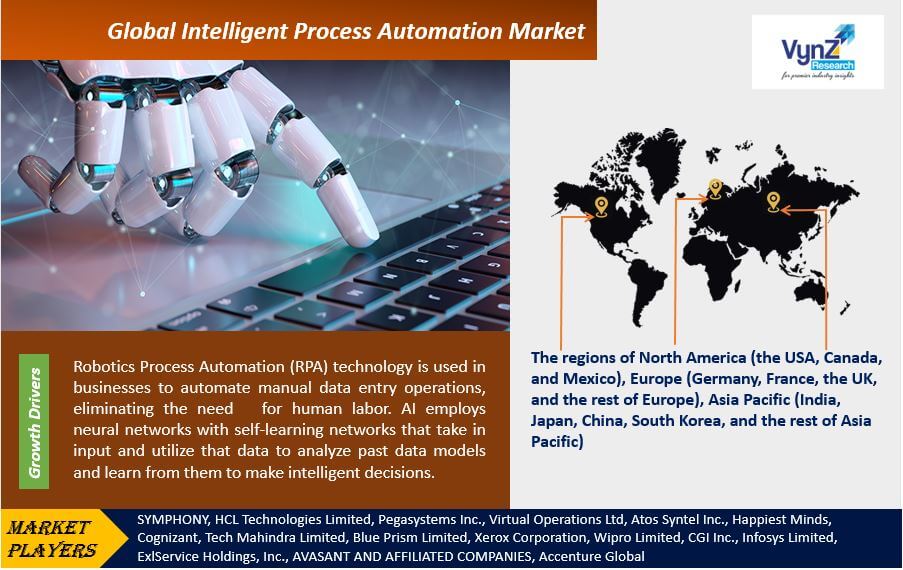 Artificial intelligence and robots powered by machine learning are combined in intelligent process automation. The primary goal of integrating this technology into the systems is to give the organizations access to the automated features and procedures that are provided by the same. As a result, intelligent process automation is a type of automation used to develop clever business procedures and streamline the workflow. Along with increasing operational efficiency, technology also helps employees perform better and respond to customers more effectively. The main driver of the market's increasing trend is an increase in the desire for automated procedures to change how tasks are carried out at workplaces. The increased demand for intelligent process automation technology is also a result of medium- and small-sized businesses increasing their investment in order to understand the digitized market. The desire for this technology will increase along with the goal of achieving optimum resources that offer automated operations without the need for human interaction.
COVID-19 Impact
Financial institutions have had to reconsider their digital transformation strategy in light of the current COVID-19 pandemic since those who lagged behind were having a difficult time keeping up with regulatory compliance. Due to their reliance on on-premises systems, the regulatory papers are sluggish, which could result in multiple instances of non-compliance and further fines. Financial firms that were early adopters of IPA will be able to weather these types of economic crises, and as a result, new technology adoption will become increasingly important across the finance and non-finance verticals.
Market Segment
Insight by Component
Businesses in many sectors are increasingly implementing IPA solutions to increase operational effectiveness and reduce human work procedures. IPA refers to the use of emerging technologies like machine learning, computer vision, and cognitive automation in robotic process automation. These solutions have cognitive enhancements that allow the algorithms to recognize, comprehend, and react. It offers users cutting-edge technologies and exile procedures so they can decide more quickly and thoroughly. Two key benefits of IPA solutions are improved customer experience and increased price efficiency. According to a survey, numerous businesses from various industries have been experimenting with IPA, and the results have been outstanding.
Insight by Deployment
The term "on-premises deployment" refers to the installation of hardware and software at clients' locations. In comparison to the cloud model, it is a pricey model. The on-premises deployment method is the conventional way to implement the IPA solution in businesses. Organizations can have complete control over the apps, platforms, data, and systems they use, all of which are handled and managed by their own IT personnel, with the help of the on-premises IPA solution. Because they have more control over their own systems, organizations where user credentials are essential for business activities prefer the on-premises deployment. Because they work with sensitive and important data pertaining to financial transactions and national security, the government and BFSI industry verticals are anticipated to favor the on-premises IPA solution.
Insight by Technology
Based on the technology, the market is divided into Computer Vision, Machine Learning, Natural Language Processing, Virtual Agents, and Others. Artificial intelligence's branch of machine learning allows computers to learn directly from data, past experience, and real-world examples. The basic objective of machine learning is to enable computers to automatically learn without any help or intervention from humans and alter their behavior accordingly. Growing technological advances result in systems with greater accuracy, which drives market expansion. People engage with a variety of machine learning-based systems, including recommender systems, speech recognition systems, and picture recognition systems. Machine learning is increasingly in demand in a variety of systems as a result of the accuracy of image recognition systems rapidly improving.
Insight by Application
On the basis of application the intelligent process automation market is segmented into Security, IT Operations, Application Management, Business Process Automation, and Others. The organization of intelligent process automation arrangements in various jobs, including application and programming development lifecycle management, can be advantageous to IT operation teams. These arrangements serve a variety of functions as well, including client the board, administration ticket executives, resource tracking, and programming checking. IT activity groups may filter and handle the IT lifecycle midway, improve client interactions, and reduce operational costs with the use of clever measure automation processes. A flexible solution that expedites various advancement tasks, such as test robotization, is provided to clients via lifecycle measures and clever cycle mechanization arrangements in programming and application development. The choice of these arrangements is being driven by the benefits provided by clever measure robotization arrangements.
Global Intelligent Process Automation Market Report Coverage
| | |
| --- | --- |
| Report Metric | Details |
| Historical Period | 2018–2022 |
| Base Year Considered | 2022 |
| Forecast Period | By 2030 |
| Market Size in 2022 | $xx.x Billion |
| Revenue Forecast in 2030 | $31.6 Billion |
| Growth Rate | CAGR 12.8% |
| Segments Covered in the Report | By Component, By Deployment, By Technology and By Application |
| Report Scope | Market Trends, Drivers, and Restraints; Revenue Estimation and Forecast; Segmentation Analysis; Impact of COVID-19; Companies' Strategic Developments; Market Share Analysis of Key Players; Company Profiling |
| Regions Covered in the Report | North America, Europe, Asia-Pacific, Middle East, and Rest of the World |
Growth Drivers
Robotics Process Automation (RPA) technology is used in businesses to automate manual data entry operations, eliminating the need   for human labor. AI employs neural networks with self-learning networks that take in input and utilize that data to analyze past data models and learn from them to make intelligent decisions. IPA workflow combines ML, AI, cognitive learning, and RPA. As a result, the need for IPA rises as RPA does as well. RPA offers quickness and effectiveness. Robots that replicate human behavior can be used to automate labor-intensive manual processes like entering data again from one system to another. Then, considerable intellect and judgment are provided by AI. In order to evaluate data in a way that a human could not, recognize patterns in data, and learn from previous decisions to make increasingly wise conclusions, artificial intelligence (AI) is added to automation. By reducing the need for human data entry, information validation, and document sorting, IPA helps to reduce the amount of time needed for the underwriting stage.
Challenges
Cyber Security is one of the most significant threats in the digital age. Malware and ransomware attacks are becoming increasingly organized forms of cybercrime. Every day, businesses receive an increasing amount of security notifications. According to CERT-In, more than 6.07 lakh cybersecurity incidents were recorded in the first half of 2021. As a result, creating an efficient security architecture that shields the company from rising hazards is necessary.
Opportunities
Businesses are compelled to adopt work-from-home policies, which results in significant investments in the automation of operational processes. The market is expanding as a result of the increase in application fields like telemedicine, predictive maintenance, and virtual healthcare management. The majority of non-IT verticals have seen increased IPA solution use. According to a poll by Bain, the industrial, healthcare, and life sciences sectors would all see an increase in automation of more than 50%. According to a 2020 global study by McKinsey & Co. of business leaders from a diverse range of industries, 66% were testing solutions to automate at least one business process, up from 57% two years prior. 
Geographical Overview
The regions of North America (the USA, Canada, and Mexico), Europe (Germany, France, the UK, and the rest of Europe), Asia Pacific (India, Japan, China, South Korea, and the rest of Asia Pacific), and the rest of the world are used to segment the global intelligent process automation market (Latin America, the Middle East, and Africa). Because to its growing innovation appropriation, the Asia Pacific region is expected to experience the Intelligent Process Automation Market growth. This is a result of the existence of economies that are rapidly developing, such as China and India. The rapid expansion of the intelligent automation market in the Asia Pacific region is attributed to factors including quick changes in the economy, globalization, digitization, and greater use of cloud-based innovations. Businesses operating in this region benefit from flexible financial circumstances, industrialization, and government policies driven by globalization as well as the region's expanding digitization.
Recent Development in Intelligent Process Automation Market
IBM and Cisco worked together in 2021 to facilitate and manage 5G networks.
HCL Technologies declared in 2021 that DRYiCE automate was now accessible through Google Cloud Marketplace.
The introduction of IBM Cloud Pak for Network Automation was announced by IBM for 2021.
In order to continue working together, Atos and du renewed the deal for an additional five years in 2021. The modernization of applications and the digital transformation will be aided by this collaboration for du.
Competitive Intelligent Process Automation Market Players Covered in this Report
The competitive insight for the intelligent process automation industry gives information by competitor. Corporate overview, financials, revenue generated, market trend, investments in R&D, new market initiatives, regional presence, company strengths and weaknesses, product introduction, product width and breadth, and application domination are among the details provided. The data presented above only relates to the companies' emphasis on intelligent process automation.
The major market participants profiled in the report on intelligent process automation include SYMPHONY, HCL Technologies Limited, Pegasystems Inc., Virtual Operations Ltd, Atos Syntel Inc., Happiest Minds, Cognizant, Tech Mahindra Limited, Blue Prism Limited, Xerox Corporation, Wipro Limited, CGI Inc., Infosys Limited, ExlService Holdings, Inc., AVASANT AND AFFILIATED COMPANIES, Accenture Global, North America, Europe, Asia-Pacific (APAC), Middle East and Africa (MEA), and South America market share data are all independently available. DBMR analysts are aware of competitive advantages and offer competitive analysis for each rival individually.
The Intelligent Process Automation Market research includes a comprehensive market segmentation analysis as well as projections for the analysis period 2022-2030.
Segments Covered in the Report
By Component
By Deployment
By Technology

Natural Language Processing
Machine and Deep Learning
Neural Networks
Virtual Agents
Mini Bots
Computer Vision
Others

By Application

IT Operations
Application Management
Content Management
Security
Business Process Automation
Others
Region Covered in the Report
North America
Europe

Germany
U.K.
France
Italy
Spain
Russia
Rest of Europe

Asia-Pacific (APAC)

China
Japan
India
South Korea
Rest of Asia-Pacific

Rest of the World (RoW)

Brazil
Saudi Arabia
South Africa
U.A.E.
Other Countries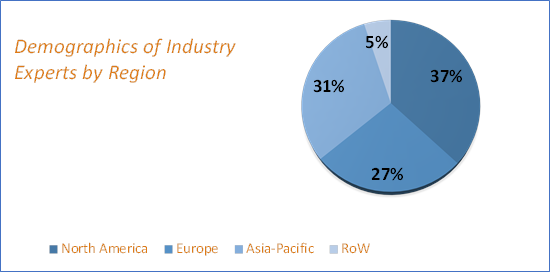 Source: VynZ Research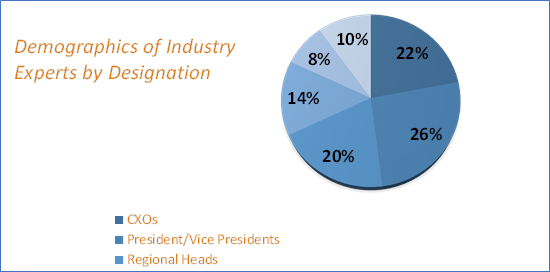 Source: VynZ Research