Industry Overview
From USD 299.5 billion in 2021, the global internet of things (IoT) market size is predicted to reach USD 655.7 billion by 2027, growing at CAGR of 16.5% during the forecast period. The Internet of Things (IoT) is a network of interconnected computing devices, mechanical and digital machines with unique identifiers (UIDs) and the ability to transfer data without requiring human-to-human or human-to-computer interaction. Internet of Things (IoT) technology is the foundation for many businesses to digitally transform, allowing them to improve existing operations by developing and tracking new business opportunities. The market's growth is being fueled by the increasing acceptance of IoT technology across end-user sectors like manufacturing, automotive, and healthcare. Furthermore, increased demand for wearables in the healthcare sector, mounting adoption of smart payment technologies, remote monitoring and increased data from several industries.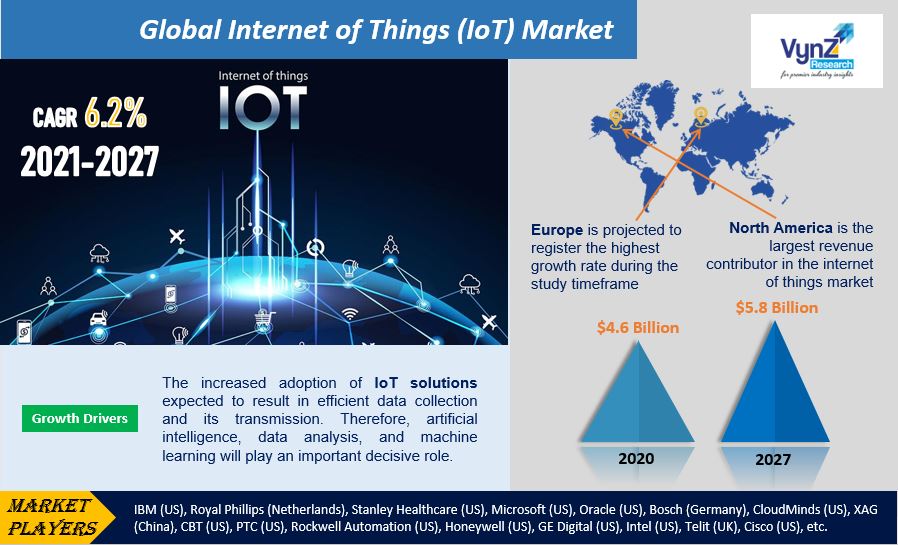 Furthermore, the pandemic has prompted businesses all over the world to shift their physical offices to remote working environments, resulting in a surge in demand for internet of things solutions, which is supporting the market's growth. Also, IoT offers features like remote access control, real-time data analytics, digital data exchange, and real-time work floor control which resultsn a significant traction in the IoT solutions during the COVID-19 pandemic.
Before the Russian invasion of Ukraine, the semiconductor sector began stockpiling raw materials in response to repeated shocks, most recently in response to Russian troops massing near the Ukrainian border. However, because Russia and Ukraine generate a big amount of neon and palladium, the semiconductor shortage is predicted to worsen if the war drags on too long, affecting the IoT industry.
Market Segmentation
Insight by Component
Based upon component, the global internet of things (IoT) market is segmented into software solutions, platform, and services. The software solution is further divided into smart surveillance, data management, device management, application management, and network management.
The platform segment is further divided into application management, network management, and device management. The services are further divided into professional services which include consulting, implementation, and support & maintenance and managed services.
IoT devices that are connected to the internet communicate with other devices, applications, and things to share data and provide trustworthy data decisions to the end-user. Software solutions cover a wide range of technologies that assist businesses in achieving their goals and maintaining a competitive advantage. For established infrastructure systems to automate various operations in critical infrastructure, manufacturing, and other areas, software solutions are getting importance. Furthermore, software solutions enable remote visibility and control of assets, allowing for greater flexibility in decentralised areas. As a result, during the projection period, software solutions are predicted to have the largest market size.
The device management is anticipated to have a high CAGR during the forecast period as it helps in operating IoT devices, use security patches, and offer device-centric reports by using administrative tools. Thus, the growing demand for access and control over IoT devices is the primary impetus for the IoT device management platform.
Insight by Organization Size
Based on organization size, the global IoT market is bifurcated into large enterprises and small & medium-size enterprises. Large enterprises contribute the largest share in the IoT industry owing to the increased adoption of IoT technology so as to have a strategic and competitive advantage. Furthermore, IoT is becoming more common as many large enterprises examine extraction capabilities for gaining important insights from big data, which is a market opportunity. SMEs are anticipated to have the fastest growth during the forecast period owing to the transformation of businesses to digitalization and the adoption of IoT solutions to be more productive, efficient, and smarter.
Insight by Deployment Model
Based on deployment model, the global IoT Market is bifurcated into on-premise and cloud. The cloud category is predicted to develop fast during the forecast period owing to the fact that cloud deployment does not necessitate an investment in IT infrastructure because all data is stored on a cloud server, increasing demand for IoT software among SMEs.
Insight by Vertical
Based on Vertical, the global internet of things (IoT) market is categorized into BFSI, healthcare, manufacturing, agriculture, IT & telecom, retail, transportation, sustainable energy, government & defense, and others. Agriculture is anticipated to have a high CAGR during the forecast period owing to increased demand for field-based sensors and tools. IoT application is being adopted in the agriculture sector in several ways which include smart greenhouse, smart agriculture, smart farming, precision farming, smart drones, etc. The advantages of IoT in the agriculture sector are; reduced expenses and increased productivity by using precise data for decision-making.
Industry Dynamics  
Industry Trends
The integration of Industry 4.0 and IoT to develop novel technological approaches for the development, production, and management of the logistics chain will drive the growth of the market. Furthermore, the shortage of labor in the manufacturing sector can be overcome by IoT technologies by the adoption of robots, thus expanding the market scope.                 
Growth Drivers
Increased demand for Advanced consumer electronics will propel the growth in the IoT market.
The convenience of operating appliances through remote operation facilities and rapid acceptance of internet connectivity enabled products such as washing machines, wearable electronic devices, microwaves, and televisions are likely to boost the internet of things market (IoT).  The rise of IoT industry is mostly due to the expansion of the e-commerce sector and the shift of businesses toward applications and online support portals for clients. Thus, consumers are finding it easier to embrace new technologies due to the accessibility and diversity of technological devices.
Other factors attributing to the growth of the IoT Market include increased access to reduced cost, low-power sensor technology, increased accessibility of high-speed connectivity, mounting adoption of cloud platforms, rising usage of data processing and analytics. Furthermore, the surge in tech savvy population globally,
The growth of wireless networking technologies including Wi-Fi, Bluetooth, ZigBee, Z-Wave, Insteon, and Digital Enhanced Cordless Telecommunications will increase the number of people interested in buying IoT devices.
As more IoT solutions are adopted, data gathering and transmission should become more efficient. As a result, artificial intelligence, data analysis, and machine learning all are crucial. Data analysis and management are critical components of network administration, especially in large deployments. As a result, businesses are able to provide such services to their customers.
Challenges
Data security, integrity, and privacy limitations in connected devices may impede growth.
IoT is being adopted in several applications like collecting biometric data through wearable devices, controlling connected equipment through communication networks and controlled platforms.  The data protection and privacy come into picture as the number of smart devices, mobile devices, and connected devices grows. Thus, personal and sensitive data can be misused by hackers. Also, data exploitation may emerge owing to the increased adoption of connected devices. 
Other factors hampering the growth of the market are lack of skilled expertise, lack of development in communication technology, lack of awareness about IoT and smart cities, and poor operation efficacy in emerging economies. Thus, industry experts also believe that blockchain technology can help achieve the highest level of security.
Opportunities
Increased initiatives to create smart cities globally will propel market growth.
The rapid growing population and urbanization have led to the development of smart cities globally. The increased adoption of connected devices like sensors, smart meter, smart light, etc., aids in enhancing the functions and efficacy of infrastructure and related services.  Also, surge in number of smart infrastructure, smart manufacturing, smart homes, and buildings will transform businesses, leading to market growth of IoT solutions.
The increased adoption of connected devices, and emergence of 5G technology will proliferate market opportunities in the IoT industry.
Geographic Overview
Geographically, North America is the largest revenue contributor in the internet of things market owing to the increased adoption of advanced devices, increased demand for remote monitoring systems and internet enabled devices, rise in the collaboration of hardware, network, and software vendors, and incorporation of IoT in healthcare IT will bolster the market growth of IoT solutions. Because of the huge number of major public safety organisations in North America, such as firefighting services and emergency medical services, smart citizen services are a growth facilitator.
Europe is projected to register a significant growth rate during the study timeframe.  The healthcare sector is anticipated to have high growth, resulting in the adoption of big data analytics which offers comprehensive insights.
Asia-Pacific is anticipated to have high CAGR during the forecast period owing to the presence of major industry players in the consumer electronics sector like Philips, Samsung, etc., increased adoption of developed technology, aggressive initiatives to upsurge IT infrastructure, and favourable GDP growth in the region will boost the market demand for IoT.
Competitive Insight
The market players are collaborating and investing in establishing laboratories to enhance product applications. Thus, laboratories and start-up firms globally are emphasizing on developing smart devices with internet connectivity, thereby bolstering the growth of IoT market. Furthermore, the market players are making a significant investment in developed technologies like AI, cloud computing, etc., to expand their business into several industry verticals and have a strong foothold in the IoT industry. The strategies adopted by industry players include product innovation, service launch, M&A, collaborations, partnerships, etc.
Oracle Internet of Things (IoT) Cloud Service is a cloud-based managed Platform as a Service (PaaS) offering that enables to connect devices to the cloud, analyse data from those devices in real-time, and integrate with enterprise applications, web services, or other Oracle Cloud Services, such as Oracle Business Intelligence Cloud Service, thus aids in making critical business decisions and strategies. Their IoT Intelligent Applications include smart manufacturing, connected logistics, workplace safety, service monitoring, and connected assets.
Bosch IoT Suite serves as the foundation for a wide range of IoT solutions, services, and projects developed by Bosch, its customers, and partners. It is offered across all industries, including agriculture, mobility, and manufacturing, and combines the Bosch Group's industry know-how. Bosch IoT application are build on providing secure access management by reliably connecting and managing devices, sensors, microcontrollers, and gateways, offering digitalization, combining data from various sources into a single dashboard, and implementing firmware updates and software rollouts.
CBT, a woman-owned Domain Expert Integrator, announced in April 2022 that it will expand its leadership position in IoT and information technology (IT) and operational technology (OT) convergence by partnering with ABB, the world's leading global technology company in electrification, robotics, automation, and motion. CBT has joined the ABB Value Provider Program as a System Integrator channel partner, joining an elite group of channel partners at the highest level.
CBT and ABB's solutions will push the boundaries of IoT technology as a result of the relationship, pushing customer performance to new heights. CBT will provide Condition Monitoring solutions based on the ABB AbilityTM Genix APM platform, Connected Worker apps based on ABB AbilityTM MOM solutions, and a Data as a Service (DaaS) control system based on the ABB AbilityTM System.
In January 2022, CloudMinds is the world's first cloud-based intelligent robot operator, dedicated to implementing artificial intelligence technology through robots and other smart devices. CloudMinds created a smart cloud platform based on HARIX architecture for the customer, which will provide a variety of services such as smart building, smart security, smart property management, etc. CloudMinds believes that by 2025, affordable humanoid robots will be available to the average household. CloudMinds will help realise this goal by enabling ultra-secure communication between many cloud-based artificial intelligence (AI) engines and many future robots.
The prominent players in IoT industry include IBM, Royal Phillips, Stanley Healthcare, Microsoft, Oracle, Bosch, CloudMinds, XAG, CBT, PTC, Rockwell Automation, Honeywell, GE Digital, Intel, Siemens, Ericsson, Hitachi Vantara, ABB, NEC Corporation, Telit, Arad Group, NTT Communications, Happiest Minds, Cisco, Medtronic, Softweb Solutions, Google, hIOTron, Sony, Capgemini, Adobe, Sierra Wireless, Itron, Vodafone, TCS, DXC, Infosys, Verizon, Service Group, Cognizant, SAP, Software AG, AWS, and Accenture.

Source: VynZ Research