Industry Overview
The global Internet of things (IoT) market is expected to increase from $310 billion in 2022 to $755.7 billion by 2030, expanding at a CAGR of 16.5% over the forecast period. An interconnected system of mechanical and digital machines with unique identifiers (UIDs) and the capacity to transfer data without the need for human-to-human or human-to-computer interaction is known as the IoT. Many firms' digital transformations are built on this technology, which enables them to monitor and discover new business prospects while also enhancing their current operations.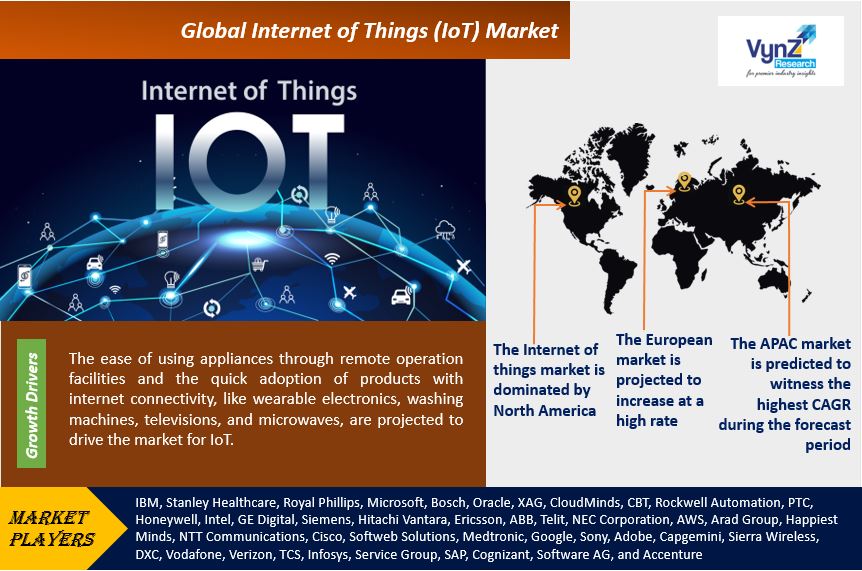 Also, the market is expanding, as IoT technology is gaining traction in end-use industries like transportation, manufacturing, and healthcare. Additionally, there is a rising need for wearable technology in the healthcare industry, as well as a growing uptake of remote monitoring and smart payment technologies, and the growth in data from many businesses.
Additionally, the pandemic has forced companies all over the world to switch to remote working arrangements, which has increased the demand for IoT solutions. Additionally, IoT provides capabilities like digital data interchange, real-time data analytics, and real-time work floor control, which led to substantial momentum in the need for IoT solutions during the COVID-19 epidemic.
The semiconductor industry started storing raw supplies prior to the Russian invasion of Ukraine, as a result of numerous shocks, most recently the Russian forces amassing close to the Ukrainian border. The IoT industry is projected to be negatively impacted by the semiconductor shortage if the war continues for too long because Russia and Ukraine produce significant amounts of neon and palladium.
Market Segmentation
Insight by Component
The platform, software solutions, and services categories make up the IoT industry. Among these, the software solutions category is expected to have the biggest market size during the projection period. IoT devices that online communication with other IoT devices, applications, and things to share data and give the user reliable data decisions. Software solutions encompass a broad spectrum of technologies that help companies achieve their objectives and keep a competitive edge. Software solutions are becoming more crucial for established infrastructure systems to automate diverse tasks in manufacturing, vital infrastructure, and other domains. Additionally, software solutions allow for remote asset visibility and management, enhancing flexibility in decentralized areas.
Insight by Organization Size
Based on organization size, the global IoT market is bifurcated into large enterprises and small & medium-sized enterprises. Large enterprises contribute the largest share to the industry, owing to the increased adoption of IoT technology so as to have a strategic and competitive advantage. Furthermore, IoT is becoming more common as many large enterprises examine extraction capabilities for gaining important insights from big data, which is a key market opportunity.
On the other hand, the small & medium-sized enterprises category is projected to witness the fastest growth during the forecast period. This can be ascribed to the transformation of businesses to digitalization and the adoption of IoT solutions to be more productive, efficient, and smarter among SMEs.
Insight by Deployment Model
The worldwide IoT market is divided into on-premise and cloud categories, based on the deployment model. Since all data is kept on a cloud server, cloud deployment does not require an investment in IT infrastructure, which is driving up demand for IoT software among SMEs. Thus, the cloud category is expected to grow quickly throughout the projected period.
Insight by Vertical
On the basis of verticals, the BFSI, manufacturing, healthcare, agricultural, retail, IT & telecom, transportation, government & defense, sustainable energy, and other sectors make up the worldwide internet of Things market. Due to the rising need for tools and sensors that can be used in the field, the agriculture sector is predicted to have a high CAGR during the projection period. Several IoT applications, such as smart drones, smart farming, smart agriculture, and smart greenhouses, are being implemented in the agriculture industry. IoT benefits include decreased costs and increased productivity by utilizing precise data for decision-making in this sector.
Internet of Things (IoT) Market Report Coverage
| | |
| --- | --- |
| Report Metric | Details |
| Historical Period | 2018–2022 |
| Base Year Considered | 2022 |
| Forecast Period | 2023 - 2030 |
| Market Size in 2022 | $310 Billion |
| Revenue Forecast in 2030 | $755.7 Billion |
| Growth Rate | CAGR 16.5% |
| Segments Covered in the Report |      By Component, By Organization Size, By Deployment Model, By Vertical. |
| Report Scope | Market Trends, Drivers, and Restraints; Revenue Estimation and Forecast; Segmentation Analysis; Covid-19, Companies' Strategic Developments; Market Share Analysis of Key Players; Company Profiling |
| Regions Covered in the Report | North America, Europe, Asia-Pacific, Middle East, and the Rest of the World |
Industry Dynamics  
Industry Trends
The market will expand as a result of the integration of Industry 4.0 and IoT to create unique technical techniques for the production, creation, and management of the logistics chain. Additionally, IoT technology can be used in robots to address the labor crisis in the manufacturing sector, broadening the market's appeal. The widespread availability of high-speed internet and the development of wireless communication technologies like 5G have facilitated seamless connectivity between devices, making IoT deployments more feasible and scalable.               
Growth Drivers
A desire for advanced consumer electronics will drive the market
The ease of using appliances through remote operation facilities and the quick adoption of products with internet connectivity, like wearable electronics, washing machines, televisions, and microwaves, are projected to drive the market for IoT. The growth of the e-commerce sector and enterprises' transition to client-facing applications and online support portals are the primary drivers of the IoT industry. Due to the accessibility and variety of technological equipment, customers are thus finding it simpler to adopt new technology.
Additional factors contributing to the expansion of the IoT market include greater accessibility to mounting use of cloud platforms, low-cost and high-speed internet and expanding need for data processing and analytics. Moreover, there has been an increase in the number of tech-savvy people everywhere. Also, the popularity of IoT devices will rise as a result of the development of wireless networking technologies including Insteon, Wi-Fi, ZigBee, Bluetooth, Z-Wave, and Digital Enhanced Cordless Telecommunications.
Data collection and transmission should become more effective when IoT solutions are embraced by more people. As a result, data analysis, machine learning, and artificial intelligence are all essential. Especially in big data analysis, deployments, and management are essential parts of network administration. As a result, companies are able to provide their clients with these services.
Opportunities
Global endeavors to build smart cities will fuel the market expansion
Globally, smart cities are emerging as a result of the urbanization and population growth that is occurring so quickly. Smart meters, smart lights, and other connected devices are being adopted more widely, which helps to improve the functionality and effectiveness of infrastructure and related services. Additionally, the proliferation of smart manufacturing facilities, homes, and buildings will propel the demand for IoT solutions. Moreover, the proliferation of 5G technology and the rising usage of linked devices will open up new market prospects for the IoT sector.
Geographic Overview
Geographically, the Internet of things market is dominated by North America, due to the region's rising demand for Internet-enabled devices and remote monitoring systems, increasing use of cutting-edge technology, surging vendor collaboration among network, hardware, and software companies, and integration of IoT into healthcare. Also, smart citizen services are a development enabler because of the enormous number of significant public safety organizations in North America, such as firefighting and emergency medical services.
In addition, during the research period, the European market is projected to increase at a high rate. This can be because the healthcare industry is expected to grow rapidly in the region, which will lead to the use of big data analytics, which provides thorough insights into the market.
On the other hand, the APAC market is predicted to witness the highest CAGR during the forecast period. This can be due to the presence of major industry players in the consumer electronics sector like Philips, Samsung, and others, the aggressive initiatives to increase IT infrastructure, the increased adoption of developed technology, and the GDP growth in the region.
Competitive Insight
Players in the industry are working together and investing in setting up laboratories to improve product applications. As a result, research facilities and startup businesses all over the world are placing a focus on creating smart gadgets with internet connectivity, supporting the expansion of the IoT market. Additionally, market players are investing a lot of money in advanced technologies like cloud computing and AI, in order to diversify their business into several industry verticals and gain a firm foothold in the IoT market.
The prominent players in the IoT industry include IBM, Stanley Healthcare, Royal Phillips, Microsoft, Bosch, Oracle, XAG, CloudMinds, CBT, Rockwell Automation, PTC, Honeywell, Intel, GE Digital, Siemens, Hitachi Vantara, Ericsson, ABB, Telit, NEC Corporation, AWS, Arad Group, Happiest Minds, NTT Communications, Cisco, Softweb Solutions, Medtronic, Google, Sony, Adobe, Capgemini, Sierra Wireless, DXC, Vodafone, Verizon, TCS, Infosys, Service Group, SAP, Cognizant, Software AG, and Accenture.
Recent Development by Key Players
Tech Mahindra and TANESCO joined in November 2021 to advance digital transformation and boost productivity. Through technology-led transformation, the agreement would allow TANESCO to support applications that are future-ready, such as Geo-Information Systems and IT Infra/Networks, while also increasing agility and returns on investment.
Wattsense, a hardware, and software firm from France that provides cutting-edge, plug-and-play IoT management systems for small and mid-size buildings, was bought by Siemens Smart Infrastructure in October 2021. This would broaden Siemens' line of building goods.
HUAWEI and Tatweer Misr entered a partnership in September 2021. According to Tatweer Misr, completely networked smart cities will be implemented. In order to contribute to the creation of a fully interconnected, intelligent world, both parties joined together to supply sustainable and intelligent technological software solutions throughout Tatweer Misr's projects.
In August 2021, Cisco acquired Epsagon Ltd. Epsagon, a modern observability vendor with unmatched expertise in distributed tracing solutions for modern application environments and technologies, including containers and server-less environments, provided technology and talent that were well-aligned with Cisco's vision to enable businesses to deliver application experiences through market-leading solutions. Teams might increase cooperation by contextualizing and correlating visibility and insights across the complete stack to better understand their systems, resolve problems faster, optimize and secure application experiences, and delight their customers.
To advance AAIOps in application and infrastructure observability, IBM acquired Turbonomic in June 2021. Siemens and Telefónica Tech joined forces in May 2021, and the results of this partnership will allow both businesses to present a joint value proposition that includes solutions for enhancing physical security, monitoring, operational efficiency, and energy efficiency, as well as user experience and the digitalization of services, where connectivity plays a key role. Similarly to this, they would provide an infrastructure that would make it easier to collect and analyze data in order to turn it into information that could be used to improve decision-making.
Cisco acquired Involved in June 2021. Through the use of Involvio's portfolio of education-related products, colleges and institutions and students are now benefiting from increased engagement and retention. The Involved team contributed to the design of the Webex Education Connector, a connection that would securely integrate Webex collaboration features into learning management systems. As an early adopter of Webex's open APIs and SDKs, Involvio's integrations would be among the fastest-growing and most popular in the ecosystem.
In March 2021, Hitachi acquired GlobalLogic. By accelerating the advanced digital transformation of social infrastructure, including rail, energy, and healthcare on a global scale, the acquisition creates synergies across Hitachi's five sectors (IT, Energy, Industry, Mobility, and Smart Life) and automotive systems business (Hitachi Astemo).
The Internet of Things (IoT) Market report offers a comprehensive market segmentation analysis along with an estimation for the forecast period 2023–2030.
Segments Covered in the Report
By Components 

Software
Solutions
Platforms
Services

By Organization Size

Large Scale Enterprises
Small and Medium-Size Enterprises

By Deployment Model 
By Vertical

BFSI
Healthcare
Manufacturing
Agriculture
IT & Telecom
Retail
Transportation
Sustainable Energy
Government & Defense
Others
Region Covered in the Report
North America
Europe

Germany
U.K.
France
Italy
Spain
Russia
Rest of Europe

Asia-Pacific (APAC)

China
Japan
India
South Korea
Rest of Asia-Pacific

Rest of the World (RoW)

Brazil
Saudi Arabia
South Africa
U.A.E.
Other Countries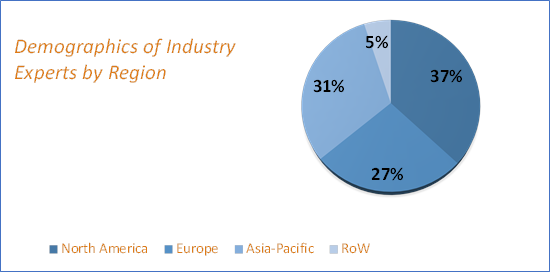 Source: VynZ Research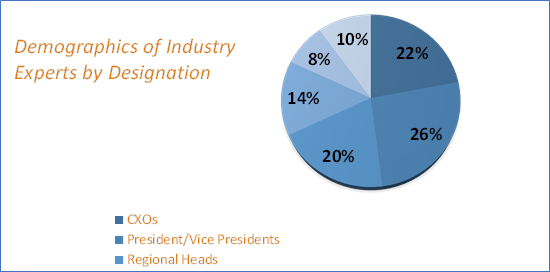 Source: VynZ Research