Industry Overview
The global internet of things (IoT) market is estimated to be valued at USD 4.6 billion in 2020 and is predicted to reach USD 5.8 billion by 2027, growing at CAGR of 6.2% during the forecast period (2021–2027). The major factors responsible for the market growth are rising demand of wearables in healthcare, growing adoption of smart payment technologies, remote monitoring and surge in data from varied industries.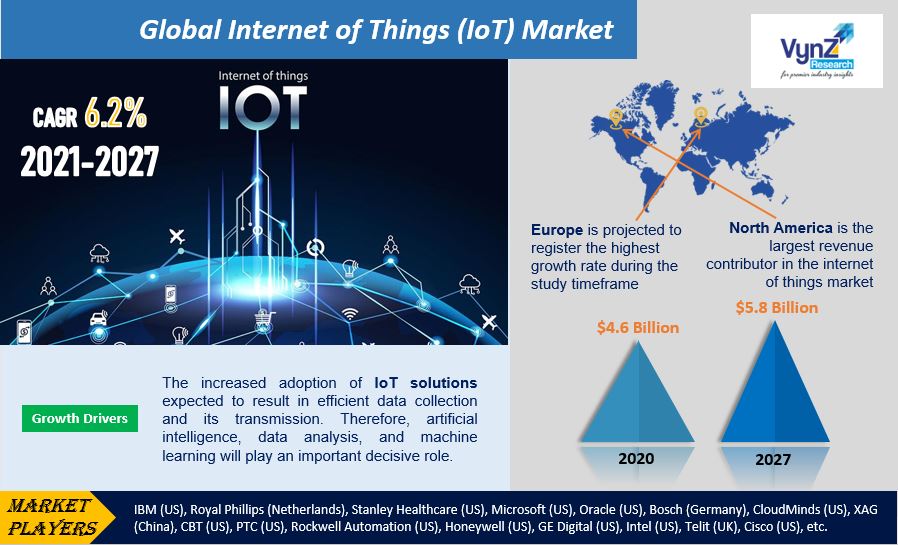 IoT comprises of inter-related computing devices, digital machines, objects and individuals having unique identifiers (UIDs) and their ability to transfer data over any network without human to human or human to machine interaction. The internet of thing could be heart monitor implant in individual with heart functioning problem, sensors in automobiles to prevent accidents, and biochip transponder in animal track their activity. Organizations in several industries are utilizing IoT to operate efficiently, doing customer profiling, improving decision making, and adding value to the business entities.
Market Segmentation
Insight by Component
Based upon component, the internet of things (IoT) market is categorized into engineered software solutions, platforms, and services. The software solution segment expected to hold largest market share during the study timeframe. This high share is attributed to sudden spike in COVID-19 cases across the globe. Several industries including transportation, manufacturing, travel and hospitality etc., operations are put on hold. Employers has provided employees with work from home option. The software which aids in virtual communication are huge hit during this pandemic.
Industry Dynamics                   
Growth Drivers
The increased adoption of IoT solutions expected to result in efficient data collection and its transmission. Therefore, artificial intelligence, data analysis, and machine learning will play an important decisive role. Data analysis and management is the crucial part of effectively managing network, especially when it is a large deployment. For this reason, companies are able to support its clients with such activities. Making the most of data, and knowing how basic level infrastructure functions, requires computer assistance through artificial intelligence (AI). The major cloud vendors, including Amazon, Microsoft, and Google, are increasingly looking to compete based on their AI capabilities. Various start-ups hope to increase their market share through AI algorithms able to leverage machine learning and deep learning, allowing businesses to extract more value out of their ever-growing volumes of data.
Internet of medical things is going to be a big thing in the healthcare industry. Research in healthcare is one of the prominent sector under which huge investment is made, not only in manufacturing new drugs or biomedical implants. IoT could be used in chronic disease monitoring, early warning systems, smart hospital rooms, smart medical and diagnostic tools and wearable devices. According to the survey conducted by Frost and Sullivan, the Internet of Things is projected to reach more than USD 72.0 billion by 2022.
Challenges
Security remains the major cause of concern in the current computing world. This is evident from the fact that, in first half of 2019 alone, more than 100 million attacks were occurred. Armis, the cybersecurity start-up is one of the billion-dollar company, was acquired by the Insight Partners for USD 1.1 billion. Industry speakers also believe that blockchain could play an important role in achieving highest level of security.
Geographic Overview
Geographically, North America is the largest revenue contributor in the internet of things market due to growth of pandemic massively in the region. The number of COVID-19 cases in North America is also enhancing rapidly with registered cases of almost 5,04,780 and 18,763 deaths as of 7th April 2020.
As the covid-19 impact continues to spread in North America, the logistics and supply chain operations are being affected dramatically. Consumer goods, retail, and industrial goods are few notable industries that are hardly hit by coronavirus outbreak. Disruptions in the supply chain has caused ripples across several industries which might have both long term and short term impact on businesses. The quarantine measures have made difficult for freight service providers to operate smoothly across the country.
As of 30 March 2020, the top ten countries hardest hit by the COVID 19 are the ten largest economies in the world, excluding India and Iran. The U.S., Italy, Spain, Germany, the U.K, and France are all in the top ten most affected countries by the pandemic. While U.S., being the hardest hit, in last few days the outbreak has saw exponential rise in the cases in all G7 economies.
Europe is projected to register the highest growth rate during the study timeframe, owing to the presence of most affected countries in the region. Among G7 economies, the U.S., China, Japan, Germany, the UK, France, and Italy accounted for more than 60% of the world's supply and demand (GDP), 65% of the world manufacturing, and 41% of the world's manufacturing exports.
Competitive Insight
The key players operating in the global internet of things (IoT) market include IBM (US), Royal Phillips (Netherlands), Stanley Healthcare (US), Microsfot (US), Oracle (US), Bosch (Germany), CloudMinds (US), XAG (China), CBT (US), PTC (US), Rockwell Automation (US), Honeywell (US), GE Digital (US), Intel (US), Siemens (Germany), Ericsson (Sweden), Hitachi Vantara (US), ABB (Switzerkland), NEC Corporation (Japan), Telit (UK), Sierra Wireless (Canada), Itron (US), Arad Group (Israel), Cisco (US), Medtronic (Ireland), SAP (Germany), Software AG (Germany) AWS (US), Softweb Solutions (US), Google (US), hIOTron (India), Sony(Japan), Capgemini (France), Adobe (US), NTT Communications (Japan), Happiest Minds (India), Vodafone (UK), TCS (India), DXC (US), Infosys (India), Verizon (US), Service Group (US), Cognizant (US), and Accenture (Ireland). These players are adopting several growth strategies, such as new service launches, and partnerships to expand their presence further during covid-19 impact.
Primary Research
VynZ Research conducts extensive primary research to understand the market dynamics, validate market data and have key opinions from the industry experts. The key profiles approached within the industry includes, CEO, CFO, CTO, President, Vice President, Product Managers, Regional Heads and Others. Also, end user surveys comprising of consumers are also conducted to understand consumer behavior.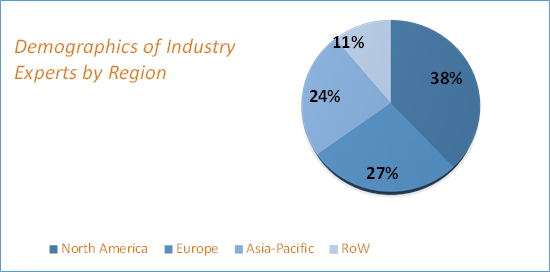 Source: VynZ Research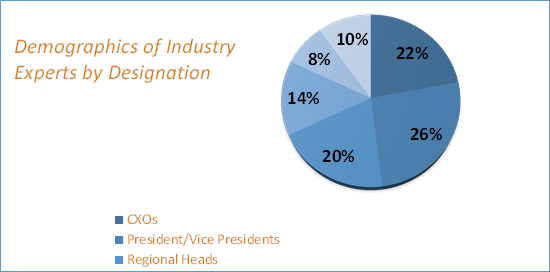 Source: VynZ Research